Draw It Up: Larry Fitzgerald and the Eagles' Coverage Breakdown
There are only three undefeated teams left in the NFL: the Atlanta Falcons, the Houston Texans, and — wait for it — the Arizona Cardinals. Not only is Arizona's record a surprise, but to get there, they knocked off preseason favorites New England and Philadelphia, as well as a Seattle team with wins over Dallas and (however controversial) Green Bay. Most of the credit for Arizona's perfect record has to go to its defense. Although the smart money remains against their ability to keep up this success, going 3-0 is extremely difficult in today's NFL, and Arizona deserves respect for that alone.
The main concern about Arizona going into the season was its offense, and although they haven't exactly been lighting up the scoreboard, whether it was Kevin Kolb's off-the-bench comeback drive to beat the Seahawks in Week 1 or their get-the-lead-and-hold-on performance against a normally resourceful Patriots team, the Cardinals have made just enough plays to win. Last weekend against Philadelphia was no different: Arizona was actually out-gained by the Eagles, but they made enough key plays on offense to put pressure on Michael Vick and allow their defense to force three turnovers (including a 93-yard fumble return for a touchdown) on the team's way to victory.

What is most intriguing about Arizona — encouraging for Cardinals' fans and scary for their opponents — is that they do have some weapons, however raw, on offense. First-round pick Michael Floyd caught his first touchdown pass this weekend; receiver Andre Roberts, who caught Kolb's game-winner against Seattle, is emerging as potential playmaker; and Beanie Wells and Ryan Williams (who had 83 yards on 6.4 yards per carry against the Eagles) are viable options in the backfield. The question mark for Arizona remains quarterback, where John Skelton and Kevin Kolb seemed determined to one-up each other in ineptitude. Until, that is, these past few weeks, when Kolb has put up a 108.6 passer rating and has yet to throw an interception.
The best weapon of all, though, is the great Larry Fitzgerald. Fitzgerald, as natural and polished a receiver as there is in football today, has been forced to toil without an elite quarterback for much of his career. Still, he had more than 1,400 yards receiving last season, and on Sunday, became the fastest player ever to reach 700 career receptions. Anyone wondering how Fitzgerald is still Larry Fitzgerald despite Arizona's quarterback play only need watch him closely. He routinely outmaneuvers elite defensive backs and finds the soft spots in zones, all with a fluidity and elegance only a handful of NFL receivers have ever possessed. (And speaking of elegance, Larry Fitzgerald wears ascots. I have nothing else to add to that.)
Fitzgerald's 37-yard touchdown on Sunday against the Eagles was a nice example. On first-and-10 in the second quarter, the Cardinals called a very basic pass combination — a post route by Fitzgerald behind a deep cross by Roberts, all off play-action. This has been one of coach Ken Whisenhunt's favorite pass concepts over the years, and is one used by virtually every NFL team.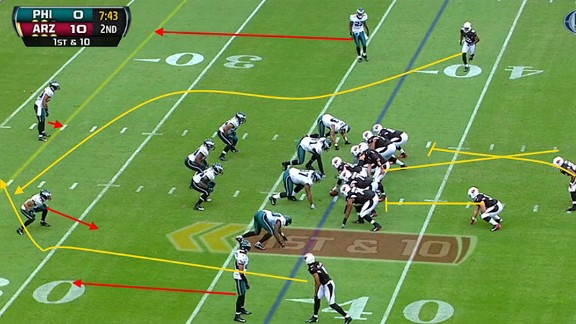 To understand what happens, it's important to say a bit about the the Eagles' coverage. Frankly, the Eagles' Kurt Coleman flies up so fast to stop the run that initially I thought this was an entirely different coverage. Thankfully, safety Nate Allen was around to clear things up. After the game, Allen explained that the Eagles were in a Cover 4 scheme — a four-deep coverage that should have resulted in a defender bracketing Fitzgerald on either side.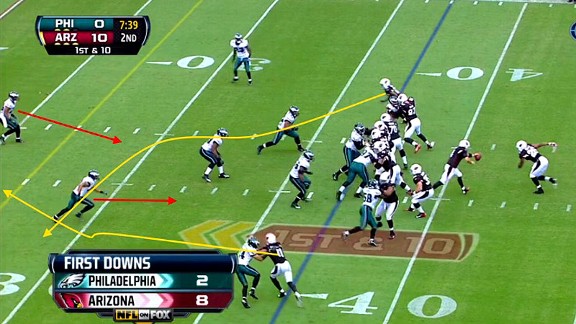 The key defenders here are cornerback Nnamdi Asomugha — lined up just outside Fitzgerald — and safety Coleman, responsible for playing Fitzgerald to the inside. The problem for Philadelphia is that as he sees the run action, Coleman immediately buzzes to the line. This essentially leaves Asomugha in one-on-one coverage on Fitzgerald.
Thinking he has inside help, Asomugha plays Fitzgerald with outside leverage. But with the benefit of noticing that Coleman is out of position, the crafty Fitzgerald immediately begins setting up for the big play. Fitzgerald releases immediately to the inside, where, without help, Asomugha is effectively already beaten.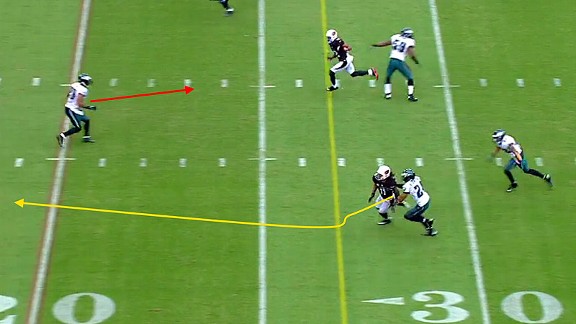 Where Fitzgerald really shows his ability is in what he does next. While bursting upfield and keeping his shoulders ahead of Asomugha's to maintain his inside position, he also leans into the defender, pushing them both back toward the sideline. He does this for two reasons. First, it creates more space between Asomugha and the opposite safety, which leaves Kolb with a place to fit the ball. Second, it sets up Fitzgerald's move to get open. The old coaching adage is that to "be covered early is to be open late," and by pushing Asomugha to the outside, Fitzgerald is able to set up his own burst to the end zone.
And because he is still spying Roberts in an effort to "rob" the deep crossing route, Allen is no help in stopping the post.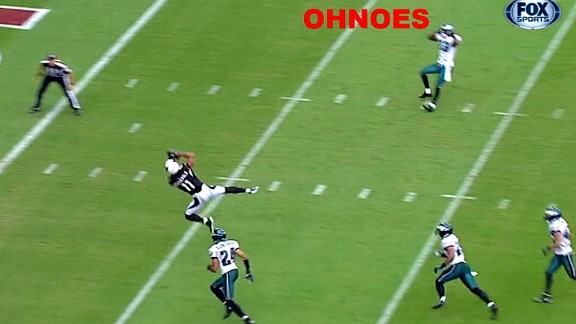 Fitzgerald bursts inside to create a huge amount of separation between him and Asomugha, and with Coleman and Allen nowhere close, Fitzgerald makes a great catch and rolls into the end zone while Dominique Rodgers-Cromartie can only watch in horror. "My fault, my fault," Coleman said after the game of his leaving Asomugha one-on-one against Fitzgerald. "I'll take the heat for that."
There's no telling how long Kevin Kolb (or John Skelton) can maintain a decent level of quarterbacking, but one thing is clear — coverage breakdowns or not, Larry Fitzgerald is clearly still elite. And, for now at least, the Arizona Cardinals are, too.
Filed Under: Arizona Cardinals, Chris Brown, NFL, Total Breakdown