AJ to T.J.: Breaking Down Alabama's Game-Winning Play
I have an admission to make: Several times this season I've tried to watch Alabama play an entire game, and each time I've failed. Sure, I've watched quarters of football here and there — the bludgeoning of Michigan, the decimation of Arkansas, and the tidy strangulations of Mississippi State and Tennessee. But watching this team methodically squeeze the life out of opponents is similar to what I imagine it's like to play against it — occasionally awe-inspiring, but somewhat exhausting. That was again the case until the waning moments of Saturday's comeback victory against LSU.
For much of the night, Alabama had been outplayed. LSU's offense, which looked flat-out dysfunctional for much of the year, absolutely took it to Alabama's vaunted defense. The Tiger passing attack, in particular, went from awful in previous games — against Florida, South Carolina, and Texas A&M Zach Mettenberger had completion percentages of 44, 48, and 37.9 — to something resembling the Montana–to–Jerry Rice 49ers, hooking up on 25 of 36 passes for 296 yards and a touchdown. The Tigers defense played a stout game as well. Before going 4-for-5 on the final drive, Alabama quarterback AJ McCarron was 1-of-7 for seven yards in the second half.
The Tide's trademark slow suffocation was being used against them. But down just three late in the fourth quarter, there was still enough time for one of those awe-inspiring moments. Games like that can't be reduced to just one play, but if it was going to be, oh what a play it was. AJ McCarron's screen-pass flip to T.J. Yeldon — who took it the remaining 28 yards to the end zone for the game-winning score — already has its place in football history, known simply as "AJ to T.J."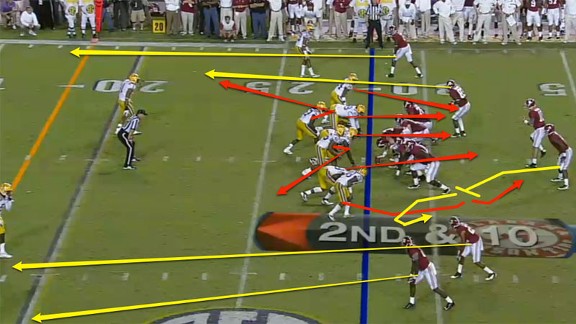 On second-and-10 with just under a minute remaining, LSU defensive coordinator John Chavis called what looked like an all-out blitz. McCarron had just completed several passes to the trusty Kevin Norwood, and Alabama was in range for a long, game-tying field goal. In calling an all-out blitz, Chavis seemed to be falling into the trap legendary coach Bill Walsh noted when an offense gets into the scoring zone:
The defensive coach is trembling because the head Coach is walking toward him. The head coach says, 'Blitz, stop them now. Blitz, they are killing us." … Most people get desperate, some people panic. Teams go to a man to man coverage, teams will blitz…. You show your team what you think is best in this situation. We will use the same ones all year, but we are going to practice them… Now when your team comes out of the huddle on the 18 yard line, the guys are saying, "Look out for the blitz, here's our chance to score."
First-year Alabama offensive coordinator Doug Nussmeier, who, like prior OC Jim McElwain, is a disciple of the one-back offense, on this play made what was apparently the perfect Walshian call — a screen pass in the scoring zone against a man-to-man blitz. Yet, upon further review, the play was slightly more complicated than that.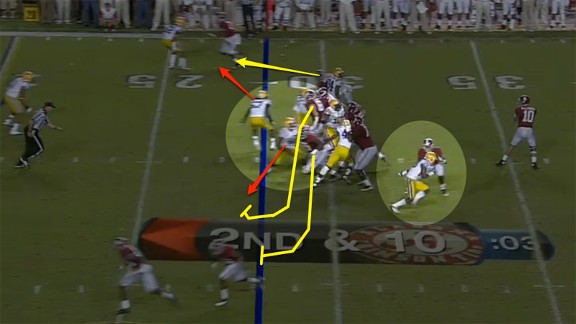 A different picture starts to emerge just after the snap, starting with LSU's two interior defenders: linebackers Kevin Minter and Cody Townsend. Both are lined up as if to blitz, but as Alabama receiver Norwood releases off the line, Townsend follows him. Meanwhile, Minter begins to retreat as the offensive line releases to block for the screen pass. Without knowing the particular defensive call, to me this looks like these LSU players were playing a "key" or "peel" technique, which means that they were told to blitz McCarron unless Norwood or Yeldon released into patterns. When Norwood does, Townsend goes with him. The key is in how Minter reads Yeldon.
On a screen pass, the running back should not simply pretend to pass block and then release for the pass. Instead, he must do his best to actually make contact with a blitzer to truly sell the screen. It is often that blitzer who is responsible for the running back, and faking a block can actually force the defense to spy the runner with two defenders. On this play, Yeldon does an excellent job of stepping into defensive back Jalen Mills, who is so intent on getting past Yeldon that he forgets about him. This action makes Minter's release one step too slow.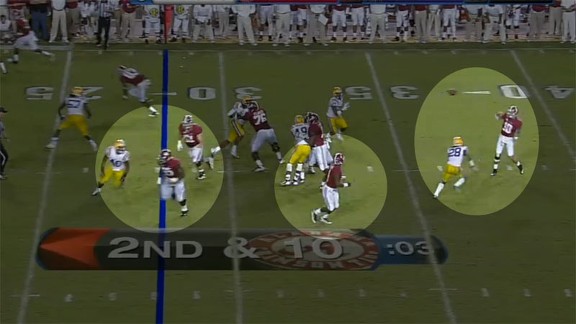 With Mills approaching, McCarron does a nice job of getting tall and delivering the ball to Yeldon on the screen. Meanwhile, Alabama offensive linemen Anthony Steen and Chance Womack Warmack release free from the wreckage inside and look to find someone to block.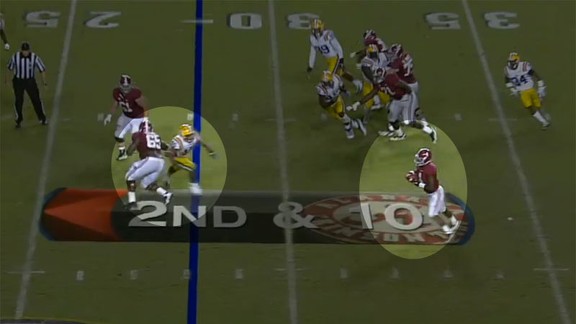 The most dangerous defender at this point is Minter. And, like with many successful screen passes, Womack's Warmack's massive presence is enough to reroute Minter and cause him to miss the explosive Yeldon.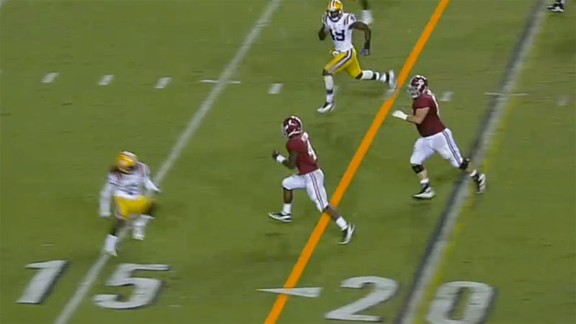 At this point, it's all about T.J. Yeldon in open space, and the talented freshman does his part by both making defenders miss and sprinting to the end zone. The role of Alabama's Steen shouldn't be undersold, either. By getting downfield, even without getting much of a block, his presence sets Yeldon up to break into the clear.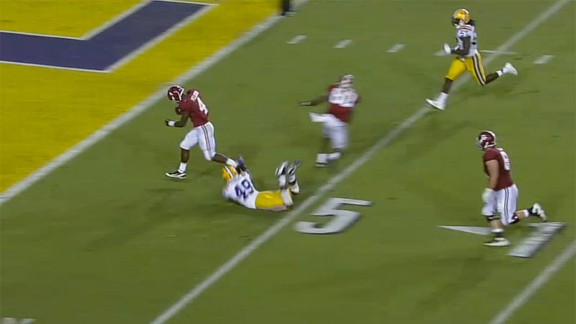 The image of Yeldon in the end zone — with LSU defenders strewn about in a quiet, deflated Tiger stadium — is ultimately the lasting one of a fantastic all-around football game. Whether it's also one of the lasting images of the season might depend on Alabama finishing the year with yet another BCS title. That will be settled in the coming weeks, starting this Saturday as Alabama faces a pesky Texas A&M team. For now, though, it's all about AJ to T.J.
Filed Under: Alabama, College Football, LSU, Nick Saban, Total Breakdown