Notes From Roland Garros, Pt. 3: Does France Have a Tsonga Problem?
Patrick Kovarik/AFP/Getty Images
It wasn't unthinkable that Jo-Wilfried Tsonga could beat Roger Federer. On clay. In Paris. At Roland Garros. Maybe it was even likely. Tsonga is one of a handful of men who knows how to play Federer on any surface, how to stand strong under his relentlessness. But Federer relented quite a bit on Tuesday. He doesn't express much when he's losing badly, but when he does he makes the face old Parisian women make upon discovering that they've carelessly boarded the metro car with the busking accordionist. Tsonga wasn't electric against Federer. He didn't have to be: Federer was simply ordinary. They've called him FedEx for years. But Tuesday, he was FedUSPS.
In any case, now that he's gone, France is starting to believe that on the 30th anniversary of Yannick Noah's being the last of their countrymen to win the championship, Tsonga could be the next. (We'll see. If Andy Murray's Wimbledon frustrations indicate anything, it might just mean Tsonga will be the first Frenchperson to win the U.S. Open in August.) For three days, the sports shows and newspapers have quietly conjoined commemoration and speculation. Will Noah be there Friday to root Tsonga on against David Ferrer? Will Tsonga, who's seeded sixth, find the right game plan to stop Ferrer? Is the country even doing all it can to support and encourage its native son?
That last question came up the other night during a family dinner at a tiny Parisian restaurant. There was a white, upper-middle-class quintet that had seen the quarterfinal match and were contrasting its spirit to that of Federer's impressive, galvanizing five-set comeback against Gilles Simon. The mother found the crowd noise aggravating. Her cool-looking children — two adult-looking teenagers and a kid in his early 20s, each styled like a member of the sort of band you pretend you've heard of — thought she was missing the point. The youngest kid surmised that Federer was done, that he just can't keeping summoning the magic as he once could and that Simon and Tsonga are just more fun to watch. The mother turned out to be a real Federer fan, and this seemed to hurt her feelings — like what he was really saying is "College is for losers!" The eldest son just thought Federer couldn't beat three good players and the French fans three times in a row. The father, a jolly fellow with the starch of a CEO and the hair of a literary magazine editor, said nothing.
It was the daughter who raised the point about France and supporting Tsonga. "Where were the fans during the match?" she wondered. They were only half as loud as they were in pulling for Simon. And why was that? The elder boy explained that the fans were only half as loud because Federer only played half as well (it was probably less than half, but OK). She disagreed and proceeded to speak at a clip too fast for me or my tablemate to catch. But basically she seemed to be speculating that France is being so reserved about Tsonga not out of sympathy for Federer or fear of jinxing a new French winner but out of something like racism. She said this just loudly enough for the couples at the three surrounding tables to look up.
"France wants a white champion."
The brothers laughed, and the mother looked hurt all over again, as if her little girl had just announced that she wasn't going to college, either, and that she was marrying the guy in the band, and that she was pregnant. The father just smiled and said that her suggestion was absurd and basically unquantifiable, that France would love it if Tsonga, who's half-black, won, just as it had when Noah did. The boys agreed, going on to speculate about what Tsonga will have to do to beat not only Ferrer, but Rafael Nadal or Novak Djokovic, who'll play each other in Friday's other semifinal. Then a dessert arrived with a candle sparkling on top. Everyone sang "Happy Birthday" to the youngest son, and smiled, laughed, had espressos, paid, and left.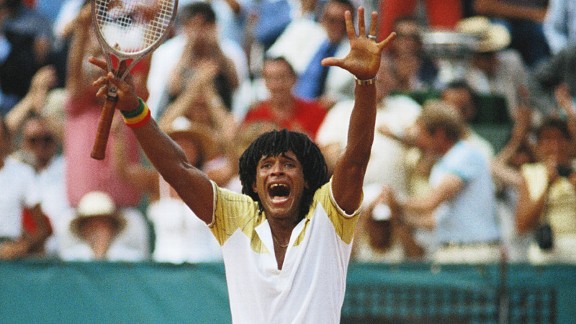 If the daughter is on to something, it would be news to Roland Garros, which has been running footage of Noah's win and his post-triumph press conference all over the grounds. He's a source of national pride. He's a folk hero. Le Monde has been running a multi-part series in which Noah recounts the seven matches he played that year. Being here for the 30th anniversary does conjure some painful feelings about how much the sport has deteriorated, however. Every time you look up, there's Noah in his short, white Le Coq Sportif shorts with the yellow piping along the pockets and the complementary striped yellow tennis shirt that opens to the top of his chest. There he is in his bracelet and Rasta armband and those dreadlocks with the just-so sloppy bangs. It's not as if people have stopped dressing like this (I've had Yannick Noah cab drivers; I've seen Yannick Noahs playing street hockey on the Lower East Side; Yannick Noah has a son named Joakim; have you seen some of the stuff Joakim wears?), just tennis players.
When Serena Williams won here in 2002, she wore braids that opened into a blonde ponytail and a shimmering charcoal dress with yellow piping. It was the last time someone won while wearing anything Noah might like. This year she's found something short with an empire silhouette. It's smart and womanly. She's tied her hair up in neon orange that matches her wristbands. It's a serious piece of clothing that Williams doesn't have to worry about while she's playing. But you look at it and you miss the risk-taker she was as a younger woman. The other night the International Tennis Federation held its annual champions dinner, and Williams wore a short, black-belted fuchsia number. It was sexy without going out of its way to be so. Something about it made Djokovic, her co-champion, seem even younger than 26. Williams is 31 now, and she's left the risks to her tennis, and I suppose if you're going to play it safe somewhere, your wardrobe is probably the right call.
With the men, there's a reluctance to be noticed. When the apparel companies have an interesting new shirt, the male players want it, regardless of who else on the tour has it. In fact, the more players who have that shirt the more players who want it. It's how they know it's worth having. The dominant shirt of the first week was a Lacoste number in black, white, and topaz, particularly favored by a lot of the French players. Its possible appeal is that the colors can be reconfigured within the predetermined pattern. The one worn by Édouard Roger-Vasselin, who lost in the second round to Nicolás Almagro, had a black flank stripe and a block of blue around the bottom. The rest was white. It's the most boring shirt, and yet it still manages to be wearing you. For their second-round match, Julien Benneteau and Tobias Kamke wore the same shirt in different configurations. During the split-screen changeovers you could see projected around the Roland Garros complex, it was fun to see them and imagine what video game could reconfigure the patterns until you achieved a solid color.
Nadal has the attire you want. He's also in Nike neon – his is a kind of reddish pink, and television isn't doing it justice. It's a color that jumps off the clay just as often and entertainingly as Nadal dove and tumbled onto it yesterday in his simple win over Stanislas Wawrinka. It's there in the detailing of his shoes and on his eggshell-white shirt; it's there in the piping on his loosely structured gym bag. It's the color of happiness, stimulation, intensity, and dessert. An unscientific survey of people walking around the grounds suggests that it's Nadal they aspire to dress more like. But Nike isn't selling Nadal's body, only his clothes. So results will definitely vary.
The closest thing we've got to Noah is actually Gaël Monfils, the ropey Frenchman who lost to Tommy Robredo in the third round and is the most naturally stylish player in either singles draw. Monfils, bless him, played in loose aquatic stripes. It was surf wear, which seemed right for the way Monfils rides the clay. Victoria Azarenka is currently dating the musician and live-action comic-strip character Redfoo. But you could imagine her outfits and Monfils's walking together in the sand.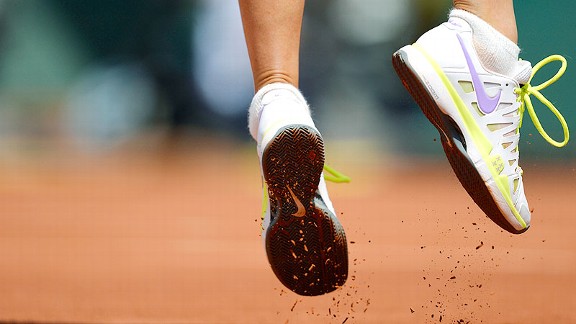 For obvious reasons, the tone of nationality is imposed by the French. But Wednesday's rowdy, sunny quarterfinal between Maria Sharapova and Jelena Jankovic gave the host nation the afternoon off. Most of the noise came straight from Jankovic's box in the stands. Ordinarily, the players teams don't lead cheers. Often at an Azarenka match Redfoo will go, "Wooo," when she blasts a winner. When she's down, he'll shout something like, "Come on, babe." What happened on behalf of Jankovic and Sharapova at Philippe Chatrier was different. The men in Jankovic's box waved the Serbian flag and sang songs to her. A man in a different part of the stadium, a section seated behind the player's chair, joined them, and before the match, she looked up at him and smiled as she took a swig of water. This guy had the loudest clap I've ever heard. A reporter working just behind him on her laptop made appalled faces and then proceeded to do the loudest typing I've ever heard.
Jankovic was once the no. 1 player in the world, and people carped long and loud about how that exposed the ludicrousness of the rankings system. But Wednesday, Jankovic, who was covered in body tape, played like she had nothing to lose, because, really, she didn't. For the first set, her tennis was bold and faultless. It was Sharapova, the defending champion, who was tight. Something was getting to her. Maybe it was the chanting Serbians. Maybe it was the knowledge that Williams, the athlete who treats her most mercilessly, was a match away from the final. Maybe it was just the pressure of having to achieve a difficult feat for a second consecutive time. Either way, the shots went wide and long. She double-faulted and lost the set 6-0. If you're Sharapova and the best shot you've hit in half a dozen games is a defensive lob, it's time for an all-points bulletin for whoever's stolen your aggression.
At the start of the second set, the Serbians did, "Let's go, Jelena," but with a totally different rhythm than anybody had done "let's go" the entire tournament. They turned it into a fight song. And it was at that point that the Russians in the stands had had enough. A few rows of women wearing the straw hats you can buy on the grounds began to shout, "Russia! Russia!" They were joined by some others across the stadium. This only incited the Serbians, and for most of the rest of the afternoon it was one bloc trying to shout over the other, creating a totally separate contest.
It didn't matter. Sharapova doesn't stay rattled forever. She went to a toolbox of sounds and replaced her squeal with a deep grunt as things got desperate in the second set. With her back against the wall, she hit a drop shot from behind the baseline that sank like stone and powered an impossible forehand to a section of the far line of one of the service boxes.
You felt bad for the Serbians. You felt bad because you knew that Jankovic was going to lose and you knew that they knew. So at some point the cheering went from boisterous and comical to sad. The Russians backed off, taking satisfaction that the score would be the only message worth sending. At the end of the day, Sharapova winds up in a lot of these sorts of matches at majors and winds up winning them. Her amnesia usually passes, and she remembers who she is. She's Maria Sharapova.
Filed Under: French Open, Novak Djokovic, Rafael Nadal, Roger Federer, Roland Garros, Serena Williams, Tennis, Wimbledon