The Gregg Popovich Hunger Games and 9 More Last-Minute Notes on the NBA Finals
Ronald Martinez/Getty Images
Game 1 of any series, and especially of the NBA Finals, can be a little funky. LeBron James began last season's Finals guarding Kendrick Perkins, and Game 1 featured so much switching and so many weird matchups it became difficult to track at times. There was a real feeling-out process.
With a big-picture preview in the bag, here are 10 little things I'll be watching tonight:

Tony Parker Isolations
One way to disarm Miami's frightening trap-heavy defense in pick-and-rolls is to not run pick-and-rolls at all — to spread the floor and let Parker just go at his guy one-on-one: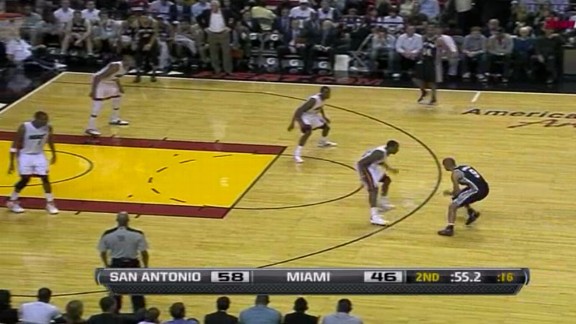 Norris Cole and Mario Chalmers both go through fits of jumpiness on defense, and Parker can break anyone down. It's not something the pass-and-cut Spurs will do all that much, but it's a good change-of-pace weapon against defenses like this, and they've used it against Miami before.
Parker's Cutting Game
When I run a 5K, I feel like I can barely make it home. (Side note: Running is the very worst thing.) I can't even imagine what a nightmare it is to guard this guy. It would be polite of Parker to slow down and run some normal, stagnant, high pick-and-rolls, but the Spurs just refuse. He often starts possessions by sprinting down one sideline, veering along the baseline (and around at least one pick down there), and then up the other sideline, before finally taking a pass or dribble handoff and continuing his sprinty jaunt toward the center of the floor. It's almost rude.
Parker ran about 2.46 miles per game this season, the 25th-highest figure in the league, according to data from SportVU tracking cameras installed in 15 NBA arenas. And that ranking undersells Parker, since he logged only about 33 minutes per game, and the full list includes tiny sample sizes linked to players whose teams have not purchased the cameras. It's just torture to guard him.
Parker is really good at sensing when his defender is overplaying him on those baseline cuts, stopping on a dime, and making a semi-improvised back-door cut for a possible layup. He'll also dart in unpredictable directions along the sideline if he sees a defender lazily anticipating the usual Parker routine. Cole and Chalmers have to be careful.
Gregg Popovich's Between-Quarters Interview
This fantastic piece from ESPN.com's Marc Stein reflecting on Pop's legendarily snarky in-game interviews has rekindled my enthusiasm for this tradition, especially as we reach the biggest and most stressful stage the NBA offers. I can't wait. It's unfair that TV sideline reporters get to monopolize this privilege, and it's clear it has taken a psychological toll on them. They need a break. On the other hand, I'd kill for one shot at this. What's the worst that can happen? Pop says nothing? He strangles me on live TV? I fail to even ask a question? No matter what, it's a YouTube treasure I can show my grandchildren one day.
So here's my proposal: We put every credentialed reporter's name in a hat, and in a pregame ceremony, a league official (or maybe one of those Ernst & Young accountants who supervise the lottery drawing) picks one slip of paper out of the hat. If your name is on that paper, Pop duty falls to you on that night. It would be like the NBA's version of The Hunger Games, and if I noticed some shy sap, all color drained from his or her face, reacting in terror at having been named, I'd absolutely scream, "I VOLUNTEER AS TRIBUTE!" International media members with only so-so command of English can get a pass, though I just assume Pop, dating to his military days, speaks at least a dozen languages. (He also communicates only by disposable cell phones, because, duh, Pop was on to the NSA's spying program years ago.)
I'd spend the entire game doing nothing but thinking about my Pop question, and when the moment came, I'd probably panic and hit him with one of those "Talk about …" horror-show questions. "Um, so, you're down by 15. Talk about what just happened in that quarter, Pop."
Boris Diaw on LeBron
Diaw spent much of this season's first meeting between these teams defending James, but that was mostly because Kawhi Leonard joined half the Spurs' rotation in ditching that game. Popovich broke out the hilarious Tiago Splitter–Diaw–Matt Bonner trio for 16 minutes in that game; they played six minutes combined over the rest of the season, per NBA.com.
But with Stephen Jackson gone (he got that money, though!), the Spurs have no backup small forward for Leonard. The best anti-LeBron deterrents after Leonard are Danny Green, and then perhaps Diaw, who has deceptively quick feet and the bulk to deal with James in the post. I'm skeptical we'll see a lot of this, provided Leonard can avoid foul trouble, but Leonard is dealing with knee pain, and putting Diaw on James for short stretches would allow the Spurs to keep two big men on the floor when James shifts down to power forward. James should be able to blow by Diaw on the perimeter, and perhaps force the Spurs to help more dramatically than they'd like.
How Much Will the Spurs Help on LeBron?
They've flirted in the past with some fairly aggressive help schemes on James, including an occasional zone-style trap when James handles the ball high on the floor: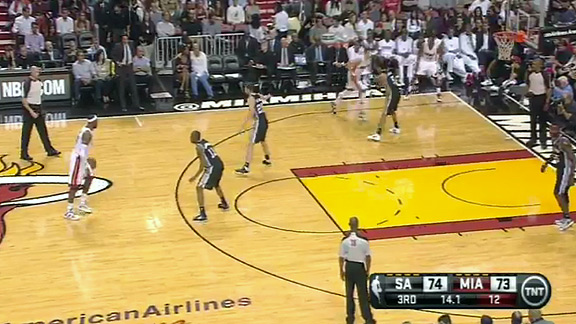 They'll send Leonard help in the post, and they'll mix it up between having perimeter guys swipe down at LeBron and using the old Spurs ploy of sending a defender along the baseline to trap James from below. But will they go even further?
Mario Chalmers, Getting Space
The Spurs in the past have been a bit sloppy, or perhaps strategically loose, in their coverage of Chalmers on both on-ball and off-ball screens. He has been able to find acres of space to launch 3-pointers. Just something to monitor.
In Chris Bosh's Face?
Watch the Heat-Spurs games from the last three seasons, and Bosh's impact leaps off both the film and the stat sheet. He's shot 60.5 percent (46-of-76) in five games against San Antonio as a Heatle, and he's hit better than 50 percent in all five of those games. As I mentioned in my preview, in those games the Heat asked Bosh to do all the stuff he used to do but rarely does anymore — post up with a mean streak, take bigger guys off the bounce, and generally play like Toronto Bosh.
But it was also striking how much space the Spurs gave him to shoot jumpers, even from close range: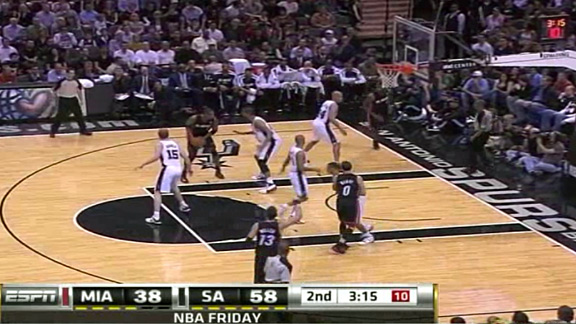 The Heat normally have to run some action to get Bosh a clean look; against the Spurs, they've merely had to get him the ball. And on pick-and-rolls, LeBron has been canny about taking an extra little dribble into the paint to suck Bosh's defender in a bit further, allowing Bosh to creep for little 12-foot pick-and-pop jumpers instead of the usual 20-footers: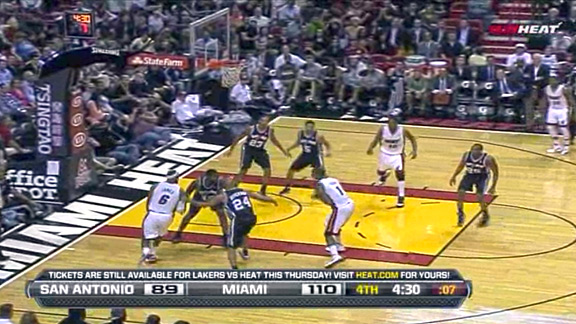 Is San Antonio still content to play this way?
The Crashing Dilemma
Bosh will get pick-and-pop looks because of how the Spurs defend the pick-and-roll, with the San Antonio big man dropping into the paint to contain the dribble-drive at the cost of leaving Bosh open for a midrange jumper — the least efficient shot in basketball. Duncan will get open looks on the pick-and-pop because the Heat will trap Parker, leaving Parker's screener open for the same inefficient look.
But sometimes "inefficient" shots are all you can get against smart defenses that concede those very shots, and nothing else. After all, teams only have 24 seconds to shoot, and there's no guarantee you're getting a wide-open corner 3 in the final eight seconds or so of a possession. And Duncan and Bosh (and especially Bosh) have reached near-Nowitzkian levels of accuracy from the midrange, hit rates at which the least efficient shot in basketball actually becomes a pretty good option.
That leaves a dilemma for defenses accustomed to meeting those long-range 2s with a shrug: How aggressively do you rotate at those midrange shooters? Here's Bosh catching a pick-and-pop pass from Wade (in the lane):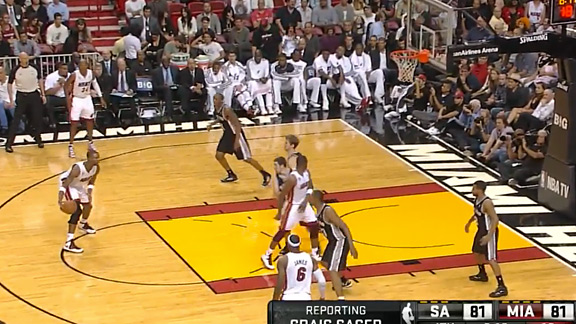 Do you just leave Bosh alone? Do you send the guy defending Ray Allen in the left corner to run out at Bosh, hoping someone else rotates to Allen? Do you have that player — James Anderson here, underscoring the irrelevancy of this game — take a hard step at Bosh, hoping to unnerve him, before returning to Allen? Should Nando de Colo, Wade's man, run out at Bosh, since he's faster than Splitter (Bosh's original mark)?
The Heat will face these same decisions, and not just on Duncan-centric pick-and-pops. When Parker rockets around those baseline screens and gets the ball near the foul line, the Miami defenders on San Antonio players dotting the 3-point arc will be tempted to crash down onto Parker, as Mike Miller does here: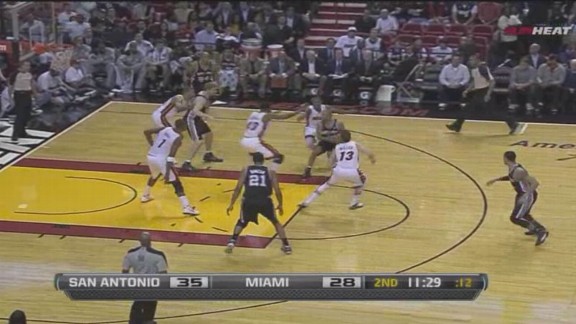 Is that a smart gamble? And when?
Those Pesky San Antonio Back Screens
Look again at that photo: Duncan sees Miller's crashing help and steps up to nail him with a surprise back screen as Miller's man, Danny Green, fades behind that pick toward the left wing for a possible open 3-pointer. The Spurs did this to Miami, and everyone else, quite a bit. The Heat will have to have their antennae up.
Fronting Duncan
The Heat have tried, and they'll try again, with both Bosh and Udonis Haslem. Can the Spurs find a way around those fronts and establish Duncan as a post-up one-on-one weapon? And if they can, will the Heat suck it up and send double-teams at Duncan — an ace passer?
There are many more little questions. The answers will start emerging tonight.
Filed Under: Chris Bosh, Gregg Popovich, LeBron James, NBA, Tony Parker, Zach Lowe