NBA Short-Attention-Span Power Rankings: Manimal Magnetism
Garrett W. Ellwood/NBAE via Getty Images
A survey of the players and teams making moves in last night's NBA action.
1. The Denver Dunkets
The Lakers are old; the Nuggets are fast. Last night, the Lakers went up on top of a mountain, and the Nuggets ran them right off of it. Denver had 33 fast-break points, and Los Angeles had three. Everything Denver is — young, fast, fun, and deep — the Lakers aren't (don't worry; the Lakers are probably going to sign Raja Bell, so this disparity should be taken care of). That first Iguodunka in the video above was the product of a Faried-to-Lawson-to-Brewer-to-Iggy fast break, where the ball took about two seconds to get from end to end, and never touched the ground. It's followed in that reel by a mid-air Iguodala-to-Faried alley-oop. AND NEITHER IS THE BEST THING THAT HAPPENED IN THE GAME.


2. Paul Pierce
Paul Pierce is renewable energy source. The Boston veteran powered his team through its 10th overtime game of the season, scoring 26 points in a 110-107 victory, ending a Celtics road trip in style. Pierce scored seven, as part of a third-quarter 20-4 run, and seven straight in overtime. The 35-year-old's game is often described, if you're being complimentary, as "old man," and "ugly," if you're not feeling that generous. But seriously, there are few things in basketball as beautiful as Pierce burying daggers from the elbow with the game on the line.
3. Jamaal Tinsley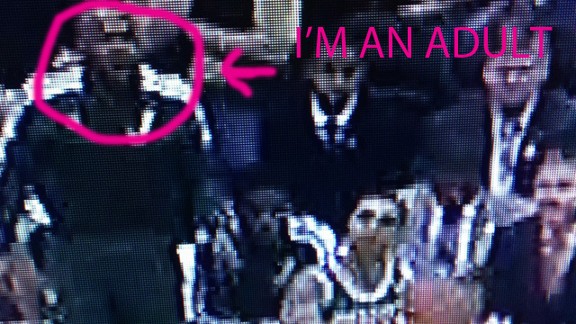 This is a photo of Jamaal Tinsley getting off the Utah bench (where he lives) to scream at the top of his lungs at Courtney Lee, as Lee took an uncontested corner 3. Jamaal Tinsley is 34 years old.
4. Mario Chalmers, Film Critic
Mario Chalmers told FoxSports Florida that He Got Game is "one of his favorite movies." Little-known fact: Chalmers's other favorite films are Weekend at Bernie's II, Hiroshima Mon Amour, and Phone Booth, because he identifies with being locked in a phone booth.
Asked whether he ever calls teammate Ray Allen, the star of He Got Game, by his character's name, Jesus Shuttlesworth, Chalmers responded, "We do it sometimes during games when he catches a hot streak or he does something crazy … We're like, 'Jesus.' Sometimes he just looks over and smiles."
5. Birds of a Feather
The Hawks haven't lost since last Thursday's trade deadline. They beat Sacramento, at home, and have gone on to win two road games in Milwaukee and Detroit. Not exactly the toughest competition, but with Jeff Teague averaging 18 points and 9 assists a game in February, Josh Smith averaging 19 points, 10 boards, and five assists in his last 10 games, and Al Horford putting up 20-20 nights like he did against (an albeit Andre Drummond–less) Detroit last night, Atlanta looks a little dangerous. On one hand, you could see these guys throwing their hands up, since more than half the team will likely be playing elsewhere next season. But maybe all the uncertainty will create a little "why not us?" factor come playoff time.
Filed Under: Kobe Bryant, Los Angeles Lakers, NBA, Utah Jazz