NBA Short-Attention-Span Power Rankings: Back Inside the Grindhouse
Joe Murphy/Getty Images
A survey of the players and teams making moves in last night's playoff games.
1. Zach Randolph
Zach is back! Fourteen career playoff double-doubles! Lost his headband a couple of times! Clearly the beneficiary of a night spent in a hyperbaric chamber where you pump in 8ball & MJG mixtapes instead of oxygen! Steve Nash should try that. Right, Steve Nash?
2. Zach Randolph Getting Stuffed by Matt Barnes, Approaching Matt Barnes Like He Was Going to Shot Put Him, But Actually Hugging Him
3. Chris Paul's Ongoing Crusade to Stop Dudes From Getting Their Heads Touched
Of everyone involved in this incident, CP3 is definitely the most emotional. Click here if you need a refresher course.
4. Zach Randolph's Suit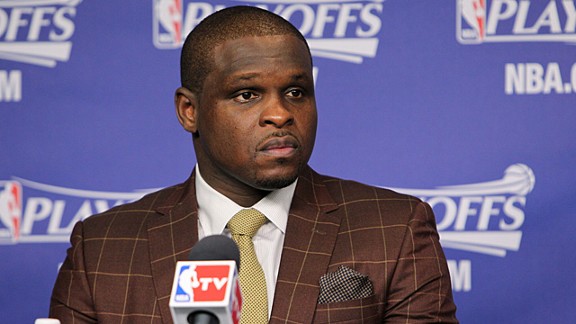 5. Taj Gibson
Taj basically got himself a feature on the new Kanye with this one. Here's the thing: I need the Don Van Natta Jr., Mark Fainaru-Wada … get me Abrams. I need to know: What did Kris Humphries ever do to Taj, or Kobe …
… or J.J. Hickson?
… to get yammed on like this? I think I'm entitled to answers!
Filed Under: Brooklyn Nets, Chicago Bulls, Chris Paul, Chris Ryan, Kobe Bryant, Kris Humphries, NBA, Steve Nash, Zach Randolph