NBA Playoffs Shootaround: The Oklahoma City Thunder Protect Their Turf
So much amazing is happening, and the Shootaround crew is here to help you keep track of it all. You'll find takes on moments you might've missed from the previous night, along with ones you will remember forever.
Five Quick Thoughts From a Thunder Fan About Thursday Night
1. Does it mean "we've got ourselves a series," or whatever sports-chat talking point is blaring out of your TV today? Probably not. As a Thunder fan, I've been repeatedly hit over the head with the fact that only 14 teams in the history of everything have come back from 2-0 down to win a seven-game NBA playoff series. And most of the losers of those series (in order: the '69 Warriors, the '69 Lakers, the '71 Knicks, the '77 Sixers, the '93 Knicks, the '94 Suns, the '95 Suns, the '04 Spurs, the '05 Rockets, the '05 Bulls, the '06 Mavs, the '07 Rockets, the '07 Pistons, and the '08 Hornets) weren't anywhere near the Spurs' level. After Game 2, I'm not sure the pickup team of the gods of Olympus was on the Spurs' level. (I wouldn't mind watching the gods of Olympus play the '69 Lakers, though.)

2. There's also a mini-history in the NBA of teams falling into a 2-0 hole, then winning Game 3 by 20-plus before going on to lose the series. Sometimes an outmatched squad just summons a Vengeance Game: one of those crazy nights when every ball bounces your way, the basket looks like a hula hoop, and you temporarily play like a living wall of fire against a team that's been pushing you around. One Vengeance Game doesn't generally change the course of a series. This is a stat so random I can't believe my fingers are typing it, but of the last seven playoff teams to win Game 3 by at least 20 points after losing Games 1 and 2, only the '04 Lakers eventually won their series (the Western Conference semis against … the San Antonio Spurs).
3. That said? The amazing thing about Game 3 was that the Thunder won by 20 despite mediocre shooting nights from their three best players. Kevin Durant (8-for-17, 22 points), Russell Westbrook (5-for-15, 10 points), and James Harden (5-for-10, 15 points) all played well, but never really achieved liftoff on offense and never had to take over the scoring burden because so many other guys were rolling. Thabo Sefolosha and Serge Ibaka combined for 33 points and eight steals. Even assuming the Spurs fix the turnover problem and get more from Tim Duncan and Manu Ginobili, if OKC can keep shutting down the pick-and-roll, get a few more performances like Thursday night's from the supporting cast, and find a way for Durant, Westbrook, and Harden to turn it up a little … I mean, if you're a Spurs fan, you have to be at least a little worried about that possibility, right?
4. There was a moment with about seven minutes left in the game, with the Thunder leading 90-68, when Harden got the ball just outside the 3-point line. Realizing that there were about two seconds left on the shot clock, he did one of those massive Harden lunge-steps, froze Gary Neal at the top of the key, and flipped up a staggered, off-balance 21-footer that kludged off the backboard … and ricocheted straight through the net. That was the kind of night it was for OKC — hectic, joyous, wild, lucky, everything breaking their way. You can arrange the stats any way you like, but the numbers only partly account for the sheer giddiness of a game like this. Which is why, for me, it was Harden's goofy bank shot and not, say, the points-in-the-paint numbers that exemplified Thursday night.
5. For Thunder fans, there's just no way to exaggerate how much this game meant, whether it turns out to be a one-off Vengeance Game or a legitimate series-changer. In a lot of ways, this team was built to stop the Lakers. No one saw the Spurs coming. While everyone else has slowly been getting used to the idea of using "beautiful" and "San Antonio" in the same sentence, Thunder fans have been watching the Spurs slowly march down the best record in the West over the last two months of the season, slowly replace the Thunder as everybody's favorite championship contender west of Chicago, and then slowly assert themselves as (potentially) one of the greatest teams of all time. It was like getting chased through a swamp for seven straight weeks, and at the end everyone kind of shrugged and said, "OKC? Yeah, they were fun for a while. But the Spurs are UNBELIEVABLE."
And it was true! But you know what? This Thunder team IS fun, and the fact that they were able to turn that fun into a colossal beatdown of San Antonio — essentially ending the Spurs' 20-game winning streak with a single game that felt like beating them 20 straight — restored some basic order to the universe, even if the only form that order can take is renewed hope for the future. Maybe the Thunder turn out to be galvanized by this performance, reel off three straight wins, and go on to play the Heat in the Finals. Even if they don't, at this time next year, Durant and Westbrook will be 24. Harden will be 23. They know they can do this. And that's something.
— Brian Phillips
I'm More Into Thabo Sefolosha's Early Stuff
On Thursday, following a 19-point, six-board, and mini-crime-spree-six-steal night, Thabo Sefolosha got himself a postgame interview with Colonel Mustard Craig Sager. The angle the psychedelic TNT sideline reporter took with the 28-year-old Swiss player, known mostly for his defense, was, "Holy crap! What did you just do!?" Clearly Craig is not up on such classic material as Sefolosha, playing for Fenerbahce, going AIIIIIIIRR HORRRRRN on Nancy in the Euro League. Craig! Time to go on a National Lampoon's European Vacation. Everyone knows about Thabo going nuts in the Fenerbahce-Nancy game!
— Chris Ryan
How to Make an American Quilt Russell Westbrook's Shirt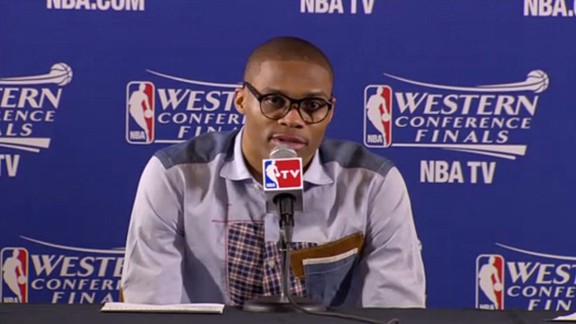 A Quick Note on the Domestic Life of Kendrick Perkins
Last night, TNT did a brief cutaway shot to Kendrick Perkins's wife, Vanity, in the stands. She seemed like a very nice lady. So I was really delighted when Brian Phillips passed along this picture of Vanity and Kendrick's wedding. Brian called it very Snow White and the Huntsman, but I happen to think he's got a little bit of Edith Wharton/The Age of Innocence going on here. Either way, looks like a fun time …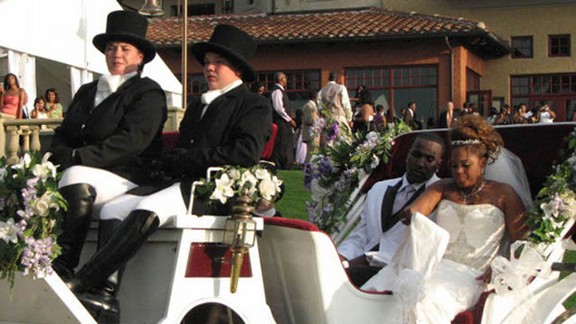 — Ryan
Iguodunkas of the Night: Russell Westbrook and Kevin Durant
Just feel like it's important to keep Iguodunka as a going concern, though this Westbrook elevator ride probably needs its own subcategory. Feel free to leave it in the comments.
The Durant one … look how, as he rises up, it looks like he's just going to stuff it — and then, at the last millisecond, brings it back for extra, well, Thunder.
— Ryan
Finally! An Opponent Worthy of Me!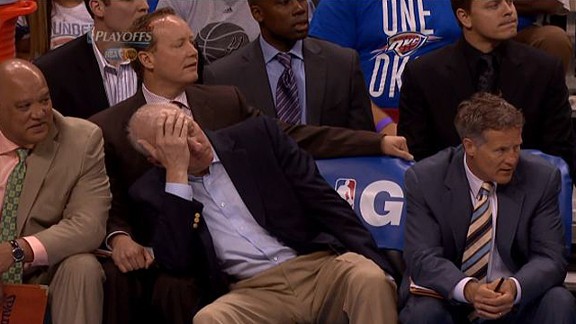 I might be remembering this incorrectly, but in Arthurian legend (like … the legend of King Arthur) (bear with me here) there's the story of Lancelot. Lancelot was the best knight out there. When it came to swords or axes or maces or whatever, nobody was really seeing him. It was his gift and his curse. Finally one day, he battles this new king on the block, Arthur, and Art wins (I think mostly because he had Excalibur). Lancelot is … relieved. Finally he has a rival, a worthy opponent.
Above you see a picture of Spurs coach Gregg Popovich being bested, albeit only temporarily. The Thunder made their adjustments, unleashed Thabo Sefolosha on Tony Parker, took the restrictor plate off, and made their offense not exactly street legal. Pop looks wounded there; someone finally took a good shot at him.
After the game, during his always must-see TV press conference, Popovich looked … stimulated. He talked, glowingly, about the performance by the Thunder, simply admiring the aggressive way they took it to the Spurs. Usually after wins he seems testy, underwhelmed. This time, after a comprehensive loss, he looked engaged. Tired, but definitely engaged. He had finally, after a 20-game win streak, found a worthy opponent.
— Ryan
Don't You Ever Forget It
We should've known it was going to happen at least once. There was going to be at least one game where it all came together — the crowd, a few missed 3s, and most important, all that talent that somehow took only two games to forget. Of all the incredible accomplishments San Antonio strung together over those 20 games, making this Thunder team look hopeless is easily the most impressive. Thursday night was just a reminder that when a team has the bodies, there's always a chance everything can click.
The play that stands out happened with about eight minutes left in the fourth quarter. OKC was already up 15, and as Tony Parker drove to the rim, the defense collapsed, leaving Kawhi Leonard wide-open in the right corner. Parker did what he's done all playoffs and hit the open shooter, but before Leonard could set himself, Kevin Durant had already made his way from the paint and flung himself in front of the shot. Leonard took one dribble left and still got his open look, but the rhythm was gone. The ball clanked off the rim into the arms of Russell Westbrook, who took two dribbles up the right side of the floor before finding a streaking Durant, who caught the ball near half court and seemed to need only two steps to get to the rim and lay it in. It was beautiful, and sudden, and the type of play that only the Thunder can make.
The difference was where it started, and where it all started for the Thunder on Thursday night. The vitality with which Durant closed out to the corner is something that was missing from the first two games. It's not that the Thunder weren't playing hard. It's just that Thursday night they were playing possessed. Coach Scott Brooks finally made that type of tenacity possible by not playing Derek Fisher 11 more minutes than Thabo Sefolosha (which really happened in Game 2). With Durant, Westbrook, Serge Ibaka, Sefolosha, and James Harden on the floor, the Thunder could switch screens and play with a relentlessness and adaptability that no other team in the league has. With the defense there, the sudden and the beautiful are always lurking, and Thursday night, the Thunder played in a way that made us feel ashamed that we'd forgotten.
— Robert Mays
Filed Under: Brian Phillips, Chris Ryan, Gregg Popovich, Kevin Durant, NBA Playoffs, Oklahoma City Thunder, Robert Mays, Russell Westbrook, San Antonio Spurs, Shootaround