Money's Inferno: Floyd Mayweather vs. Canelo Alvarez
AP Photo/Eric Jamison
Las Vegas, one of our many deflating cities, managed to puff itself up for the Canelo Alvarez vs. Floyd Mayweather bout. The sights usually associated with fight week stayed more or less within expectations — the heads of retired professional athletes bobbing high above the scrum of drunk people streaming through the lobby of the Cosmopolitan; the women in sparkly tube dresses stumbling on the sidewalk in their newest shoes; the legions of Mexican fight fans playing roulette at the Wynn with red ribbons tied around their foreheads. What had changed was the scale of all these things — swap Carl Everett out for Charles Barkley, Steve Madden out for Louboutins, and add about 40 percent more Mexican fans and you'll get a decent idea of what Vegas was like this week.
This was more or less to be expected. Showtime, Golden Boy, Canelo, and Floyd put an unbelievable amount of effort into the promotion of this fight, and all that sweat equity certainly paid off. From the moment it was announced, Canelo vs. Mayweather broke all sorts of gate records and quickly became the most hyped fight since Floyd fought Oscar De La Hoya on Cinco de Mayo in 2007. This was the very best boxing could do — a young, popular TV star thrown into the ring against the richest athlete in the world. But the question surrounding this superfight wasn't one of scale. Getting slightly bigger wasn't enough. The question was whether this would be the revolution boxing needed to throw itself back into national relevance.
Cardboard Canelo Heads
The first clue that things might be looking up for boxing came at the weigh-in. More than 12,000 fans crammed into the MGM Grand Garden Arena, with many more thousands being turned away at the door. On a normal fight weekend, even if Floyd is involved, the weigh-in will bring in 4,000 or so bored, intoxicated fans and about 30 members of the boxing press who inspect the fighters' bodies with all the precision and insight of Dr. Nick Riviera. (I am entirely guilty of this sort of wild speculation, by the way.) Friday was something better. Of the 12,000 who crammed their way through the narrow hallways of the MGM Grand, a good 10,000 were Canelo fans who screamed "Me-xi-co!," lustily sang ranchera, and waved cutouts of Canelo's smiling face in the air.
This past December, I felt a chill run through my body when I heard the roars that erupted when roughly 15,000 Mexican fight fans saw Manny Pacquiao hit the canvas face-first. I felt that same chill back in the summer of 2010 while watching Mexico play France in a crowded cantina in La Condesa, Mexico City. There's a hellbent way that Mexican fans cheer for their national heroes that exemplifies why we love sports. If the weigh-in was supposed to be the prelude for another triumphant moment in the storied history of Mexican boxing, it certainly did not disappoint. Women with Canelo headbands danced in the aisles of the MGM Grand with their boyfriends, who yelled at Danny Garcia's entourage and booed the Lucas Matthysse supporters who walked up and down the stairways with Argentine flags draped around their shoulders.
Then a grinning Canelo walked to the stage to strip down to his underwear, and from the amount of screaming you'd think all the hype surrounding him was legitimate.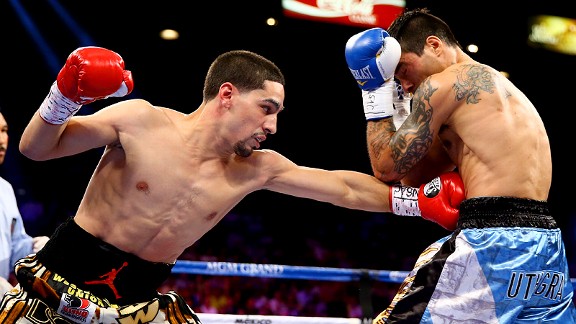 The Blessed One Jr.
Danny "Swift" Garcia does not do anything spectacularly well. He does not have the one-punch knockout power of Matthysse. He does not have particularly quick feet. His defense falls somewhere between "good" and "above average." He does not throw six- or seven-punch combinations like Amir Khan. Because of these visible deficiencies, Garcia's ascent in boxing has been something of an accident. He was a late replacement for his big first fight against the legendary Erik Morales. He wasn't supposed to beat Khan. And according to the vast majority of boxing experts, he was supposed to get knocked out by Matthysse on Saturday night.
What Garcia does well cannot be captured on tape. He always comes into the ring prepared and focused. He has a rock-solid chin. He does not back down when he's buzzed, and although he doesn't retaliate with the sort of thrilling, fuck-the-world flurries that helped turn Morales and Pacquiao into stars, he fights with a steely determination that far outpaces his 25 years. He is also an incredibly smart and patient fighter who has faith in the game plan devised by his father and trainer, Angel.
On Saturday night, Garcia came out a bit tentative. Matthysse had been knocking everyone out, and he needed to understand what that power felt like. He also was trying to time his left hook in those early rounds, and although Matthysse left some openings, Garcia couldn't quite find a home for his best punch. In the seventh round, with Garcia down big on the scorecards, he connected with a jab to Matthysse's eye. Within the next minute, Matthysse's eye had closed completely.
Garcia had his advantage. With a still-dangerous fighter launching haymakers, Garcia calmly stepped to his left and sank his left hook again and again into Matthysse's battered eye. He won the next three rounds handily and looked to be cruising to a comeback victory when one of Matthysse's power punches finally landed at the start of the 11th round, knocking Garcia's mouthpiece into the stands.
If you believe in Emanuel Steward's edict that the mark of a true champion comes from how he handles himself when he's in trouble, the last six minutes of Garcia-Matthysse should erase any doubts anyone has about Garcia's superstar potential within the sport. At that point, Garcia could have probably coasted and tried to steal the last two rounds at the end and still won a decision. Instead, Garcia redoubled his attack, battering Matthysse's ribs with hellacious body shots. At the end of the 11th, two of those body shots staggered and spun Matthysse. Matthysse sagged against the ropes and fell on his ass, down for the first time in his career.
The 11th seemed like a contender in a crowded race for round of the year, but the 12th was somehow better. Garcia came out a bit tentatively, knowing that barring a catastrophic judging error (more on that later), he only needed to avoid getting knocked out. But then in a clinch midway through the round, Garcia threw his sixth or seventh low blow of the fight, dropping Matthysse to his knees. He was deducted a point for the low blow, putting a points victory in even further jeopardy. Matthysse, enraged, went into full wolverine mode and launched himself at Garcia, who came straight back with haymakers of his own. Both fighters got staggered in the last 20 seconds of the last round, but neither stopped throwing punches, placing the perfect punctuation on what has to be considered the best high-profile, championship fight of the year.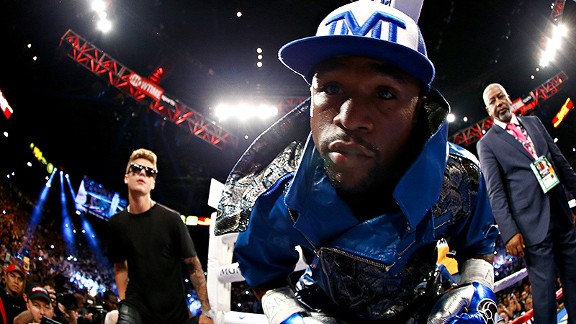 Easy Work
There have been two athletes in my lifetime whom I have felt privileged to have watched in person. The first was Pedro Martinez. The second is Floyd Mayweather. I don't mean to say that Floyd and Pedro were the two greatest athletes of the past 30-something years — certainly, there's a sense of reverence one gets while watching LeBron, and that Michael Jordan guy wasn't bad, either. But I believe in a very cerebral version of sports genius, and there's nothing more thrilling to me than when one athlete mentally outmaneuvers his opponent to the point of paralysis.
Floyd Hell happens to every Mayweather opponent. Its symptoms are simple yet irreversible: At some point during every fight, you will get so confused and frustrated by Floyd that you will forget pretty much everything you ever learned about boxing. You will lurch forward, hit low, throw elbows and wild haymakers that will miss Floyd's chin by two, three feet. You will stop moving your head and you will grimly eat jabs and right hooks because you have forgotten that there are ways to avoid getting punched in the face.
On Saturday night, Floyd brought his entire hell onto Canelo Alvarez. Before the fight, many fight pundits, myself included, predicted that Floyd would just do what he did against Robert Guerrero. He would fight moving backward, forcing the slower, plodding fighter to follow him around the ring. He would pepper Canelo with punches and when his back hit the ropes, he would spin out and start the process over again.
Floyd had different plans. He stood in the pocket, jabbing repeatedly through Canelo's guard. He circled to the left and to the right and snapped Canelo's head back with power punches. Floyd seemed intent on humiliating his younger opponent in about as many ways as he could fit into 36 minutes of action. In the eighth, Canelo finally got Floyd within range and threw a five-punch combination. Floyd dodged each punch by moving a different part of his body. He ducked, sidestepped, swiveled his hips, and then hopped backward out of range. It was like watching The Thing on Oxycontin trying to punch out Mr. Fantastic.
I gave all 12 rounds to Floyd, but can understand why sympathetic fans or writers might have given one or two rounds to Canelo. What I cannot understand is the scorecard turned in by judge CJ Ross, best known for her role in the Timothy Bradley–Manny Pacquiao debacle. If boxing wanted to gussy itself up for its day in the spotlight, Ross's 114-114 scorecard reminded every casual, potentially impressionable fan about all the reasons why, in the words of the great Paulie Malignaggi, boxing is bullshit. Any number of reasonably intelligent mammals and all the world's dolphins could have judged that fight better than CJ Ross. One of the undeniable, sometimes charming, but usually infuriating truths about boxing: There's always a turd in the punch bowl.
Floyd Mayweather might not have done much to convert the four people who care enough to troll boxing with declarations of its death, but on Saturday night, he turned in one of the greatest performances of his career. Only Floyd's 2001 destruction of Chico Corrales seems more impressive — Corrales was a well-regarded, undefeated champion who had been tested on several occasions, and was certainly a more formidable opponent than Canelo Alvarez. Both fighters endured a ritualistic, measured humiliation. If you place both fights within their proper historical context, Mayweather-Corrales wins again for how it advanced Floyd's career and Chico's stature in the sport at the time. But if you excerpt specific moments of each fight and string together every technical, brilliant trait you'd ever want out of a fighter for a master class in boxing, you might find more to work with from Saturday night.
Only one criticism for Floyd: You can't run back Justin Bieber. He's a onetime thing, and bringing him out for yet another ring walk made it seem like you had run out of ideas. Here's a list of candidates for next time:
5. Rob Gronkowski
4. #TheMileyTeam
3. Heisenberg
2. Willow and Jaden
1. Joyce Carol Oates, who can read her essay "The Cruelest Sport" while accompanying you into the ring.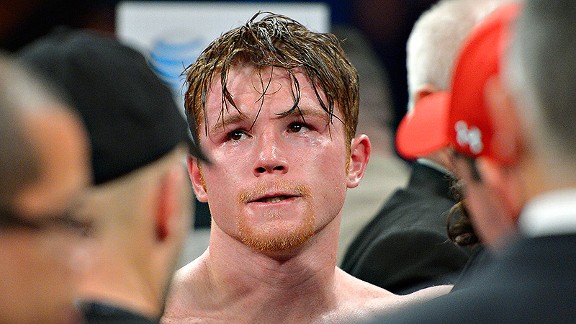 So did #TheOne bring boxing back to the mainstream consciousness?
Well, no. But not for lack of trying or any error on the part of Golden Boy Promotions and Showtime, who put together a stellar, bar-raising event. Seemingly every day during Fight Week, someone of prominence within the sport's small, rabid media base argued passionately that the sport was not dead. Rosie Perez said boxing is not dead. Richard Schaefer, the CEO of Golden Boy Promotions, said boxing is not dead. Some guy who reprints press releases and passes them off as articles said boxing is not dead. It got to the point where the constant refrain actually sounded like the sport's last eulogy and reminded me of my favorite Silver Jews lyric: "Punk rock died when the first kid said, 'Punk's not dead … Punk's not dead.'"
The argument for boxing's thriving place in the culture was overwhelmingly numbers-based. According to the "boxing is not dead" PR movement, "The One," as it was dubbed, or, more accurately, #TheOne, had generated record gates and would most likely generate the most pay-per-view money in the history of the sport.
That, friends, is what we call a logical fallacy. Even if #TheOne generated more PPV money than any other fight in the past 25 years (this projected figure, by the way, was based almost entirely on the increased cost of the PPV and not the actual number of households that purchased the fight), even if tens of thousands of Mexican fans came to Vegas to watch the fight in person or through closed-circuit television, none of this meant that boxing was not dead, especially in the ways laid out by the mainstream media. The conclusion has nothing to do with the argument presented by the PR machine. #TheOne was incrementally bigger than any fight since De La Hoya vs. Mayweather, but any percentage of dead is still dead.
The conversation about whether boxing is alive or dead is mostly beside the point. I'd like to address the stupid question here one last time before casting it off into the dungeon of irrelevant, lowest-common-denominator sports takes: Millions of fight fans in the country do not care whether the mainstream media covers the sport. I, for one, love boxing even more because of the dedication of these fans and how they continue to come out to fights despite what some guy on TV says about the health of the sport. Boxing is only considered "niche" because any sport mostly supported by Hispanic and African American fans will always be considered "niche." This does not diminish the sport in any way. It's just how the economy of sports talk goes these days. And no gassed-up pay-per-view numbers or tweets-per-minute stats will ever change that.
Filed Under: Boxing, Las Vegas, Showtime