March Madness Mailbag!
Andy Lyons/Getty Images
I got a ton of e-mails this week and most of them were worth publishing, but I decided to limit the number to 16 in honor of the upcoming Sweet 16. Let's get down to business.
Who do you see as the favorites to win it all, and why? Also, who has disappointed you? Between Florida Gulf Coast, Oregon, and La Salle, which team is your favorite Cinderella story? Also, who do you think has the best chance of going far and why?
—Nick
Never mind. I guess I'll answer 19 questions.
Louisville is the favorite right now, with Duke and Florida close behind. They're the only teams that have been at the top of the polls all season and also looked dominant in their first two games. The obvious omission is Michigan, which has been highly ranked all year and just thrashed VCU. But I want to see how the Wolverines handle Kansas before I jump back on their bandwagon. The VCU win was impressive, but the Rams' style of play is possibly the worst approach against Michigan. If the Wolverines dispatch the Jayhawks, they'll be favorites, too. But if they lose, I would have a hard time considering them contenders for the national title.
The obvious disappointments are Gonzaga and Georgetown. Both have histories of getting bounced early, but I thought this year would be different because of Kelly Olynyk and Otto Porter. I was wrong.
Finally, Oregon is the best double-digit seed remaining, La Salle has the easiest path to the Final Four of the three Cinderellas, and Florida Gulf Coast is the underdog most likely to say "Screw it, let's go get shitfaced and party on the beach" after it loses.

How does Minnesota fire Tubby Smith, yet Georgia doesn't fire Mark Fox and no one questions it?
—Harry
Whoa. Mark Fox is still coaching at Georgia?!
Has [Kansas forward] Kevin Young perfected the missed shot self-pass? He makes it look so fluid that it almost looks purposeful (as opposed to looking like he horribly missed an awful shot). It's almost a secret weapon.
—Boyce
I've noticed this for the last couple of years, but I never fully realized what I was seeing. Boyce just connected the dots. Young does this at least once a game. I'm still not sure if he thinks, I'm going to pass it to myself off the basket, get the rebound, and lay it in, like Kobe sometimes does, or if he shoots a normal shot, immediately realizes it's not going in, and decides to follow it up. Either way, he has this technique perfected. Now instead of focusing on Elijah Johnson and Ben McLemore vs. Trey Burke and Tim Hardaway Jr., I'm going to spend the entire Kansas-Michigan game waiting for a Young self-pass. So thanks for that.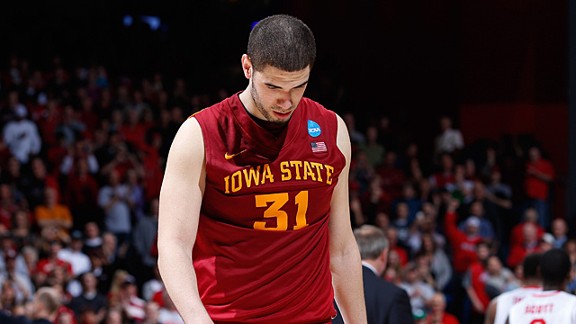 Iowa State has lost to the eventual national champion three of the last four times they were in the tourney. The exception is the year they were upset by Hampton. Since Ohio State is not Hampton, can we just declare the Buckeyes champs?
—Allan
I like your thinking. By the way, how do Iowa State fans feel about this? On one hand, it's encouraging to know the only teams that recently beat you in the tournament are national champions (and Hampton). On the other hand, you can't make the Final Four because you always end up in a tough region. Wait, who am I kidding? Of course it sucks. Who knows how far Iowa State could've gone in 2012, 2005, and 2000 if not for Kentucky, North Carolina, and Michigan State? I never realized it until Aaron Craft's drawn charge and buzzer-beater resulted in mass Internet hysteria, but Iowa State fans are some of the most tortured in college basketball. In their last five tournament appearances, the Cyclones have lost to three national champions, a 15-seed, and a team that needed a buzzer-beater from a 30 percent 3-point shooter. Plus, at this point it's a proven fact that referees hate Iowa State, and its loss to Ohio State is the fifth time this season the Cyclones lost on the final possession.
And with that, Iowa State fans across the country just punched their computer screens.
At the end of Iowa State-Ohio State, my dad brought up the point that Iowa State should foul the first Ohio State player to touch the ball. Iowa State had been on fire, and Ohio State isn't the best free throw shooting team. Also, Craft, who ultimately got the ball, had missed a couple crucial free throws moments earlier. Iowa State may have surrendered the lead, but it would've let them be in control of whether they tied or won the game. If I was Fred Hoiberg and had a team that's considered an offensive juggernaut, I would've committed the foul. Is this insane?
—Jacob
It's not insane for guys like you and me who watch from our couches. This would be like a football team letting the other team score so they can get the ball back with enough time for a game-winning drive. You could argue that because of the law of averages, Craft, a 78 percent free throw shooter, would probably make his foul shots after missing the last two. But Iowa State is the best 3-point shooting team in the country and it would have the final shot. If you were an Iowa State fan and you were given the choice between "Iowa State will attempt a game-winning 3-pointer at the buzzer that will result in a loss if they miss" or "Ohio State will have a shot to win that will result in overtime if they miss," wouldn't you want to sack up and take the chance for the win?
For any coach of a major program, though, this would be insane. Can you imagine what would happen if it backfired? Well, nothing would happen to Hoiberg because he's so beloved in Ames. But what if Mark Gottfried tried this with NC State? He'd be ripped to shreds by fans and he would almost immediately be fired. A coach at a smaller school like Florida Gulf Coast might get away with it, but it's just too risky to stray from conventional wisdom when you're being paid millions to coach a big-time program.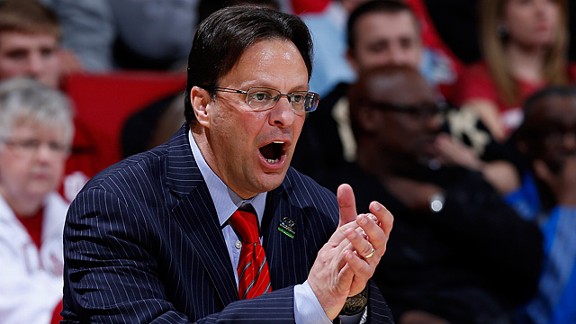 I know you've been riding Tom Crean a bit this year, so I was curious to get your take on his coaching in the first two games. Does Syracuse have a chance on Thursday? My gut tells me Indiana should roll, but throw in Crean vs. Boeheim and it evens out a bit.
—Joe
Here's a breakdown of e-mails I've received this week: 50 percent "FGCU is awesome and their coach is awesome and his wife is awesome and I love them"; 25 percent "I hate this commercial so much"; 20 percent "I'm an IU fan and I'm terrified of what Tom Crean might do to our team"; 4.9 percent miscellaneous; and one guy who says that no matter where he moves he always ends up living next to an albino family. The point is this: Indiana fans are starting to realize that the biggest obstacle standing in the way of the Hoosiers' sixth national championship is their head coach.
As much as I enjoy ripping on Crean, he hasn't been terrible in the tournament, although not putting Victor Oladipo on Khaliff Wyatt or using a single timeout against Temple were head-scratchers. Nonetheless, I think Indiana-Syracuse has less to do with the coaches and more to do with two players: Christian Watford and Michael Carter-Williams. Both have been inconsistent this season, but they both have a chance to have a huge game Thursday. As a 6-foot-9 guy who shoots almost 48 percent from 3, Watford will be able to get any shot he wants against Syracuse's zone. He can wreak havoc in the high post or step out and knock down 3s. For the Orange, Carter-Williams will likely be guarded by Yogi Ferrell, who is six inches shorter than him, which means Carter-Williams will be able to shoot over his defender all game.
Never rule out the possibility that Crean might torpedo the Hoosiers' chances, but I'm thinking the game will be decided by whether Watford or Carter-Williams plays better.
As an Ohioan, I can't fully grasp the "necessity" of both IU basketball and the Indy 500 to the state of Indiana. My question is: Which scenario would hurt Indianans (?) worse? The permanent cancellation of the 500 or the IU basketball program receiving the death penalty?
—Marshall
I don't know what's more offensive: Making me think about a world with no Indy 500 or acting like you aren't aware that people from Indiana are called Hoosiers. "Indianans" are what Trick Daddy calls people from India. Hoosiers are what Gene Hackman makes movies about. In the words of the Ug from Salute Your Shorts, get it right or pay the price.
As for your question, a permanent cancellation of the Indy 500 would be 100 times more damaging to Indiana than anything that could happen to IU basketball. The 500 is the one non-basketball thing that people outside the state know about Indiana. IU fans would no doubt be devastated by the death penalty, but a ton of people from Indiana don't like the Hoosiers because they're Purdue, Notre Dame, or football fans. If the choice were no Indy 500 or no basketball of any kind, it would be a different story. As it stands, the answer is the 500 and it's not even close.
What is your favorite single moment from the tourney this year?
—Michael
This is a no-brainer — the Ali Farokhmanesh "what the hell are you doing noooooooohhhh my god that was amazing!!!" alley-oop from Brett Comer at the end of the Georgetown game.
What are your thoughts on the review process? In my mind, a missed out of bounds call or incorrect clock setting that affects the outcome of play is just as important early as late, which is why I think the NCAA is reluctant to have rules that only occur inside the final two minutes.
—Richard
There seem to be two schools of thought regarding crucial calls made in the final minutes: "every play is just as important as any other," and "plays at the end of the game are much more important." I fall somewhere in the middle. Plays that happen in the first half can be game-changing (like guys picking up their second or third foul early and having to sit for the rest of the half), but when teams get boned by a bad call toward the end of the game, they don't have time to recover (just ask Illinois fans). I understand Richard's argument, but I prefer the "everything is reviewable under two minutes" rule. The ultimate goal is for the refs to get every call throughout a game right, and letting them look at the monitor is one step closer to this goal. (Although Colorado fans would point to the game at Arizona as proof that this doesn't mean the refs will get the call right.)
My ideal process would be an NFL-style challenge system, but that's just because I'm almost certain Crean would launch his challenge flag at an opposing player's nuts.
On Thursday, when an analyst mentions something positive about the Big Ten, what is the likelihood that Charles Barkley will refute this claim and then change the subject by rambling off his favorite Applebee's items?
—Pat
I'm convinced Barkley's analysis is based on whatever he remembers from when he played at Auburn. That he hasn't said Houston and Virginia will make the Final Four is the upset of the tournament.
Seeing the OSU walk-on sprint onto the court Sunday after Aaron Craft hit the buzzer-beater made me wonder: As a former walk-on, do you have any rules for walk-ons to follow?
—Anthony
For those who missed it, Jake Lorbach of Ohio State ran onto the court to celebrate after Craft hit the game-winner, which would have been perfectly acceptable except there was still time on the clock. The referees would've been justified in giving Ohio State a bench technical. But since refs hate Iowa State, no tech was called and Lorbach narrowly avoided having to find his own ride back to Columbus.
Here's my one universal rule for walk-ons: Never be first. Don't be first to storm the court after a game-winner; don't be first to lock arms with your teammates at the end of a close game; don't be first in line at the pregame meal; don't be first to give your coach a Gatorade shower; and whatever you do, don't be first to check into the game when someone yells "Walk-ons, you're in!" because it was probably just one of your teammates playing a prank.
A story line that hasn't been talked about much is Tom Izzo struggling to beat Coach K. Do you believe this is the year the Spartans finally beat the Dukies?
—J.F.
Izzo is 1-6 against Duke, including 1-1 in the tournament. Then again, hardly anybody has a good record against Duke. Maybe I'm giving Izzo the benefit of the doubt because I love the guy, but I don't think his record against Coach K means much in this game.
I don't like making predictions about how games are going to turn out, especially in the NCAA tournament, because it provides documented proof that I have no idea what I'm talking about. But I will say this: Keith Appling's injury could be a blessing in disguise for the Spartans. Appling has been the difference-maker all year for Michigan State, for better or worse. I could see a healthy Appling trying to play hero ball against Duke, but now that he's got a bum shoulder, he might focus instead on defense and getting his teammates involved. Seth Curry can't guard Gary Harris and Ryan Kelly can't bang down low with Adreian Payne, so a less-aggressive Appling would be perfect against Duke.
But then again, Duke will cruise to an easy win because Izzo can't beat Coach K.
I have a problem when announcers say a team is "happy to be here" at this point in the tournament. It doesn't explain anything about the game, but we hear it every year. If the Gators beat Florida Gulf Coast handily, someone will say FGCU was just "happy to be here." It's idiotic. It's an insult against the competitive instincts of the coaches and players. I want you to start a crusade to eradicate this expression.
—Alex
In the words of the Iron Sheik, "I agree %1000 bubba." It's almost like we can't hurt these guys' feelings by saying they aren't that good and they were lucky to have come this far. Instead, we're supposed to think of some other reason why their dream ended.
To be fair, though, even if Florida Gulf Coast loses by 100 against Florida, I'm pretty sure they'll still be "happy to be here." Those guys are the LMFAO of college basketball.
What do you think is the best analogy for TruTv's return to obscurity:
Like a fart on a bike? (Intense, stressful, and in the case of most games this year, pretty stinky. But then it's gone and forgotten.)
Like a Reese's Peanut Butter Egg? (Bigger, not necessarily better, and less accessible — essentially the TruTv to the standard double pack of TBS and TNT.)
Like a warm front through the Midwest in wintertime? (Fleeting shorts weather, everybody's talking about it, but by Monday you've never felt so cold.)
—Joel
Here's an analogy: I am to you as the guy in this commercial is to the little girl talking.
Big fan from Beijing (via Minnesota). I watch the March Madness feed online and the worst commercial BY FAR is:

—Brad
After my 12 observations piece from Monday, a ton of readers told me the AT&T commercials are better than the Sonic commercials, or that some other commercial is worse than the Southwest and Bud Light ones. For what it's worth, I agree that the AT&T commercials rule and that a bunch of others suck this year. I gave Sonic the nod because they've been doing it for longer, and I hate the Southwest ad because it's like hearing your neighbors brag about how awesome their kids are, even though one got cut from the sixth-grade basketball team and the other still eats his boogers.
As for the Quiznos lobster spot, maybe I'm just lucky but I've only seen it a handful of times. But yeah, if this were being shown every other commercial break during the tournament, I'd drive to the nearest Quiznos and write my name in urine on their wall.
When most people learned that Andy Enfield coaches the most fun team in the nation, is a millionaire, has succeeded at everything that he's done, and has a supermodel wife, their reaction was: "I want to be that guy." I went in a different direction. I thought, "Man, this guy would be the perfect serial killer for a Dexter story arc." He has that look about him. Like so many Dexter villains before him, the fictionalized version of Andy Enfield has everything, but it's not enough. He needs to kill to feel alive. He used to be careful about choosing his victims, but the team's opening weekend success goes to his head and he targets a victim affiliated with the university during the off days before the Sweet Sixteen. I think the dorms on the beach have to play a role in the murder somehow. When Dexter gets wind of it, he can't immediately pin Enfield down, setting up a final showdown hours before the national championship game, which FGCU invariably makes.
—Chris
That … that actually makes a lot of sense.
Filed Under: Duke, Indiana, March Madness, Mark Titus, Michigan, Michigan State, NCAA tournament, Ohio State