Manchester City Still Learning How to Win Gracefully
Manchester City won the Premier League on Sunday. Sergio Agüero scored a last-second goal, everyone went bananas, and all was full of love. It marked the first time City won the title in 44 years, and they did so at the expense of their intercity rivals, Manchester United. Then they started celebrating. That's when things started going wrong.

Oh, it all started out pretty great. Liam Gallagher was throwing beer and Roberto Mancini was overwhelmed and team captain Vincent Kompany called their victory a "miracle." There was even a pitch invasion …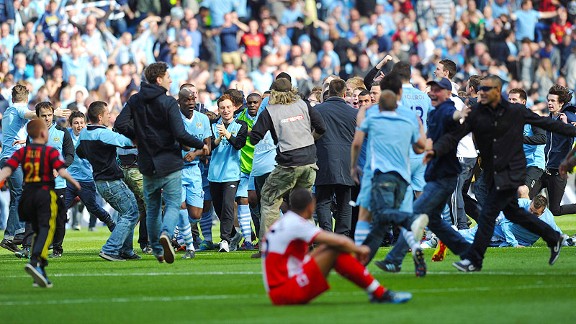 Things started getting off track when Manchester City forward Carlos Tévez (formerly of Manchester United) picked up a sign during City's celebration and parade Monday. He probably didn't look at it very closely. And much has been made about Tévez's, shall we say, lack of interest in the English language. But I feel like "R.I.P." is a phrase that transcends languages.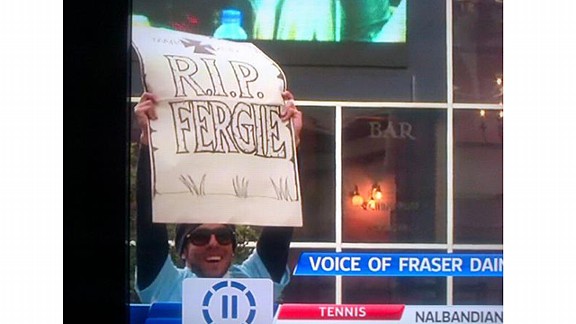 It's pretty clear that Carlos Tévez didn't stay up all night shading in an "R.I.P. Fergie" sign. Someone handed it to him and he held it up in the air. Tévez, for his part, apologized. "I got carried away in the excitement of the moment and I certainly didn't mean any disrespect to Sir Alex Ferguson, who I admire as a man and a manager," Tévez said. Maybe he knew what it said. Maybe he didn't. To their credit, United have accepted the apology. Chief executive David Gill said: "The club [City] acted pretty quickly. I think it was rather silly, frankly, in terms of what it said, but City acted with commendable speed."
Just as this tempest in a teacup was being … put back in the cupboard (high-five to me for the mixed imagery there), another minor controversy was stirred up, when another City player took a shot at his former club.
Samir Nasri, who not-so-amicably moved from Arsenal to City, early in the 2011-12 season, took a moment from celebrating City's title to throw some shade at the North London club. "People at Arsenal tried to make out that I came here for the money … I hope they are watching me now, collecting my Premier League winner's medal. I believe they have not won a trophy for many years now." Sick Premier League burn. I don't know why he's mad at Arsenal. It's not their fans who harassed him on a highway after a game. [Warning: Some bad words in below video.]
The thing is, it's not like City are the first team to have their players take their moment of glory as an opportunity to stick it to former or hated teams. Even United has a history of doing that …
But it will be interesting to follow how City handle their burgeoning new role of top-dog club. They know how to win on the field. Next comes winning off of it.
Filed Under: Chris Ryan, Manchester City, Manchester United, Premier League