#HotSportsTakes: Greg Schiano Is the Coach This Culture Needs
Rich Schultz /Getty Images
Every now and then, we will attempt to write the worst sports column on earth. Today: Let's talk about Greg Schiano and life on the American battlefield.
PISCATAWAY, NEW JERSEY — The National Football League is not a democracy.
It doesn't matter what you think.
This isn't your office. Not everyone gets to raise their hands in meetings and contribute. There's no HR department to make sure your feelings don't get hurt.
This sport gets decided on the battlefield every Sunday, and there's only one general calling the shots. Don't ask questions, do your job. Follow orders, or someone else will.
That's life in the National Football League. "Players have told their agents about coaches roaming through the locker room," Sports Illustrated wrote of the controversial Tampa Bay Buccaneers this year. "And staff videotaping players on the sidelines during losses to single out players laughing or horsing around. The players also speak to the influx of multiple Rutgers players from Schiano's past and the use of the phrase 'Schiano Men,' a term that clearly does not apply to Josh Freeman."
There's your big controversy: Greg Schiano wants to go to battle with Schiano Men. Got a problem with that?
Go back and reread the first two sentences of this column.
I'm sick of the song and dance where we all pretend to be outraged by what's happening in Tampa Bay. Cut open Greg Schiano and he'll bleed football. So, no, it's not the Bucs head coach who's bothered me these past few weeks, it's all the nitwits tearing down a man who dares to hold people to a higher standard.
Schiano came under fire when he benched Josh Freeman a few weeks ago because Freeman couldn't get on the same page. Then he (maybe) leaked news that Freeman's part of the NFL drug testing program, banished him from the sideline, and then finally cut his star quarterback loose late last week. It may seem like a drastic move if you've never been around professional football.
Don't throw the baby out with the bathwater, you say.
But sometimes the baby is the problem.
Sometimes you need a man who's not afraid to do what's necessary. And this is where it's not just a silly little column about football. Schiano has been a firecracker since his first day on the job, but lately he's turned into a lightning rod, and I can't help but wonder why.
Tampa Bay football may be a punch line right now, but this is dead serious. What's your problem with a guy who dares to live by a code?
What does that say about you?
Look around your world right now. Open your eyes. Sports don't happen in a vacuum.
The federal government is in the middle of a shutdown that's left us all paralyzed, the economy is struggling, and millions of kids are being raised by Miley Cyrus and violent video games. This instant-gratification culture doesn't feel so gratifying anymore, does it? We're Grand Theft Outta Control.
And everyone has a different excuse for how we got here, because this is America. That's all we do these days. Make excuses, cut corners.
The budget's not balanced? Let's keep spending!
Test scores are down? Make an easier test!
Sports are a mirror of society, and the way the media has treated General Schiano speaks volumes about who we've become away from the 100-yard battlefield.
This country that spends so much energy tearing down men like Greg Schiano is now being quarterbacked by a bunch of Josh Freemans. Men of excuses. Men of corner-cutting. Well, guess what. Cut enough corners, and eventually you get lost.
Keep lowering the bar and we all end up in limbo.
But the real Josh Freeman found out the hard way — one man's done lowering the bar. And I know a sports column or football coach probably can't change the world, but if enough people pay attention, who knows what's possible? The peanut gallery has been ignoring the elephant in the room on this one, so it's my job to set the record straight. The only reason Greg Schiano seems like a hardhead is because everyone else has gone soft.
If this PC paradise wants to avoid a Roman-empire ending in the next 10 or 20 years, it'll be gladiators like Greg who bring us back.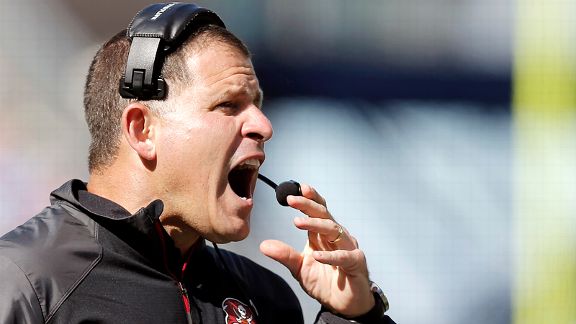 It was all on my mind as I drove through New Jersey this week to see where Schiano began this journey. To see where this lone wolf first started howling at the moon. What did I find just off the turnpike? The story of a man who coined a slogan in the year 2000 — "Keep chopping" — and then turned around an entire football program in 10 years and went on to realize his dreams in the NFL.
Remarkable stuff.
Never say die. Just say "Keep chopping."
And it was that simple.
So, that's the message to everyone this week. Keep chopping. We may not all go to war every Sunday, but the wars we fight in the middle of the week might just be as important as football games. The fight for education, the fight against big-shot nobodies in D.C.
We can all be Schiano Men if we try. Just don't apologize, don't lower your standards, and keep chopping. For you and me and Greg Schiano, it'll be worth it in the end. Fighting for the future isn't supposed to be easy. Remember that when it's time to go against the grain and rub some people the wrong way. Remember Greg Schiano in Tampa Bay.
If you want to dig in and build something, you've gotta get your hands dirty.
Filed Under: Miley Cyrus