19 Takeaways From an Epic MLB Playoff Quadrupleheader
Michael Ivins/Boston Red Sox/Getty Images
We're only seven days into this year's MLB playoffs, and it's hard to figure out how things can get any better. Monday's events were so scintillating, so maddening, so ludicrous, that a dozen attempts at narratives have been tossed in the trash. Instead, we present 19 key moments from a quadrupleheader for the ages.
19. The Rays' defense has been terrible.
A Ben Zobrist throwing error led to the first Red Sox run of the game. It was Zobrist's second consecutive game with an error, after making four in 554 chances all year. Officially, that was the third error in three ALDS games for the Rays, after making just 59 in 163 regular-season games, the second-lowest total in the majors. Between those three miscues, multiple Green Monster adventures by Rays left fielders, and a handful of other mistakes that included a passed ball and a couple of errors in judgment, this ranks as one of the worst stretches for the Rays' normally solid defense in their entire six-year run of success. The Red Sox outplayed the Rays in every way over the first two games of this series. But Tampa Bay's shoddy defense made things worse, and threatened to push the Rays right out of the playoffs.
18. Josh Harrison did his best Willie Mays Hayes impression.
Representing the tying run late in the Pirates-Cardinals Game 4 battle, Harrison took off for second base, part of a hit-and-run attempt by the Buccos. As is so often the case during hit-and-run tries, Harrison looked like a Little Leaguer while dashing for second, looking back at the batter (which often slows you down), then starting his slide painfully early, so early that you couldn't help but think of this:
Yadier Molina gunned Harrison out, Jose Tabata struck out on the next pitch, and that was that for Pittsburgh in the eighth inning.
17. Grant Balfour is a crazy person, and Victor Martinez wasn't happy about that craziness.
The Aussie A's closer is so crazy that A's fans start swinging their fists wildly every time Balfour comes into the game, to celebrate "Balfour Rage." He's so crazy that his signature playoff moment before this year was probably his big strikeout of Orlando Cabrera in the 2008 ALDS, a whiff that ended with Balfour, vein bulging from his neck, pointing at Cabrera and yelling at him to Sit the F Down. Frustrated by a game that didn't go his team's way, as well as Balfour's … Balfourness, Martinez stared down the Oakland stopper after a foul ball in the ninth. A couple of seconds later, both players started jawing at each other, in a manner that most definitely required earmuffs. Both benches emptied, no punches were exchanged, and that was that. Though as Paul Sporer and I discussed on Monday's podcast, if this results in some random Australia-Venezuela rivalry, everyone wins.
16. Freddy Garcia may have just made the final postseason start of his career — and he was terrific.
The baseball masses got into a heated and fun debate about who the Dodgers should start in Game 4 (more on that in a bit). The one that everyone seemed to agree on was that the Dodgers would have their way with Garcia. After all, this was a 37-year-old pitcher near the end of the road, someone who tossed a few quality innings for the Braves down the stretch this year but figured to get hammered by the Dodgers' potent lineup. Instead, Garcia delivered six innings of two-run ball, working his way out of jams and keeping his team in the game. Credit the Braves' defense for helping out, too.
When Atlanta manager Fredi Gonzalez sent Garcia back out for the sixth, it looked like that might become a huge mistake. Garcia would have to navigate through the heart of the Dodgers' lineup to escape unscathed. When Adrian Gonzalez led off the inning with a single, it looked like the Braves might be in trouble. But Garcia then induced an around-the-horn double play from Yasiel Puig, finished with a terrific scoop by Freddie Freeman at first base (yes, everyone on the Braves is either named Upton, Johnson, or some derivation of Fred). Juan Uribe followed with a double, but Garcia got A.J. Ellis to ground out to end the inning. Major leaguers rarely end their career with some great triumph, and in Garcia's case, events beyond his control resulted in a sour ending. Still, there's a lot to be said for a veteran pitcher mustering one last gutsy performance against a tough opponent before marching into the sunset. If this is our final memory of Garcia in a big game, he acquitted himself pretty damn well.
15. The Dodgers' defense was … not so fresh.
The Dodgers led 2-0 going into the fourth inning. Freeman led off the inning with a single. Evan Gattis then followed with a ground ball to Gonzalez at first. The ball was hit so sharply, with Gattis running so slowly, that a double play seemed an absolute lock. Instead, Gonzalez rushed his throw to second, firing the ball before Hanley Ramirez could even make it to the base. Instead of a twin killing, everyone was safe, and the Dodgers were in trouble. After a Chris Johnson RBI single, L.A. still had a chance to escape the inning up a run. Andrelton Simmons hit a bouncer to third, setting up what should've been an inning-ending double play … only Mark Ellis threw wide of the bag, allowing the tying run to score.
If you're wondering why Clayton Kershaw won a relatively modest 16 games this year despite making 33 starts and posting a microscopic 1.83 ERA, that's the reason. Between garnering poor run support at just 3.8 runs per game and having multiple defensive mistakes happen behind him, Kershaw's teammates offered little help. They let him down again Monday night, resulting in an ill-deserved no-decision.
14. The decision to start Kershaw in the first place caused a nerd firestorm …
… and not just as a reaction to David Price. Kershaw's start came on three days of rest, the first time in his career he'd drawn that assignment, and coming after a start in which he threw 124 pitches, too. Using him in that situation risked fatiguing the Dodgers' ace, wearing him down now with potentially costly ramifications if the team were able to go deep into the playoffs. Garcia was thought to be a pushover coming into Game 4, and Dodgers fourth starter Ricky Nolasco believed to be up to the task of beating him. If that happened, the Dodgers could open the NLCS with Kershaw in Game 1 and Zack Greinke in Game 2. If it didn't happen, you still had a fully rested Kershaw ready for Game 5, the single-biggest bullet the Dodgers could fire as they sought to lock up the series.
Forgetting about future implications, the track record for starting pitchers going on three days of rest during the wild-card era was ugly. As noted by ESPN Stats & Info: In the wild-card era, a pitcher has gone on three days of rest 84 times, with a cumulative ERA of 4.60. Over that same stretch of time, pitchers on four days of rest posted a 3.58 ERA. Note that only elite starters would likely be asked to go on short rest, and those poor results look even worse.
The counterarguments were also compelling, however. For starters, you could ask if Nolasco was the better-than-average pitcher he'd shown himself to be for most of the season, or if the 12.75 ERA he put up over his final three regular-season starts represented something more troubling than a bunch of bad batted-ball luck in a small sample of innings. Nolasco did see his fastball tick down a bit in September, for one thing. If you were thinking down the line a few days, starting Kershaw and winning Game 4 of the NLDS allows the Dodgers to go back to him for Game 2 of the NLCS instead of having to wait until Game 3. And if immediate results were the biggest goal, you could argue that Kershaw was better than even many of the aces who appeared in that three-days-of-rest group, that he offered a better chance to win right away, and that closing out the Braves in four games would avoid an elimination game on the road and also give the Dodgers more time to rest, without having to worry about an extra city for travel before their NLCS matchup.
All this became moot when the Dodgers' defense accounted for both of the Braves' early runs while also forcing Kershaw to throw extra pitches that led to him leaving the game after six innings. Still, look for this decision to crop up again, whether for the Dodgers or other teams, as the playoffs wear on. In later rounds, taking a win-now approach and tapping a no. 1 starter to go on short rest could make even more sense.
13. Continuing a trend that persisted all year, the Rays couldn't buy a hit with runners in scoring position when facing the Red Sox.
Tampa Bay threatened in the early innings but kept coming up empty, with the biggest setback coming on a Matt Joyce strikeout with the bases loaded in the fourth. That made the Rays 2-for-18 for the series with runners in scoring position, and a miserable 29-for-176 (.165 batting average) against the Red Sox including the regular season. It's not like the Rays were chokers the rest of the time either — they hit .268 overall with runners in scoring position this year, the sixth-highest mark in the majors. Still, whether it was the three consecutive inning-ending double plays that torpedoed their chances in Game 2 or the early squandered opportunities in Game 3, it looked like the Rays' failures in high-leverage situations were going to end their season Monday night.
12. #RobotUmpsNow
We got our share of bad calls in each of the four Monday games. But the Rays might've gotten hosed worse than anyone. Check out both of these screencaps, then consider that in both of these pivotal moments in the game, the runner was incorrectly ruled safe.
only other angle available. pic.twitter.com/HqCZFuDr2a

— jasoncollette (@jasoncollette) October 8, 2013
Out pic.twitter.com/25MRbnux0p

— jasoncollette (@jasoncollette) October 8, 2013

Instant replay can't come a moment too soon.
11. The Cardinals' bench could come back to haunt them at some point.
It didn't end up mattering in Game 4. But the way the Cards bowed out of Game 3, with banjo-hitting middle infielders Pete Kozma and Daniel Descalso making the final two outs of the game, should be cause for concern. Kozma's handful of successful at-bats in this series aside, he's a sub-replacement-level hitter who has no business batting with the game on the line — and Desclaso's nearly as bad. Allen Craig's injury not only knocked one of St. Louis's best hitters out of the lineup. It also shoved Matt Adams into a starter's role, meaning he'd no longer be available to provide thump off the bench. That means the Cardinals now have a weaker collection of hitters coming off the pine than does any other remaining playoff team. Something to watch, either in this series' deciding Game 5, or in a later series if the Cards can advance.
10. Anibal Sanchez had one of his worst starts of the year.
The American League leader in ERA and FIP got hammered for six runs on eight hits and failed to make it out of the fifth inning. As ESPN Stats & Info explained, Sanchez fared well in the game's first three innings, then got hammered due primarily to bad pitch location. Of the 101 pitches that Sanchez threw, 49 of them sat in the upper half of the strike zone or higher. He was especially shaky with his fastball command, leaving 56 percent of his heaters up in the zone, the highest rate in any of his 2013 starts. That poor location led to four A's hits, including home runs by Brandon Moss and Seth Smith in the fifth inning, the backbreakers that knocked Sanchez out of the game.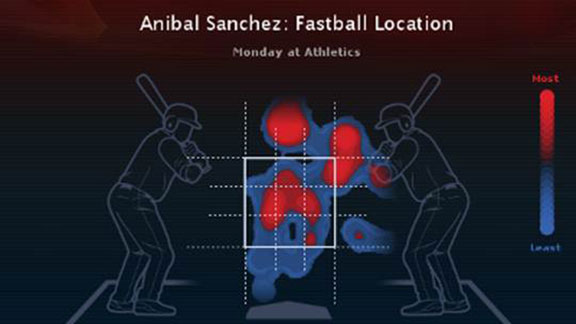 All of this was enough to propel Oakland to a 6-3 win, leaving the Tigers one game from elimination and Sanchez none too pleased with the result (hat-tip Athletics Nation):
9. The Tigers need to figure out what to do about their team defense.
Detroit was already one of the worst defensive teams in baseball this year even under relatively prosperous conditions. But with Jhonny Peralta playing out of position in left field and Cabrera trying to manage multiple injuries that have sapped his lateral movement, a bad defensive team is now truly abysmal. It showed in Game 3. First, slow-footed A's catcher Stephen Vogt tested Peralta's arm in left on a medium-shallow fly ball; Peralta's throw bounced several times and barely made it to the plate as Vogt scored easily. This came an inning after Yoenis Cespedes hit a ground ball at Cabrera that the third baseman booted for a run-scoring error. One of the league's worst third basemen even when healthy, the abdominal and other injuries that he's suffered have turned Cabrera into a statue, someone who either couldn't or wouldn't slide a mere foot to his left on the play, a move that would've likely resulted in the ball being knocked down and the A's not scoring on the play.
Cabrera probably needs to DH at this point. But a highly inflexible lineup makes that challenging, since Victor Martinez is already the team's DH and is a liability anywhere else, and Prince Fielder can't play anywhere other than first (or DH). An optimal alignment might have Andy Dirks playing left field against right-handed starters (like Oakland Game 4 starter Dan Straily), with Peralta or most-of-the-time catcher Alex Avila manning third base, Cabrera DHing, and Martinez (or Avila) catching. Wherever you move any of these pieces, though, you're giving up either offense or defense, and the Tigers don't really have any perfect scenarios here. That's largely because …
8. Miguel Cabrera is now a singles hitter.
Cabrera was seen favoring his wrist during Monday's loss, adding another obstacle in his efforts to get back to the form that made him the best hitter on the planet. Consider these ESPN Stats & Info numbers:
Cabrera has hit just one home run in his past 110 plate appearances, the third-worst power drought of his career:
Since the beginning of September, including the postseason, Cabrera is hitting .275 with a .708 OPS, after hitting .358 with a 1.130 OPS through August. His groin issue, along with abdominal and wrist injuries have not just severely affected Cabrera's ability to hit for power. They've also changed the way pitchers are approaching him. Baseball Prospectus's Sam Miller noted that the A's chucked 18 consecutive fastballs at Cabrera at one point, taken back to a curve thrown at him by Sonny Gray in Game 2.
Cabrera has been particularly helpless against inside pitches. In August, we wrote about Cabrera's propensity to smash those pitches. Now, he can't turn on anything on the inner half:
There's more. An expert ambusher of first pitches earlier in the year, Cabrera's numbers have plummeted in that department lately, too.
Bottom line? Even with the Tigers' loaded starting pitching and able supporting cast, you have to wonder how much they lose if Cabrera's completely helpless as long as they keep him in the field and unable to hit for any power as long as his injuries linger. Even if Detroit wins two straight against Oakland to move on, it'd be tough to install the Tigers as favorites against, say, the Red Sox.
7. Jacoby Ellsbury leads the universe in dinks and dunks.
It's bad enough when a team's getting badly outplayed. It doesn't help when your opponent's getting all the breaks too. In Games 2 and 3, Ellsbury racked up five hits; all five of those benefited from at least a little luck. Already this series, Ellsbury has blooped two balls just over Evan Longoria's head for 120-foot hits, blooped a couple more hits just in front of outfielders, and connected for a double that ticked off Rays first baseman James Loney's glove. Boston's leadoff hitter did get unlucky once this series, to be fair: His hardest-hit ball over the three games was a liner leading off the seventh Monday night, one that flew right into Zobrist's glove.
6. Michael Wacha is on fire.
In his final start of the regular season, the 22-year-old rookie came within one out of tossing a no-hitter. He nearly pulled another one off Monday, tossing 7⅓ no-hit innings before Pedro Alvarez broke up the no-no and shutout with a long home run to right-center. Wacha owned the outside part of the plate in particular, generating 18 of his 22 outs on pitches on the outside edge or off the plate outside. It was a master class in working quickly and throwing the ball exactly where the pitcher wanted:
5. We might want to retire the myth that starting rookies is a risky move in the playoffs.
There had been some question about what the Cardinals might do with Wacha coming into the playoffs, until he won the fourth starter's job from Shelby Miller. Then there was speculation the Cards might try to do what the Dodgers later did, starting their ace on short rest, only this time in a win-or-go-home game for them. St. Louis manager Mike Matheny instead stuck with Wacha rather than go with Adam Wainwright. The move was a nod toward not using your ace on short rest if you can avoid it, but also a vote of confidence for a rookie (granted, Miller is also a rookie). We've now seen both Wacha and Pittsburgh's Gerrit Cole run with their managers' confidence and carve up the opposition when given the chance. Wacha's Cards prevailed 2-1 on Monday, sending the series back to St. Louis for a winner-take-all Game 5 by having three rookies, ages 22, 22, and 23, carry the game's entire pitching load.
We wanted to test the hypothesis that rookies might be a good bet in the postseason, even with their lack of experience. To do that, we had Elias Sports Bureau run the following study: For the 10-year span of 2003 through 2012, compare rookies' regular-season performance against their playoff performance, then do the same for non-rookies, to see how they stack up. As with the idea of starting pitchers going on short rest, there's selection bias here, since teams aren't likely to use rookies much if they're not very good. Even taking that into account, we got some intriguing results:
Rookie pitchers, 2003-2012
Regular season: 4.59 ERA
Postseason: 3.63 ERA
Non-rookie pitchers, 2003-2012
Regular season: 4.22 ERA
Postseason 3.96 ERA
Rookie hitters, 2003-2012
Regular season: .313 OBP/.387 SLG
Postseason: .305 OBP/.369 SLG
Non-rookie hitters, 2003-2012
Regular season: .330 OBP/.420 SLG
Postseason: .321 OBP/.402 SLG
This is a bit of a crude way to measure rookie performance in the playoffs. Still, it's hard to see anything in these 10 years of data that suggest rookies lose their nerve in October. Granted that some young players might get legitimately nervous and have their numbers suffer in the postseason as a result (same as with some veterans), the takeaway here is that more than anything, talent plays. So if for instance the Pirates believe the rookie Cole is a better choice than the veteran A.J. Burnett to start the series-deciding game, they probably shouldn't get too hung up on experience while making the final decision.
4. Managers made a whole bunch of perplexing moves — and non-moves — Monday, a couple of them proving to be devastating.
You could argue that Gonzalez made a few mistakes with his Braves team. None of those moves seemed to backfire, though, and Atlanta benefited from some more unlikely playoff outcomes. There was Garcia's impressive start, of course, the one that might've warranted pulling him after four innings or so. Instead, the recently hook-reluctant Gonzalez rode his starter through six frames, and got away with it. There was also the incredibly unlikely sequence that happened in the seventh. With one out, Braves second baseman Elliot Johnson, a career .229/.271/.326 hitter against right-handed pitchers, smoked a line drive down the right-field line. The hit would've been a double against many outfielders, but instead went for a triple when Puig's aggression — in this case a pointless and ill-advised slide — allowed the ball to rattle by him, and a security guard, in the corner. Jose Constanza, a career .272/.324/.342 hitter against righties, followed that with a go-ahead single, pulling off a Hall of Fame–caliber bat flip to boot.
Gonzalez didn't get away with his passive managing in the eighth inning, however. The Braves' superelite closer Craig Kimbrel hadn't pitched in three days as the Dodgers entered the bottom of the eighth down a run. Even though setup man David Carpenter had produced a strong season, Kimbrel was just about unhittable all year long, and asking for a six-out save in a do-or-die game wouldn't have been a stretch by any means. Instead, with Atlanta's season on the line, Kimbrel never got in the game. That non-move is a big reason the Braves' season is now over.
3. The Thank You for Not Managing force was even stronger with John Farrell and Joe Maddon.
The first notable screwup came from Farrell. Clay Buchholz had flirted with trouble in the first couple of innings, but got away with it. In the fourth, the Rays loaded the bases, and Buchholz looked gassed by the end of the inning … only to escape, then come back out for the fifth. In the fifth, he again looked like he was flagging, this time putting men on second and third with two outs for Longoria, the Rays' best hitter and playoff beast. Here was an opportunity for a double-error. First, the situation seemed to call for a pitching change, with Buchholz looking even more worn down. Second, acknowledging the risk of putting the tying run on base, walking Longoria to face rookie Wil Myers, who has looked lost all series and isn't as good a hitter as Longoria anyway, seemed the logical choice. Instead, Buchholz pitched to Longoria, and tried to sneak an inside changeup by him on 0-1 (he'd thrown that same pitch earlier in the game to Longoria and bagged a strikeout from it). The Rays third baseman launched the ball over the wall in left for a game-tying, and maybe series-altering, three-run homer.
Maddon countered with iffy moves of his own. Facing a similar pitch-around-the-best-hitter scenario, the Rays manager had Alex Cobb pitch to David Ortiz with a runner on third and two outs, rather than walk him to face Mike Napoli. Ortiz slapped one through the left side, taking advantage of the defensive shift against him, to make it 3-0 Boston.
At least in that case, you could argue that Napoli had been hitting well lately, too, and that any additional baserunner raises the risk of another run allowed. But there was simply no way to be charitable about Maddon's decision to have Joyce try to sacrifice bunt with men on first and second and nobody out in the bottom of the eighth. The score was tied and staying out of the double play is a priority, and while one run doesn't guarantee a win in that spot (as we'd see), a one-run strategy made a lot more sense that late in the game. Still, in Joyce you had a player who either by the numbers (one sacrifice bunt in 2,040 regular-season plate appearances) or by appearance (it wasn't pretty) is a lousy bet to lay down a successful sacrifice. In that spot you either pinch hit for Joyce with someone who can lay down a bunt (hell, even a pitcher), or have your hitter swing away. Maddon chose the worst of all strategies, and Joyce fouled out to Jarrod Saltalamacchia to waste the first out of the inning for the Rays.
Tampa Bay did score the go-ahead run in that inning, getting an infield single from Yunel Escobar and a groundout from Delmon Young. That sequence, too, was problematic, though, at least from Boston's standpoint. The Red Sox used relievers Franklin Morales and Brandon Workman in that crucial inning, but didn't bother to summon Koji Uehara, the rested and ready closer who'd just completed one of the most dominant seasons ever recorded by a short reliever.
Those bouts of managing, and not managing, set up two of the postseason's most dramatic hits, and one incredible ending.
2. Don Mattingly tried to blow the Dodgers' big chance, but Juan Uribe wouldn't let him.
OK, so there was one more unfathomably bad bit of managerial decision-making that nearly turned a game Monday night. After Puig smacked a ringing double to start the bottom of the eighth for the Dodgers, Uribe strolled to he plate. He had been far more adept earlier in his career at laying down bunts, but Uribe had failed repeatedly when called upon to sacrifice over the past couple of years. Moreover, the Dodgers had a baserunner in Puig who would score on just about any kind of hit. There was no potential double play to worry about here. Finally, the Dodgers needed two runs to win the game rather than one, since they trailed by a run.
Luckily for Mattingly and the Dodgers, Uribe failed miserably in his first two sacrifice attempts, leaving him no choice but to swing away with two strikes. Uribe worked the count to 2-2, and then …
… pandemonium. Or as Vin Scully brilliantly put it, "Isn't it amazing what somebody will do when he can't bunt?"
Staked to a 4-3 lead in the ninth, lights-out closer Kenley Jansen made quick work of the Braves, clinching a berth in the NLCS for the Dodgers. They'll be a tough opponent for anyone who gets to play them, and a World Series berth could be coming soon. But on this night, Scully had one final tribute for the team that celebrated its NL West title with so much flair: "To my knowledge," said the iconic broadcaster who started calling Dodgers games 63 years ago, "there is no swimming pool available tonight."
1. Tropicana Field is a crazy, spooky place.
It's terribly located, badly outdated, and contains the silliest ground rules in baseball, including the catwalks that can turn high-hit shots into everything from foul balls to extra-base hits — one of those catwalks even came into play Monday night. Two of the stadium's more positive features for Rays fans are the touch tank beyond the wall in right-center that includes actual touchable rays, and some nearly inconceivable late-season memories over the past few years.
The author of three of the most dramatic happenings in franchise history is a part-time player and pinch hitter named Dan Johnson. The first of Johnson's magic moments came on September 9, 2008. The Rays were vying for their first playoff berth, but the race was getting dicey. Up 3½ games on the Red Sox just a few days earlier, that lead had been cut to just half a game when Johnson got called up — a Boston win and the Rays would lose their top spot in the AL East. It had been a tumultuous day for Johnson, though. He'd tried to fly in from Scranton, Pennsylvania, where his Durham Bulls were playing in the International League championship series, only to see stormy weather cancel most of the airport's outgoing flights. He finally boarded a flight to Boston, landing just 30 minutes before game time and arriving at Fenway just as the game started. He watched both teams exchange blows, with the Sox taking a 4-3 lead in the bottom of the eighth that they'd turn over to their killer closer Jonathan Papelbon. On a hunch, Maddon tossed Johnson into the game as a pinch hitter, leading off the ninth against Papelbon. Johnson worked the count to 3-2, got a fastball he liked, and connected, crushing a home run into the stands behind the bullpens in right-center and tying the game. The Rays went on to win that game, then the AL East, then a wildly entertaining seven-game ALCS against the Sox.
Two years later, Johnson got another late-season call-up. On August 28, 2010, facing the Red Sox, Johnson came up in the 10th inning, the score tied 2-2. He got a fastball he liked, took a rip … and cracked a game-winning home run, giving the Rays a much-needed victory on their way to a second AL East title in three years. Johnson's next dramatic homer is well known to even casual baseball fans by now: It was the two-out, two-strike shot in the bottom of the ninth that vaulted the Rays into a 7-7 tie, after they'd trailed 7-0 entering the bottom of the eighth. Johnson's homer set the stage for Longoria's walk-off, which completed a monumental September comeback and knocked the Red Sox out of the playoffs in 2011. Johnson hit so many colossal late-season home runs to sink the Sox that Boston fan Josh Kruk found a nickname for his team's nemesis. Johnson, the orange-haired demon who rose out of the ground every fall, smote the Red Sox, then disappeared, would thereafter be known as The Great Pumpkin.
All of which brings us to the bottom of the ninth inning Monday. The Red Sox had just tied the Rays in the top of the ninth. Having opted not to use Uehara in the eighth, Farrell did finally get his terrific closer into the game for the ninth. After two quick outs, Rays backup catcher Jose Lobaton came to the plate. That Lobaton was batting in that spot required a series of moves, started by Wil Myers's in-game leg injury and ending in a double-switch, since Maddon had given up his DH spot through a series of moves when Myers left.
Still, Lobaton facing Uehara was a gigantic mismatch. How big? Opposing batters had hit just .096 against Uehara's trademark splitter in 2013. Lobaton came into the at-bat having faced 43 splitters during his brief career … and recorded zero hits. The 44th one he faced darted sharply to his knees, triggering a swing and a miss. The 45th splitter that Lobaton got to face was thrown in exactly the same spot as the one a pitch before. And Lobaton crushed it, a high shot to right-center that traveled 419 feet, clearing the wall and giving the Rays a shocking 5-4 win.
It was the first home run Uehara had allowed since June. Even more unlikely was that the ball sailed all the way into that touch tank, making Lobaton just the third hitter to hit a ball to that part of the park; the other two hitters to do were Luis Gonzalez, the power-hitting outfielder who once belted 57 big flies in a season, and Miguel Cabrera, who's Miguel Cabrera. But the most impossible angle to the whole thing was the guy camped out next to the rays tank, holding a glove. He didn't quite catch the game-winning home run, but he did get a piece of it before it plunked into the tank. As the cameras zoomed in on him, all of a sudden the name on the back of his Rays replica jersey came into focus. It was an incredibly rare jersey, because the no. 29 that player wore on his back only lasted a few weeks, a concession the player had made so Manny Ramirez could wear his usual no. 24 for the very short time he lasted in Tampa Bay.
It is thus quite possible that only two people on the planet have worn this particular jersey. One was the guy who saw a potential souvenir drop out of his reach and into the aquarium. The other was Dan Johnson.
The Red Sox have still looked like the superior team in this series, and a win today against 2013 underachiever Jeremy Hellickson would push Boston to the next round and eliminate the Rays. But it might be too early to call the series just yet. In the house of horrors that is Tropicana Field, the home team can even get help from the great beyond. Or at least from underground.
Filed Under: Atlanta Braves, Boston Red Sox, Detroit Tigers, Los Angeles Dodgers, MLB Playoffs, Oakland A's, Pittsburgh Pirates, St. Louis Cardinals, Tampa Bay Rays