#HotSportsTakes: Football Isn't Perfect, But the Patriots Are
Barry Chin/The Boston Globe/Getty Images
Every now and then, we will attempt to write the worst sports column on earth. Today: Let's talk about the New England Patriots and the coach who won't let them fail.
FOXBOROUGH, MASSACHUSETTS — You've seen the headlines splashed across the front page over the past few days. A player from the Miami Dolphins is accused of harassing one of his teammates with racial slurs, threats to defecate in his teammate's mouth, threats of bodily harm, and everything in between. Now? It's national news.
Richie's not so Incognito anymore, is he? This big ol' ox sure looks like a moron.
I'm all for a little harmless hazing because tradition's tradition — if we forget where we've been, then who knows where we're going — but this went too far.
This was cruel and unusual.
Now football's in the crosshairs again, with a thousand mainstream critics ready to tell Mom why she should convince Dad to take away little Timmy's pads and cleats forever. Of course. That's Page 1 in the media playbook these days.
But before we run a go route to hysteria … can we call an audible?
Forget what's wrong for a second. Let's talk about what's right.
They were supposed to fail, they were supposed to break down, and here we are again. That wasn't the Pops you saw at Gillette Stadium on Sunday, it was Tom Brady and Bill Belichick who brought the fireworks this weekend.
They laid 55 big ones on the Steelers, and by the end of it all, the only ones not smiling were the ones too busy laughing. It's funny, isn't it?
Some things never change.
"It was certainly a big point output," Belichick said Sunday night. "That's always good. I thought our guys played hard today. We had a few problems there but overall I thought we hung in there, made some plays in all three phases of the game, scored some points."
That's the Belichick we've come to love. The grumpy old uncle, up there at the lectern, refusing to wave the pompoms too early, refusing to put too much stock in stats. For him, a Sunday at Foxborough is just a business trip.
Sure, business was booming Sunday. But guess what? There's more work to be done.
That's the sort of program Belichick has been running for a decade now. It's why the Patriots winning machine never stops. They honored the Red Sox before Sunday's game, but by the end of the day it was the Patriots who looked like champions.
Don't put those duck boats away just yet, Captain Bill might want one last ride.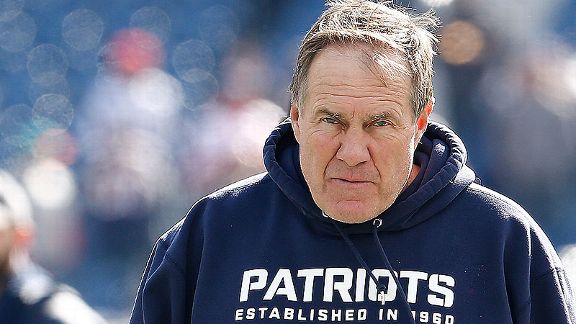 For now, we're talking about the best underdog story in football this year. They had a few bad breaks and some nasty news in the offseason, but it didn't matter. When a few superstars went down, a few role players stepped up, and they never missed a beat.
How many times have we seen it happen over the past 10 years?
Hell, that's how Brady got his start.
That's the Patriot Way.
That's what this program's all about. Seven days a week and twice on Sunday, the Pats persevere. And with football's reputation behind the eight ball again, we'd all be smart to take a few cues from the team that has never flinched.
Every time the the media vultures start circling, Belichick gathers his team and tells them to tune out the noise and turn up the effort.
But where is football going? you ask.
I don't know, the Patriots' compass points to Sunday.
Put your head down and get ready for next week, and things should work out just fine. That's true in football, and maybe it's true in life, too.
Whatever Belichick is doing in New England, it's worked. All year long the Patriots heard they were too old, too injured, didn't have enough skill players, everything. Now? 7-2, first place, and only getting better. Sometimes we spend so much time criticizing the maniacs out there that we forget to say thanks to the guys who do it the right way.
Thanks, Bill.
There's something comforting about watching it all come together one more time.
Hearing Jim Nantz and Phil Simms in the booth at a loss for words while Brady picks apart another helpless defense, seeing that frigid air at Patriot Place and the frosty gaze from Belichick on the sideline. The defense that's always overmatched and comes up big anyway, the skill players who were overlooked their whole lives until they found Belichick and Brady, and then suddenly, they can't stop finding the end zone.
It's a complicated world, but the Patriots make things simple.
When the rest of football is full of stories like the Dolphins or Dez Bryant or some other disturbing trending topic, the Patriots will always be right where you left them. The team that's always counted out is the one team you can always count on.
So when the seas gets rough out there this week and the boat starts rocking, look for the Captain and his crew. They shouldn't be too hard to find.
In first place every year, the Patriots sure ain't incognito.
Filed Under: Tom Brady, Bill Belichick