Hey, Let's Build a League-Destroying Staff of Young Pitchers
Jim McIsaac/Getty Images
I play fantasy baseball in a league with complicated keeper rules. This league is run by a friend of mine who, year in and year out, dominates and humiliates the rest of us so thoroughly that I spend all summer trying to remember if we'd agreed upon a safe word. He's a real bastard.
This season, I set out to game the keeper system, drafting and picking up high-risk young pitchers late, intending to trade them later on to win now. I was going to be like a real major league contender, provided that contender had a GM whose heart was filled with rage and set on revenge.
And so I found myself faced with a real-life version of a fascinating idle conversation starter — Major League Baseball is currently lousy with talented, exciting young starting pitchers. But if your life depended on it, which one would you keep? Sam Miller and Ben Lindbergh of Baseball Prospectus did something like this in May, but opened it to all pitchers 25 and under, which means they could pick Clayton Kershaw, for instance, who's a finished product. But what about less experienced pitchers, ones with less of a track record, who carry greater risk?
So far this season, 26 first- or second-year starting pitchers have thrown 60 or more innings in the major leagues. Of those, several are over 25, and many of those — notably Yu Darvish, Wei-Yin Chen, Hyun-Jin Ryu, and Hisashi Iwakuma — are veterans of other major leagues. Even removing those pitchers from the discussion, you can fill out a full rotation and then some of pitchers you can dream on.
It's a list that could be written a dozen different ways, depending on what you value about a pitcher, how you balance performance and potential, and how big a risk you're willing to take.
But if I were starting a team and had to pick pitchers from this crop, here's whom I'd choose:
5. Patrick Corbin, LHP, Arizona Diamondbacks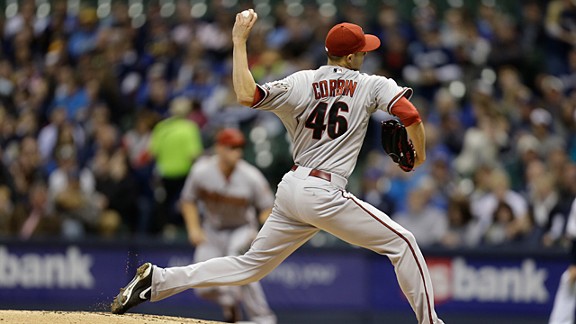 Apologies to Zack Wheeler and Tony Cingrani, whom I don't quite trust yet, as well as Chris Archer, whose on-field demeanor makes me want to be his best friend, but whose 6.3 K/9 rate makes me a little more cautious about wanting him to front my hypothetical rotation for the coming decade.
We're in kind of a weird spot right now where people almost assume a starting pitcher is overrated if he has a great win-loss record. Well, Corbin, the National League's leader in winning percentage, is not a mirage — his 155 ERA+ in 172⅓ IP is at worst comparable to the four pitchers I'd put above him. He gets points for being a lefty, and for his 3.57 K/BB ratio and 46.7 percent ground ball rate. Insert caveat about how his BABIP (.256), strand rate (81.3 percent), and HR/FB rate (8.1 percent) are all indicators that his fortunes may change.
4. Shelby Miller, RHP, St. Louis Cardinals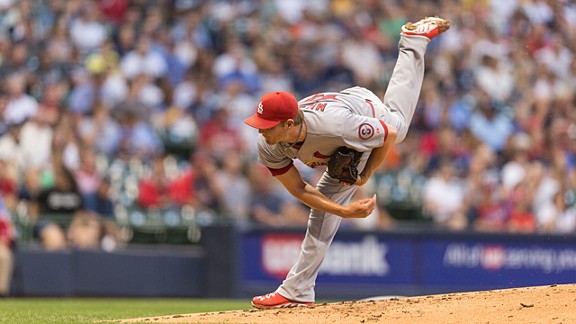 Miller's been a sexy name in prospect circles for a few years now, and he's finally put it all together at the major league level this season. For a 22-year-old to post an ERA under three in one of baseball's tougher divisions is quite impressive. He's not ranked higher here for a couple reasons: First, I'm mostly, but not entirely, over the truly awful start he had to 2012. I don't think it should really worry Cardinals fans, but given the choice between a pitcher with Miller's résumé who's had a meltdown in the past 18 months and a pitcher with Miller's résumé who hasn't had that meltdown, I'd take the non-meltdown guy. The other thing is that it looks like he's wearing down a little bit. He hasn't pitched as well or gone as deep into games since the All-Star break. This is understandable — it's Miller's first full big league season and he's only 22, so he's pitching more and harder than he ever has. And unlike, say, Zack Wheeler, he's going to need to save something for the playoffs. Then again, Miller hasn't been a horse — he's thrown more than seven innings only once this year and only even gone that far too more times. And it's not like the Cardinals are treating him particularly delicately — he's thrown 100 pitches or more in 11 of his 24 starts and 90 or more pitches 20 times. Again, not necessarily a red flag, but that's why he's no. 4 and not no. 1.
3. Gerrit Cole, RHP, Pittsburgh Pirates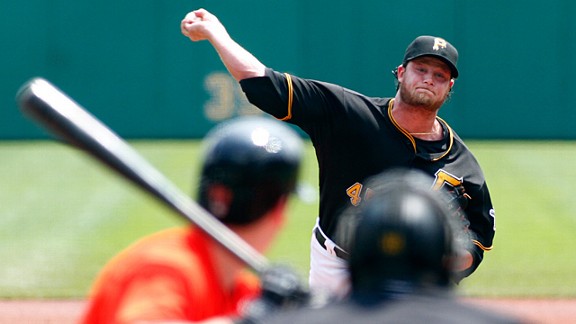 If I'm going to get nailed to the wall for one of these, Cole is it. Yes, I know he's the only pitcher I picked with an ERA+ under 100. Yes, I know he's struggled to miss bats at every level. But in terms of pure stuff, Cole blows away everyone else I could choose from. He throws harder than anyone on this list, plus has a slider and a changeup that both routinely merit 60s and 70s (on the 20-80 scale) from scouts. Cole has perfectly fine command, repeats his delivery well, and has the type of big, athletic, sturdy body that holds up for well more than 200 innings a year. He's Roy Halladay–, Roger Clemens–, Felix Hernandez–type big.
Cole has no real injury history to speak of and no real red flags apart from he doesn't miss bats as much as his stuff suggests he should. After being a first-round pick out of high school, spending three high-profile years at UCLA, then going no. 1 overall in a loaded 2011 draft, it seems like Cole is running out of time to develop, but he's still only 22. I'd bet on the results matching the potential at some point down the road, and given that I'd choose him over Miller, Corbin, Wheeler, and others means I'd bet big on the results matching the potential.
2. Matt Harvey, RHP, New York Mets
We've kind of done Harvey to death, but indulge me a little more. He was always a highly regarded prospect, and he's been just unbelievable since joining the Mets. In 231 big league innings, he has a laughably good 154 ERA+, and in his breakout 2013 season, he leads the National League with 187 strikeouts. He's done to the best hitters in the world what the atmosphere does to a meteorite: burn, crack, fracture, wear away. Harvey's fastball-slider combination is more than effective. It's electric. It's visceral. It's ablative. In a world where Clayton Kershaw didn't exist, Harvey would be an easy choice for the National League Cy Young.
1. Jose Fernandez, RHP, Miami Marlins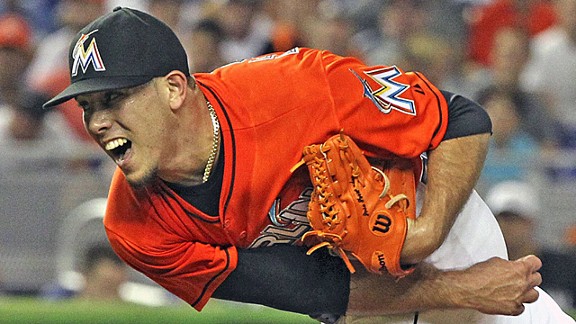 And in a world where Jose Fernandez didn't exist, Harvey would be by far my first choice to build a rotation around.
Harvey's gotten a lot of the press — the All-Star start, the Body Issue spread, the guest spot on Fallon — and he's deserved it. He's pitched more innings than Fernandez has, and even so, on a rate basis Harvey's given up about the same number of runs, struck out as many batters, and walked about half as many men.
But Fernandez, who's already throwing ace-quality innings for Miami, has much more room to grow than Harvey. The younger a player is at his debut, generally, the more promising his future. Fernandez just turned 21. He's already made an All-Star team. When Harvey was Fernandez's age, he was a junior at UNC–Chapel Hill. Fernandez throws in the mid-90s, with a biting curveball and a drill-bit changeup that's about as hard as Kris Medlen's fastball. And while acknowledging the nebulous nature of makeup, it's worth noting that Fernandez went to prison twice after failed attempts to escape Cuba, and on his successful third attempt he had to jump into the Gulf of Mexico to save his mother from drowning. After that, he went from a Tampa high school to the top of the Marlins' rotation in 22 months, skipping Double-A and Triple-A along the way. If I were to bet on any 21-year-old ballplayer's resilience and adaptability, it'd be Fernandez.
Throw away the makeup and the age difference and rely on the 2013 numbers alone, and Fernandez is about 90 percent the pitcher Harvey is. Factor them in and there's almost no comparison. I've traded away Cole, Harvey, and Miller this season, but kept Fernandez. I'd make the same decision in real life.