Get Excited About the Miami Marlins' Young Prospects Before They Get Traded
Victor Decolongon/Getty Images
You know the story. Jeffrey Loria bought the Montreal Expos, ran them into the ground, then swapped them for the Florida Marlins. For the next 10 years, he ran, essentially, a skeleton operation, at one point so brazenly failing to compete that Major League Baseball started leaning on him to spend more on player salaries. He argued that, as a multimillionaire, he couldn't make enough of a profit unless the taxpayers of Miami-Dade County (who have a median household income of $43,957, and 17.9 percent of whom live below the poverty line, according to the latest census figures) bought him a new stadium.
And when they did, at the eventual cost of more than a billion dollars to taxpayers, Loria and his front office made a good-faith effort to compete for one season, before shipping off Hanley Ramirez, Jose Reyes, Josh Johnson, and Mark Buehrle and replacing them with players who make the major league minimum. All told, it's a tale of class warfare that would make Karl Marx's hair stand on end even more than it did before.
But despite the overall ickiness of their ownership group, one that seems to view actually having to field a baseball team as an annoyance (and wouldn't you, if said baseball team was in the habit of hitting Greg Dobbs cleanup?), the Marlins are in an interesting position. They know they aren't going to win, and so with all the depressing, .600 OPS-toting retreads and career replacement-level non-prospects they're marching out there, they've taken the opportunity to blood a couple more exciting young players.
This seems to be how the Marlins work — they assemble oodles of talent, develop it slowly, make the playoffs and win the World Series, then sell that championship roster for parts. No owner, perhaps in all of North American sports, is trying less hard to build a champion than Jeffrey Loria. But if these players grow up together, in a couple years he might get one anyway.

Jose Fernandez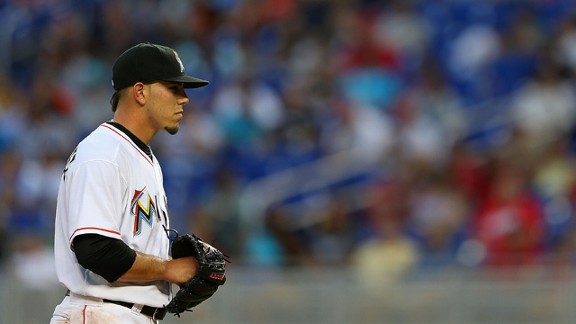 A 20-year-old who entered this season as Keith Law's no. 16 prospect in the game, Fernandez made the jump straight from Single-A, which is an insanely aggressive move on Miami's part, a move made all the more more puzzling by the fact that bringing him up so early in the season will start his service-time clock early. This will cost the Marlins millions a few years down the road and flies directly in the face of their penny-wise, pound-foolish policy.
Fernandez is a stocky, 6-foot-2 right-hander with a similarly ill-advised Mohawk to Bryce Harper's, but his excitable, hyperactive demeanor and mid-90s fastball make him overwhelmingly compelling to watch. That fastball is one of those heavy, curling pitches that bores into bats and looks like a freight train sounds.
Plus, Fernandez's backstory (defected from Cuba as a teenager after serving jail time for previous failed attempts; rescued his mother from shark-infested waters) makes him as likable as his employers are despicable.
Marcell Ozuna
While The Mighty Giancarlo Stanton languishes on the disabled list, 22-year-old Ozuna has deputized admirably. Ozuna is nowhere near the prospect Fernandez is (ranked no. 75 by Baseball America this offseason, unranked by Law), but the 6-foot-1, 220-pound Dominican has been the Marlins' best hitter this season.
Adeiny Hechavarria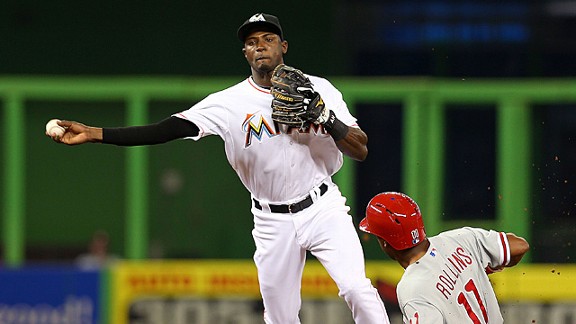 The most valuable piece of the Blue Jays trade so far. Also a Cuban defector, Hechavarria is one of a rash of recent shortstop prospects who play the field brilliantly, but might not hit enough to stick in the big leagues. While he's not batting as well as Didi Gregorius, Andrelton Simmons, or Jean Segura right now, Hechavarria's competition is so bad that he doesn't have to in order to stay in the lineup. His glove alone will probably keep him in major league lineups long enough to make me learn to spell his name correctly.
Christian Yelich
The most exciting prospect the Marlins have. Yelich, 21, is currently dragging an OPS north of 1.000 around the Double-A Southern League, and if Stanton gets dealt when arbitration makes him too expensive for the Marlins' flea circus, Yelich is most likely going to be the rock upon which Mike Redmond builds his church.
Filed Under: Baseball, Miami Marlins, MLB