Derek Jeter's Diary: Turning the Math in Your Favor
Jared Wickerham/Getty Images
The baseball season is a long and lonely road. To preserve his sanity, Yankees shortstop Derek Jeter keeps a diary. These are excerpts from The Captain's private journal.
Wednesday, September 12: at Boston Red Sox
When you've reached this late point in the schedule, everyone's banged up. It's just a part of the six-month war of attrition that is baseball season. There's not a player out there who isn't nursing some kind of nagging hurt. Just going around the clubhouse, here are some of the health issues the team is dealing with, which you otherwise wouldn't hear about because we never make excuses about injuries:
Robbie Cano: vertigo with runners in scoring position
Alex Rodriguez: still recovering from a broken hand; pathological narcissism
Russell Martin: partial swing paralysis from right side of the plate
Nick Swisher: seasonal affective disorder
Ichiro: mild homesickness
Curtis Granderson: extreme empathy
CC Sabathia: 35 pounds underweight; obviously hiding full rotator cuff tear
Phil Hughes: total loss of feeling in pitching hand when gripping curveball
Freddy Garcia: toxic night-sweats
Cody Eppley: inability to pitch well in big situations since the All-Star break
Boone Logan: preoccupying fetish for YouTube videos where people in yellow squirrel costumes ride Sit-N-Spins until they vomit.
Rafael Soriano: just don't like the way he looks at people
And that's only 11 players. We've got a 40-man roster in September. Imagine the things that must be bothering the part-timers that the starters don't have time to acknowledge because we're too busy trying to win an uncomfortably close pennant race. Not that I'm looking at the standings yet, because I'm not.

I mention all of this because I came up limping after hitting the first-base bag wrong running out a grounder in the eighth inning tonight. Immediately everyone is treating it like it's a big deal. It's not. I can walk. Not without a pronounced limp, but I can walk. All you can do is put some ice on it, come out tomorrow and see how it feels, then withhold the truth from the manager if he's got any crazy ideas about resting you. September's not the time for rest. The time for rest is the morning after the ticker-tape parade in the Canyon of Heroes, from approximately 10 to 11 a.m., when you're quietly prepping the pitching machine for your first round of BP to get ready for next season.
Thursday, September 13: at Boston
This is why you don't pay attention to the standings: At any given moment in time, the numbers can mean whatever you want them to mean. You can look at them right now and see that Baltimore is once again very temporarily in a first-place tie with us. That's one interpretation. Or you could set equally arbitrary criteria, take a different snapshot of this moment, and notice that we've won our last two games up here in Fenway. We're basically an undefeated team. That's pretty amazing, now that I think about it. You really have to like the chances of a team playing 1.000 ball to win the whole thing. I know what I just said about the numbers, but sometimes when you play around with them you accidentally stumble upon a deeper truth like that.
There's another set of numbers you can't worry about: career milestones. Milestones are exactly that — things you cruise past just because you've managed to stay on the road a long time. They tell me that I tied Willie Mays for 10th on the all-time hits list tonight. Yeah, it's special whenever your name gets mentioned in the same sentence as a great, inner-circle Hall of Famer like Willie, even if recognizing the accomplishment itself is something you fundamentally reject because it's not winning-related. But I've got too many unoccupied ring-pillars in the Champion's Den to waste time thinking about unimportant stuff like hitting records. I've got an undefeated team to take deep into October.
Friday, September 14: vs. Tampa Bay Rays
CC had another rough outing tonight. He keeps insisting he's not hurt, but when the results lately haven't been there for your best pitcher, it's hard not to suspect he's hiding something from you. And I totally understand the instinct to conceal an injury — by the way, the ankle is almost 100 percent, I wouldn't be surprised if Girardi lets me play the field tomorrow — but as Captain you have to worry about whether or not the guy gutting it out is starting to hurt the team. On the other hand, even if Sabathia's left arm is being held on with some damp strands of Big League Chew, you'd hate to depend on Freddy Garcia in this kind of high-leverage situation. It's a tough call. Maybe it's best to take your chances with the hobbled ace and his secret rotator cuff explosion than with the sixth starter and his 83-mph fastball.
Facing challenges like these, it's more important than ever to keep your head in the game. After Alex hit a big two-run blast in the bottom of the eighth, he stood at home plate for a long time, looking confused until I waved him back into the dugout.
"Where's my pie, Jetes?"
"What pie?"
"My game-winning pie. We always get that."
"Alex, it's the eighth inning."
"Right."
"And we're still down 5-4."
"Right."
They scored again in the top of the ninth and our comeback fell a little short.
In the clubhouse after the game, Alex comes up to me, holding a pie.
"I found my pie."
"Alex, we didn't win. No one gets a pie."
"But I have a pie. It's right here."
"No win, no pie."
"Will you still smash it in my face, Jetes?"
"What?"
"Smash it in my face."
"I'm not going to do that."
"Fine. I'll find someone who will."
On my way out of the clubhouse, I look over and see A-Rod sitting in front of his locker, pie covering his face. Across the room, Swisher is counting out hundred-dollar bills on the buffet table.
Alex turns toward me, then carves out two eyes and a smile in his pie mask.
"Told you I'd find someone, Jetes."
Saturday, September 15: vs. Rays
Big W today. With Oakland taking down Baltimore, we're up a full game in the division.
In the fifth, I looked up at the Jumbotron and saw this fan-made sign on it: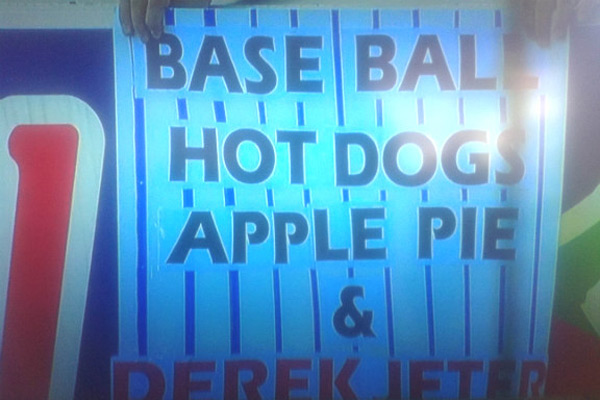 Sometimes you want to blush. It's just special whenever your name gets mentioned in the same sentence as three great, inner-circle American institutions like that.
Sunday, September 16: vs. Rays
We put the Rays five games behind us. Today felt like a really hard one for Tampa. Joe Maddon got tossed for arguing after Matt Moore threw near Granderson's head in the third and got a warning from the umpire. (Grandy's too much of a class act to get mixed up in those fights; in fact, once he got back to the dugout, he went on his iPhone and PayPal'd a million dollars to a head-trauma charity. Such a great guy.) You never want to count out a team, but after the game Maddon told the media, "The math isn't in our favor." What he should have done was gather up his players in front of the locker room whiteboard and write this:
Games Remaining: 16
Our Record, Starting Today: 0-0
Our Record, 16 Games From Now: 16-0
Boom: The math is in your favor.
Monday, September 17: Off day
This was our last scheduled day off for the rest of the regular season, and I wanted to do something special for one of the guys I haven't been able to spend much quality time with because he's been down in the minors most of the year. So I took Eduardo Nunez, who's been filling in for me at short since I tweaked the ankle, out to see The Master.
After the movie, Nunez tells me, "I don't get it, man."
"Let me explain it to you."
"OK."
"Look me in the eye. No blinking, or we start over."
"OK."
"Have you ever asked Joe Girardi about playing shortstop for the Yankees?"
He giggles, blinks. "No."
"Start over. Have you ever asked Joe Girardi about playing shortstop for the Yankees?"
"No!" He giggles, blinks again.
"Start over. Have you ever asked Joe Girardi about playing shortstop for the Yankees?"
"No! No! No!" No giggles, no blinking.
"Very good, Nuney. Who is the Captain of the Yankees?"
"You are, Master."
"Captain."
"Captain. I mean Captain."
"Very good. See you at the stadium tomorrow."
Tuesday, September 18: vs. Toronto Blue Jays, Postponed (Rain)
You hate to argue with God about His plans, but I feel like I was ready to start playing the field again today. Thanks for the extra day of rest, but really, it's totally unnecessary. If You really want to give my team a hand, maybe it's time to let Baltimore start playing the games themselves. Just a suggestion.
Filed Under: Alex Rodriguez, Baltimore Orioles, Captain's Log, Derek Jeter, New York Yankees, Tampa Bay Rays