College Basketball Weekend Preview: Duke Goes to New Jersey, and Michigan Gets Gloriously Slow
Mike Stobe/Getty Images
Before we get going, I want to announce that I'm taking nom-nom-inations for the 2012-13 All-BeefyBulky Team. I was inspired to do this after watching Nebraska's Andre Almeida do battle in a losing effort against Creighton last night. At 6-foot-11, 314 pounds, the Brazilian Almeida is a man of some size, and the eye is immediately drawn in his direction when he's on the floor. Like the elderly couple entranced by the painting of Kramer, we cannot look away.
I was going to put together my own All-BeefyBulky team, but frankly, I haven't done the legwork. The country's elite teams are stocked with perfect physical specimens of varying height at every position, and my mental Rolodex couldn't produce five worthy BeefyBulksters. And this is not something you want to rush. The BBs represent the real America, and we can't risk choosing the wrong men. So far, my All-BB team has just two members:

1. Andre Almeida, Nebraska
2. Matt Stainbrook, 6-foot-9, 290, of Xavier, whom I first encountered two years ago when he played for Western Michigan against Duke. The goggles and the long-sleeved shirt are brilliant touches. The bad news is that he seems to have lost weight since his Western Michigan days, but he's such a legend that I still want him on my squad.
Beyond that, I need help from you, readers. Submit your nom-nom-inations in the comments, and let's "round out" this team.
On to real basketball. We're in that sort of December lull that separates the amped-up November scheduled and the start of conference play in January. But there are still some good games on the docket, which is lucky for us since college football has nothing to offer except Army-Navy, which will probably be the football equivalent of 37-36. Here are the 10 best games to watch this weekend. (All times Eastern.)
10. UCLA vs. Texas (in Houston) — Saturday, 5:15 p.m., ESPN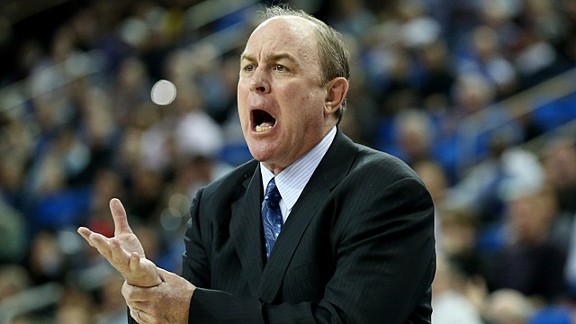 I was going to write something sarcastic about how Rick Barnes and Ben Howland are coaching legends who maximize their talent, excel at motivating players, and turn talented kids into productive young men, but let's cut to the chase: They both need to be fired. Like, now. Especially Howland. How has the Bruins' season already turned into a disaster? Two transfers? Three losses, including a humiliation by Cal-Poly? You could give Howland the '98 Bulls and he wouldn't make the playoffs. Sorry, UCLA fans, but his laissez-faire attitude toward actually managing the personalities of his players ain't working. As for Barnes, he's made a career of being the anti-Izzo; amassing absurd amounts of talent and wasting it. Right now, UT-Austin is like a long-suffering wife who knows her husband is going to continue blowing all their money on stupid investment schemes, but can't bring herself to leave.
Anyway, my proposal for this game is that the loser gets fired. And the reward for the winner? Fired.
9. Akron at no. 21 Creighton — Sunday, 2:05 p.m., ESPN3
Creighton's tagline for the year should be, "Come for McDermott, stay for Wragge." After a 3-5 effort last night, Ethan Wragge is now 26-51 from 3-point range on the year. He's also attempted exactly one shot that wasn't a 3-pointer, so he's pretty one-dimensional. But for a team like Creighton, with an excellent post player and smart guards, he's the best possible complementary piece. Plus, he's a classic pest on defense and never backs down. If Creighton manages to make a run at the Final Four this season, he'll be the spice in the stew.
8. Wisconsin at Marquette — Saturday, 6 p.m., ESPN2
This seems like it's probably a rivalry game. It is, right? Both teams have been a little shaky so far, and both have been murdered by Florida in Gainesville. But they're also well-coached, and seem to fall in that perpetual "tough, but not enough talent" spot that allows for an occasional trip to the Elite Eight and not much else. Anyway, even though Marquette just lost the bulk of its most talented team ever (with all due respect to Dwyane Wade) and Wisconsin was devastated by the loss of a great defender in Josh Gasser, I still expect both teams to make a run at the tournament, and I expect this game to be strangely watchable.
7. Central Connecticut State at no. 1 Indiana — Saturday, 6 p.m., Big Ten Network
I still think the overwhelming Indiana gushing is misplaced, but if they can put together beautiful games like their win over North Carolina, they're worth watching, even against CCSU.
6. No. 21 UNLV at California — Sunday, 6 p.m., ESPNU
"California might be the one Pac-12 team that actually exceeds expectations," is a sentence I might have written a week ago, before the Bears lost by 25 to Wisconsin. Now, I don't see it happening. What I'm curious about in this game is UNLV; can they win a road game against a decent Pac-12 opponent? And, if not, does that say something about the Mountain West? It's been an epic start for the best non-BCS conference in college basketball (the top six teams are 43-5), but I'm a little skeptical, considering the four-team flameout in last year's tournament. This is another test of the conference's legitimacy.
5. Arkansas at no. 3 Michigan — Saturday, noon, CBS
Between the emergence of exciting freshman Nik Stauskas and the brilliant guard play of Trey Burke and Tim Hardaway Jr., Michigan has quietly become appointment viewing. I like to gripe about their slow pace sometimes, but watching John Beilein's offense presents a rare case in which even a pacist like me can appreciate the execution. I'm still not sure it's the best option for a team of great athletes (the Wolverines are 327th in the nation in tempo), but it's hard to argue with the efficiency. And to be totally fair, they're one of the few slowdown teams that are actually enjoyable to watch. I might live to regret this, but if I had to pick a title team at this exact moment, Michigan would be my tentative choice.
4. Colorado at no. 9 Kansas — Saturday, 2 p.m., ESPN2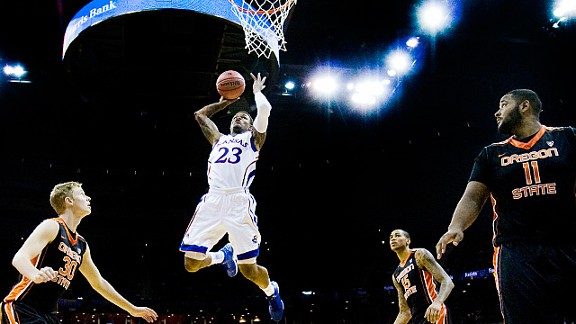 Remember the Pac-12 renaissance from two weeks ago, when Colorado was good? That was awesome. Then a road loss to Wyoming tarnished their shine, and now they have to head into Rock Chalk territory to face Bill Self's crazy brand of justice. I'm not sure what that means. But this will be an interesting test for both teams; is Kansas, as I suspect, a team that can win a title if they mesh? Can Colorado threaten Arizona's presumptive monopoly on the Pac-12? Also watch this game for Jayhawk freshman Ben McLemore, whose 21-point effort against Oregon State vaulted him into the freshman of the year narrative.
3. Temple vs. no. 2 Duke, at East Rutherford, NJ — Saturday, 3:15 p.m., ESPN
It's been approximately 900 games since Duke has lost a non-conference game at home — actually 97, dating back to 2000 — which is pretty solid evidence that it's the hardest place to play in America. But Duke in New Jersey is sort of like a home game too, and the Blue Devils never seem to lose in the NY/NJ metropolitan area. But this will be a good challenge, considering that Temple has a strong perimeter defense and most resembles a small, quick team like VCU, which gave Duke a little trouble in the Bahamas. Temple's Anthony Lee is one of the best defensive rebounders in the country so far, and he's essentially the first and last line of defense against Mason Plumlee, who should have another dominant game against the wee Owls.
2. No. 8 Arizona at Clemson — Saturday, 8 p.m., ESPN2
If you're a regular reader, you know by now that I'm enamored of Arizona's trio of big men, especially freshman Brandon Ashley. With Solomon Hill leading the way, I consider the Cats a legitimate title threat. But the road game at Clemson could be deceptively difficult. The Tigers hung with Gonzaga on a neutral court and got a decent road win against South Carolina this week. If Arizona wins, they'll head into next weekend's matchup with Florida undefeated, but it might be a bit tougher than they expect.
1. No. 13 Illinois at no. 10 Gonzaga — Saturday, 10 p.m., ESPN2
Hey, it's our only battle of ranked teams! And they're both undefeated! With Creighton's loss to Boise State, the Zags now hold the title of most impressive mid-major, while Illinois has staggered a little in its three games since winning the Maui Invitational. As one of the best shooting guards in the Big Ten, Brandon Paul is the man to watch for the Illini, while Elias Harris has been dominant at power forward for the Bulldogs. If Illinois manages a road win, we should all be truly terrified at how good the Big Ten is this season.
Filed Under: College Basketball, Florida, Illinois, Michigan, Shane Ryan, Texas, UCLA