Trying to Make Sense of the Jackson Family Fiasco, in Chart Form
Kevork Djansezian/Getty Images
Whenever there is drama related to the Jackson family, it's bound to be confusing because there are simply too many family members to keep track of. It was hard enough when all you had to deal with were Katherine, Joe, and their nine children, but now there are two more generations of Jacksons in the mix, making things exponentially more complex.
This current, public display of the Jacksons' meltdown seems to involve three things: Michael Jackson's will, Michael Jackson's estate, and family privacy. Within all that, however, Katherine Jackson may or may not have been kidnapped by her own children, Janet and two of her brothers may or may not have driven their car through the gate of the estate with the hopes of confiscating the children's cell phones, and Janet and Paris (Michael's lone daughter) may or may not have had an expletive-filled screaming match that ended with Janet slapping her niece.
And that's just the beginning. So, in an attempt to make some sense of everything, I found a big piece of paper and four different-colored Sharpies, and then proceeded to connect all the crazy dots.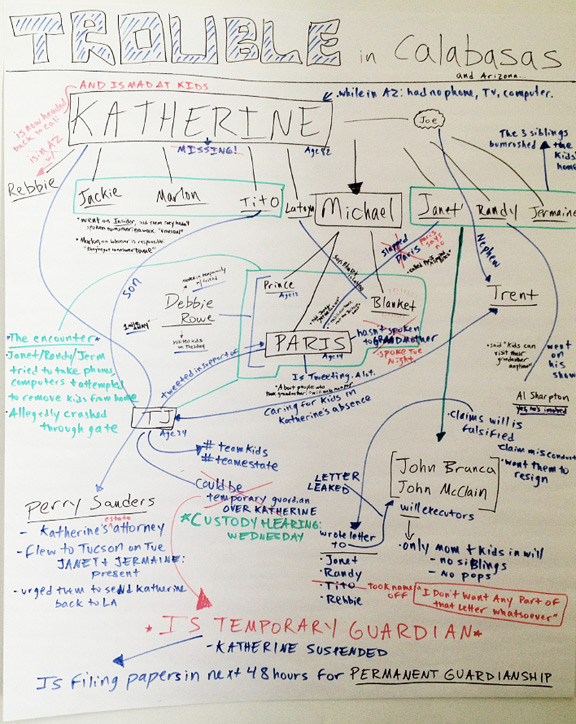 This will look completely different by Friday. My guess: Paris becomes Tito's legal guardian, Sharpton makes his way into the will, and then Katherine releases an album next Tuesday that outsells Rick Ross's God Forgives, I Don't by 50,000 copies in the first week.
Filed Under: Michael Jackson