The Office Alternate History: Ben Falcone as Michael, Mary Lynn Rajskub as Pam, Adam Scott as Jim
Rainn Wilson/Facebook
With The Office winding down toward that great big nothing in the beyond, Rainn Wilson is letting nostalgia get the best of him. Today on Facebook, he gave us this informative update: "This is the original sign-in sheet for the first day of casting for The Office given to me by Allison Jones, our incredible casting agent. I was the very first person to audition for the series, 11/06/03. Notice all the amazing talent on the sheet, including the amazing #13! This is perhaps the greatest Office keepsake I have. So grateful for the best job I will ever have." But never mind Rainn Wilson's sweet sentiments! Look at all these quasi-well-known actors who auditioned for The Office!
Just going down the chart: We got freakin' Adam Scott as Jim, 24's Mary Lynn Rajskub as Pam, The New Adventures of Old Christine's Hamish Linklater as Jim again, Bridesmaids' Air Marshall (and Melissa McCarthy main squeeze) Ben Falcone as Michael, Suburgatory's Alan Tudyk as Michael again, and UCB's Matt Besser as Dwight. Presumably Steve Carell had the job of Michael Scott all along if he wanted it, and everyone going up for Michael was being vetted as a backup option? But Rainn Wilson wasn't a known entity back then: Ben Falcone could have swooped in and stolen Rainn's gig, and then he wouldn't have to wait nearly a decade to get famous via aggressive airplane flirtations. (It's harder for me to see Besser nailing the role. He's maybe almost too weird for Dwight? And, actually, same with Mary Lynn/Pam.) Linklater landed on his feet, with a long-running sitcom all his own, and Tudyk always seems to be stealing scenes in one thing or another.
The big what-if, though, seems to be Adam Scott. Yeah, through first Party Down and then Parks and Recreation our dude did eventually break through to the sweet, national recognition he so richly deserves. But you can totally imagine him crushing it as Jim, and accelerating that whole fame-and-fortune process. Next up, then: Someone leak footage of Adam Scott's (presumably horribly botched) audition.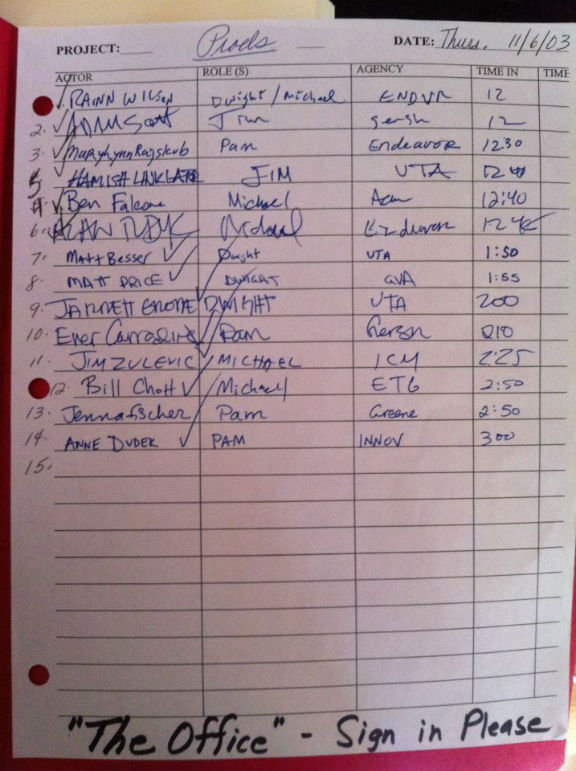 Filed Under: Adam Scott, Rainn Wilson, The office