The 2 Broke Chainz Heat Check
Lester Cohen/WireImage
The rapper "Heat Check."
This isn't the first time in recent memory it's been necessary to discuss this phenomenon, with mid-November giving us Kendrick Lamar, at the height of his popularity, testing his fame and what he could get away with by being the real-life walk-in music for boxer Adrien Broner. In that example, the Heat Check Committee (HCC), me, deemed his performance "a complete dud." Thankfully for Kendrick, his album was so good that the stunt did little to diminish the force that is K.Dot.
In our second installment, we have sometimes hero/sometimes traitor 2 Chainz.
Last night, on CBS, America's Most Watched Network (someone has to explain this to me), he made a cameo on 2 Broke Girls.
This wasn't a surprise. The news was leaked the previous week by way of a promo between Tity and the show's two stars, Kat Dennings and the other one.
The promo held the promise of a potentially legendary cameo, based only on the things 2 Chainz said.
On acting: "Being 2 Chainz is a real hard task."

On being a natural: "You pulling my chain?"
My interest was immediately piqued. This could be amazing.
Then, there was the commercial:
WHAT. IS. THIS.
What is a "TWO"? This wasn't good. Yes, they got the "z" right, but "Two" is unacceptable. Upon seeing this, anxiety kicked in about how this episode could turn out. Was this Chainz's Kendrick Heat Check moment? I hoped not, but I feared it was.
And finally, last night's episode.
Before going into what happened, I should note that I have purposefully never seen this show, because I know it's bad. My only knowledge about it is that Kat Dennings is in it, they maybe work in a diner, Kat Dennings is in it, and the laugh track notoriously doesn't match up with the quality of jokes.
As for Mr. Chainz being on a show called 2 Broke Girls, he once said in the song "I'm Different," "Me and broke n—-s, we don't get along." And then said it again, just to make sure you believed him. One has to assume that would be the main plot of his cameo, a series of beef-fueled encounters between him and two girls he is incapable of getting along with based on their income bracket.
In the episode, the girls are on a plane — a private plane — because the non-Kat girl is weirdly not broke, I guess.
The 2 Chainz setup:
Other girl: Another passenger, I wonder who it could be?
Kat: Probably my mother. Every time something great is about to happen to me, she shows up and ruins it.
[Laughter]
Other girl: In 20 hours, we went from beer in an alley to Dom on a plane. That's pretty magical.
Kat: Yes, this could not get any better …
Other: It did just get better. That's TWO Chainz.
And then Chainz starts speaking:
"Good morning, how y'all doing?"
Nice use of the "y'all." Also, he's wearing his TRU University jacket.
This all seems very natural. Also, he's already the best actor that has ever been on set.
After being offered coffee: "No, I'm really tired. I just want to crash."
WHOA, TAUHEED. Better choice of plane-related words.
"Not the plane"
Oh, OK. Thank you.
"Do you have any Sleepytime tea?"
And just like that, this is my favorite thing he's ever done. HE JUST ASKED FOR SLEEPYTIME TEA. WHAT GENIUS WROTE THAT?
Kat: "Sleepytime tea — that is so gangster."
This is not a good show. Like, for society.
NEXT CHAINZ SCENE
The setup:
Other: "It's been two hours, when is TWO Chainz going to wake up for a picture?"
Kat: "You want him to wake up for a picture? I'll handle that."
She kicks his chair. Super rude. But he doesn't wake up. So she kicks it again. Again, very rude. Horrible private-plane etiquette.
Kat:"Wow, that Sleepytime really knocks you out. They must have two-bagged it."
Note: In case you're counting, that's Two Chainz, two broke girls, two hours, and now two bags. That's all.
Back to the show: The two broke girls are taking pictures with a sleepy Chainz.
Which leads to:
Because of course. I heard they were in his rider.
And then more:
Other: "Since you did boobs, I'm gonna put my booty in his face, because all he wants for his birthday is a big-booty ho."
I can't believe this is a real show. Why is this a real show? I hate everything right now.
Which leads to:
TWO Chainz: "I never get tired waking up like this."
Words are exchanged, and then this dialogue takes place (just as a reminder, this actually happened on network television):
Other: "Your music means a lot to me, and I totally related when you said 'when I die, bury me inside the Gucci STO'."
Don't pay attention to Other's face. LOOK AT CHAINZ. It's like he's hearing the word of the Lord. Lord Chainz.
Oh, and then he says "TRU," followed by more Other rapping:
Other: "When I die, bury me inside the Louis STO."
Chainz: "Ugh"
And finally, the two-part, Chainz/Other duet:
"All I want for my birthday is a big-booty ho, all I want for my birthday is a big-booty ho."
I don't know anything anymore. It's very difficult to figure out which demographic this is more embarrassing for.
But it's still not over. The pilot comes out and really cements what this show is all about:
"I heard booty and I heard hoes, so I had to do a pop-in."
Chainz, how do you feel about that?
"Always some weird white guy coming to crash a party."
Another non-Chainz scene takes place that I promptly muted, and then, some final thoughts from CBS's TWO Chainz:
To Other, on the pilot: "What you doing going out with a guy like that?"
She explains to TWO that you don't want to upset the guy flying the plane, and then:
"Gotcha. You keep flirting with him until we land. I gotta make it to the Grammys."
This was followed by audience laughter. What's funny about that? There were future capes to be worn.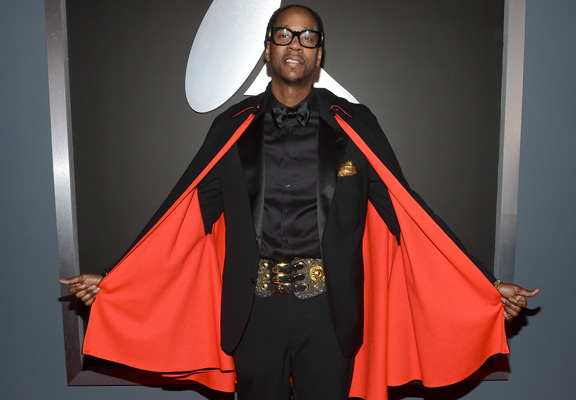 End scene.
So that was 2 Chainz on 2 Broke Girls. Decision on this as a Heat Check?
Tauheed is still hot. Unlike Kendrick, whose appearance proved that he couldn't pull everything off, the jury's still out on what 2 Chainz can't do. This was not a bad move at all. Yes, he picked perhaps the worst show on television for a cameo, but his co-stars made him look like Daniel Day-Lewis. Also, consider the things his cameo entailed:
2 Chainz got to dress like 2 Chainz
2 Chainz got a set of breasts on his neck and a booty on his face.
2 Chainz got to say "TRU."
2 Chainz got to wear two chains.
2 Chainz got to dance.
2 Chainz got to rap the lyrics to his own song.
This was no different than any other rap video he's participated in, except this time, it was on prime-time television.
Save the misspelling of his name in the commercial, this was a giant win.
So far, he's had two "Well, this should be the beginning of the end" moments, the video game and now the 2 Broke Girls cameo. Neither proved to be the heat check that signaled he needs to slow down. That's pretty incredible
But it will happen. There's just no telling when.
I think.
Filed Under: 2 Broke Girls, 2 Chainz, CBS