Six Degrees of Swanberg: Meet the Director of Drinking Buddies and Center of the New Indie Universe
Courtesy of Magnolia Pictures
The director of the Olivia Wilde–Jake Johnson rom-dramedy Drinking Buddies, and co-star of director Adam Wingard's twisty, droll home-invasion thriller You're Next, Joe Swanberg is sort of the new Kevin Bacon. With several dozen acting and directing credits in the last eight years, you could make a game out of connecting recent American indie-film luminaries back to Swanberg in even less than six degrees. Between directing and acting, in web series, shorts, and features, over the last eight years Swanberg has worked with Lena Dunham, Greta Gerwig, Noah Baumbach, Mark Duplass, indie horror legend Larry Fessenden, and more. With both Drinking Buddies and You're Next opening theatrically on Friday, you may have questions. Here are some answers.
How do all these people know each other?
Swanberg's first film, Kissing on the Mouth — in which he co-starred , plus wrote, shot, directed, edited, and literally masturbated in — was made for pocket change on video, and it premiered at SXSW in 2005 alongside a number of other micro-budget American movies, including Ti West's first feature The Roost, Mutual Appreciation (directed by and co-starring Andrew Bujalski, who recently made a very weird and wonderful movie called Computer Chess, which won a prize at Sundance this year and is currently in theaters), and The Puffy Chair, the first feature from Mark and Jay Duplass. All of these filmmakers met at this festival, became friends, and then over the next few years they made a couple of movies together.

You're talking about mumblecore, right? Which is what, exactly?
"Mumblecore" is a term that was used jokingly by the sound recordist on Mutual Appreciation, which Bujalski then repeated in an interview to self-deprecatingly describe the DIY nature of his own movies. It stuck, and it became a useful shorthand used by journalists and film festivals to describe a lot of movies that were being made for no money, with tiny crews, by young people who were working mostly outside of L.A. and the conventional movie-making system. Sometimes starring non-professional and/or first-time actors, a lot of these movies tended to at least appear as though they had improvised dialogue and, to some extent, aesthetics associated with vérité documentary or home video. But, like a lot of buzzword trend definers, the more "mumblecore" is used as a catch-all signifier, the less it actually means. Talking about mumblecore today is sort of like talking about grunge in 2000 — that word might have been useful then to help understand the context into which "Creep" was released, but it wouldn't tell you anything about Kid A. And it would be really difficult to say out loud without scare quotes.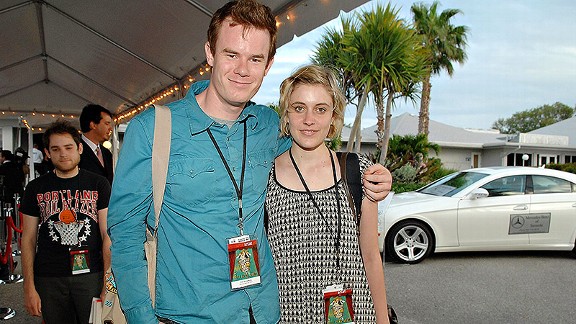 I'm pretty sure I've heard people calling Greta Gerwig a "mumblecore princess" with a straight face.
People really shouldn't be calling any grown woman any kind of princess, unless she is actually a princess, with a straight face.
But, yeah, Greta Gerwig is probably the most successful graduate of the early Swanberg productions. Her first movie was LOL — not the Miley Cyrus/Demi Moore joint, but Swanberg's 2006 follow-up to Kissing on the Mouth. Gerwig was the IRL girlfriend of C. Mason Wells, one of the film's male leads; she played Wells's character's girlfriend, and she was only heard via voice mails and seen via sexy text pics. This collaboration begat many more:
• Swanberg got Gerwig, Bujalski, Duplass, and a few other multi-hyphenates (including Ry Russo-Young, who directed last year's Nobody Walks, which she wrote with Lena Dunham) to move into an apartment in Chicago for a summer to make a movie, and the result was Hannah Takes the Stairs. Sort of a mumblecore supergroup movie, with a $60,000 budget this was Swanberg's most expensive directorial effort until Drinking Buddies. Gerwig and Swanberg soon thereafter collaborated on the much darker Nights and Weekends, a super sexually uncomfortable study of a malfunctioning long-distance relationship.
• Noah Baumbach saw Hannah Takes the Stairs and started a correspondence with Swanberg, which led to Baumbach producing the slightly more polished and ambitious Alexander the Last. That movie co-starred Amy Seimetz, more recently star of Upstream Color and co-star of You're Next.
• Baumbach then cast Gerwig in Greenberg; she and Baumbach later started dating and together co-wrote Frances Ha. In the interim between Teams Swanberg and Baumbach, Gerwig co-starred in Ti West's House of the Devil, and she had a romantic subplot with Drinking Buddies' Jake Johnson in No Strings Attached.
• West plays sleazy supporting dudes in both You're Next and Drinking Buddies; it's a role he perfected acting in a number of Swanberg movies, beginning with Silver Bullets.
Don't phrases like "non-professional and/or first-time actors" and "home video" just connote amateurism? What sets these movies apart from, like, something you'd shoot on your phone with your friends and throw up on YouTube?
For what it's worth, most of these people did go to film school before they started making these movies, and not all of the movies in any way resemble "something you'd shoot on your phone with your friends and throw up on YouTube." Compared to the faux–found footage horror anthology V/H/S, House of the Devil looks like a Bergman movie; Bujalski's Beeswax, which stars a pre-Girls Alex Karpovsky, is both a tightly written linguistic comedy and beautifully shot on color film.
That said, the fact is, a lot of these movies to some extent exist because of the same technological changes and social impulses that led to the creation of YouTube culture, as well as the dominance of reality TV, the comedy of awkwardness (and celebrity self-awareness) of Curb Your Enthusiasm, the always-on performative factor of Twitter, Vine, Instagram, and so on. The same relatively recent developments that have massively changed our social lives have also radically changed film and media-making. Thanks to gadgetry, it's easier than ever to make a movie, but it's more difficult than ever to make anything that really matters to people, just as it's easier than ever to communicate but as hard as it has ever been to really communicate.
A lot of these movies are not just products of this changing world, they're engaged in dialogue with those changes, using the transformations of ways in which we present and relate to one another as jumping-off points. Swanberg's segment of V/H/S takes place entirely on video chat, while Bujalski's Computer Chess, shot on modded black-and-white video cameras from the early 1980s, explores the birth of personal computing as an extension of the self. A lot of You're Next recalls an old-school slasher-in-the-house movie in part because the characters have been artificially stripped of their access to technological lifelines; when a cell phone finally comes into play, it becomes the catalyst for the movie's ultimate twist.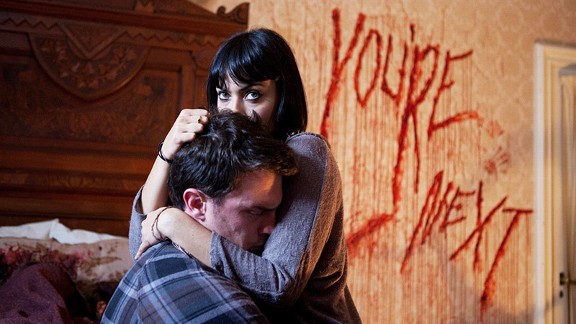 I'm just suspicious of how prolific Swanberg and friends are. If they're making so many movies, how can any of them be any good?
A lot of people are prolific. Woody Allen makes a movie every year, and some of them are really bad, and some of them are masterpieces, and some of them are just kind of interesting because of how they riff on Allen's pet themes or take his typical concerns in different directions. Baseball players play every day for six months, and if they hit a few home runs a week, everyone's happy. So no, not all of these movies are totally successful. Some of them are. Some of them are worth watching as part of a trajectory. Some of them are skippable.

So which movies are not skippable?
Drinking Buddies and You're Next are both really good. If you like the former, you should go back to Hannah Takes the Stairs, which is much lower-fi, but it still holds up as a capsule of cringe-worthy mid-'00s post-collegiate confusion. A lot of the Swanberg movies that aren't wholly successful have elements that make them worth watching; Amy Seimetz gives a pretty fantastic performance in Alexander the Last, for instance, as does '90s indie film vet Jane Adams in All the Light in the Sky, which will be in theaters this fall. (This is not the only film Swanberg has in the can awaiting release; there's also the Dunham-starring Happy Christmas, due to hit festivals next year.)
My favorite, though, is Silver Bullets, which sort of prefigures You're Next as a self-aware horror exercise, but it's also a lot of other things — a stylish erotic thriller, a self-critical study of filmmaking as a predatory act, and, most weirdly, kind of a love letter to David Foster Wallace. It stars Swanberg, Seimetz, West, and also Kate Lyn Sheil, who is going to be on the second season of House of Cards.
Sheil is also in a few really great films made by female filmmakers who have acted for Swanberg, including Green, which is sort of a spooky, hipsters-back-to-the-land update of Single White Female co-starring and directed by Sophia Takal (co-star of All the Lights in the Sky), and Sun Don't Shine, an outlaw-lovers-on-the-run movie written and directed by Amy Seimetz, both of which are on iTunes. Spoiler alert: Sheil also has the uncredited, Drew Barrymore–in–Scream role in You're Next.
That's the problem with Six Degrees of Swanberg: In a world this small, there are so many connections at one or two degrees that the rest of the six degrees become superfluous.
Filed Under: Jake Johnson, Lena Dunham, Mark Duplass, Movies, Noah Baumbach, Olivia Wilde