Shia LaBeouf Leaves First Broadway Play After Creative Differences With Alec Baldwin, Wants to Be Buried With a Stake Through His Heart
Alo Ceballos/FilmMagic
It was only this summer that a chain of curious events in the life of America's erstwhile foremost Transformer ally led us here at Grantland to wonder, So What the Hell Has Been Going on With Shia LaBeouf Recently? There was the on-set boozing, for Lawless, and there was the on-set drug-consuming, for The Necessary Death of Charlie Countryman, and, best of all, there was the on-set fornication for Lars von Trier's Nymphomaniac. And through it all there was Shia, yearning with all the might of a thousand failed child stars, to be taken seriously as a True Artist. Since, we haven't heard much from Shia. But when it rains it pours: Our man LaBeouf just got dropped from Orphans, what would have been his Broadway debut, and the story of why, exactly, is a rich, still-developing tale full of all manner of soul-baring tweets and private e-mails and creative differences with a Baldwin. Let's get into it!
First: The producers of Orphans announce LaBeouf is leaving the play, due to the aforementioned "creative differences." Second: LaBeouf gets on Twitter and lets the e-mails between him and everyone involved with Orphans fly. First up, an exchange between him and the director of the play, 72-year-old Daniel Sullivan: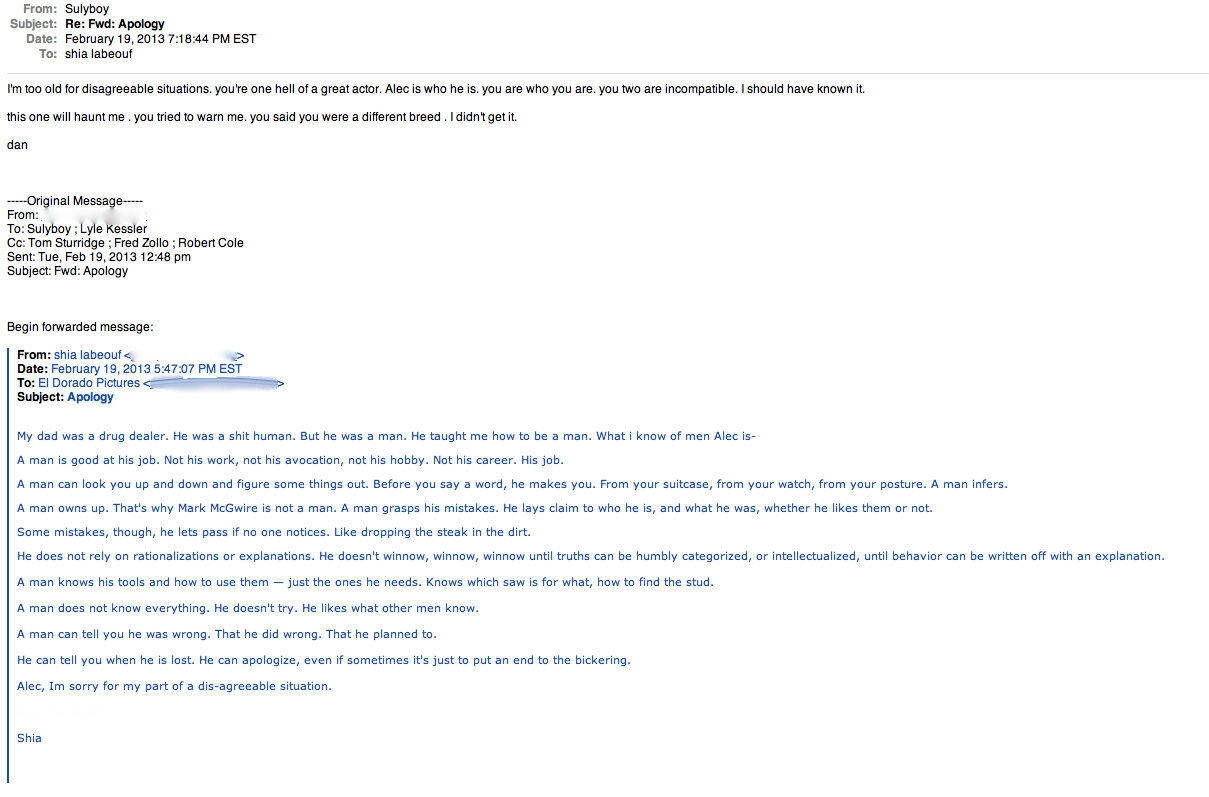 [UPDATE: Looks like LaBeouf took those words from Esquire's Tom Chiarella, who doesn't seem too upset about it.]
This is the kind of tone that runs through the entire proceedings: respectful, cautious, and considerate, with maybe just a touch of "trust that I would be calling you a goddamned asshole right now if I wasn't 1000 percent sure this was going to end up on the Internet." More importantly, though: Can I please request right now that the words "My dad was a drug dealer. He was a shit human. But he was a man. He taught me how to be a man" are engraved on my tombstone?
Then, between Shia and Alec Baldwin, his co-star in the play (LaBeouf was to play one of two orphans who kidnap a rich businessman, played by Alec):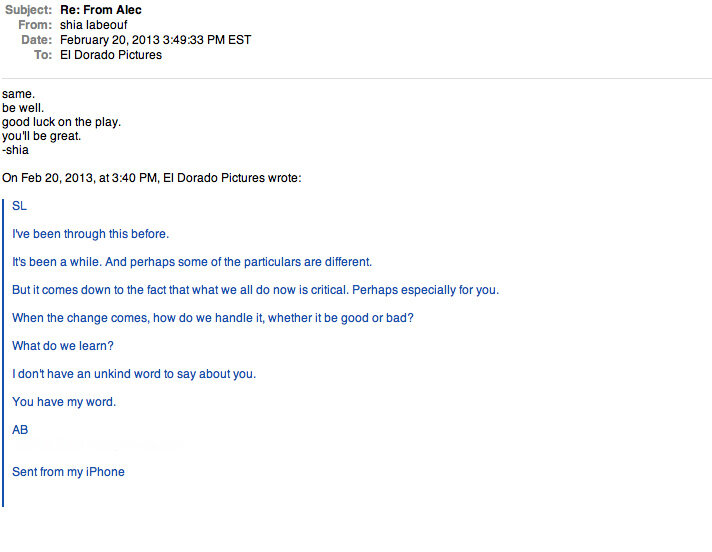 You were hoping for a bit more acrimony and dissension and vitriol, yeah? Damn it all to hell, so was I. But wait! Hope springs eternal! According to the New York Times, LaBeouf didn't so much leave the production as he was fired:
The producers' decision to replace Mr. LaBeouf was made on Tuesday night, more than a week after rehearsals began on Feb. 11. According to two theater executives familiar with the decision, Mr. Sullivan had become worried about Mr. LaBeouf and his performance choices in the emotionally volatile and ultimately tragic role. Mr. Sullivan spoke at length with both Mr. LaBeouf and the producers about his concerns. When the situation did not improve, the producers decided it was still early enough in rehearsals to replace Mr. LaBeouf.
Oh my god oh my god oh my god had become worried about Mr. LaBeouf and his performance choices oh my god oh my god oh my god. OBVIOUSLY everyone thought Shia LaBeouf was going so Method he was going to, like, strangle a cat and then drink its tears right before opening night. True art. TRUE ART.
OK, now back to Twitter: Shia also sent out a link to his Orphans audition, presenting himself to the world, and allowing the world to respond in the only manner it possibly could: Shia, from which part of Times Square did you buy your NYPD sweatshirt? Was it over where they do caricatures of you skateboarding with sunglasses on? Or was it closer to where the Elmos and Cookie Monsters set up?
Now forward a bit further down his Twitter rampage, and one last revealed private e-mail, this one from Orphans fight director Rick Sordelet. (Wait, what? Fight director? This play sounds tight as hell. Oh, I love legitimate theater.)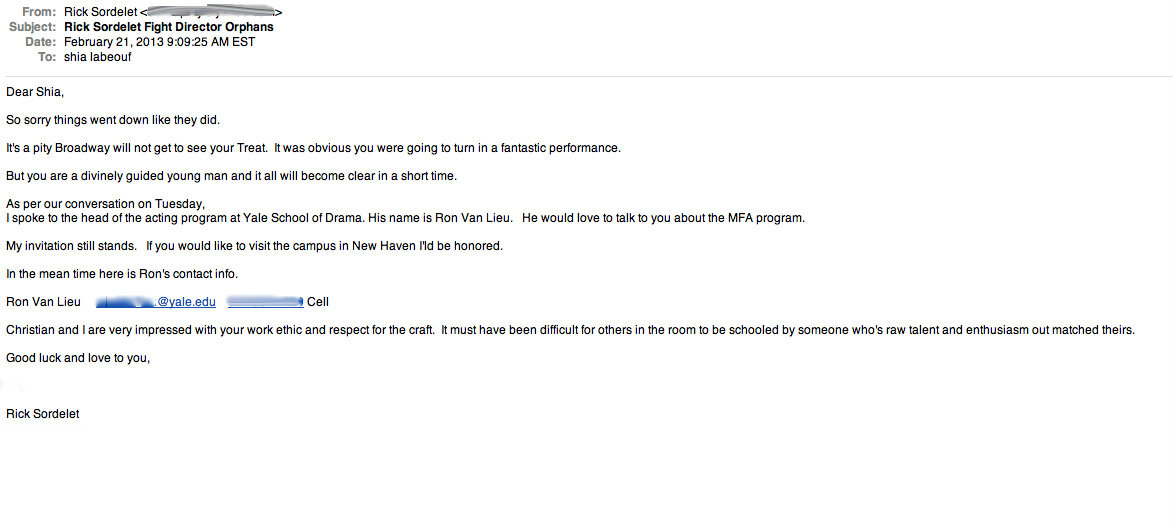 Man, get out of here, Orphans fight director Rick Sordelet. Shia LaBeouf don't need no fancy dancy actin' schoolin'! Shia LaBeouf wants to be the kind of actor who, when he dies, gets a stake driven through his heart. His last few tweets:
the theater belongs not to the great but to the brash.acting is not for gentlemen, or bureaucratic-academics. what they do is antiart.

— Shia LaBeouf (@thecampaignbook) February 21, 2013
actors used to be buried with a stake through the heart. those peoples performances so troubled on-lookers that they feared their ghosts.

— Shia LaBeouf (@thecampaignbook) February 21, 2013
those actors moved the audience not such that they were admitted to graduate school, or recieved a complimentary review.

— Shia LaBeouf (@thecampaignbook) February 21, 2013
but such that the audience feared for their soul. now that seems to me something to aim for.

— Shia LaBeouf (@thecampaignbook) February 21, 2013
And, OH WAIT, late-breaking update: Just as I was writing this, Shia Tweeted "BEN FOSTER IS A BEAST. HE WILL KILL IT." Which leads me to see that, yes indeed, as the Times reports, Ben Foster — who had previously auditioned for the role that Shia was playing — is taking over that spot, effective immediately. And in the same report about Foster, we get more juicy stuff:
Mr. Sullivan declined an interview request on Thursday. Mr. Baldwin, reached by telephone on Thursday, declined to discuss compatibility issues with Mr. LaBeouf, only saying: "You realize in the process, theater is not for everyone."
Also very important: While no one is going into great detail as to what Shia vs. Alec actually consisted of, they are sharing this very fun detail (to which Shia had alluded on Twitter):
One incident that occurred early in rehearsals involved Mr. LaBeouf, a film actor who had never been on Broadway before, punching his hand through a door to the surprise of his "Orphans" collaborators, according to two theater executives familiar with the moment. Mr. LaBeouf apologized by email to the "Orphans" playwright, Lyle Kessler, saying, 'im a child" … The two theater executives, who spoke on condition of anonymity to discuss the private rehearsal process, said Mr. LaBeouf punched the door while in character as Treat.
PUNCHING DOORS. In CHARACTER. Getting kicked off Broadway plays. For being TOO FUCKING CRAZY. I don't wanna get too carried away here — but is Shia LaBeouf already the greatest actor of all time and into infinity evermore?
Filed Under: Alec Baldwin, Art, Shia Labeouf