RIP, Storm Thorgerson, Legendary Album Cover Artist
Kevin Nixon/Computer Arts via Getty Images
If you're not familiar with Storm Thorgerson, just know that he earned the right to be named "Storm Thorgerson." The most famous album-cover artist of all time — his most celebrated and longest lasting association was with Pink Floyd, though his work also adorned records by Led Zeppelin, Black Sabbath, Peter Gabriel, Phish, Ween, Anthrax, the Cult, Muse, the Mars Volta, and Audioslave, among many others — Thorgerson supplied the visually striking and often surreal iconography that served as a backdrop in countless college dorms for lobotomized interstellar couch trips. His most iconic concepts — a dark prism refracting white light into a rainbow, a man shaking hands with his inflamed doppelganger, an industrialized hellscape flecked with floating pigs — leapt out of vinyl stacks and onto wood-paneled bedroom walls, forming lasting images in the cloudiest sections of so many people's memories. (No man did more to make suburban recreational drug use in the late 20th century feel epic.) If it's possible for an LP cover (or a blacklight poster) to approach art, a lot of that has to do with Thorgerson.
It might be stretch to suggest that Thorgerson (who died Thursday of cancer at the age of 69) was the fifth (or sixth) member of Pink Floyd. But for a band that generally shied away from exposing their gawky British mugs in public, Thorgerson was crucial when it came to filling the charisma gap with indelible graphic design. Thorgerson's roots with Floyd ran deep: Born in 1944 in Potters Bar, Middlesex — his middle name was "Elvin" — Thorgerson was boyhood pals with Roger Waters, and they attended the same schools as Syd Barrett (who was two grades below them). In high school, Thorgerson's best friend was Barrett's future replacement, guitarist David Gilmour. Later, when Pink Floyd was weighing whether to fire the acid-addled Barrett from the band, Thorgerson was consulted, "Because they knew that I knew Syd, and I knew them, [and] they thought maybe I could perhaps offer some limited advice as to what to do," he recalled in a 2011 Guitar World interview. "We talked about it, as chaps do. I couldn't proffer much direct advice, but we chatted about how horribly difficult it was, what the hell they were going to do."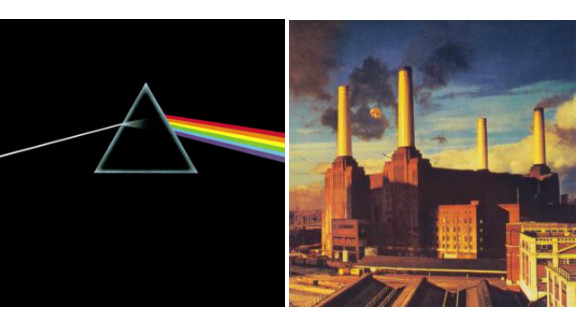 Pink Floyd's 1967 debut with Barrett, The Piper at the Gates of Dawn, was the first and last album to feature a photo of the paisley and bescarved band members on the cover. As chaps do, Pink Floyd asked their old friend Thorgerson to come up with something snappier for Pink Floyd's second record, 1968's A Saucerful of Secrets, and from then on the partnership remained in place well into the '70s. An English and philosophy student with a master's degree in film and television, Thorgerson had taken up with the hip London art firm Hipgnosis, which specialized in album covers for Britain's proggiest bands — everyone from Yes and Emerson, Lake, and Palmer to Gravy Train and Edgar Broughton Band. But it was Thorgerson's covers that came to define Hipgnosis's aesthetic during the height of English AOR. His designs were distinguished by strange juxtapositions — the cow on the cover of Pink Floyd's Atom Heart Mother, the mysterious black object on the dining room table from Led Zeppelin's Presence — that suggested some elusive deep meaning to the contents within. Thorgerson's subtext was arguably more important from a mystique standpoint than the bands' text.
His design for Dark Side of the Moon — Thorgerson worked in tandem with fellow Hipgnosis artist George Hardie on the cover, which stemmed from an idea by Floyd keyboardist Richard Wright — illustrates the ridiculous lengths that bands would often go to achieve truly mind-blowing album art. According to Nicholas Schaffner's Saucerful of Secrets: The Pink Floyd Odyssey, Thorgerson was dispatched to Giza in Egypt to snap photos of the pyramids in the middle of the night for Dark Side's poster insert. As Thorgerson later recalled to Guitar World:
I scared myself shitless doing it, too! I hired a taxi at 2 o'clock a.m. to take me out to the pyramids. So there I am, thinking I'll be fine, and I put the camera on the tripod to do a long-time exposure. It's a wonderful, clear night, and the moon is fantastic. So I'm doing it… and then, at like 4 o'clock a.m., these figures come walking across—soldiers, with guns. I thought, This is it. The game is up — young photographer dies a strange death in a foreign land. I was actually really scared. Of course, all my fears were unfounded. They were very friendly. They wanted a bit of bakshish, a little bit of money to go away. They kindly pointed out that where I stood was actually a firing range, and that they'd come to tell me it wasn't very cool for me to be there. If I was there first thing in the morning, I might get a bullet up my butt.
Thorgerson might've survived Egypt, but he eventually fell victim to Waters's infamous wrath. The Wall was the first Pink Floyd album since Saucerful to not have a Thorgerson cover; Thorgerson claimed that he fell out with Waters over a credit dispute related to an illustration from Animals included in a retrospective book. (He told Guitar World that he hadn't spoken to Waters since 1980.) In the latter half of his life, Thorgerson was employed by bands looking for a little of the austere beauty he brought to Floyd (including Floyd themselves, who brought Thorgerson back into the fold after Waters left the band in the mid-'80s). Even as covers shrank in the CD age, or virtually disappeared in the MP3 age, Thorgerson continued to produce memorable art: Peter Gabriel's melted face from his third album, the deep-sea fantasia of Ween's The Mollusk, the enigmatic hooded figure from the Mars Volta's Frances the Mute, the Martian dinner scene from Muse's Black Holes & Revelations. In the wake of Thorgerson's death, rock music seems a little more mundane and a lot less alien.
Filed Under: In Memoriam, Muse, Obituary