Handicapping The Bachelorette Week 4: Here He Is, Mr. Bachelorette America
ABC
This week on The Bachelorette, the journey to find love made a natural progression. Des and the guys went to Atlantic City, where all true love is nourished. Most of the guys got the chance to show off their secret talents in the Mr. America contest, but mostly they just used this week to show off their neon-inflected wardrobe. Maybe they hadn't done laundry in a while, but seemingly all the guys broke out their hot green–accented athletic gear. Is that the color of love?
The Front-runners
BROOKS
Why he'll win: Because Des talks about him like she already knows him well. Brooks didn't get a one-on-one date, nor did he get the group date rose, but none of that matters. Brooks is the Kobe Bryant of this show: He has no rivals. After his turn in the swimsuit portion of the competition (note: he was not wearing a Speedo), Des commends him for "handling it the way Brooks would with his personality. It was so funny." Yup. It was just Brooks being Brooks. She loves this guy.
Misgivings: He's too enthusiastic about lions. When asked what animal he would be, he very eagerly responded "LION!" You can't fault him for being a Lion King enthusiast, but his level of preparedness for this question was alarming.
On the Bubble
JAMES
Why he might make the leap: Because he was the recipient of an emotional date. James got the one-on-one this week, which was not so much a date but rather a visit to the part of the Jersey Shore ravaged by Hurricane Sandy. James and Des gifted their dinner and private concert by Darius Rucker (seriously!) to an old couple whose house was destroyed. If you're part of such a strong narrative device, you have to be safe for at least one more week. There are still some questions about him, though. During the substitute dinner (which was at an Italian bar/restaurant that looked delicious), James admits that he cheated on his girlfriend of five years during his freshman year of college. James is 27. He is talking about an indiscretion he made eight or nine years ago. How is that relevant and why would you bring that up?
CHRIS
Why he might make the leap: Because he is a poet. This was not the best week for Chris, but it's probably not his fault that he was not given a chance to discover a romantic spot like he did last week. Nonetheless, Chris risked dropping his poetry journal into the pool and read some of his baseball-stress-induced work. He reminded Des that he is a professional ballplayer (he was drafted by the Chicago Cubs) while showing his softer side. Chris is an inspiration.
BRYDEN
Why he might make the leap: Because his hair continues to improve. We got a third look from Bryden this week. First there was oily bowl cut. Then he moved on to a more stylized version, something with a little shape and refinement. Now, as his hair is growing out, he's beginning to look like all the other guys.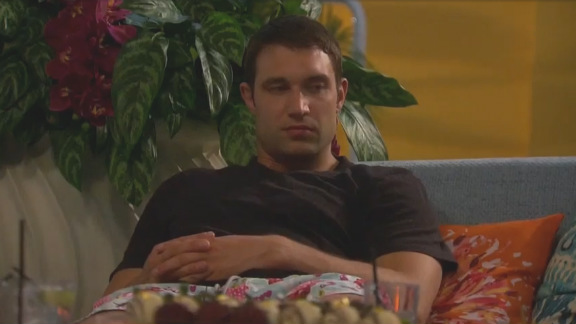 The world of The Bachelorette is righting itself. Yet despite any cosmetic gains, Bryden hasn't connected with Des since their one-on-one many weeks ago. That's probably because he's really boring, and as displayed during the pageant, his own talent is pelvic-thrusting. If these statistics were monitored, I'm certain Bryden would be a leader in the fewest words spoken to camera–to–screen time ratio (interview segments excluded).
Please Save These Guys From Themselves
ZAK W.
Saving grace: His resting face is an earnest smile and he plays the guitar. This guy always has a grin on his face, which he matches with a perpetual end-of-the-night look — as if he is in hour four of a wedding and he's been dominating the dance floor the entire time. His tie-knot is loose and the first two buttons are undone. I'm not sure what he thinks this look accomplishes, but apparently Des doesn't mind it. He won the group date rose. At the pageant, Zak's talent is singing and playing the guitar. He claims, "I'm not a singer, I'm not a musician, I barely play the guitar. But I wrote a song about the experience of going after a woman who has all these choices. All I have to do is put it to music." I think that's called a poem, Zak, and there's already one poet around here. Never mind, though, because Zak kills it with his performance, both at the pageant and his extended version just for Des.
MICHAEL G.
Saving grace: We still need someone to remind us that Ben is the villain. Michael G.'s main purpose on this show is to delineate Ben's transgressions. We get it. Ben is not likable. Michael G. tries to differentiate himself, but his tactic this week was incredibly dumb. He used his alone time with Des during the cocktail party to write down letters on pieces of paper, which he handed to her. The letters he chose were:
D: Down to earth
E: Easy to talk to
S: Smile lights up the room
We see what you did there. You spelled out her name. Good job, but she's not in kindergarten. To make things worse, Michael's final letter/card/note/whatever was "G: wouldn't it be great if things worked out with us." The implication is that Des's initial will be G if she chooses him, but that connection is tenuous at best and it doesn't follow the same rules as the three previous examples. If you're playing children's games, make it easy.
DREW
Saving grace: He's the Catherine of this season. Catherine won the last Bachelor by being attractive and inoffensive. She made it through the early hurdles until she had the chance to shine. Drew seems destined for the same trajectory. He certainly went inoffensive at the pageant: He delivered a (non-memorized) monologue while wearing an overcoat. Perhaps it was a costume for the scene, or maybe he was just cold. It was unclear, just like Drew's niche on this season.
It Won't Be Long Now
Juan Pablo
Why he'll be going soon: Because he might have a daughter, yet that fact has been completely overlooked. When asked to describe his ideal woman, he says, "She has to, first, love my daughter." Does Juan Pablo have a child we don't know about? The only thing we know about Ben and Brad is that they have sons. How did this not come up sooner? This is very ominous sign for Juan Pablo's future on this show.
MIKEY T.
Why he'll be going soon: Because he's too true to type. Before the season began, my podcast partner Jacoby and I had very high hopes for Mikey T. We thought he'd be ridiculous enough to make us gleefully shout "Mikey Teeeeeeeeee!!!!!!!!" on random occasions. He has certainly delivered. He began the pageant by saying he's not just a piece of meat, but then his talent display was Michael Jackson–inspired dancing that ended with him stripping off his hoodie (no shirt underneath, of course). He was also disappointed that his assigned swimsuit was bigger than what he would have chosen for himself, thus denying him the opportunity to show off his junk. These are all the antics we hoped for, which is precisely why he probably won't make it past next week.
KASEY
Why he'll be going soon: Because you can only be the beneficiary of circumstance so many times. Kasey's earnestness won him the pageant. It must be an unofficial rule that if you win the week's competition, you're safe by default.
BEN
Why he'll be going soon: Because no one likes him, including Des. When the Bachelor designates someone as the villain, like Courtney from Ben's season or Tierra from Sean's season, the guy usually provides a few quotes about how much he likes her. We get very few of these sound bites from Des.
Eliminated
ZACK K.
He has done nothing to stand out, save for wearing Converse on the first night. At least he is a published author and has that career to fall back on.
BRAD
Brad the Other Single Dad was eliminated 17 minutes into the episode. That one-on-one must have been very awkward.
Filed Under: Desiree Hartsock, The Bachelorette