Endgame: The 'Unfilmable' Ender's Game's 28 Years in Development Hell
Summit/Lionsgate
When Gavin Hood told Orson Scott Card that he planned to adapt Card's science-fiction classic Ender's Game for the big screen, the author replied with a familiar refrain: "Good luck, kid." Card was done trying to bring his book to the screen. If someone else wanted to spend years of his life spinning in circles, so be it. But before removing himself from the development process, he left Hood with a bit of wisdom, one the director would hear over and over again throughout his journey: Ender's Game was an utterly unfilmable book.

"We couldn't find a studio to fund it," said Hood, director of X-Men Origins: Wolverine and the Academy Award–winning Tsotsi, of his first attempts to shop the project. "We did go after a couple of studios. One of them famously said that they liked the script but they didn't understand the twist at the end. 'Why can't he just kick the aliens' ass? That's how these movies end.' Direct quote."
Ender's Game was published in 1985. The film adaptation Hood was told would never happen arrives in theaters this week. What happened in between makes Ender's Game a rare Hollywood miracle. Sifting through the timeline, Card's cynicism had merit — Hood wasn't the first guy to try his hand at adapting the sci-fi book into a blockbuster. He wasn't even the fifth. Producers and studios have been trying ever since Card's book was published.
---
Evolved from a 1977 short story, the 384-page Ender's Game is an introspective novel focused on the titular Ender, the savior to a militaristic future bent on destroying an invading alien race. The book was the first in a sophisticated new breed of young-adult fiction: Card wove in the moral complexities of war with the tribulations of adolescence, draped in the imaginative embroidery of sci-fi. Ender's Game was like Starship Troopers for middle schoolers, a broader Lord of the Flies, and darker than any Star Wars–esque space adventure. In the book, Ender is dropped into Battle School, a training facility that molds genius children into top military commanders, where he deals with familial conflict, the social ladder of an institution, emotional companionship (he develops an essential platonic relationship with Petra, a young girl from a competing school faction), and the ripple effects of violent action. Ender's Game spoke to teenagers, not down to them, helping it earn fans who would keep the prospect of a movie version alive for three decades.
"I've always thought it was going to take years to get this movie made because it's going to take the fans of the book who read it in their wonder years to grow old enough and be in positions of decision-making," said Lynn Hendee, a producer of Ender's Game who came onboard the project in the mid-'90s. Hendee was right.
Though Ender's Game won gobs of awards upon release, including the 1985 Nebula Award, Hollywood saw the book as a property, not a fragile piece of literature worthy of careful translation. Early experiences with franchise-hungry business types left Card sour. In a 1997 interview with Cinefantastique, Card recalled the producer of the 1985 movie Enemy Mine, the first owner of the Ender's Game option, envisioning just another sci-fi spectacle — but with kids! When Enemy Mine flopped at the box office, the producer allowed the rights to lapse, and Card "learned [his] lessons from what he was going to do to butcher the story."
"People who write screenplays are, by definition, trying to destroy themselves," Card told Starlog in 1990. Card wasn't just interested in preventing others from reconfiguring Ender's Game into a typical space adventure — he didn't want to oversee the scripting process himself, either, despite holding a degree in theater and performance from Brigham Young University. In the interview, Card bemoans the laborious process of pushing a screenplay through the system, calling it "a painful, nasty business for a writer," one in which directors are credited for anything that goes right. When asked pointedly if he would consider writing screenplays based on his novels, Card replies, "I'm just as interested in stepping outside and beating myself with a hot rod of iron."
In her early days at Chartoff Productions, Hendee was not a science-fiction fan. But in 1996, Robert Chartoff, producer of the Rocky series, handed her a copy of Ender's Game on a friend's recommendation. Her job was to decide if it would make a great movie. What she imagined as a five-page-and-done read and a nice consolation letter turned into a one-sit devouring of the novel. On July 19, 1996, Chartoff Productions was the next company to take a stab at Ender's Game, obtaining the rights from Card and hiring the author to pen the script. Per Card's announcement, the deal that finally convinced him to adapt his own material rounded out at $1.5 million. Despite the agreement, Card still had concerns — that Enemy Mine producer lingered in his mind. Hendee promised that she and Chartoff would be "responsible guardians of the book."
For years, Card toiled over drafts, a process Hendee describes as a continuous deconstructing and rebuilding of the novel. The author never felt bound by his own source material and made a point to work transparently in front of the book's fans. In 1998, Card posted an excerpt from a draft on his personal website, accepting feedback in his web forums. The script promised major changes, including a gender reversal for Battle School instructor Graff (played more faithfully in Hood's version by Harrison Ford) and a beefier role for war hero Mazer Rackham, who acts as a foil to the female teacher. On top of the exposed writing process, Card responded to forum commenters by divulging his inspirations for the parts. He envisioned Janeane Garofalo or Rosie O'Donnell for the role of Graff, and Andre Braugher or Will Smith for Mazer.
The debut of his 1999 side-sequel Ender's Shadow, a parallel novel that follows the character Bean, gave the author more room to fan the flames of the movie. During his book tour, a few short months after Star Wars: The Phantom Menace, Card divulged that he had met with Jake Lloyd to discuss the role of Ender. He also hyped the director search. In a Talk City Chat interview from the press tour, Card revealed that the production team was in the process of courting big-name filmmakers ("the ones who can get a movie made by simply agreeing to do it"), saying he was most intrigued by Ang Lee or P.J. Hogan (My Best Friend's Wedding). During this development period, no director ever signed on, nor was a version of Card's script ever solidified.
"I think the reason [the movie didn't happen then] is because the right team wasn't in place," Hendee said. "And because it's a book that transcends the genre. When you're dealing with a certain budget level, studios want to adhere to the tenets of a particular genre."
In May 2002, Chartoff made a deal with Warner Bros. to finance and release Ender's Game. Almost instantly, their team found "the guy": Wolfgang Petersen, just off his hit adaptation of The Perfect Storm. Warner Bros. hoped to combine Ender's Game and Ender's Shadow into one film. At first, Card was the intended screenwriter, but as time passed and Petersen took on one film (2004's Troy) and then another (2006's Poseidon), Petersen's interest waned. Other writers were brought onboard to stoke that interest: Hot off X2 in 2004, Dan Harris and Michael Dougherty took a first pass at adapting the book. Then in 2005, future Game of Thrones writer-producers D.B. Weiss and David Benioff (also a writer of Troy) worked with Petersen to develop another take. Two years later, Card announced he was taking over scripting duties once again.
In the 2009 book The Authorized Ender Companion, Card collaborator Aaron Johnston, who worked at the author's production company during the WB development years, recounts the scripting shitstorm. With a bias toward Card's work, Johnston describes a flurry of screenplays ranging from violent, hard-R versions (Johnston describes an early scene in which Ender beats up a bully as surprisingly bloody and vicious) to straight adaptations that left executives bewildered (Card wrote a later draft that was heavy on Battle School jargon that condensed words like "hello" to "ho"). Ender Companion dives deep into the nitty-gritty: The removal of Ender's "monitor," a neck implant Battle School uses to track its prospective students, was a particular focus. Card's early drafts ditched the scene, Dougherty and Harris included one, Benioff and Weiss turned the monitor into a bracelet, and in his final drafts, Card put the scene back in. The tug-of-war over details kept the movie spinning in circles for seven years.
Ender's Game's days at Warner Bros. were dizzying for all involved, including Hendee. On top of the screenwriter deluge, the project became a victim of Warner Bros.'s revolving executive door. "There was never a vision," she said. "At a studio, when you get something green-lit, there's always a point executive who is fighting for the project. There wasn't that person. The person we originally sold the project to at the studio [Bob Brassel] left the studio after a couple of months. We were orphaned in that manner and kept getting tossed around from well-meaning executive to well-meaning executive. They were not the person that said, 'We love this and we have to make this.' We never had that person again."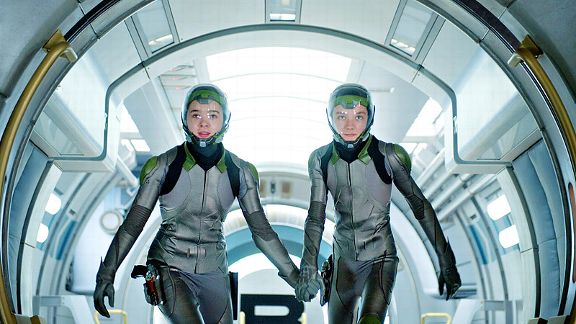 Not at Warner Bros., anyway. To the rescue came Gigi Pritzker, founder of OddLot Entertainment and a die-hard fan of the novel. Like Hendee, Pritzker's gut told her Ender's Game was a perfect movie waiting to happen. She even chased the rights in the '90s, before Chartoff and Warner Bros. secured the option. "Wolfgang Petersen was attached. He was a big director, I was a baby producer, there was nothing about it that made sense. Bummer," Pritzker recalled. The two producers were fatefully introduced by mutual acquaintances. It took Hendee just one mention of her work on Ender's Game for Pritzker to devote the entire OddLot team to bailing Chartoff Productions and its long-gestating adaptation out of development hell.
The failure of Petersen's Poseidon in 2006 was the end of WB's Ender's Game. Pritzker and OddLot pried the Ender's Game rights from the studio in 2009. She immediately got to work on an adaptation — only she hadn't considered how hard people had been working for 20 years to make the damn thing into a movie. "Ignorance is bliss," she said. "It never occurred to me that that could be something to take pause with. Instead, I figured they just didn't understand the material. Being a fan of the book, I thought there was a way to do it."
With the reset button pressed and Card all but out of the picture, Pritzker and OddLot set out to find a team that understood the treasured tome. The key was finding a writer-director who could build the movie from the ground up and carry it to the end, their very own Ender. Pritzker found him in Hood, a South African filmmaker who brought his memories of apartheid and life in the military to the project. After a turbulent experience on the ill-fated X-Men Origins: Wolverine, where multiple writers tinkered with the script on a daily basis in the middle of shooting, Hood craved the immersion required for Ender's Game. He had a vision: a script that would allow a preteen actor to engage with challenging, emotionally raw material. That was all Pritzker needed to hear.
Still missing was Hendee's keystone, a fan who grew up with the novel, a person who would flock to the movie if they weren't involved. Essentially, a visible champion and guide. They found him in writer Roberto Orci (Transformers, Star Trek), who boarded the movie as a producer after regaling Pritzker with his memories of reading Ender's Game at 12 years old. Orci became the movie's Card proxy — a devout fan without a preservationist instinct. When the team felt it couldn't make changes to aspects of the book, Orci would say, "Sure we can — I'm the guy who blew up Vulcan! I know what we can do and can't do."
Under Orci's supervision, Hood constructed a script that condensed the timeline, maintained the introspection, and stripped down remotely extraneous subplots, like a thread involving Ender's siblings taking over the Internet. Orci sifted through the previous drafts from the Warner Bros. days, attempts that he described as "Star Wars–like," while Hood never looked back (though a Writers Guild of America rule forced him to read through them after his script was completed). And along the way, Hood was enticed by grandeur. Like Petersen, he had the idea of shooting two simultaneous movies, Ender's Game and Ender's Shadow. Pritzker recalled her immediate response: "Let's make the film we're trying to make; that'll be hard enough."
Early studio pitches for the project were met with the same tired notes — movies starring kids weren't this complicated. When it was clear Ender's Game wouldn't gain support from the major studios, Pritzker and Hood set out to make an "independent film." A $100 million independent film, but one with the autonomy to be faithful to the book. While Hood wrote, Digital Domain — the effects house behind movies like Iron Man 3 and The Curious Case of Benjamin Button — teamed up with OddLot as an effects provider and a financial partner, a first for the company. To find additional backing, Hood worked with the company to develop a CG test reel of the "Battle Room" sequence that would simulate the look and feel of the finished product. (Examples can be seen below.) With rough animation and a sales pitch, Ender's Game headed to the 2011 Cannes Film Festival to hook investors. Hood, Orci, and the OddLot crew walked away with $44 million of presales in their pocket, opening the door to court actors like Ford, Ben Kingsley, and Viola Davis.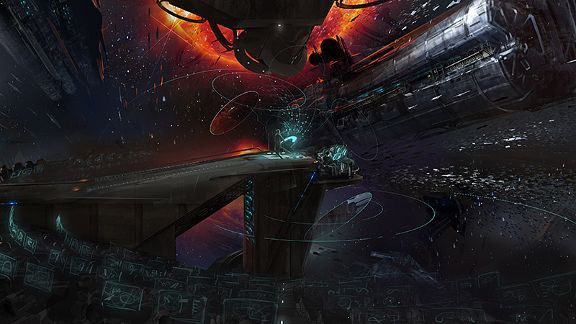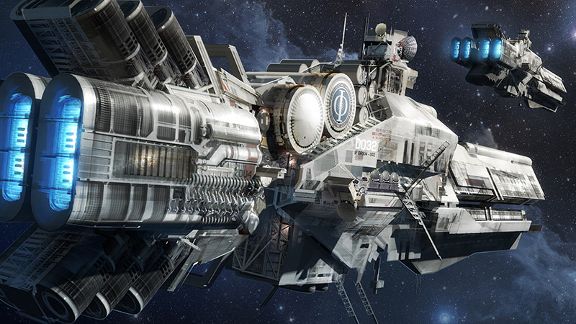 In 2011, Summit Entertainment joined the production as a co-financer and domestic distributor. Pritzker and Hendee lauded Summit/Lionsgate president of production Erik Feig as being "that person," someone who understood Ender's Game and would fight for the movie they were all trying to make. "They never said, 'There has to be a love interest. We have to have that scene where Petra and Ender kiss,'" Pritzker said with an exasperated laugh.
Genuine support begat money begat production on a real-life movie, the kind that needed a cast and crew and cameras and sets and lighting and props and wasn't just a promise forwarded around in email. There were more hurdles to jump; finding an Ender was always a frightening prospect for Hood.
"We had a script, we were hoping to make it, but no one was going to green-light us until the right kid was onboard," he said. The director auditioned hundreds of boy leads for the role, some as young as 8 years old, before landing on Hugo's Asa Butterfield. At the same time, Digital Domain was working overtime to build 3-D models and special effects for the movie, with an attention to detail that Orci said he's never experienced before. As if to answer a question lingering in fans' minds for nearly 30 years, Orci also took a page from Card's book and shared the experience online, posting behind-the-scenes pictures and blog posts that subtly declared, "Yes, it's really happening."
Back in 1985, back in 1996, back in 2002, the time wasn't right for Ender's Game. But by 2012, culture had caught up to the book. The technology to create immersive, hyper-detailed Battle Room sequences was there, but that had been ready for years. Finally, buyers saw new potential in the source material — an unclaimed YA novel. Pritzker and Hendee admit that there's no Ender's Game movie without Harry Potter or The Hunger Games, another Summit/Lionsgate property. At 28 years old, Ender's Game is finally grown up enough to appeal to tweens.
"You have to be insanely optimistic all the time when you're passionate about something," Hendee said of her lengthy journey through the darkest depths of Hollywood's creative development process. "You have to believe it's going to happen. The character's story of Ender's Game moved me so much. I believe that such a wonderful story about character … there had to be a way to get that onscreen."
---
Matt Patches (@misterpatches) is a writer and reporter in New York whose work can be seen on Vulture, The Hollywood Reporter, and Time Out.
Filed Under: Arrested Development, Harrison Ford, Movies