Emmys After-Party: Kevin Costner Sneers at Your Little TV Award, Don Draper vs. Sergeant Brody, the Incredible Mani-Cam, and More
Michael Bucker/Getty Images
The Wolf and the Bear: When Movie Stars Crash the Emmys
One of the terrible things about the Golden Age of Television that is either upon us or just winding down, or maybe just gearing up, is the culture of nice that pervades. Everyone loves everyone and we're all doing great work and hahaha TV is the king medium! This is never more apparent than at an awards show like the Emmys, where perfectly decent bros like Aaron Paul melt down over What an Honor It Is to Be in This Category With These Gifted Heroes of Mine. Sometimes, though, if we're lucky, a real jerk wins something. And I mean "jerk" in the grandest, finest possible way. Last night, Kevin Costner was said jerk, a man out of time, a real movie star stuck among the small people from television. For Costner, who won for his portrayal of Anse "Devil" Hatfield in the highly viewed (by old people), 83-hours-long Hatfields & McCoys miniseries he produced for the History Channel last spring, this was just one more bummy awards shindig. This guy won an Oscar for Best Director, America. He beat Martin Scorsese! Who was nominated for Goodfellas! He followed the colossal and colossally documented failure of Waterworld (directed by Hatfields helmer Kevin Reynolds, incidentally) with the colossal-er failure of The Postman! So he didn't wear a tie last night. He sat in the front row with his deeply blond, deeply young wife. He smirked that wolfish smirk. He laconically accepted his award and then acted like he didn't want it. And while it has been many, many years since Costner, who is 57, was a real movie star, he still knows how to act the part.
As Costner swaggered away the evening, his contemporary and co-star reminded everyone what happens to those who forget how to manage their brand. Tom Berenger, just six years Costner's senior, looked like he'd just drunk a bottle of Schnapps and decided to squeeze in an hour on the StairMaster before the ceremony. Red-faced, sweating, dazed, and generally rambling, Berenger — once a viciously compelling actor in movies like Platoon, Someone to Watch Over Me, and yes, Major League — looked like Costner turned inside out. No wonder — he's had a dark 15 years. There have been hits, sure (his casting in Inception remains a strange treat whenever it appears on cable), and there have been lots of straight-to-DVD $5-rack misses (sorry, all you fans of Sniper 3 and Smokin' Aces 2: Assassins' Ball). His role as Jim Vance in Hatfields is firmly a winner. But damned if Berenger could tell. He lolled and gagged through his acceptance speech for Outstanding Supporting Actor in a Miniseries or a Movie, finally capturing his bearings as the orchestra played him off. His ramble turned into a rapid finish, like a dozing bear that had been awakened by a falling bee's nest. Theirs must have been a weird working relationship. One man who still believes, and another, well, another who will next appear in a movie called Demented-ead. And so how did they celebrate this night of recaptured glory? The word backstage revealed few surprises. The wolf was outshining the bear.
— Sean Fennessey
You Just Knew Lena Dunham Was Going to Figure Out a Way to Be Naked and Eat Baked Goods
(All GIFs by @HeyBelinda)

Just Happy to Not Be There
Can't wait to not go to the Emmys.

— Steve Carell (@SteveCarell) September 23, 2012

Steve Carell has still won zero Emmys for The Office. Never forget.
Don Draper Special Emmys Shutout Fingerbang Threat Level: Pulsing Ginger
Don sees him. Across the ballroom. The Governors' Ballroom. Tucking his statuette under his arm so that he can juggle a drink in a small plastic tumbler — probably not even a man's drink, now that he looks, good God, is that Merlot? — and pick at a tray of hand-passed crab puffs. His cheeks are as red as his hair, flushed with booze and laughter, and swollen with the free appetizers he's gobbling down. Not a care in the world. Happiest day of his life, probably. Don's stomach lurches. Happiest day of his life.
Don approaches, carefully. See his opening. The Ginger lifts a finger to the small crowd that's gathered around him, signaling he'll be right back, turns toward the restroom. Exposed. Don's on him like blue cheese on an iceberg wedge, steering him into an unoccupied corner.
"Sergeant Brody."
"Excuse me?" Now his eyes flicker with recognition. "Oh, haha. I get it. Damian. Big fan." He extends his free hand.
Don doesn't take it. It hangs, unshaken, in the space between them. "Big night, Sergeant. Enjoying your Clio?"
The Ginger sheepishly hoists his statuette, waggles it gently in the air. "Ah, this? Yes, I suppose it is."
"Looks heavy. Hold on, you're British?"
"That I am."
"Do you know Lane Pryce?"
"Can't say that I do."
"Thought I saw him here earlier, but that would be impossible. I cut him down off his door myself."
Don sees him clutch his statuette tighter, almost imperceptibly so. The Ginger smiles, then shifts as if to make an exit, but Don intercepts.
"I really need to get back to my group, but nice to finally—"
"Look. Sergeant. That statue in your hand belongs to me. Maybe someone else didn't see it that way, and now you're the one holding it, but we both know it's mine."
"I really don't know what you're—"
"The Jaguar campaign was my best work. And it cost me. It cost a lot of us. That award won't make us whole. But it's a start." Don closes in. The Ginger is pinned in the corner. His eyes scan the room for help, but find none. They're just two friends talking.
"This is making me very uncomfortable."
"You don't know uncomfortable."
And then he knows. Don's hand has removed all comfort and replaced it with the queasy feeling of unexpected domination. The Ginger winces, flushes redder. The statuette falls to the floor.
"At last, something beautiful you can truly own." Don's breath is hot in his ear. "And now you own it."
Don walks away, without the statuette, and shoots back over his shoulder: "Say hi to Teddy Chaough for me."
The Ginger looks down at his award. It's his.
He truly owns it now.
— Mark Lisanti
Incidentally, This Is the Only Actor from Mad Men to Win Anything Last Night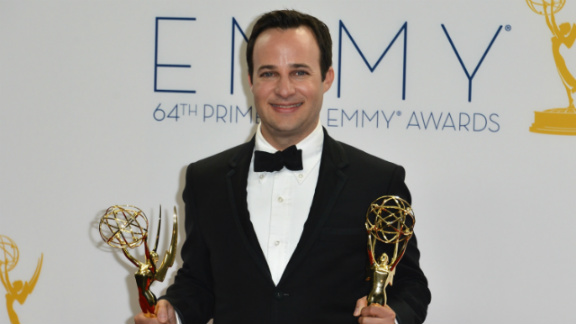 Danny Strong, a.k.a. Danny Siegel, double-fisting it for Game Change. Which he wrote. Suck it, Kenny Cosgrove and Paul Kinsey.
"You know about our new Mani-Cam, right?"
E!, innovators that they are, really made for a top-loaded Emmys experience last night during their red carpet pre-show with the newest breakthrough in journalistic technology: the Mani-Cam. The Mani-Cam, for the unenlightened among you, is a shoebox diorama of the Emmys red carpet that Giuliana Rancic fashioned one sleepless night out of polyester Santa hats, Chia Pets, and other items left over from her and Bill's poorly attended white elephant Christmas party (it was D.O.A. when rumor got out that the only things on the menu were "egg white nog" and "imaginary chocolate"). One by one, female attendees were forced to stick their hands in and parade their freshly lacquered manicures around for a very unflattering wide-angle lens. (They say the Mani-Cam adds 30 pounds.) Best walk of the night goes to Top Chef's Padma Lakshmi, who obviously neither understood nor had the patience for Giuls's contraption, and humored her for less than two seconds before, I can only assume, reaching for the Purell and a beverage of similar alcoholic content with which to wipe the memory of these horrors away.
TL;DR: E! made a special box so we could look at celebrities' hands; 88 days till the apocalypse.
— Emily Yoshida
Fashion Is Elementary, My Dear Robot Sidekick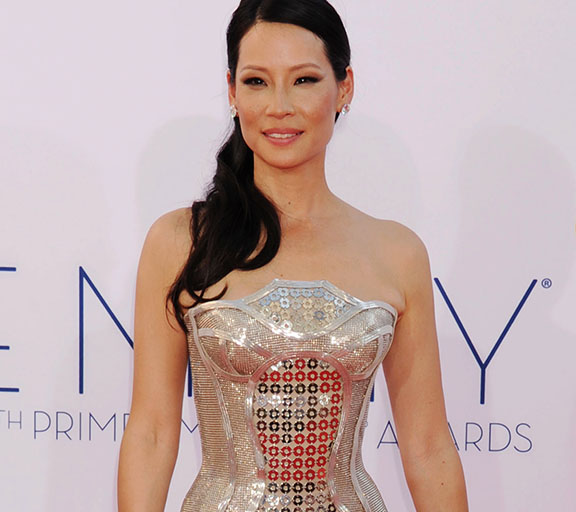 We all saw what Lucy Liu was wearing last night, right? Her IMDb page says she's starring in Elementary, a new version of Sherlock Holmes, but her robo-wear suggests she's really aiming for the part of Twiki in a 21st-century reboot of Buck Rogers. I'm a particular fan of the space–Froot Loops cross-stitching on the breastplate.
— Andy Greenwald
The Thrill of Victory, Bitch

Winner, Best Kiss Involving a Two-Time Best Supporting Actor Winner and a Guy Who Had Half His Face Blown Off.
Hugh Dancy Could Have Seemed a Little Happier for Claire Danes, If You Ask Us

In last year's Martha Marcy May Marlene, Hugh Dancy crushes it as a tightly wound rich guy oblivious to the post-cult plight of Elizabeth Olsen. Last night, he continued his sterling embodiment of a jerk — his lady Claire Danes rightfully wins Best Actress for Homeland, and Dancy does whatever the exact opposite of looking happy for someone is. Maybe he was just tired, or sweaty, or confused, or bored; I certainly was all of four of those, and I didn't even have to watch the Emmys in a highly uncomfortable cummerbund. But you're a critically acclaimed actor, Hugh! You've got to be able to fake it a bit better than that. Future husbands of Emmy winners: Practice this shit at home ahead of time. PS: "Mandy Patinkin — holla." — Amos Barshad
But Did She Say "Holla" or "Challah"? An Investigation
Important work is being done on the Emmynet.
This Is What Happens When Your Show Has Won 10 Consecutive Emmys and You're Not Only Playing With House Money, You're Bankrupting the Casino With House Money
Eric Stonestreet, Winner, Most Beautiful Person on an Emmys Juggernaut
"Every actor who's got an audition tomorrow at five o'clock in Santa Monica: I went to every one of them; I never missed one; and I'm proof that if you're motivated and dedicated to your craft, you can stand up here in front of all of you beautiful people."
Eric Stonestreet's acceptance speech almost brought me to tears last night. Besides the fact that it's moving to think of the general struggles of actors (making mirror faces for hours, deciding whether or not to shave, watching your own reel) and the passion of artists and blah blah blah, it brought a flood of memories of 5 p.m. auditions in Santa Monica gushing into my brain, heralded by the trumpets of a dozen BMW honks and visions of trying to get past the 405 on Olympic because your stupid, stupid mind thinks that Olympic is far enough south that no one will be on it. When in fact everyone in Los Angeles is on it, and not just everyone in Los Angeles but people from Chicago who are driving to Hawaii, and people from Massachusetts who are on their way to Napa Valley and taking the scenic route at rush hour because they want to live the "Everybody Hurts" video before their wine tasting. This is your face when you receive that audition notice. This is what you imagine Satan the casting director is doing as you react. And this is what you do when that totally specific, first-world Los Angeles problem is acknowledged in an Emmy acceptance speech. You beautiful person, Eric Stonestreet. YOU beautiful person.
— Tess Lynch
The Agony of Defeat
Had to pick up some pain relief. twitter.com/JuddApatow/sta…

— Judd Apatow (@JuddApatow) September 24, 2012

Girls went 0-for-4.
But Things Get Better, in a Hurry
Good toilets at HBO party twitter.com/JuddApatow/sta…

— Judd Apatow (@JuddApatow) September 24, 2012
Kat Dennings Upsets Christina Hendricks, Cleavage-Wise, and a Lament for the Good Old Awards Show Days
There was very little suspense this year at the Emmy Awards. The biggest upset was Kat Dennings's great boobs upstaging odds-on favorite Christina Hendricks's always magnificent rack. The ceremony itself was a vapor trail leaving no trace. I only really felt anything when I realized two Sweathogs were dead. In olden days, an awards show news cycle lasted a week or more, enough time for the red-carpet photos to show up in print and be dissected by professional gossips. Now a live-cast ceremony is thumbnailed, GIF-ed, ingested by millions, and gone by the next morning. The strangest Emmy category has to be the one where other award shows are nominated. The clips are always a reminder that award show bits have the shelf life of eggs. These eggs tasted fine. They could have used a little more salt. Not like Ricky Gervais levels of salt, just a pinch more blue meth. I shrugged at the wins and snickered at the Breaking Bad as The Andy Griffith Show gag. I went to summer camp as a kid in Mayberry; the fictional everytown's lake is in Franklin Canyon Park. I'm including that personal fun fact in this Emmy review because I've already run out of thoughts on the Emmys. Might as well start thinking about 2013, when Lindsay Lohan as Liz Taylor for Lifetime will steamroll her competition (literally).
— Molly Lambert
Filed Under: Damian Lewis, Emmys, HBO, Homeland, Jon Hamm, Mad Men