Celebrity Instagram Photo Hunt: How Many Emmys Are Next to Jeremy Piven's Television?
On Sunday night, former Entourage super-agent Jeremy Piven took to Twitter to thank his fans for checking out the American premiere of Mr. Selfridge on PBS, his new show about the adventures of a fast-talking Yankee department-store magnate set loose in the stuffy world of London retail. In what was perhaps an attempt to assure any skeptical followers that it was, in fact, the Piv himself @-replying to their adoring messages, he provided an Instagram accompaniment to his online chat session, as one does.
But we're interested in only one question: How many of Piven's three Emmys are "accidentally" visible in the frame of the not-at-all-meticulously-composed photo of the social-media-loving star typing with his back to the television, for some reason? The answer after the jump!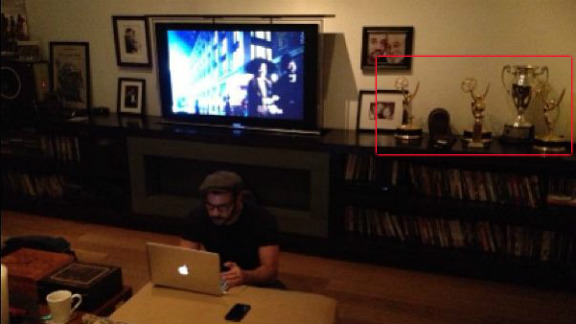 If you guessed "all of them," you win!
Filed Under: Emmys, Entourage, Jeremy Piven, Pbs