At the end of every month — or, at least, when things get really quiet on the Internet — the Grantland staff will assemble to lobby for the month's big winners. Who gets your vote?
The NBA in July
Kirk Goldsberry: Just when you thought America had "fallen in love" with soccer, LeBron James and Lee Jenkins showed up and burned down your Twitter feed. Just when you were supposed to be pretending to care about Clayton Kershaw's scoreless innings streak, you found yourself captivated by a weird YouTube video of Chandler Parsons and Mark Cuban signing paperwork in a sweaty Orlando nightclub. Just when you were supposed to be catching up with Wimbledon, you caught yourself staring at images of Carmelo Anthony 'shopped into Jeremy Lin's Houston kit. Just when you were supposed to be feigning interest in Rory McIlroy or whatever, you instead found yourself watching reruns of Andrew Wiggins and Jabari Parker playing meaningless basketball games in the desert. Suppositions be darned; the NBA won July, just like it won June.
The Ryan Gosling–Eva Mendes Baby
Juliet Litman: Ryan Gosling and Eva Mendes's child is winning, and it hasn't even been born yet. The news first broke on July 9 in OK! Magazine. While I'm not certain that people care about Ryan Gosling as much as they did in, say, 2011, when he was coming off the stretch that included Blue Valentine; Crazy, Stupid, Love.; Drive; and The Ides of March, the Internet certainly still does. Apparently that interest is transferable to anyone with his DNA. This baby made its parents relevant in an otherwise quiet year for both. The pair managed to, somehow, keep this pregnancy secret until Eva was well into her seventh month, probably anticipating the media storm that has ensued. Ellen DeGeneres seemingly confirmed the news on Twitter. TMZ did its best to get a clear shot of Eva's belly. Radar has a found of multitude of angles, most recently reporting (a term used loosely here) on the relationship trouble that has plagued them.
Eva and Ryan should probably thank this child one day. The baby has saved them from another cycle of nostalgic Notebook talk and a suspicious lack of movies between them in 2014. Ryan's only film is his horrible directorial debut, which, fortunately, is no longer the top Gosling news item of the year. If a baby can save his father from professional disgrace before even taking a breath, how does that fetus not win the month? It's truly impressive. 
Frank Grillo
Chris Ryan: The plot of The Purge: Anarchy is that for one night a year, there is no law. People are allowed to commit crimes — mostly murder — against one another to "purge" themselves of … god, you know, when you type it out it doesn't make as much sense as when you're watching. Point is, you get chased down by dudes wearing hockey masks and rich people will chop you to pieces.
Now, imagine you were trapped out on the streets of Los Angeles during the Purge. Who would you want to get your back, to lead you through the darkest of nights? We could be here all day spitballing, so I will save you the brain cells: The answer is Grillo. Of all the plot holes in this movie, of all the moments when suspending your disbelief becomes impossible, the one thing you never question is whether Frank Grillo is that dude who could fight a whole city and come out the other side.
Grillo's IMDb page should come with a soundtrack of Maori war chants. This guy has been in Warrior, End of Watch, and that James Franco–Jason Statham meth dealer thriller, Homefront. He was secretly one of the best things about Captain America, playing Crossbones. He is having a tremendous summer at the box office. But the reason he wins July is because there is no other person on this list I would rather roll with on Purge night. Sorry, Jetes.
Mario Götze
Charles P. Pierce: There's nobody whose life is better right now than Mario Götze, which rhymes with "Goethe," who knocked in the poem of a goal that won the World Cup for Germany. Not only will the lad never have to pay for a beer anywhere in Germany for the rest of his life, but he has become such an instant celebrity that it was duly reported that he and his girlfriend — the lovely Ann-Kathrin Brömmel — recently "were spotted" sharing a mud bath in Spain. (Ms. Brommel was last seen running onto the pitch to leap onto Götze after Germany had beaten Argentina. That was before he shared a quiet drink with Rihanna, which Rihanna shared with the world.) This is what happens when you're 22, and you have a girlfriend, and you happened to have volleyed in the winning goal in extra time to give Germany its first World Cup win since the Wall came down. They track you down when you're just trying to have a quiet mud bath with a friend. In Spain. You see your goal, over and over again, as you will see your goal, over and over again, for the rest of your life. The price of all those free beers will be talking about your goal, over and over again, for the rest of your life. The first line of your obituary already is in the book. But, for now, nobody's had a better month than Mario Götze. There is nothing at all wrong with bringing the lingerie model you're dating to Ibiza first, and thence to the mud baths, no matter what the tabloids will make of it. I mean, Gott im Himmel, what do you expect the boy to do? Tomorrow belongs to him.
John Oliver
Dan Fierman: Theft is part of creation. We all know this at some level. The birth of The Daily Show — for those of us old enough to still be haunted by the horrifying smirk of Craig Kilborn — was greeted with feverish accusations of "Weekend Update" fuckery and format heisting. "Update" itself had its roots in the acid bath of mid-'70s National Lampoon, which itself stole from '60s Esquire, which in turn mined from fake newsreels and radio goofs and on and on all the way back to that dude Samuel Clemens and the Great Moon Hoax of 1835.
Oh, and The Onion. There's that, too.
My point is this: People have been doing the news satire thing for a long time. And while it is undeniably true that Oliver raided his former employer for its spotlight, its best ideas, and its brilliant showrunner Tim Carvell, to create isn't simply to steal. And July has been the month in which Last Week Tonight grew into something new and different and exciting. The show is still finding its legs — shedding the rhythms of basic cable, stumbling slightly through certain segments — but the deftness with which Oliver and his staff make use of their extra time to craft layered jokes, deep dives into international news, and, especially, mind-bendingly hilarious and informative long-form segments on everything from nuclear security to FIFA corruption makes it the single must-watch of an extremely disappointing summer on television.
Oh, and it has Russian Fuck Lizards. Did we mention the Russian Fuck Lizards? Because they're real. They're in space. And they're in danger.
Derek Jeter's Farewell Tour
Mark Lisanti: The All-Star Game marked the natural midpoint of the Derek Jeter Farewell Tour, the Captain's yearlong, pinstriped-gift-laden procession toward the endless offseason that awaits him the moment the final out of his playing career finds its way into the glove of a lucky trivia question answer. Though puppy-stomping killjoys howled at the prospect of Jeter's election as a starter over jilted immortals like sentient broomstick Alexei Ramirez and utili-mediocrity Erick Aybar, this was the only way it was ever going to go. Baseball needed a week off from celebrating Derek Jeter to celebrate Derek Jeter. And so MLB shone the Two-Signal into the night sky above Haughty Kmart Field, gathered together all its favorite sons under the same retractable roof, and got down to the important business of polishing The Knob until it gleamed like the diamonds in Jeter's fistful of championship rings.
And it was glorious. Polish away, my pretties.
The festivities began, unofficially, with the insufferably perfect "Re2pect" video — thanks, Nike, Just 2 It — whose litany of reverent cap-tippers included a cross section of humanity running from familiar, exultant homers (Jay Z, Rudy Giuliani) to borderline suicidal dignity-swallowers (shame-castrated Red Sox fans, a digitally obliterated Mr. Met). Hey, isn't that the Other Core Three, Joe Torre, and Tino in the back of the restaurant? Oh, man, let's watch it again!
https://www.youtube.com/watch?v=X03_bNuihLU
Those who didn't gag on Nike's amuse-twoche (I'm going to keep doing that until we are all dead) had ample opportunity to choke on the offerings of the pregame coverage, from the Home Run Derby to the teams' locker rooms, where questions to the other players ranged from "How incredible is it to be here for Derek Jeter's final All-Star appearance?" to "Isn't it incredible to be here for Derek Jeter's final All-Star appearance?" First-timers were invited to hold forth on their childhood hero's consecration of their maiden Midsummer Classic voyage, while veterans could offer their perspective on their multiple appearances alongside their adulthood hero. The serially invoked word "special" simultaneously lost all meaning and attained a primal resonance more powerful than whalesong. Echolocate for the Captain, Mikey Trout. He'll feel your vibrations and come find you for a fist bump later.
And then there was the game itself. Of course Jeter, who never met a moment he couldn't rise to for no other purpose than making his doubters rage-swallow their own tongues, doubled in his first at-bat and soon came around to score. Of course he picked up a hit in his second at-bat. Of course he very-nearly-almost converted a diving stab of an Andrew McCutchen laser into a spectacular out. Of course he got a rattling standing ovation as he was removed in the fourth inning. This was the Captain's Game, and there was no way he was getting out of there without Capitalizing Some Moments for his eternal highlight reel. And no one cares if Wainwright grooved him a pipe shot. Adam Wainwright was dragged onto national TV and beaten with a bag full of signed baseballs until he recanted the joke through a mouthful of broken teeth.
Who won the month?
Derek Jeter twon the month.
And now we are all dead.
Sadness Due to Watching The Leftovers
Jason Concepcion: The Leftovers won the month of July the Old Testament way; it beat everyone still paying attention into submission with numerous rocks to the face. Or, to be accurate, 13 rocks to the face. As in the unlucky number 13 and 12 apostles plus Jesus equals 13. As in, you would totally be picking up on this biblical symbolism if you could just manage to stomach the sound of fracturing skulls or the sight of copious amounts of blood issuing from head wounds or dogs getting shot or the sound of a man screaming, "Is this what you want?!" at his wife as she silently serves him divorce papers in a cloud of cigarette smoke.
Looking back at the episodes, I'm pretty sure the happiest thing that happened in the show was when Chief Garvey's daughter choked a guy while he jacked off.
Yet as The Leftovers has double-, triple-, and quadruple-downed on repaying its audience's attention with grim-faced eye-gouging, I've only become more fascinated with it. The performances are by and large quite good. The production values cry "premium television!" like a priest in the darkness questioning God. The show is trying to grapple with interesting themes like the differences between a cult and a religion and the way society copes with tragic loss. It's just that the show sucks so, so hard. I mean, the Episode 2 cliffhanger was "Will Liv Tyler manage to cut down this tree?"
So, I'm sticking with it, just out of curiosity. Like, how Metal Machine Music can Damon Lindelof make this thing? Will there be one episode that's just 56 minutes of Chief Garvey screaming incoherently? Tune in next week to find out!
Jack Sock
Rembert "Sock" Browne: Corban, tell 'em about American/Kansas professional tennis hero Jack Sock, one time.
Corban "Sock" Goble: Jack did it all this month. He and Canuck doubles partner Vasek Pospisil — with whom he had never played before Wimbledon — beat the Bryan brothers at Centre Court to win Sock's second Doubles Grand Slam. Then he and Posposil Bash Brother–ed out again at the Atlanta Open, winning that tournament. I don't have an exact number on how many times they dined at Chipotle, but Chipotle's stock price rose in July. Why did July belong to Sock?
Rembert "Sock" Browne: JACK SOCK LOVES CHIPOTLE AND AMERICA.
Drake at the ESPYS
Shea Serrano: Drake won July. This shouldn't be a surprise. Drake has pretty much won every month since 2009, when he released So Far Gone. And if you want to get a little loose with the parameters, he has also retroactively won every month since before that, too. Because everything is better when Drake does it, because he's Drake, and Drake is just amazing and fun and perfect, because he's Drake, so everything is better when he does it. Here's LeBron James, the best and most interesting basketball player that the universe currently has to offer, dribbling a basketball:
[protected-iframe id="15004e6d990ee2dc75838941e8054ffd-60203239-755477″ info="//giphy.com/embed/cEYFeDCMxfWeaSEHis8″ width="500″ height="460″ frameborder="0″]
Ante upped: Here's LeBron dribbling a basketball again, except this time he's had his head transposed onto the body of a crab: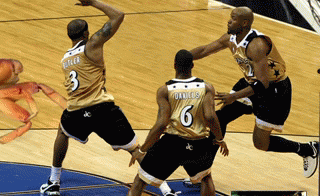 I guess that's kind of OK.
But now here's Drake with a basketball:
Here's Drake embarrassed about buying condoms:
Hey, do you want to see me dancing as a kid? Nope. Do you wanna see Drake dancing as a kid? You're goddamn right you do, baby.
Drake points at a girl and then disregards her:
Drake plays an invisible violin:
Drake shoots a pretend gun:
http://cdnl.complex.com/assets/CHANNEL_IMAGES/MUSIC/2012/11/content/2a64f2f_ciaao.gif
Drake gets shot by a pretend gun:
Every single one of those: AMAAAAAAAAAAAAAAAAAAZING.
So when Drake hosted the ESPYS? Duh. He won.
The "Honorable Mention" song and the "Side Pieces" song, wow; Drake's fake songs are better than everyone else's real songs. His Manny Pacquiao impersonation? Basically perfect. When he was pretending to be Blake Griffin and he said, "Anyway, I'm Blake Griffin, part of the dominant white race, and … "? Fantastic. Who else could've gotten away with that?
Now, that's not to say that he was infallible as host. There were some moments that were a little flat, when a joke didn't pop the way he maybe imagined it was going to, or when he didn't press something maybe as far as he should have. But even then it wasn't that the show wasn't the perfectly executed mash of rap and sports that everyone (unfairly) imagined it was going to be as soon as we heard that Drake was hosting. It was never that the ESPYS were slow, it was Drake being slow at the ESPYS, which is an entirely different thing. That's a thing that you have to watch. That's a thing that's interesting. Drake being funny is interesting. Drake being boring is interesting. Drake being Drake is interesting. Because he's Drake.
Sharknado 2: The Second One
Holly Anderson: I'm writing this hours before Sharknado 2: The Second One even airs, and I'm already calling it July's under-the-wire, come-from-behind-and-also-from-underneath-the-sea triumph. No matter what happens when its gory majesty is finally laid bare for the viewing public, there's a sequel to a made-for-Syfy original movie that has become a talked-about thing on all manner of traditional media platforms; this in itself constitutes an unassailable victory. There's a Subway tie-in. There's a Major League Baseball tie-in. There is talk of it on Today. For the SEQUEL TO A MADE-FOR-TELEVISION SYFY CHANNEL MOVIE. They've already won. Count it. QED. Fin. Get it? Get it? Do you — [is chainsawed into tiny bits by 50-year-old Ian Ziering].
Michelle Beadle
Katie Baker: "Just watched a bird take flight," Michelle Beadle tweeted on July 2. "Gliding and ascending. So beautifully. And then release a monster fecal surprise. #nature." Looking back now, this observation was an eerily prescient take on how the month would unfold for us all. July is the silly season of the sports world, when pro athletes retreat en masse to each other's secretive weddings and midseason baseball is often the lone game in town. (Unless there's no game.) If there's anyone adept at handling the summer, it's ESPN's prodigal daughter Beadle, who has always approached irreverence with a sense of respect — something that's much harder to do than it looks. She dropped droll product placement while massaging DeSean Jackson's back at the ESPYS; she more than survived a dreaded TMZ run-in with a fun story about sucking venom (of a … certain viscosity) from Linda Cohn's leg. She looked ridiculous while trying to imitate a bat-swinging someone named "Bercules," but that was the whole point. And when a monster fecal surprise hit the fan late last week, she confronted the situation with that same well of self-confidence, that same unapologetic directness, and in doing so spoke up for a lot more people than just herself. That's even harder to do than it looks, which is why it's no surprise that she did it so well.
Snowpiercer
Brian Phillips: Snowpiercer won the month. There are three reasons why this is so.
1. It defeated Harvey Weinstein. Weinstein may no longer be the swaggering, thunder-paunched kettlebell of all-powerful rage that he was in his heyday with Miramax, but he's still a force. If he tries to quash a movie, that movie is most likely ending up quashed. Well, the Weinstein Company owns the North American rights to Snowpiercer, and when the film's director, Bong Joon-ho, refused to cut the 20 minutes Harvey wanted taken out, Harvey reached under his desk and started mashing the quash button. But thanks to stellar reviews, a clever video-on-demand campaign, and a dedicated fandom, Snowpiercer ended up thriving. Think about this for a second. Snowpiercer is an allegory about the possibility of revolution within the repressive machinery of capitalism. In taking on the most Cigar Aficionado–looking tycoon in all of Hollywood, Snowpiercer somehow also became an allegory for … itself. 
2. It is largely a movie about gutting people with meat hooks, and yet it is receiving pretty smart highbrow attention in places like The New Inquiry, where a long and good essay by Aaron Bady reads its anticapitalist fable-crafting partly as cover for a plunge into the Freudian death drive. On the other hand, Snowpiercer is a multivalent critique of human social life and perhaps of life itself, and yet it has gotten a bunch of teenage boys excited about gutting people with meat hooks. That's semiotics!
3. It's pretty good! I mean, as acts of fantasy world-building that double as retorts to The Fountainhead go, it's less rich than Bioshock, but show me a movie from the 2010s that isn't. And the simplicity of Snowpiercer — poor people at the back of the train launching an assault on the rich people at the front, and oh, the train is ALL THAT REMAINS OF HUMAN LIFE — is also what gives it its power. It's an epic built on an elevator pitch. You just have to keep going forward, and the food may be made out of cockroaches, and Tilda Swinton may be playing a carnivorous horse, but there's no choice, and at least the set design will be amazing. I wish it had made 15 percent more sense, but part of the point of the movie is that nothing in a closed system can make sense. I wish it had not made me think repeatedly that it would be better as a graphic novel, but it's based on a graphic novel. I wonder whether the graphic novel is even more uncompromisingly revolutionary. I wonder whether Harvey Weinstein gets a payout if I order it through Amazon Prime.
Cleveland and LeBron James
Andrew Sharp: LeBron won. Cleveland won. Everyone else is fighting for a distant second here.
July is the month when LeBron James both froze the entire NBA offseason all by himself and made free agency one of the biggest stories in America. He turned 60 or 70 percent of sports fans into full-blown Twitter addicts for 10 days. He turned America's basketball reporters into Lloyd Bridges from Airplane!. He turned Grantland's Cleveland correspondent, Matt Borcas, into a crazy man on a street corner and/or a motherfucking prophet. He even had my mom asking me about the offseason for a few days there.
That letter is the ultimate proof, though. If you want to know just how much LeBron won July, remember the letter he wrote to America. He made it sound like he was going back to Ohio because of civic duty, he made it seem like in choosing the Cavs he was choosing the ultimate underdog (and not a basketball team with a much brighter future than Miami), and it was delivered to a phenomenal writer who filtered the message in the most eloquent way possible. It was all as calculated as it gets. It was the anti-"Decision." It was cloying, filled with empty clichés, and even if some of it came from a sincere place, the tone was pretty ridiculous.
And we all pretty much bought it. I think I still buy it.
Playing along is way more fun than sitting here like a cynic. LeBron really does want to be bigger than basketball, and he really does care about setting an example for the kids of Northeast Ohio, so what's the point of nitpicking?
That's how most people felt that day. LeBron's been the most famous athlete in America for a while now, and he's been the greatest basketball player on earth for just as long, but he has never been more popular than he is right this second.
When you think of Michael Jordan as a player, the quality we remember is winning. But as a celebrity in America, his two defining qualities were overwhelming popularity and the myth surrounding everything he did. The commercials, the stories about his high school team, legends about his competitive streak. We all suspended disbelief for an entire decade with Jordan. Now it's almost 20 years later, and we just watched LeBron get there. Everyone's ready to root for him to save Northeast Ohio and the underdog Cavs just like he promised in the letter. I'm not saying it'll last, but that's where things stood this month. We've been calling LeBron the successor to Jordan for a while, but July is when it got real.
Apes
Alex Pappademas: First, let's pause to enjoy the fact that the no. 1 movie in America is a (deranged, unofficial, French) 2001 prequel in which Scarlett Johansson becomes the Monolith. Johansson plays one Lucy in Luc Besson's Lucy; the other one is a female Australopithecus afarensis played by the dancer and choreographer Sandra Abouav, who I am assuming is the same Sandra Abouav who's in this. The previous no. 1 movie in America was Dawn of the Planet of the Apes, with Andy Serkis and many other talented actors (including Judy Greer, who told Marc Maron she took the part for "ten dollars" as a gift to her Apes-fanatic husband) playing super-evolved chimps, gorillas, and orangutans struggling with emergent nationhood. Heavy metal and reflective, the impressively grim Dawn stripped away any trace of camp that still clung to the Apes franchise; its bleak ape-flu backstory became even creepier on July 24, when it was announced that scientists had found worrisome hematological changes in wild Japanese macaques from the area around the Fukushima nuclear plant. It's been a busy news month if you're collecting reminders of how humanity and simianity's fortunes are intertwined. The eating of contaminated "bush meat," including monkeys and gorillas, may have contributed to the deadliest Ebola outbreak in history, which has killed more than 660 people in Guinea, Liberia, and Sierra Leone. Meanwhile in Rwanda, "gorilla tourism" continues to pull thousands out of poverty and fund the construction of roads and schools. And last week PETA blasted a chain movie theater in Myrtle Beach for "inviting" two chimpanzees from a local wildlife park to the premiere of Apes on July 14. That stunt aside, CGI has made guilt-free ape-sploitation possible like never before. In both Dawn and Abouav's brief scenes as Lucy in Lucy, we're not really being encouraged to think about actual apes, but about ourselves, and about what if anything makes us so special and different from our evolutionary forebears. Ape movies are now about humans in digital "suits" behaving like animals rather than animals in funny hats behaving like humans. But in the process, they've become attempts to dramatize what "consciousness" looks like, mostly without using words, which is some surprising and soulful subject matter for this season. "There's no talking?" Maron asked Greer, incredulous. "You're just an ape ape?" Greer: "I mean — yes. I just ape. I just ape."
Jonathan Toews and Patrick Kane
Sean McIndoe: Here's a list of reasons why Kane and Toews won the month, in increasing order of importance:
4. They signed matching eight-year, $84 million contract extensions, becoming the first players in the NHL's salary cap era to break the $10 million cap hit barrier on long-term deals.
3. At the press conference to announce the deals, they were captured in this wonderful photograph. Is it the greatest Jonathan Toews photo of all time? No. No it is not. That would be this one. But it's very, very close.
2. They made this commercial three years ago, which doesn't really have anything to do with this month, but good lord, if you haven't seen it yet, you have to watch it RIGHT NOW.
1. They had a dance-off.
Let me back up and explain.
Jonathan Toews is a hockey-playing robot who was developed by Canadian scientists after we didn't win the Olympic gold medal that one time. He is not capable of empathy, or emotion, or facial expressions, or love. He is capable of winning whatever shiny thing he most recently looked at. That's it.
And every now and then, he just starts dancing.
Patrick Kane is also amazingly good at hockey, and is also amazingly good at being alive. He's also capable of human emotion, so he should be able to out-dance Jonathan Toews any day of the week. But he hasn't been able to … yet. A few days after signing their extensions, the two Hawks took part in a fan forum. Inevitably, they were challenged to break out their moves again. At which point this happened.
The verdict: Sorry, Patrick. Cyborg Toews is still the dancing king. I don't care who you are — $84 million can't buy you those moves.
The Gone Girl Trailer
Robert Mays: Just think for a moment about how much you enjoyed The Social Network and The Girl With the Dragon Tattoo. A lot, right? I thought so. Me too. What if I told you we could keep the haunting atmospheric bits of both — the David Fincher lighting, the Trent Reznor piano-key-punching, building-watery-guitar score — and add a sorta murder-y Ben Affleck, a really murder-y NPH, and a creepy Rosamund Pike narration? You're totally in, right? Good, because that seems to be exactly what we're getting with Gone Girl. Give in to the Affleck takeover. The world is his. 
Illustration by Ben Buysse