BQBL: A Running Diary of the Jets-Cardinals Quarterback Failure Clinic
Elsa/Getty Images
Ladies and gentlemen, this year's BQBL Bowl is over. It wasn't the BQBL points scored in the Jets-Cardinals game that made it special. There's no way to appropriately quantify this brand of failure, no stat that captures how terrified each quarterback was, and no metric for embarrassment to measure what happened in New Jersey on Sunday. There is just the film. Let's go to the tape.
Jets (Sanchize and Greg McElroy) 84 points, and Cardinals (Ryan Lindley) 65 points
In anticipation of this column, I rewatched this entire game. I had my eye on it and everything Sunday, but when a game like this is played in front of cameras and microphones, and it's your job to bask in the ineptitude of quarterbacking failure, you would be a fool not to savor these performances. Also, as I mentioned, there's no number that can capture the experience of watching these men attempt to move the football forward. The most dynamic part of this adventure from kickoff to final kneel-down was tracking the tortured reactions of both the play-by-play team of Thom Brennaman and Brian Billick and the Jets fans in the stadium. I now present to you a running diary, of sorts, of the 2012 BQBL Bowl. No lie — I might go back and watch it again.

Pregame Banter
Thom (on Sanchize): "The final five weeks is just an audition for him to keep his job." (Read: The next three quarters are just an audition for him to keep his job.)
Sideline reporter Laura Okmin tells us about a cold-tub conversation Mark had with his dad: "Mark, you have been imagining throwing winning touchdowns since you were a boy. You didn't imagine throwing those interceptions, did you?" (After the game, I'm sure Sanchez Senior looked at his phone and saw "Incoming Call: Mark" and hit "Ignore.")
First Quarter
Brian: "When we sat down with Ryan Lindley and the Cardinals coaches, they talked about his calm. There is a fine line between being calm and being so new that you don't know just how bad things are." (REMEMBER THIS; it may come up later.)
14:54 — As Ryan Lindley takes the field, Fox puts up this graphic: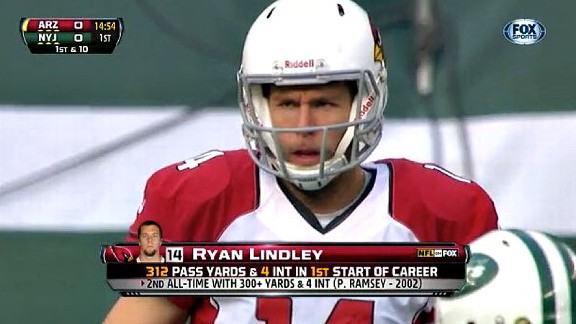 I'm guessing there aren't many Lindley family members in the production truck.
14:21 — Lindley connects on a deep sideline pass to Fitzgerald. Perfect throw. (Lindley confidence building …)
13:05, Thom — "Lindley throws too high and too firm for Stephens-Howling." (This was probably his seventh-best throw of the day.)
12:06 — Sanchez takes the field. At home. Without even touching the ball yet …
12:06, Jets fans — BOOOOOOOOOOOOOOOOO!
Ten seconds later, Thom — "Mark Sanchez back to pass on first down, just lobs it in the air, and it is intercepted by the former Jet Kerry Rhodes. So a poor decision on the very first pass of the day by the beleaguered Mark Sanchez." (Sanchize throws blindly off his back foot in the face of pressure. I swear he didn't even look to see if it was picked; it was a foregone conclusion.)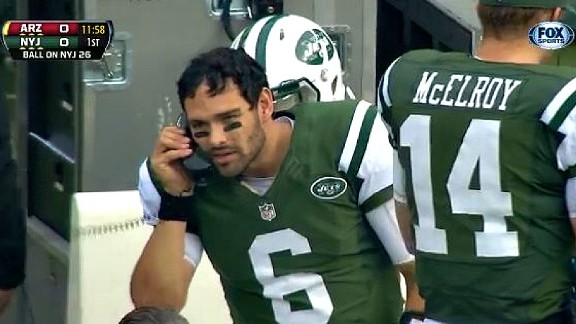 11:58 — "What? You want to talk to Greg? Fine, he's right here."
11:58-10:07 — Cardinals run play doesn't work. Cardinals run play doesn't work. Cardinals run play doesn't work. Cardinals run play doesn't work. (You start to get the feeling that coach Ken Whisenhunt realizes his quarterback is terrified. It's a good feeling.)
8:03 — Sanchize makes a great throw to Cumberland for 24 yards. (Also, who is Cumberland?)
6:28 — Sanchize makes a great throw to Schilens deep, but he drops it. (Also, who is Schilens?)
5:42 — Sanchize ducks under a sure sack and completes a pass to Stephen Hill for six yards, which sets up a 46-yard field goal. (Sanchize confidence building …)
5:20 — Field goal attempt doinks off the upright.
:38: Brian (after second Sanchize interception) — "This should have been a reception, but he overthrow it. Kerry Rhodes, all he had to do was play center field and wait for the ball to come down to him." ("ALL HE HAD TO DO WAS PLAY CENTER FIELD AND WAIT FOR THE BALL TO COME DOWN TO HIM!!!!!!!!" BWHAHAHHAHHAHAHHAHAHAHHAHA!!!!!!!! There is nothing I can add to that. Sorry, one more time: "ALL HE HAD TO DO WAS PLAY CENTER FIELD AND WAIT FOR THE BALL TO COME DOWN TO HIM!!!!!!!! BWHAHAHHAHHAHAHHAHAHAHHAHA!!!!!!!!" OK, I'm done.)
Jets fans: BOOOOOOOOOOOOOOOOOOOOOO!
Second Quarter
13:30 — Sanchez takes a sack.
Jets fans — BOOOOOOOOOOOOOOOOOOOOOO!
11:30, Thom — "11:30 to play until halftime … no score." (You know how it isn't what you say but how you say it? Brennaman might've said that, but what he meant was, "If you have other options, you should watch another football game. If you don't, you should clean the gutters or something.")
11:04 (Before snap), Brian — "The Cardinals have been very active in the middle of the line, Thom. I expect them to pick that pace up on a second-and-medium or particularly on a third down to see if they can force another turnover by Mark Sanchez."
11:04 (After snap) — Patrick Peterson makes an amazing interception on a slightly underthrown ball from Sanchez. Guess who doesn't care how amazing it was? Jets fans.
Jets fans — BOOOOOOOOOOOOOOOOOOOOOO!
10:53 — Lindley nearly intercepted on batted pass.
10:47 — Lindley not intercepted, or even nearly intercepted, on a handoff to Beanie Wells.
10:01 — Lindley intercepted.
This graphic goes up to summarize the offensive efforts: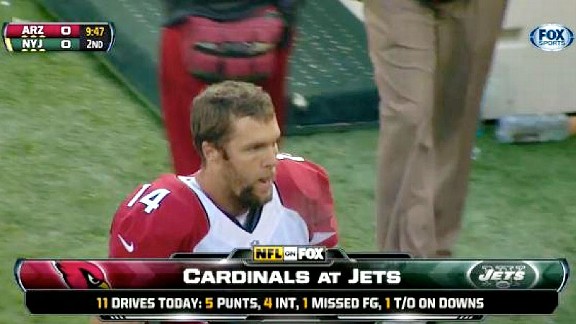 Thom — "The last nine combined pass attempts: one completed pass, five incompletions, three interceptions. In fact, we have nine completed pass attempts in this game, four interceptions." [Shocked.]
Brian — (Silence … like, four seconds of silence.)
9:47-8:25 — Sanchize moves the ball … three yards in three plays. Field goal unit takes the field.
Jets fans: BOOOOOOOOOOOOOOOOOOOOOO!
8:25 — Field goal attempt doinks off the upright.
Jets fans — BOOOOOOOOOOOOOOOOOOOOOO!
Thom — "Still no score in the Meadowlands." [Frustrated.]
Brian — "So the beat goes on …" [Amused.]
7:23, Jets fans — "MAC-EL-ROY, MAC-EL-ROY, MAC-EL-ROY!" (I swear it kind of sounds like "LET'S GO HOME, LET'S GO HOME, LET'S GO HOME!" I know I'm the boy who cried wolf with this stuff, but when I first heard it, I asked myself, "Are they saying, 'Let's go home?' 'Let's go home' is the best anti-home-team chant I've ever heard.")
7:23 — Announcers make no mention of this chant drowning out the stadium. I have no idea why this was not mentioned.
This graphic goes up: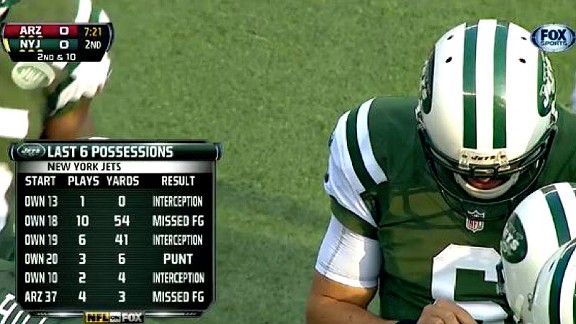 The Jets had four drives that totaled 14 yards. You sitting there reading this, if you had 12 plays, could you get 14 yards with QB sneaks alone? Probably not, but you thought about it a bit, didn't you?
7:23-2:38 — Sanchize gets a couple of forgettable first downs before the Jets eventually punt.
1:11 — Lindley's play inspires Brennaman to finally break down and stop making excuses for him: "I gotta be honest with you, Brian, and Lindley is only a rookie so it is not taking him to task — Sanchez is in his fourth year — but this is about as ugly and as inept a game offensively as I can recall in a long time." (As he is saying this, Cardinals fake punt for a 40-yard gain.)
Brian: "Well, here is your chance. This is what you have to do …"
:33, Thom — "Well, I gotta tell ya, Brian, they are nowhere within even five yards of completing a pass on the last five to seven attempts that they have made throwing the football." (Brennaman is broken at this point. There is a 75 percent chance he is shirtless and chugging a bottle of Wild Turkey in the booth, calling the game while he gets a tattoo.)
Brian (attempting to maintain some sort of professionalism) — "Yeah, I feel your pain." (I think he's talking about the tattoo.)
0:00, Thom — "We have actually a scoring chance for the Cardinals. First of the game. Aaaaand whaddya know? We go to halftime with POINTS ON THE BOARD."
Third Quarter
14:56 — Sanchez throws a pass away.
Jets fans — This was more of a chatter than a boo. Like the sound of everyone in the stadium asking the person next to them if they should leave to beat the traffic.
13:53, Thom, as Lindley takes the field — "You heard Laura relaying her conversation with Ken Whisenhunt, and he was saying, 'You know, we will find some of the things that Lindley is comfortable with.' Is there anything that you saw from this Arizona offense that you think Lindley is comfortable with?"
Brian — "Yeah, turning around and handing the ball off." (Yes, he really said that. I can't write jokes that funny.)
13:53-4:48 — A slew of terrible passes, penalties, depression, and a swell of anti-Sanchize sentiment.
13:53-4:48, Brian, after Jets fans get especially vocal about their distaste for Sanchize — "It is at the wrong time of his career. You either stay with him and ride it out, or, the question for both of these franchises is a matter of 'What are we going to do at the quarterback position?' It doesn't matter who wins this game. I think…one of these teams will win this game." (HE IS GENUINELY QUESTIONING IF SOMEONE WILL WIN THE GAME! HE ISN'T KIDDING EVEN A LITTLE.)
13:53-4:48, Thom, after another errant Lindley pass — "And this is back to what we saw in the first half. I mean, the Cardinals are five to seven yards away from completing a pass…"
Brian — "Ryan Lindley doesn't even know what he is seeing. We talked about earlier. It is one thing to have calm in the face of pressure. It is another thing to be oblivious to everything around you in the fog of war." (OBLIVIOUS TO EVERYTHING AROUND YOU IN THE FOG OF WAR!!!!! Is this Hemingway?)
4:48 — McElroy takes the field.
Jets fans — Whatever the sound of 70,000 orgasms is, this is it.
3:15 — McElroy misses deep. Jets fans turn on him.
1:53 — McElroy scrambles to sideline. At the sideline, he lowers his shoulder and draws a late-hit call. (Note: this was by far his most important and successful play of the game.)
Fourth Quarter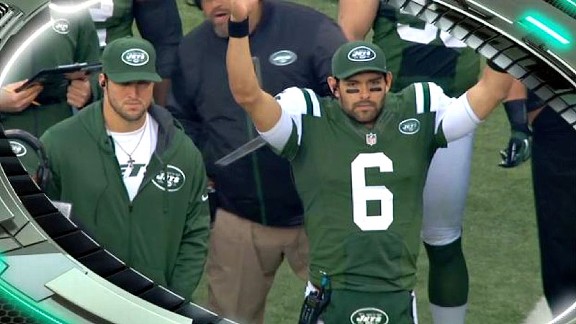 15:00 — McElroy rolls right and throws to Cumberland for a touchdown. Sanchize celebrates. Tebow, oddly, doesn't even take his hands out of his pockets. You know something is wrong when Tebow is apathetic. Also, do you think Tebow broke his ribs playing football? Or did God take them to make women?
Jets fans — Actual, honest-to-god, non-sarcastic cheering.
14:49-1401 — Lindley incomplete. Lindley incomplete. Lindley complete for three yards. Punt.
14:01 — Shonn Greene runs for 3 yards.
13:25 — Greene runs for 1 yard.
12:32 — Kahlil Bell checks in for the first time in the game. Kahlil Bell fumbles.
10:51 — Lindley throws 15 yards away from a wide-open Fitzgerald. There is a pause because this is normally where Billick adds analysis. There is silence for 10 seconds. It has to be noted here just how badly Lindley is missing throws. You honestly wonder if he slipped, or if he was targeting someone else, or if this is some sort of performance art.
10:39 — Cardinals kick a field goal. It's a one-point game.
10:31-9:12 — Three and out for McElroy, during which there is the inevitable mention of Tom Brady taking over for Bledsoe and the inevitable booing from Jets fans.
9:12-8:02 — A three and out makes the Cardinals 0-15 on third downs for the game. 0 for 15. Marinate on that for a minute.
7:55-end of the game — McElroy leads the Jets on the most unimpressive eight-minute drive in the history of football. It may or may not have included two crucial penalties on Arizona.
Now that we're a couple of days removed from this performance, all the talk is about who Rex Ryan will start next week. What we really should be talking about is what happened this week. Ryan Lindley averaged 1.7 yards per pass attempt. Mark Sanchize threw three interceptions in his first nine attempts. Both offenses combined for 24 first downs. I'm burning a DVD of this game and putting it in my file cabinet just so I have it for the BQBL archives. Get at me, Smithsonian.
Quick Slants
Saints (Drew Brees), 53 points: Five interceptions? Really, Drew Brees? To be fair, two of these were "just the tip" interceptions, but the other three were just really bad throws. I would love to go into more detail on Drew's Romo-esque Thursday night, but if you put this performance up against what Sanchize and Lindley did, they aren't even in the same league. Literally, give it two years, Sanchize and Lindley won't be in the same league as Drew Brees.
Titans (Jake Locker), 48 points: Locker had three picks, two lost fumbles and was sacked six times. However, when 236-pound Texans linebacker Tim Dobbins picked him off, and Locker was the only thing between him and the end zone, he went low on Dobbins and sent him flying through the air head over heels. So obviously, as far as I'm concerned, he played a great game.
Bengals (Andy Dalton), 40 points: There you are, Andy D. Haven't seen nearly enough of you around here. In the second quarter, when Damario Williams picked off his pass and started to take it to the house via the sideline, Dalton had a perfect opportunity to knock him out of bounds around the 50-yard line but casually jogged out of bounds to avoid contact. So obviously, as far as I'm concerned, he played a terrible game.
Clairvoyant Jacoby's picks for next week's leader board:
1. Whoever is at quarterback for the Cardinals will be eaten alive by the Seahawks defense. I expect triple digits.
2. Not sure why, but I feel a letdown coming from RG3 after the big Monday Night Football win.
3. Carson Palmer, just retire already.
Filed Under: Arizona Cardinals, Bqbl, David Jacoby, Drew Brees, Mark Sanchez, New York Jets, Rex Ryan