An Intimate Night With Kobe Bryant and 5,000 of His Closest Friends
Jason Kempin/Getty Images
On Thursday night at the Nokia Theatre, there was an event called Kobe Up Close. The details: Jimmy Kimmel was going to interview Kobe Bryant for an hour, they were selling tickets for anywhere from $25 to $200, and all proceeds from the event would benefit the Kobe & Vanessa Bryant Family Foundation in partnership with Cedars-Sinai's Sports Spectacular, supporting their work toward eliminating homelessness and providing preventative health services in underserved areas of Los Angeles. We found out about all this on Monday.
We had no idea what this event was, or what an hour-long interview with Kobe might bring, but when we heard this event was going down 100 feet from the Grantland office, Juliet Litman and I obviously had to get tickets and find out for ourselves. When we sat down in the theater, Juliet described it best: "I feel like we're in a megachurch, and the religion is Kobe Bryant."
That was perfect. Example: As everyone is finding their seats beforehand, an announcer tells the crowd, "He's gonna have a big challenge this year, but we know he'll bring home a championship!"
That's right we do. IN KOBE WE TRUST.
Then there are MVP chants, a discussion of what makes Kobe a true champion, and Kevin Frazier interviewing Robert Horry with questions like, "Having won championships, and knowing what it takes to win a championship, how is it that Kobe Bryant is such a great leader?"
This was all before the event even got started. That's when I knew this was officially my favorite thing ever. "It's a once in a lifetime event," Frazier told us, "and it's gonna be special."
Why not?! Nobody needed a night dedicated to celebrating the myth of Mamba, but at this point, there's no such thing as a bad interview with Kobe Bryant. If you can raise money for charity along the way, even better. The event filled most of Nokia Theatre, too. Kobe may not have actual friends — the celebrities in attendance were Wesley Johnson, Robert Sacre, Ryan Kelly, Robert Horry, Terrell Owens, and Jim Buss, who looks like a drifter who someone dressed up in a suit — but he definitely has followers, an army of zealots who will fight for him and his legacy until the end of time. Thursday night, I got to get up close with a solid 5,000 of them.
Kimmel took the stage with Kobe a few minutes after the preshow ended, and once the "M-V-P!" chants died down, we launched straight into questions about Kobe's Achilles. Specifically, Kobe's psychotic Facebook post from the night of his April injury:
Maybe this is how my book ends. Maybe Father Time has defeated me… Then again maybe not! It's 3:30am, my foot feels like dead weight, my head is spinning from the pain meds and I'm wide awake. Forgive my Venting but what's the purpose of social media if I won't bring it to you Real No Image?? Feels good to vent, let it out. To feel as if THIS is the WORST thing EVER! Because After ALL the venting, a real perspective sets in. There are far greater issues/challenges in the world then [sic] a torn achilles. Stop feeling sorry for yourself, find the silver lining and get to work with the same belief, same drive and same conviction as ever. One day, the beginning of a new career journey will commence. Today is NOT that day.

"If you see me in a fight with a bear, prey [sic] for the bear".

Ive always loved that quote.

Thats "mamba mentality" we don't quit, we don't cower, we don't run.
Kimmel after he finished reading the whole thing: "You must've been on some great drugs when you wrote that."
And we were off!
Kobe acknowledged he was on Vicodin at that point, which makes sense, and said, "I couldn't sleep!" which doesn't make as much sense considering he was on a bunch of Vicodin. But whatever, don't ask questions, just pray for the bear. Whenever Kobe finally retires, that whole post belongs in the Basketball Hall of Fame, etched into stone somewhere. Kobe also told us that while he was immobilized after surgery and stuck in bed for a month, he watched every season of Modern Family. (#MambaMentality.)
Some other highlights from the night.
The Clippers Will Always Be the Clippers
Kobe: "This is probably too much information, but it's Kobe Up Close, so what the hell. I had a really good workout with the Clippers, so they told me, 'This is the best workout we've ever seen.' So I'm like, 'Oh man, I'm excited, I'm gonna come to L.A.' I say, 'All right, are you gonna draft me?' … 'No.'"
Kimmel: "That's what makes them the Clippers."
Kobe explains the Clippers were worried about not being taken seriously by Los Angeles if they selected a 17-year-old. And for the record, that's absolutely true, which is why it hurts twice as much. If the Clippers took Kobe they would've been a laughingstock at the time. Jerry West trades for him? Suddenly it's genius. Life is unfair.
Kimmel also asked if Kobe was serious about leaving the Lakers for the Clippers in 2004. Kobe promises he was, and the crowd was disgusted.
Kimmel: "Even with that stupid uniform they wear?"
Kobe: "Yeah. I was."
Kimmel: "Isn't that like signing an endorsement deal with RC Cola?"
The crowd — and Kobe — burst into laughter. It's funny because it's true.
Poor Clippers. Pray for the Clippers.
On Dwight
At intermission, hundreds of people flood the aisles and move toward the stage to try to snap cell phone photos of Kobe, and it feels like we're one or two steps away from Lakers fans rushing the stage entirely just so they can all hug him. It's kind of amazing that he doesn't cause more riots just walking around this city in his daily life.
All night long, there wasn't one answer from Kobe that didn't have someone from the crowd standing up to shout, "YOU THE MAN KOBE." After intermission, Kimmel brings up the Failed Son.
"Dwight's a good kid," Kobe laughs.
The crowd erupts in deafening boos. HE WAS NEVER A TRUE LAKER.
But Kobe steadies the room. Kinda. "One thing you gotta know about me is I have absolutely no filter. I have no problem saying what the hell I think of someone. He's actually a good kid. He's a good kid. We have different perspectives on what it takes to win, and what it takes to be successful, and because of that, we obviously had times where we didn't see eye to eye. But you know, it is what it is."
Oh man. He was so close to giving the perfect diplomatic answer and playing it classy, but he just couldn't resist reminding us all that he's the ultimate winner and he understands what it takes to be successful, and that's why he and Dwight didn't always see eye to eye. It's not that he's wrong, he's just so incredibly Kobe.
On the CP3 Deal
Kimmel asks if Chris Paul should be a Laker right now.
Kobe: "Legally speaking? Yeah. David Stern speaking? No."
Then he tells the story. "I was working out. I was lifting weights, gettin' ready, when Chris called me and told me he was coming. … I was like, 'All right, cool.'"
You can hear the rest of his answer above. Two thoughts.
1. If Kobe's not playing, he's always "lifting weights, gettin' ready."
2. This story would be about 10,000,000,000 times better if Kobe was telling it off the record somewhere, and we could hear a detailed of account of him and Paul cursing back and forth. Jonathan Abrams should do the Oral History of the Chris Paul Trade and it will be the best thing ever. In the year 2021.
The Next Kobe?
"Guys grew up watching me," Kobe explains when Kimmel asks about who's following in his footsteps. "So they all have the same attitude and temperament. Russell Westbrook, Kyrie Irving. They all have that gene, they're all extremely competitive, stubborn. Nick Young, also."
Nick Young DEFINITELY agrees that Nick Young is the next Kobe. Thank god Kobe is going to be mentoring Swaggy P. Both their careers have been building to this moment for years, and I can't wait to cheer for the Young-Kobe Lakers. It's like Russell Simmons releasing a Watch The Throne album with Diggy.
But if we're talking "Next Kobe" … Westbrook really is the best choice. He's the only young player who's got the stubborn, perpetually petulant gene that Kobe was working with for his first decade in the league. He's even got the uneasy dynamics with Kevin Durant to help sell the analogy.
"I played against Westbrook when he was a senior in high school," Kobe says. "And I remember thinking, This kid wasn't scared AT. ALL. He was like, gettin' after it. The same Russell you see now, he was the same way back then."
I know we were supposed to be worshiping the religion of Kobe that night, but just for a second this reminded me how much I love Westbrook. God, it would've been fun to watch 18-year-old Westbrook go nuts playing pickup against Kobe.
At another point in the night, Kobe is asked about the toughest people he's ever played against. He lists Allen Iverson, Stephon Marbury, and Gilbert Arenas. "Carmelo Anthony's always tough," he adds. "Durant's always tough."
"The guy that always gave me the most problems was actually Tracy McGrady."
This is notable because in Kobe Bryant's universe, LEBRON DOESN'T EXIST.
Related: Kimmel brings up the possibility of the Lakers clearing cap space for a run at LeBron, and the crowd erupts in the loudest boos of the night. Then Kobe laughs off the cap situation and promises he'll be a Laker for life, and the boos turn to ecstatic cheers. "This is like a pep rally," Juliet says.
On Shaq
Kimmel says Shaq once told him that Kobe used to practice without a ball, like the dude from Above the Rim. Kobe grins. "You can't listen to half the shit Shaq says."
That may be the truest thing anyone said all night. But then:
"I joke around, I like needling Shaq a lot, just 'cause it's fun to do that. But the guy was an absolute force. The stretch that, from 2000 to 2003, that this guy was on … [That's] something that you haven't seen in the history of the game. In the NBA Finals averaging 40 and 15. He was doing some pretty supernatural stuff, man."
That's also 100 percent truth. When Shaq was great, he was as unstoppable as anyone in history. As for what went wrong with those Lakers teams? At one point Kobe says, "He and I just weren't going to play together anymore. The challenge was thrown down. I had to prove I could win without him."
As he explained later: "It never bothered me when people would say, 'You only win championships because you're playing with Shaq.' It bothered me when HE said it."
That's only half the story, but it's half the story that nobody was willing to acknowledge for a long time. One of the more incredible developments over the past five years or so has been everyone slowly realizing that maybe Kobe wasn't that crazy for running off Shaq. In 2004, that decision embodied everything that was wrong with Kobe as a player and a teammate. Now it's more of a 50-50 thing that was probably best for everyone. Kobe wasn't perfect, but as our perceptions of Shaq have changed, it's become a lot clearer that Shaq's role in things was badly underplayed at the time. They blew up that team together.
Related: On the same night I was at the Nokia Theatre watching Kobe talk about what it takes to be a champion, my roommate was at a private wedding party on the other side of town. Shaq showed up. There was karaoke. And after entertaining guests and monopolizing the room and kissing his biceps, it all ended with Shaq doing karaoke to "The Thong Song."
Long live the early-2000s Lakers. Supernatural stuff, man.
Terrell Owens? Terrell Owens.
I have no idea what T.O. was doing at the theater, but after they kicked things over to the audience, T.O. popped up at the end to ask a question of his own.
Owens: "Can you share with the audience and the millions of people watching today, how cutting-edge science and technology has played a big part in your recovery?"
Uhh … What?
Kimmel: "I think Terrell is looking for a doctor's appointment."
Kobe answers, though, and explains that he and T.O. share the same doctor, so things start to make a little more sense. "That's helped a lot," he says of all the advanced therapy. But Owens is not done.
Owens: "Jimmy, just to let you know, with this type of technology and research, and especially all this stem cell research, cryotherapy, there are a lot of things that a lot of people don't know. These are not PEDs, by the way. They are not performance-enhancing drugs. These are things that actually allow guys to get back … in a faster manner than just regular ice and stem. Like I said, we share a mutual friend …" And he keeps going!
At this point in our evening with Kimmel and Kobe, the entire crowd is booing Owens. The guy in front of me won't stop yelling, "IT'S NOT ABOUT YOU."
Finally, Kobe interjects. "It might not be a sexy topic for everybody here to listen to, but that's a critical part. Because if you want to win a sixth championship, you gotta understand that the recovery things that I do — it's tough, it's cutting edge. … The recovery component is something that, it's beyond important for us athletes."
And THAT'S how Owens turned the Kobe interview into an infomercial for advanced physical therapy. Which Kobe then turned into a reminder that he's doing everything he can to get that sixth championship. The show ended with that, and it was actually the perfect way to end a night that was kind of baffling all along. T.O. hijacking everything was just the exclamation point.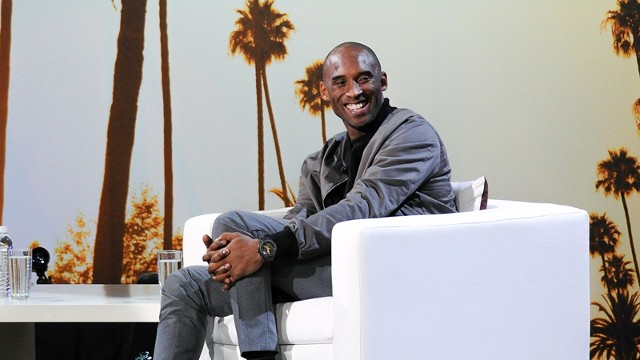 The entire night was Kobe at his Kobiest. Like when he was asked about learning to reach out to teammates: "It was part of the evolution of understanding what it takes to enhance the group around you. I was a person who was completely consumed with my craft. I got to a point in my career where I had to start looking outwardly, and not looking internally to try to make improvements."
Now, did his understanding actually ever evolve? Who knows! But he seems pretty convinced it did, and watching him explain it is way too much fun to care about the facts. Even if this is a much closer reflection of Kobe the teammate:
Kobe on giving advice: "I'm not the patient type to try to give advice. Get your ass in gear. If you want to do something, do it."

— Dave McMenamin (@mcten) August 16, 2013
Or this.
When ur game take a s*i* . Flush it. Get up and move on #mambaism

— Kobe Bryant (@kobebryant) March 23, 2013
I won't speak for everyone, but I used to loathe Kobe, and now I kinda love him more than anyone. This happened for a lot of people, I think. Somewhere along the line Kobe went from being the NBA's Alex Rodriguez to the NBA's Derek Jeter. I think it's because at some point we all stopped fact-checking his ridiculousness, and just started savoring it.
Look at that Facebook post the night his Achilles exploded. Like everything Kobe's ever done, that post was contrived theater — Kobe living as the psychotic bear-fighting character he's created for himself — but what's most fun is you can tell he sorta means it. He can't help it. When Kimmel was reading through the post it looked like Kobe's eyes were watering, and he never broke a smile.
Throw in his army of obsessed fans — "Whenever I can't achieve a goal I think WWKD, What Would Kobe Do," one woman told him Thursday — and the Mamba myth sort of takes on a life of its own. Where Kobe is this psychopath basketball player who will stop at nothing for that sixth title, never stops working out, and couldn't get through to Dwight Howard only because he doesn't know how to communicate with people who won't die for this shit.
M-V-P!
M-V-P!
M-V-P!
If this is all funny, Kobe's in on the joke, but he's not actually laughing.
He consciously cultivates his own ridiculous legend, but he also buys in as much as anyone. He said Thursday his favorite nickname is "Vino," because he gets better with age. Also, he gave himself that nickname. I can't tell whether I love Kobe the character or Kobe the person, but it may not even matter. They've sorta become the same thing over the years.
At one point Thursday, Kimmel asked him about practicing 12 hours a day. "Do you think that's because you love basketball, or because you're crazy?"
"Both," he answered with a smile.
It really has been both all along. Kobe loves basketball enough to have killed himself outworking and outplaying everyone for almost 20 years, creating this bear-killing mythology, but then he's also crazy enough to believe the myth. It's what makes him so much fun. As mortality sets in and the myth cracks, he believes it more than ever. And more than secret PED sessions or science fiction physical therapy or anything else, this is why you always knew Kobe would bounce back from the Achilles injury faster than anyone in history: Because he loves basketball that much, and because he's fucking crazy.
Pray for the bear, you know? Mamba mentality. In Vino we trust.
Filed Under: Kobe Bryant, We Went there