The WWE's Big Chance: Fred Rosser Comes Out. What's Next?
Peter Kramer/NBC Newswire/Getty Images
On Friday, not long before The Today Show dropped in on Kathie Lee Gifford's 60th birthday party and Luke Bryan treated morning coffee drinkers to a live cup of frat country, Fred Rosser told Matt Lauer he wanted to be a gay role model. Rosser wrestles for the WWE under the basic name Darren Young, and, the day before, a TMZ camera located him at an LAX baggage-claim area and asked whether a gay wrestler could succeed at his company. "Absolutely," he said, making a couple of awkward, nervous pauses. "Look at me. I'm a WWE superstar and, to be honest with you, I'll tell you right now I'm gay and I'm happy. Very happy."
Rosser was dressed for comfort — a black Nike T-shirt and sunglasses — but for the three minutes or so at the airport, he appeared to be trying to get away from an interrogator who couldn't believe he'd hit a coming-out jackpot. On Today, Rosser was a little more relaxed, even as he was dressed for a job interview (black suit, white shirt, a plaid tie whose dominant color was pink). He told Lauer, ambiguously, that he was a "big fan" and that now was the right time to be open about his feelings.
Lauer perceived that Rosser didn't look nervous at the airport. He said he sensed he was seeing someone who'd been waiting for this moment. I don't know that Lauer meant to imply that the encounter with TMZ was staged, but it didn't seem entirely spontaneous, either. Rosser appeared to be the only passenger claiming bags at one of the world's busiest airports. And of the questions to ask any wrestler, why one about being a gay wrestler? It's true, Rosser didn't seem comfortable, but he also seemed to have very clear talking points about how happy with himself he is.
Either way, this is a heartening development insofar as it was the result of joy as opposed to scandal. Rosser told Lauer about his overcoming bullies and a childhood speech impediment, that he's in love, and that he works for one of the greatest organizations in the world ("I'm a lucky man"). He said that Jason Collins's decision to announce that he's gay earlier in the summer inspired him to do it. Actually, when Lauer asked whether Collins inspired him, Rosser responded, in the softish-hardish cadence of some men from the New York–New Jersey area, "Right on." He then explained that when something makes him happy, like hearing about Collins, he righteously pumps his fist. Rosser says he'll be 30 in November, but he has the soul of a Newark barber in 1981.
He also has his hair.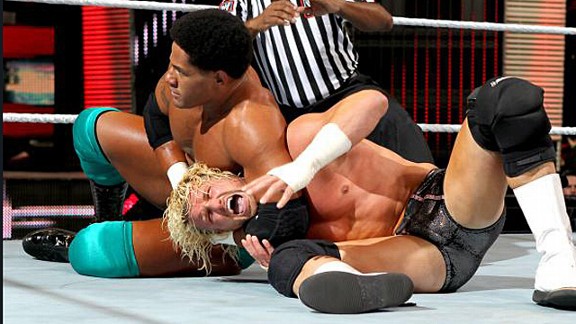 Before last week, Rosser was better known having a perfectly kempt, impossibly round Afro, which makes him seem a little square. To that end, he'd been trying on different WWE personae. The hope presumably was that one would catch. Darren Young currently works in a tag team called the Prime Time Players. When he and his partner, Titus O'Neil, come to the ring, Young usually has a pick sticking out of the Afro. The gist of their pairing is that both men are black (O'Neil is statuesque and bald). It's a terrible gimmick mostly because it's unclear what the gimmick is. Neither Rosser nor Thaddeus Bullard, who is Titus, seems to know what they're playing beyond expired urban shtick and their Millions of Dollars dance. Professional wrestling does fine by individual wrestlers but tends to be reductive about how to build a single unit around two non-white men. At least the Harlem Heat and Cryme Tyme knew what their respective stereotypes were — and Harlem Heat managed to transcend it.
In the Prime Time Players, Rosser does his signifying with that hair. The Afro never suited him. (He looks like a well-built microphone.) Life for Darren Young seemed even stranger before that. On WWE NXT, a kind of reality competition show, his hair stood straight up and was dyed some kind of copper near the top. It was meant, I think, to signify a flame. His skin had been bronzed to match, and he was frequently seen in a thick gold chain. Flame and all, he looked a hot mess.
But from week to week Rosser smiled and smirked and connived, playing the sort of punk that the writers were able to make work for a character like the bleach-blond beach brat Dolph Ziggler. On Rosser, that version of a party kid got tangled up in racial irony: Rosser looks uncannily like John Cena, the star whose persona began as a white rapper. Consciously or not, Darren Young seemed to be exploring an obsession with becoming either Cena (at best) or a Jersey Shore kind of white (at worst, and more likely). It must have been a surreal, out-of-body assignment for a man whose full name is Fredrick Douglas Rosser. (The spelling differs, but still.) It must be how you feel a little better about wearing a pick in your 'fro. Playing such a bizarre, racially bewildering character must be how you feel a little bit better about portraying a jive turkey with a pick in his Afro.
The good news is that in professional wrestling, story lines fade like tan lines. Rosser's now being openly gay would seem to give Darren Young something meaningful to do, hopefully without being full of meaning. It would also give the sport an opportunity to rethink how it has handled characters and their arcs. The Hall of Fame wrestler Shawn Michaels told TMZ, in a more typically chaotic airport encounter, that being a gay wrestler is "very '80s." And he's right. There's something obviously, fundamentally gay about an event predicated upon the kind of same-sex contact that wrestling is. An openly gay wrestler just complicates the fantasy with fact.
Still, the sport seems to better know how to vilify gayness as cartoon flamboyance than what to do with a real-live homosexual. Whether Rosser's announcement was by design or by chance, it's an opportunity for an athlete and a company to shake the cultural Etch A Sketch. If Rosser went to Today dressed for a job interview, his company should think hard about what it would mean to promote him.