2013 NHL Trade Deadline: 5 Surefire Moves That Sure Weren't
Bruce Bennett Studios/Getty Images
Most of the hockey world went to bed last Wednesday convinced Calgary captain Jarome Iginla was headed to Boston. When they woke up to discover he'd wound up in Pittsburgh instead, many were left wondering the same thing: Should we just go ahead and start engraving the Stanley Cup now?
The Penguins were already riding a massive win streak (now up to 15 and counting). Adding the best player available at the deadline, along with the earlier acquisitions of Brenden Morrow and Douglas Murray, to a lineup that already featured Sidney Crosby, Evgeni Malkin, and James Neal just didn't seem fair.
Of course, there are no sure things, and the Penguins roster isn't perfect. They may have the best cast of forwards in the league, but we all know that the goaltending and blue line are shaky, and … [Checks the Penguins' goals against during the last three games.] … oh man. I think we're all screwed.
But let's not panic quite yet. After all, while the Penguins might be the consensus favorites right now, they have a long way to go before they're crowned champions. And if they falter, they'll have good company, because the recent history of NHL sure-things isn't all that impressive.
So before we start planning the Penguins' coronation, let's take a look back at five other big moves that had everyone ready to just hand over the Stanley Cup. As you'll see, the hockey gods have a habit of throwing a surprise our way.

The Red Wings load up at the deadline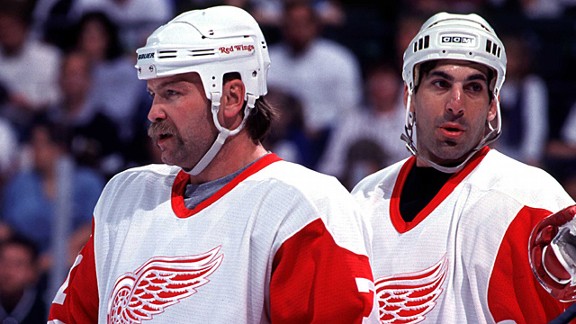 As the 1999 trade deadline approached, the Red Wings were looking for their third consecutive Stanley Cup. After years of dominating in the regular season only to fall short in the playoffs (including Presidents' Trophies in 1995 and 1996 that didn't result in Cup wins), the Red Wings seemed to have figured it out, winning eight consecutive playoff series in 1997 and 1998 without facing an elimination game.
But while the defending champions were considered strong Cup contenders, they hadn't been the league's best team during the 1998-99 regular season. That was the Dallas Stars, who were coasting to the franchise's first Presidents' Trophy. So the Red Wings decided to load up, making an unprecedented set of deadline day moves to bring in some of the league's most experienced stars.
The blockbuster acquisition was Chris Chelios, acquired from the Blackhawks for a pair of first-round picks and Anders Eriksson. Chelios was 37 years old and thought to be on his last legs, but he was a three-time Norris winner and nine-time All-Star who'd be joining a blue line that already included future Hall-of-Famers Nicklas Lidstrom and Larry Murphy.
But Chelios wasn't enough for the Wings. In three more deals, they also added Cup-winning goalie Bill Ranford, hated defenseman Ulf Samuelsson, and veteran warrior Wendel Clark. Between them, the four players brought 59 years of NHL experience to the Wings. They joined a lineup that already included stars like Steve Yzerman, Brendan Shanahan, and Sergei Fedorov — all under the guidance of legendary coach Scotty Bowman.
By the time the deadline dust had settled, the Wings seemed unbeatable. But it didn't work out that way. In fact, they didn't even make it to a showdown with the Stars, instead losing in the second round to the rival Avalanche.
Neither Ranford, Clark, nor Samuelsson ever played another game for the Wings. As for Old Man Chelios and his last legs, he'd go on to spend nine more seasons in Detroit.
Heatley chooses the Sharks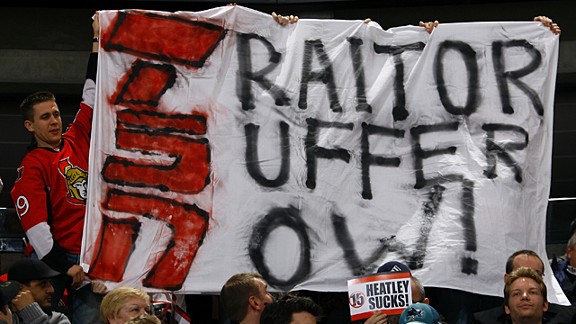 The 2008-09 Sharks were the best team during the regular season, leading the league with 53 wins and 117 points and capturing their first Presidents' Trophy. But they crumbled against the eighth-seeded Ducks in the first round of the playoffs, prompting GM Doug Wilson to promise that changes were coming. When it became apparent that All-Star winger Dany Heatley was on his way out of Ottawa, the Sharks jumped into the mix.
It wasn't even as if they had to win a bidding war. Despite refusing to play for Ottawa, Heatley used his no-trade clause to veto other options and force his way to his preferred destination. (He also managed to stick the Senators with a $4 million bonus payment along the way, which they're still a little bitter about.)
So the league's best team didn't just acquire a superstar, they managed to get him at a steep discount. The Sharks only had to give up Jonathan Cheechoo, Milan Michalek, and a second-round pick to acquire a player who was just two years removed from back-to-back 50-goal seasons. After a sour end to a dream season, the thought of Heatley taking passes from Joe Thornton seemed to reestablish the Sharks as Cup favorites.
Or maybe not. While the Sharks had another dominant regular season, they were swept aside by the Blackhawks in the conference finals. Heatley scored just 65 goals in two unspectacular seasons in San Jose before being dealt to Minnesota. These days, just about any article about the Sharks will include a reference to their championship window slamming shut.
As for that bag of pucks the Sharks gave up for Heatley, it didn't work out so badly for Ottawa after all. Last year, Michalek had 35 goals and was voted a starter in the All-Star Game.
The Blues add The Great One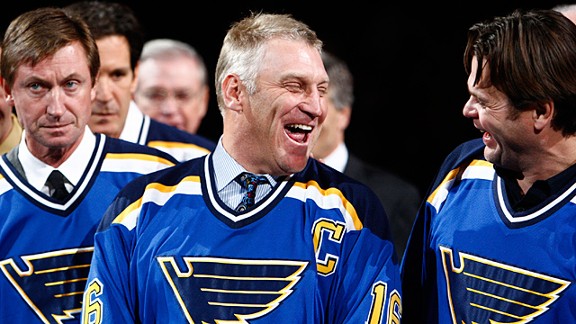 Unlike the other teams on this list, the 1995-96 St. Louis Blues weren't really a powerhouse. In fact, they finished below .500 with just 80 points and gave up 29 more goals than they scored.
But based on name value, they were one of the most stacked teams in recent league history. The team entered the season with a roster that included five players who are currently in the Hall of Fame — Brett Hull, Al MacInnis, Dale Hawerchuk, Glenn Anderson, and Grant Fuhr — along with a young defenseman named Chris Pronger, who was just entering his prime. The coach and GM was recent Cup-winner Mike Keenan.
Still, by late February it was clear the team wasn't clicking. That's when Keenan, as he was wont to do, decided to make some headlines. He pulled the trigger on a trade for Wayne Gretzky, acquiring him from the Kings for picks and prospects. Gretzky had just turned 35 and was on the downside of his career, but he was scoring at a 110-point pace in L.A.
And for a moment, the imagination of hockey fans ran wild. Media reports called it "a megadeal that could alter the balance of power in the National Hockey League" and it wasn't hard to see why: Hull, the greatest goal-scorer of his generation, was going to play on a line with the best playmaker of all time. The mind boggled.
And then reality set in. Somehow, Hull and Gretzky never really clicked, and the Blues didn't get any better. They won only six out of 21 regular-season games after the trade, including just one of their final 12.
The Blues won a single playoff round, then bowed out to the Red Wings in a Game 7 thriller that ended on Yzerman's famous seeing-eye slap shot. (The '96 Wings were a dream team in their own right, with an NHL record 62 regular-season wins. They didn't win the Cup, either.) Gretzky didn't re-sign in St. Louis, allegedly because Keenan didn't want him back, and joined the Rangers instead.
For many fans these days, Gretzky's time in St. Louis falls into the "Oh yeah, I forgot about that" category. But for a moment, at least, it really did seem like the Blues had acquired a sure thing.
Kariya and Selanne take a discount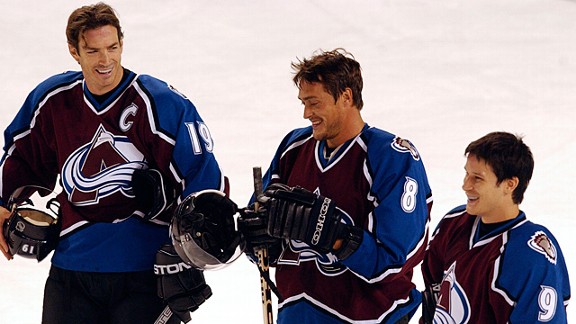 Paul Kariya and Teemu Selanne had spent parts of six seasons together in Anaheim, forming one of the league's best duos. Selanne had led the league in goals twice during that span and scored 150 times during a four-year period from 1996 to 1999. The younger Kariya hadn't been far behind, recording a 50-goal season of his own and topping the 100-point mark twice.
The pair was broken up before the 2001 deadline, when the struggling Ducks sent the aging Selanne to San Jose. The loss of his linemate didn't slow Kariya down much, and in 2003 he led Anaheim to within a game of a Stanley Cup title. But that offseason, the Ducks declined a $10 million option year on Kariya's contract, making him a free agent. Many expected that he'd re-sign with the Ducks on a cheaper long-term deal. Instead, he had a surprise up his sleeve.
With Selanne also hitting free agency, the pair decided to reunite and chase a championship together. Offering themselves up as a package deal, they signed stunning discounted one-year contracts with the Avalanche. Selanne agreed to play for $5.8 million, while Kariya took the bargain basement price of $1.2 million.
The Avalanche had lost Patrick Roy to retirement but still had most of the core that had won the Cup in 2001, including Joe Sakic, Peter Forsberg, and Rob Blake, and were coming off a 105-point season. With Selanne and Kariya playing on a dream line with Sakic, the Avs instantly became heavy favorites.
Instead, the two newcomers were huge disappointments. Kariya battled injuries and only played 51 games, scoring just 11 goals. Selanne was even worse, managing just 32 points in what would easily be the worst season of his NHL career. The Avalanche were out of the playoffs in the second round.
After the lockout, Kariya would play five more seasons in Nashville and St. Louis, recording decent numbers but never reaching superstar levels. Selanne rejoined the Ducks, where he's still productive. He finally won his first Stanley Cup with Anaheim in 2007; Kariya never did win his.
David Freaking Volek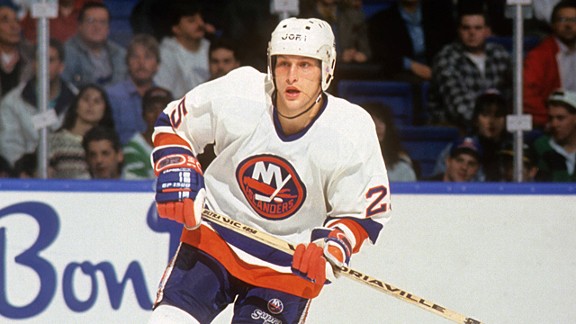 The 1992-93 Penguins were arguably one of the greatest NHL teams of all time. Already coming off back-to-back championships, they went 56-21-7 and won the Presidents' Trophy by a mile. The roster was packed with stars, including future Hall of Famers like Mario Lemieux, Ron Francis, Joe Mullen, Larry Murphy, and Jaromir Jagr. Scotty Bowman was the coach.
At one point, it looked like their dream season would be derailed by the announcement that Lemieux was battling Hodgkin's lymphoma. He missed two months while undergoing radiation treatment before making a dramatic return. He went on to finish the season with 160 points in just 60 games, one of the greatest offensive seasons in league history, and was named MVP.
The Penguins struggled with Lemieux out but were unbeatable once he returned — literally, in one stretch. They finished the season with a 17-game win streak, an NHL record that still stands, before recording a tie on the season's final day. In the first round of the playoffs, they crushed the Devils in five games, including a 7-0 blowout.
And that's when the New York Islanders showed up.
Despite finishing 32 points behind Pittsburgh in the regular season, the Islanders stunned the Penguins by taking them to a Game 7. It went into overtime, and then this happened. It remains one of the most shocking moments in NHL history.
And sure, you might argue that the 1992-93 Penguins didn't really make any major transactions that year and don't necessarily fit the theme of this post. That's probably true. I just wanted an excuse to mention David Volek, because hearing his name makes Pittsburgh fans sad, and they've had way too much to smile about lately.
Oh, and speaking of ruined smiles: This weekend, the Penguins announced Sidney Crosby will be out indefinitely after suffering a broken jaw during Iginla's Pittsburgh debut. The hockey gods do not mess around. Someone tell the Stanley Cup engraver we won't be needing him for a few more months after all.
Filed Under: Hockey, NHL, Pittsburgh Penguins