Your Wednesday Olympics Viewing Guide
KIRILL KUDRYAVTSEV/AFP/GettyImages
Whoa! We've got a busy day, and there's no time for chatter. Let's jump right in.
You know the drill by now. With this guide, which can be followed with one computer and one TV with cable, we're aiming to see every gold-medal event and every team-sport game featuring Americans live and on London time. For further assistance, use this complete timetable as a cheat sheet. All times below are Eastern Daylight.

Wednesday
Alarms should be set for 4:30 a.m. As usual, I encourage you to think in London time, where you'll be sleeping in till 9:30 a.m.
5:10 a.m. — Rowing — Women's Pair Finals — Computer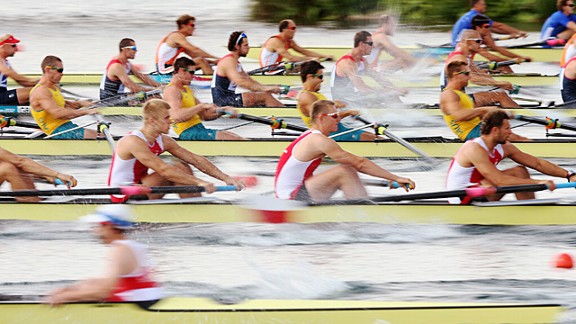 There's no better way to begin a morning than with nice, serene views of a boat cutting through the water. These are the first rowing finals of the Games.
5:20 a.m. — Rowing — Women's Quadruple Sculls Finals — Computer
5:30 a.m. — Rowing — Men's Eight Finals — Computer
This is the one where, if I'm not mistaken, the captains of each team give each other their soiled jerseys at the end.
7 a.m. — Tennis — Men's/Women's Singles Third Round; Mixed Doubles First Round — Bravo
Put in a solid 30 minutes here. You don't need to focus too intently; this would be a good time to eat a bagel or muffin. But not both, or you'll feel bloated and tired. Nothing is more important than diet in the Olympics.
7:30 a.m. — Cycling — Women's Time Trial — NBC Sports Network
The great thing about cycling time trials is that since the starts are offset, there's constant suspense as you watch each new finisher try to take over the lead.
10 a.m. — Cycling — Men's Time Trial — NBC
Watch out for Tour de France winner Bradley Wiggins here. After he and his teammates failed to help out Mark Cavendish in the road race, everyone's out for themselves. This event actually starts at 9:15 if you want to watch on your computer, but NBC's coverage of cycling is pretty solid.
10 a.m. — Diving — Men's Synchronized Three-Meter Springboard
Two Duke students have now won medals in synchronized diving. For a school known for basketball players who take charges, the joke here writes itself.
10:15 a.m. — Canoe/Kayak — Men's K1 Whitewater Finals
Psychologists say that your preference for whitewater or flat-water canoeing is the best predictor of whether you'll have a healthy sex life. But I forget which one is good.
10:30 a.m. — Shooting — Women's 25m Pistol Finals — Computer
How great would a fast-draw paintball event be?
10:30 a.m. — Weightlifting — Women's 152 lb. Finals — Computer
Tough one-two straight computer events. If you really want to catch both, my suggestion is to do weightlifting first, then jump over to shooting when it's done.
11 a.m. — Table Tennis — Women's Singles Finals — MSNBC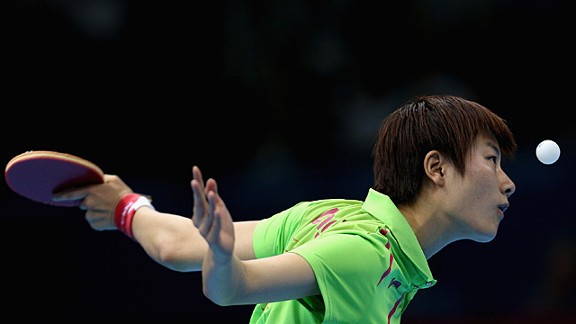 It's an all-China final, meaning more gold for America's chief rival on the medal table.
11 a.m. — Judo — Women's 70kg Finals — Computer
Sorry, judo, but I think if I had to kick one event off the Olympic schedule, we'd be having a long talk.
11:10 a.m. — Judo — Men's 90kg Finals — Computer
Seriously, it's desperation time for you guys. We better see some Crouching Tiger, gravity-defying moves.
11:30 a.m. — Men's Beach Volleyball — Jake Gibb/Sean Rosenthal vs. Latvia — NBC
Gibb and Rosenthal became the first American team to lose at Horse Guards Parade on Monday, but they still have a solid chance to medal.
11:30 a.m. — Gymnastics — Men's Individual All-Around — Computer
I'm still reeling from our team's failure to handle the pommel horse in the team finals after doing so well in qualifiers. Probably the choke job of the Olympics so far.
1:20 p.m. — Women's Water Polo — U.S. vs. Spain — NBC
I am getting really, really into water polo. What impresses me most about the sport is that I would very literally die after playing for more than 45 seconds.
2 p.m. — Weightlifting — Men's 170 lb. Finals — Computer
2:30 p.m. — Swimming — Men's 200m Breaststroke Finals — Computer
For the second time in these Olympics, Kosuke Kitajima ("The Frog King") is trying to become the first swimmer to win Olympic gold in the same event in three straight Games. He failed in the 100-meter breaststroke, but he's favored here.
3 p.m. — Fencing — Men's Épée Finals — Computer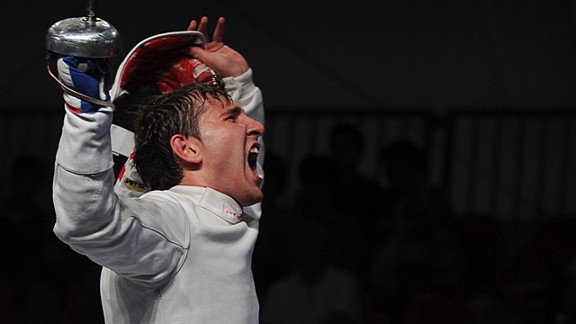 Fencing people keep telling me that the épée is more fun since there are fewer quick strikes and more swordplay. But I still can't tell what the hell is going on. And épée was responsible for that strange scene at the end of the women's semifinal, when the German fencer managed to take four attempts at the winning point with a second left on the clock, finally succeeding after it appeared time had run out. That led to the goofiest, Olympic-est rule yet: While the South Korean coach filed his protest, the poor fencer had to sit on the stage, since leaving it would be an official indication that she accepted the result. Of course, the formal protest took about an hour to process, and she had to sit there the whole time, all alone on a lit stage, crying her eyes out in front of everyone. We are a brutal kind.
3 p.m. — Volleyball — Women, U.S. vs. China — NBC
Head coach Hugh McCutcheon, who looks like a young Mickey from Rocky as he patrols the sidelines listening to his earpiece, is now the women's coach after leading the men to gold in 2008. He's the best, as is Destinee Hooker, the gloriously tall, spiking wunderkind who looks all but unstoppable. Also, I've been told to lay off China in these guides, so I will just say as politely as possible that I hope our girls win this match.
3:09 p.m. — Swimming — Women's 200-meter Butterfly Finals — Computer
America's Kathleen Hersey shocked everyone by throwing down the fastest semifinal time, and though nobody expected her to contend for a medal, she's now officially in the mix.
3:16 p.m. — Swimming — Men's 100-meter Freestyle Finals — Computer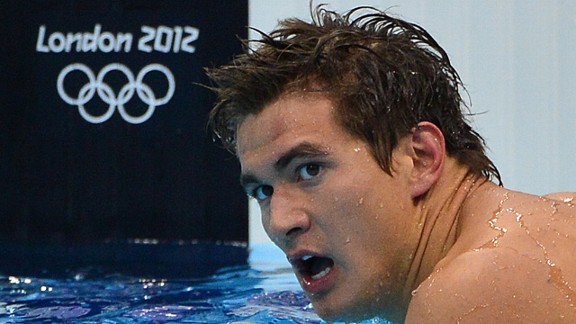 Nathan Adrian is America's best hope, but I'm not betting against Yannick Agnel, who keeps blazing his way to glory and beating Americans (and by Americans, I mean Ryan Lochte) in the process.
3:30 p.m. — Fencing — Women's Sabre Finals — MSNBC
The sabre is a cavalry sword, designed to inflict damage from the sides in order to strike down ground troops and swipe other horsemen in battle? That's why a hit from the edge of the sword counts in sabre fencing. The foil is the aristocratic sword, used in training noblemen, and the épée was the dueling sword of the people, descended from a rapier, and as such a hit on any part of the body is considered valid. Thanks to Sharon Sullivan for the history lesson.
3:59 p.m. — Swimming — Women's 4×200 Freestyle Finals — Computer
The great Missy Franklin could get another gold as part of a team that includes Allison Schmitt and Dana Vollmer. Australia and China are the big obstacles.
5:15 p.m. — Basketball — Women, U.S. vs. Turkey — NBC Sports Network
It's all about padding the patriot credentials here, gang. Because let's be honest: This is maybe — MAYBE — a sport you want to watch in the gold-medal round. Aside from that, serious boredom alert.
6 p.m. — Beach Volleyball — Women, Misty May-Treanor/Kerri Walsh vs. Austria — Computer
The best way to end the day. Have I said Misty May-Treanor is my hero? If not, Misty May-Treanor is my hero. She's a legend. After coming back from a deficit in the second round, she and Walsh still haven't dropped a set in their Olympic careers as they prepare for their last match of the group stages.
7 p.m.
Skip dinner, go right to bed. Wednesday brings the earliest wake-up time yet, with the men's sculls fighting for gold at 4:50 am.
Filed Under: Olympic Games, Olympics, Shane Ryan