Your Wednesday Olympic Viewing Guide
Chuck Myers
There are just five days of competition left in the Olympics, and China stays tantalizingly out of reach in the medal count:
China: 34 gold medals, 73 overall
U.S.: 30 gold medals, 70 overall
Reader Daniel G. has invented Saber-Medal-Trics, which takes Sports Illustrated's overall medal predictions and reviews results to date in order to project a final count. After Tuesday's events, Daniel reports that the U.S. is on pace to equal their projected SI gold-medal count, and beat the projected overall medal number by five., while China is on pace to win one more gold and six fewer medals total. With that knowledge, here are the projected final tallies:
China: 43 Golds, 91 Overall
U.S.: 42 Golds, 106 Overall
So, so close. Speaking of China, it's worth congratulating Chen Yibing, a.k.a. "the king of rings," on his composure after getting absolutely jobbed in the event final. Chen won gold in Beijing, and it appeared he had done the same in London when the last competitor, Brazil's Arthur Zanetti, finished his routine. But the judges gave Zanetti a 15.9, and Chen (15.8) was relegated to silver. I challenge anyone with even rudimentary gymnastics knowledge to watch both routines (Chen at 6:15 mark, Zanetti at 25:30) and argue that Zanetti deserved gold. My friend Spike put it best: "One was art, and the other one was very good. And the very good one had a step on the landing." But Chen, though he professed to feeling bitter, stayed completely calm, congratulated his opponent, and didn't let his disbelief show. Total class act from a guy who had every right to be furious.

Wednesday is a slow day, by the frenetic Olympic standards, but it comes with its share of highlights. Below is the viewing guide, which keeps you hyper-focused on the gold-medal events and American team competitions. You need a computer and TV with cable to follow along. It's all live and listed in Eastern Daylight Time, because the tape delay is an affront to our patriotic dignity. Check out this spreadsheet for a broader fortnight view of schedules and times.
Wednesday
4:30 a.m. — Kayak — Men's K-1 1000m Final — Computer
We're now into the flatwater finals, which means it looks basically like a straight rowing race except at half the distance. I watched some of the heats today, and it's equally mesmerizing. Maybe even more so, since there are typically fewer people in the boat. K-1 signifies that it's the one-man kayak event (C-2 would be the two-man canoe, etc.), and there are no American contenders here. But I'll still be watching.
4:48 a.m. — Canoe — Men's C-1 1000m Final — Computer
What's really disappointing about the canoe/kayak events is that in a lot of cases, no Americans even entered. Do we really not have a scene over here? Anyone want to join up with me and a get a K-2 squad going for Rio? If so, just be warned that I get a little panicky when I'm out on the water. I'm a thrasher.
5:16 a.m. — Kayak — Men's K-2 1000m Final — Computer
My instinct that Native Americans invented kayaks turns out to be correct — it was the Eskimos who made them first, out of sealskin stretched over a whalebone frame. But Wikipedia tells me that canoes are even older, and were first made in the Netherlands. That's a serious bummer. Are we sure it wasn't just a giant wooden shoe for some big Dutch person? Have we already ruled that out?
5:44 a.m. — Kayak — Women's K-4 500m Final — Computer
This event teaches us that you can apparently fit four women into a kayak. Which is why Tiger Woods just renamed his bed "The Kayak."
8 a.m. — Sailing — Men's 49er Final — Computer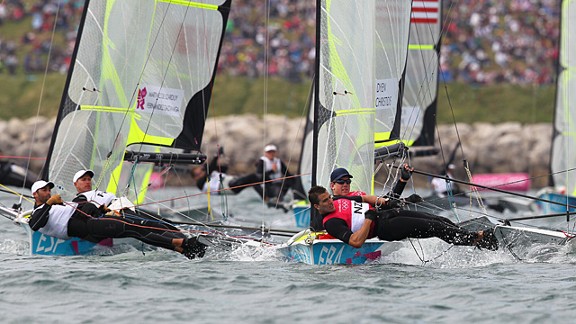 Named after a San Francisco football team, a typical 49er boat is shaped like a football helmet and contains a lock of Joe Montana's hair on the bow. Ahhh, I can't do it, I'm too committed to education for these trifling jokes. The 49er is a classic "double handed twin trapeze skiff type sailing dinghy." That's from Wikipedia, which is now the only source I use for any kind of research. Sorry, one year of journalism school!
9:55 a.m. — Equestrian — Individual Jumping Final — Computer or NBC at 10 a.m.
Equestrian is that one person at your office who comes up to you at least once a day, usually while you're extremely angry at something else, and uses his or her whiniest, highest-pitched voice to say, "Um, heyyyyyy … Can I talk to you for a second?" During my miserable years in a Manhattan office job, this happened multiple times per day. I eventually became completely disheartened, but instead of just submitting to my personal hell, I would get so angry at the sound of their voices that I would actually snap at them and shout things like, "NO, YOU CAN'T." It was not my finest hour. Anyway, equestrian is that tentative whiny person who can't let a day pass without letting you know they still exist and they're still awful.
10:30 a.m. — Table Tennis — Men's Team Gold-Medal Match — Computer or MSNBC at 1 p.m.
China vs. South Korea. China has won three of three gold medals in table tennis, and this will be their fourth. Barring some heroic upset that life has taught me not to believe in, that is.
11 a.m. — Volleyball — Men, U.S. vs. Italy, Quarterfinal — NBC
The U.S. women advanced to the semis Tuesday with a cakewalk win over the Dominican Republic, and I'm going to cautiously predict a similar result for the men. It won't be quite as simple, but the Italians finished fourth in their group and only had one decent win (vs. Argentina). Also, I'm reasonably certain that Brazil, America, and Russia are the three best teams, which makes it confusing as to why they all ended up in the same group. Also, it makes no sense why the U.S. (winners of Group B) and Brazil (runner-up in Group B) are on the same side of the bracket. In any quarterfinal seeding I've ever seen, the winner of one group should be lined up to meet the second seed of the other group in the semis, not their own. That deprives us of what would probably be the gold-medal match, while Russia, the third seed in Group B, will probably get an open waltz to the gold-medal match. Like a mysterious and beautiful woman, I'll always love the Olympics, but I'll never understand them.
2:03 p.m. — Wrestling — Women's Freestyle 48kg Final — Computer or MSNBC at 4 p.m.
A dirty little secret of Olympic fanaticism is that you have to let certain sports fall by the wayside if you're going to keep your mojo strong for two weeks. For me, wrestling is one of these sports. I make an exception if and only if an American is in the final.
2:48 p.m. — Wrestling — Women's Freestyle 63kg Final — Computer or MSNBC at 4 p.m.
Don't try to tempt with your slightly heavier women, wrestling!
3:05 p.m. — Field — Women's Long Jump — Computer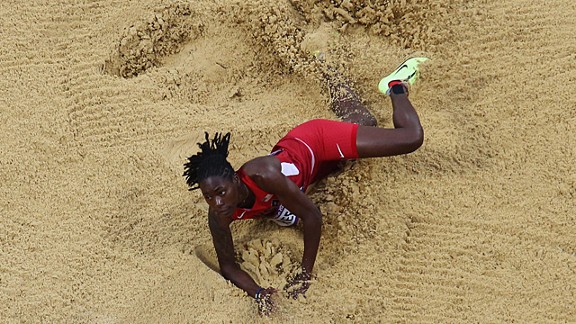 American Brittney Reese should deliver a gold, and boy do we need it. Has a medal count ever ended in a tie? If it does, I think we should draw a random sport out of a hat and make Michael Phelps and that 8-year-old Chinese gymnast duel it out for the overall title. I think we'd win anything except gymnastics. Even then, I give Phelps a shot on the vault.
3:45 p.m. — Track — Women's 400m Hurdles Finals — Computer
Lashinda Demus and T'erea Brown had the third- and fourth-fastest times in qualifying, and may be racing each other for bronze.
4 p.m. — Track — Women's 200m Final — Computer
Sanya Richards-Ross and Allyson Felix are in great position to go 1-2 for the Americans, but I can't stop fantasizing about how many more medals we'd have if Jamaica were part of the U.S. Would a sort of bloodless "Olympic invasion" get their medals temporarily transferred to America in time for Sunday? Wouldn't a move like that help Obama in this election year?
4 p.m. — Beach Volleyball — Women, April Ross/Jen Kessy vs. Misty May-Treanor/Kerri Walsh, GOLD-MEDAL MATCH!! — Computer
I'm still trying to wrap my mind around Tuesday's glorious, glorious semifinals. Loyal readers of these guides already know that beach volleyball has a special place in my heart, and following the women has been one of the best parts of the Olympics (the men too, until they went out with a whimper). Both American teams took on higher-seeded opponents, and both prevailed in incredibly dramatic fashion. For May-Treanor and Walsh, it was their trademark pressure play that helped them overcome a 13-8 first-set deficit and sent them to a 22-20, 22-20 win over the second-ranked Chinese team. In a routine that's becoming improbable for its sheer regularity, they hit clutch shot after clutch shot in the tense moments, with Walsh's slanting dig that crawled over the net and into the near corner standing as the best shot of the tournament so far. And then came Ross and Kessy, who looked done for against the top-ranked (and reigning world champion) Brazilians, down a set and three points in the second. But they chipped away, won a nervy second set 21-19, and held on to a small lead in the third to win 15-12. It was a match where the Brazilians actually outscored them by one point overall, but they won the points that counted. And they did it in the rain, staying positive while the Brazilians bickered and grew angry with one another and imploded.
Those were the best two hours of the Games for me, and the gold-medal match is going to be a total stress-free joy ride. I'll be mildly rooting for May-Treanor and Walsh to win their third straight gold, but it'll be great if Ross and Kessy win too. The truth is … YOU'RE ALL WINNERS!
4:15 p.m. — Track — Men's 110m Hurdles Final — Computer
There are two qualifiers with seasonal bests under the 13-second mark, and both are Americans. Aries Merritt and Jason Richardson, we need you now tonight. We need you more than ever. And if you only hold me tight, we'll be holding on for— ah shit, my dad was right, I keep doing that.
5:15 p.m. — Basketball — Men, U.S. vs. Australia, Quarterfinals — NBC Sports Network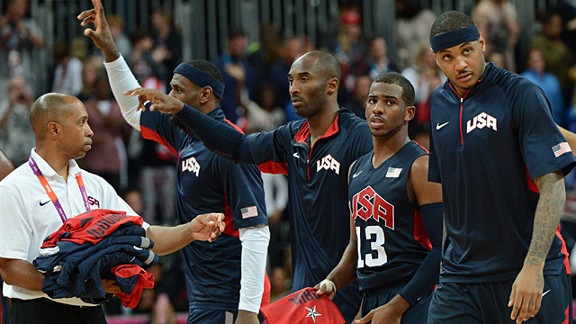 I've said it before, and I'll say it again: I think the U.S. screwed themselves by spitting in karma's face and humiliating Nigeria. Somehow, some way, they won't win the gold. Maybe it'll be a semifinal loss to Argentina, or Spain in the gold-medal match. But it definitely won't happen against Australia, so breathe easy.
5:15 p.m. — Taekwondo — Women's 108 lbs and Men's 128 lbs Gold Medal Match — Computer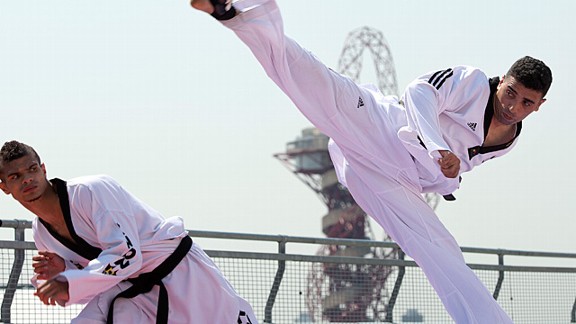 Okay, taekwondo, you only last a few minutes and you can't be as bad as judo. I'll give you a shot. But if you go judo on me? Man, I will bail so fast that you think I'm practicing Brazilian jiu-jitsu. (Sorry, I'm really new to martial arts insults. It's going to take some time.)
7 p.m. — Sleep. You'll be up at 4:30 a.m. tomorrow for more canoe action. Don't slip now, for we are the shepherds of the American triumph.
Filed Under: Olympic Games, Olympics, Shane Ryan, Team Usa