Your Semi-Ignorant Guide to College Football: Week 1!
Gerry Melendez/The State/MCT via Getty Images
You think you're more excited than me about the start of college football? You think?! Then tell me this, hotshot: Did you bring a football to church to get blessed by a priest? In that case, you are definitely more excited than me. I wouldn't do that.
Seriously, though, how great is this time of year? I feel rejuvenated, blessed by the promise of football. I can almost feel my regrets slipping away, like I haven't made an irredeemable mess of my life. That's the power of football. To get us started with a new season, I want to hit you guys with a litany of confessions.

1. I'm one of those weirdos who binges on college football to such a degree that I almost never watch regular-season NFL. This is a recent development, only a couple years old, but I've basically become a Saturday junkie. Come Sunday, I don't want any part of football. I want to go outside, spend time with loved ones, or just fill my brain with something besides the steady collision of huge people. I've always loved college football the most, so my new extremism shouldn't really be surprising. But I do feel alienated in a country that worships the NFL, one where a World Series game gets a lower rating than a preseason game between the Colts and Chiefs (that might be slightly inaccurate, but you get my drift). Part of what I want to do this season is form a comprehensive theory on why the rest of America is wrong.
2. In terms of X's and O's, I'm like a child. I understand that the center exchanges the ball to the quarterback on all plays but the Fumblerooskie, but the intricate stuff is beyond me. Wait, check that — it's not beyond me, because even though I'm an idiot, I'm easily smart enough to figure it out with any effort. The truth, which is even worse, is that I don't really care. Don't get me wrong, I absolutely love reading X's-and-O's articles. I even experience moments of insight. It's just that I forget them immediately and spend most games staring blankly at the screen and occasionally grunting like a neanderthal. I call this style "the Charlie Weis." If more coaches followed our lead, the sport would be a lot more hilarious. And inefficient.
3. I'm a man without a team. I rooted for Notre Dame as a kid, following my stepdad's lead, but that created a situation in which I simultaneously supported Duke basketball, Notre Dame football, and the New York Yankees. I was only a child, and I couldn't possibly hold up under the level of scrutiny and hatred this created. So I cast the Irish aside, vowing to just enjoy the games until I went to college and could adopt a team. Unfortunately for me, that college was Duke, and the best I can do now is tell strangers that sorry, no, Duke doesn't have a football team. So my blissful unaffiliated state continues.
4. However, I'm not a man without bias. I'm firmly set against the SEC, if only because they're really good and always seem to escape the minor NCAA quibbles that paralyze programs like UNC. I respect the SEC, mind you, but that respect just fuels the fire of my hatred. I root against every SEC team in every game, and when two SEC teams are playing each other, I root for some sort of animal stampede to destroy the stadium. My second main bias is that I like fast-paced spread offenses like Oregon and Oklahoma State. I'm thrilled that Mike Leach is back in the game at Washington State. I can admire great defenses in the abstract, but nothing is more dull for me than an Alabama-LSU type of game where the final score ends up in the 13-6 range. And my third main bias? I'm an ACC homer. I live in ACC country, I know our football stinks, and yet I can't help but dream of a day when that changes.
5. On a personal skill level, I'm a deadly passer with a strong arm and no speed. Like, literally, no speed — I remain stationary. It's a big curse for me when I play receiver, because I have tremendous hands. I've always been convinced that I have pro-level receiving abilities, but I've never known the feeling of getting open. My fast-twitch muscles are slow-twitch muscles, and my slow-twitch muscles are made of the stumps of old pine trees.
Now you know me. Let's get to the guide.
OPENING NIGHT — No. 9 South Carolina at Vanderbilt
You know what nickname I hate? "The Old Ball Coach." I get the feeling that Spurrier probably invented this name for himself and made all his assistants at Florida spread it around. It's got a dignified air to it, along with a hint of craftiness, when the truth is that Spurrier is a petty tyrant who has made a career of pitting his two best quarterbacks against each other until both of them are ruined psychologically. His facial expression rotates between "whining" and "mad," even when he's sleeping. The one time he said "I love you," an angel somehow lost its wings.
(I told you I have anti-SEC bias.)
Top 25 Games
No. 24 Boise State at No. 13 Michigan State, Friday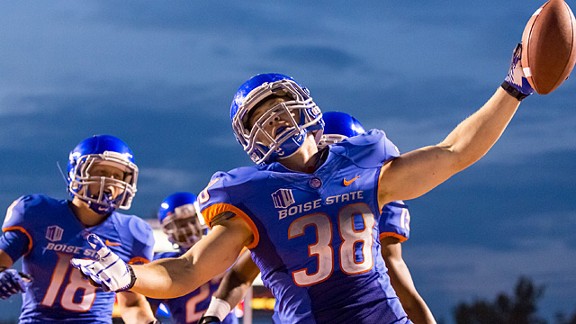 Do you ever notice how Boise State never loses these early games against ranked non-conference opponents? Let's go back through the years, all games in Week 1 unless otherwise noted:
2011: Win, 35-19, vs. no. 19 Georgia
2010: Win, 33-30, vs. no. 10 Virginia Tech
2009: Win, 19-8, vs. no. 16 Oregon
2008: Win, 37-32, vs. no. 17 Oregon (Week 3)
Four years, similar formula. And yeah, they're on the road, but Michigan State is playing with a new quarterback now that Kirk Cousins is gone, and in the last two years, Boise State has only lost games on weird missed field goals. Put your life savings on the Broncos.
No. 8 Michigan vs. No. 2 Alabama, Arlington, Texas
Ahhhhhh. We all want this upset to happen. Brady Hoke seems like a great guy. Michigan is likable again now that the memory of Rich Rodriguez is fading. And Alabama is the evil empire. A story: Two years ago, the Crimson Tide came to the extremely friendly confines of Wallace Wade Stadium to face Duke. The best thing about that weekend was this incredible T-shirt, which I still wear for comedy's sake. The worst part? The swarm of Crimson Tide fans that turned the whole thing into an Alabama home game. A lot of them bought Duke season tickets, which were cheaper — for SIX GAMES — than the one-game package Alabama was offering. Anyway, the day before the game, the campus was crawling with Bama fans and I remember one gent in particular I found staring at the field. He was probably in his 50s, wore sunglasses, a short-sleeved Alabama polo tucked into khaki shorts, and nondescript shoes (I don't remember his shoes).
Basically, he was dressed like he wanted to be a coach. He kept his hands locked behind his back, and when I tried to ask him some friendly questions about how often he traveled to games, he kept saying "yes sir." And it wasn't a polite "yes sir," either. It was the sort of like, "I consider myself superior to you because I root for a better team and I'm part of an elite organization and while I'm being civil, I'd like to make it clear that I don't consider you on my level." (Southerners are great at this, by the way.) His sense of identification with the program was so complete that he didn't even consider me worthy of conversation. I remember leaving that interaction hoping Duke would pull off a miracle and dim this guy's arrogance just a little, and then they lost 97-2.
Did I let that interaction define my perception of all Alabama fans? Yes. And this year, they'll continue to give me the high-hat as their defense allows approximately -4 yards per game. Dammit. Go Wolverines. Don't lose by 30.
The Best Game Not Involving a Ranked Team: NC State vs. Tennessee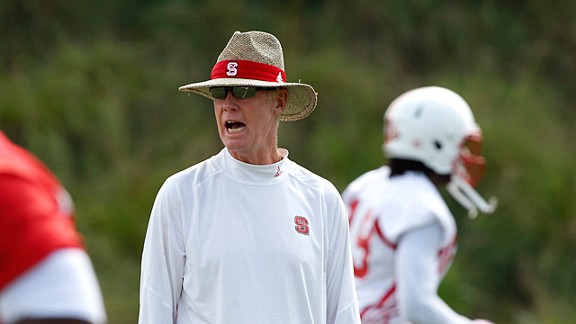 Do you guys know NC State coach Tom O'Brien? He's probably one of the most fascinating men in college football, and yet also possibly the most boring. For an NC State fan's perspective on O'Brien, I turned to my pal James Curle, the brains behind the excellent Riddick & Reynolds site and the podcast bearing the same name. Take it away, James:
In Tom O'Brien, State has everything you'd expect in an aging ex-Marine turned football coach: In a word, he's "grizzled."

Years ago on SNL, Robert Duvall guest-hosted and appeared in a game-show sketch called "Who's More Grizzled?" a competition between old men pitting their varying degrees of "grizzledness" against one another. And Tom O'Brien would be the Ken Jennings of "Who's More Grizzled?"

If you like things like emotion or excitement from your head football coach, you'll need to look elsewhere. These concepts don't exist in Tom O'Brien's world. If you like stoicism and a signature sideline pose consisting of your arms folded tightly upon themselves, then you've hit pay dirt.

Granted, there are times where the human buried deep within Tom O'Brien oozes to the surface. Like the time he joked on the dais at a preseason event recently, or when he brought all guns to bear on UNC's football program last year during the week leading up to the State/Carolina game, in response to some weak trash talk from UNC's interim head coach Everett Withers. Maybe it's Tom's grizzledness that makes it so enjoyable when the Steve Spurrier in him sneaks out. You know it's in there, stifled, buried under layers of leather … you just don't know when it's coming, or why.

But is a grizzled coach like Tom a good fit for State? I think so. For a school that cranks out engineers and farmers — people whose worlds are defined by strict equations and production — a measured man like O'Brien fits our profile nicely. No flash, no pomp, no circumstance. Don't tell us about the pain — show us the baby.

Thus far over five years, he's done for State what he did at BC, which is turn a program previously capable of flashes of greatness amid valleys of sadness into a solid, steady performer that gets neither too high nor too low for its station. In every sense, State football is now an extension of the man at the top: grizzled.
Your Perfect Saturday
Here's a good way to spend your Saturday, assuming you have only one television with a broken remote. All times Eastern Standard Time.
9 a.m. — Navy vs. Notre Dame in Dublin, Ireland — CBS
Who do you think the natives will root for? The team named after them, or a team of sea warriors, a class of people who have terrorized the Irish almost since their existence began?
Noon — Miami (Ohio) at no. 18 Ohio State — Big Ten Network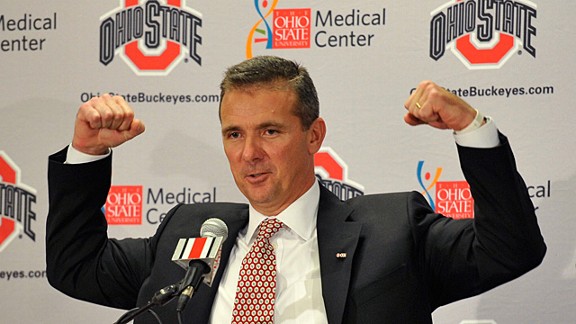 Urban Meyer's first game at OSU. Crazy to think that the good-evil dichotomy that was pre-scandal Jim Tressel vs. Rich Rodriguez has been so completely flipped in this brave new Meyer-Hoke world.
3:30 p.m. — Bowling Green at no. 23 Florida — ESPN
Remember when all the great games used to be on at 3:30 p.m.? Remember when we weren't old enough to say things like "remember when"? Remember when the thought of our own mortality didn't make us want to put our heads through a pane of glass?
8 p.m. — Florida International University at Duke
Just kidding. Go with Michigan-Alabama here. It's on ABC.
This Day in Fake Duke Football History
On August 30, 1997, the Duke football team played a two-hand touch game with the women's lacrosse team for a local charity. They struggled to establish any offense in a 65-12 loss, and seven of their starters succumbed to season-ending injuries.
Heisman Handicap
I'm about to predict the top-five finish. Remember, this is in December.
5. Collin Klein, QB, Kansas State — Man, I love Collin Klein. I'm not sure I'd quite call him a hunk like John Brandon did, but I can see where he's coming from. I know defenses are going to key on him and everything, but I still fully expect him to pull off two or three brilliant last-minute wins.
4. Montee Ball, RB, Wisconsin — Token running back. Since 2000, 10 of 12 Heisman winners have been quarterbacks. Are we in such a pass-happy era that it's become nearly impossible for a running back to win?
3. Denard Robinson, QB, Michigan — "Shoelace" is the greatest college football nickname since "The Boz."
2. Geno Smith, QB, West Virginia — 5,000 yards is in play, and WVU will have a brilliant first year in the Big 12.
1.Matt Barkley, QB, USC — The Golden Boy! Man, USC is putting us in a real tough position this year. On one hand, Lane Kiffin. [Retches.] On the other, are they the only hope to end the SEC's reign of terror? Could Lane friggin' Kiffin be our unlikely savior? Just remember this Nietzsche quote (paraphrased): "Whoever fights monsters should see to it that in the process he does not become a monster. And if you gaze long enough into an abyss, the abyss will gaze back into you."
If Lane Kiffin isn't the abyss, I don't know what it is. Enjoy the games.
Filed Under: Alabama, College Football, Matt Barkley, Michigan, Ohio State, Shane Ryan, South Carolina, USC