Your Friday Olympic Viewing Guide
Stanley Chou/Getty Images
OK, so we've officially made it through six days of Olympic action, and I wanted to take a moment to say that I'm proud of all of you. American, Canadian, whatever you happen to be, I'm swelling with pride. But mostly I'm proud of the Americans. Great job, guys. Great job being American and watching the Olympics. While the Canadians were probably off recycling or something, you were on your couch rooting like hell for the second-greatest country in the world (by gold medals). Maybe you're not a hero on the level of the athletes or myself, but you've done a patriotic duty nonetheless.

Programming note: What follows is your Friday guide. You can follow along with one Internet-capable computer and one TV with cable. Our goal is to see every gold-medal event and every team-sport game featuring Americans. It's all live — we don't cotton to tape delays. For scheduling beyond today, use this complete timetable as a cheat sheet. All times below are Eastern Daylight Time.
Friday
4:30 a.m. — Rowing — Men's Single Sculls Final — Computer
One man, one boat, and 2,000 meters. Really, the whole rowing tableaux gets an A+ from me. The way the cyclists ride alongside the boats, the entrance into the stadium and the sudden change from tranquility to loud cheers, and the way they try to time their surge for the last 500 meters is full of the best kind of drama.
5:10 a.m. — Rowing — Men's Quad Sculls Final — Computer
On the other hand, there are three men's rowing finals and zero Americans vying for gold. What's wrong with us?
5:20 a.m. — Rowing — Men's Pair Final — Computer
SERIOUSLY, GUYS, ALL I'M LOOKING FOR IS TWO DUDES IN THE ENTIRE COUNTRY WHO ARE AWESOME AT ROWING! THAT'S IT. TWO DUDES. WE HAVE 311 MILLION PEOPLE, AT LAST COUNT, AND THERE AREN'T TWO OF THEM WHO CAN ROW?!
5:30 a.m. — Rowing — Women's Double Sculls Final — Computer
Hey look, Americans! Margot Shumway and Sarah Trowbridge are in Lane 1 trying to surprise the Aussies and Brits. Based on her name, though, I think Sarah Trowbridge might be secretly English. But hey, if you can't beat 'em, join 'em — but join 'em by paying them to pretend to be American so in the end you can say you beat 'em.
7 a.m. — Shooting — Men's 50m Rifle — Computer
I didn't even know they made rifles that long! (I promise I won't use this joke again.)
7 a.m. — Tennis — Men's and Women's Singles Semifinals, Men's and Women's Doubles Semifinals, Mixed-Doubles Quarterfinals — Bravo
OK, OK, it may be time to start watching a little bit of tennis. A little bit. We've got Federer–Del Potro and Murray-Djokovic in the men's semis, and Serena still destroying everything in her path on the women's side. Plus, the Flying Bryan Brothers can still win gold in men's doubles. I'll give you 2.5 hours on the TV with this, BOGS all the way (Background Occasional Glance Status).
8:30 a.m. — Badminton — Mixed-Doubles Finals
I won't lie to you — this event might be the toughest sell of my Olympic writing career. Badminton? Mixed doubles? Featuring two Chinese teams? It's the perfect storm of unwatchability. And yet, and yet … there's gold in them hills. Or whatever. Pretend I just said something really inspirational that made you want to watch mixed-doubles Chinese badminton.
9:30 a.m. — Shooting — Men's 25m Pistol — Computer
I didn't know they made pistols that long! (Never, ever trust me.)
9:30 a.m. — Women's Soccer Quarterfinals — U.S. vs. New Zealand — NBC Sports Network
NOW we're talking! High-stakes women's soccer just keeps on delivering, and the knockout stages are where it gets really exciting. The good news for America is that we have a really favorable draw, with Japan and Brazil meeting on the other side of the bracket. For a generation as talented as Wambach-Rapinoe-Morgan-Solo et al, it's kind of incredible that the only hardware they own is a gold medal in Beijing, and they'll be pushing hard over the next week to make up for the fluky World Cup loss to Japan. Despite the nice draw, though, this is a point in the tournament where every match is a potential exit. A great morning treat.
10:21 a.m. — Archery — Men's Final — Computer
There are no Americans left, which is almost a blessing in disguise because it frees us up to root for the South Korean Im Dong Hyun, who may not quite be legally blind but who apparently still can't really see the target lines when he shoots. He's won three team golds and holds the world record, but he's never won a medal for himself. And maybe he's not American, but what's more American than having a pretty minor problem that you sort of overcome?
10:26 a.m. — Trampoline — Men's Final — Computer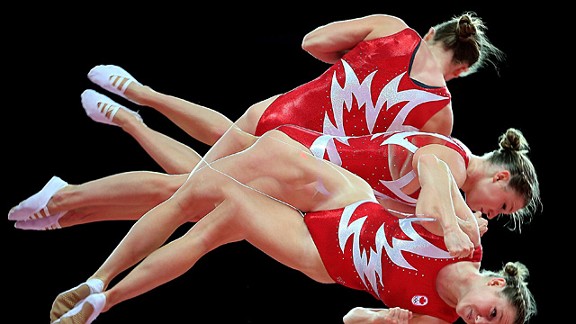 Joba Chamberlain is the overwhelming favorite here.
10:30 a.m. — Weight Lifting — Women's 165 lbs. Final — Computer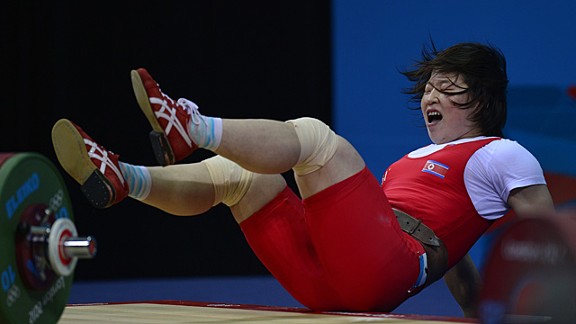 I have to admit, I've been pretty lax on the weight lifting side of things. And by "pretty lax," I mean I haven't watched a single second of weight lifting. There aren't many Olympic events that basically involve only one skill — lift, run, jump, throw — but of those, weight lifting is easily the least popular. Which proves what I've always known; speed is cooler than strength.
11 a.m. — Judo — Women's 78kg/Men's 100kg Gold — Computer
Hey jud-o … don't be afraid … there's some peoplllllle … who prob-ab-bly waa-aatch you. Remember … the IOC loves a bribe … then they may tryyyy … to keep you a-round (a-round) (a-round).
Noon — Women's Beach Volleyball — April Ross/Jennifer Kessy vs. Switzerland, Round of 16 — NBC
It would be hard to describe how excited I am for the knockout stages of beach volleyball without resorting to dance. First off, all four American teams won their group and have a top seed. Second off, even though I was already way onboard for beach volleyball, the atmosphere and the setting at Horse Guards Parade is a small step above perfect. Good job, London. Third off, none of our teams look unbeatable by any stretch, and each match should be a hair-clencher. God, this is going to be great.
12:59 p.m. — Track Cycling — Men's Team Pursuit
This was a lot fun yesterday with the team sprint finals and Great Britain's world-record win. The Velodrome is a creature unto itself, and I'm always slightly terrified when they take us live inside its bright wooden chambers. By the way, what's with Great Britain and cycling lately? When did it become such a thing over there? Was there some hugely popular children's show called Liam the Drab Cyclist that aired 25 years ago or something?
1 p.m. — Fencing — Men's Team Sabre Bronze/Gold — Computer
All I'm saying is, if the sabre is a cavalry sword, why are the athletes not on horses?
1 p.m. — Men's Beach Volleyball — Todd Rogers/Phil Dalhausser vs. Italy, Round of 16 — NBC
Yes, yes, and yes. The defending gold medalists are looking a little bit vulnerable, but the important thing is that they keep winning. It's do-or-die time now.
1:38 p.m. — Track Cycling — Women's Keirin — Computer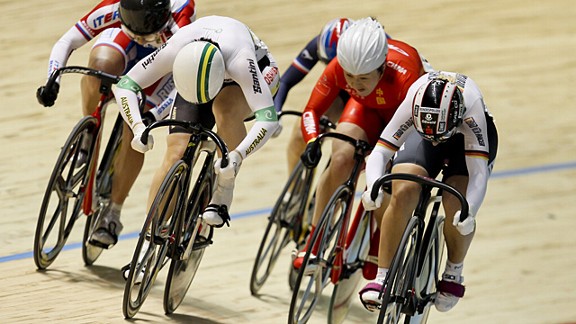 From Wikipedia: "Keirin is a track cycling event in which racing cyclists sprint for victory following a paced start behind a motorized or non-motorized pacer." I like the idea of describing things as "motorized or non-motorized," because that leaves nothing to chance. You've got every base covered. I might start using this in real life. If I ever make an online dating profile, the first line will be: "Shane Ryan is an excellent or non-excellent lover."
2 p.m. — Weight Lifting — Men's 187 lbs Final — Computer
Now I feel bad about not watching weight lifting. As Jean Valjean, one of the great theatrical weight lifters (sewer-cover division) would say: Who Am I? I'm going to give this one a go. I promise. I'M 2-4-6—OHHHH- wait, swimming's almost on.
2:30 p.m. — Swimming — Women's 200-Meter Backstroke — Computer
The Americans could follow up an insanely successful Thursday session with a gold-silver finish here between Elizabeth Beisel and Missy Franklin. They're in lanes 4 and 5, and it would be a surprise if anyone seriously challenges them. More gold for the good guys.
2:37 p.m. — Swimming — Men's 100-Meter Butterfly — Computer
This will probably be the last individual race of Michael Phelps's Olympic career, and that's a bittersweet moment. He's in Lane 4, and he'll have a chance for revenge on Chad Le Clos (Lane 5), who pulled off a stunner in the 200 fly on Tuesday. Not to get all heavy on you guys, but when Phelps charges down that last 50 meters, we're all going to be thinking the same thing: There goes the greatest Olympian of all time.
2:40 p.m. — Water Polo — Women, U.S. vs. China — NBC
A big chance to recover from the disappointing 9-9 draw against Spain. Other than that late hiccup, both men's and women's teams seem to have gold-medal potential. Water polo, by the way, is that tricky sport that is a blast to watch every single Olympics, but you somehow forget in the intervening four years. They're like The Kinks of Olympic events. I rarely go out of my way to listen to The Kinks, but every time it happens by accident, I have the same reaction: "Oh yeah, The Kinks are the best." Man, now I really want to listen to "Death of a Clown" and play water polo. Who's in?
2:43 p.m. — Swimming — Women's 800-Meter Freestyle — Computer
America's Katie Ledecky had the third-best time in the heats, but the best belonged to British world record holder Rebecca Adlington. The times were just two seconds apart, though, so this could become an interesting duel.
3 p.m. — Volleyball — Women, U.S. vs. Serbia — Computer
This is 3-0 vs. 0-3, but I'll still watch because Destinee Hooker is quietly becoming the most dynamic athlete in London. Watching her makes it worthwhile, even in what will surely be a rout.
3:06 p.m. — Swimming — Men's 50-Meter Freestyle — Computer
You want a tagline for the 50-meter free? Easy: "Twenty Frantic Seconds." There's nothing quite like this event, a mad dash for the wall that's generally decided by hundredths of a second. Cullen Jones and Anthony Ervin (2000 gold medalist) will be going against Brazil's Cesar Cielo, the world record holder. The greatest duel in the history of this event came in 1996, when Alexander Popov beat Gary Hall Jr. I can't find the video, sadly, but here's a French call of their equally great showdown in the 100-meter free, also won by the Russian Rocket.
3:45 p.m. — Track — Women's 10,000-Meter Finals — Computer (Maybe NBC)
Man, are we ready for track? I don't know, guys. I don't know if I have it in me. The "Maybe NBC" above is because there's some track coverage on at 4:15 on NBC, but I'm not sure whether the gold-medal events will get the swimming and gymnastics treatment and be held over to prime time. They haven't encouraged a deep sense of trust, so I'd advise playing it safe and going to the computer at 3:45.
4:25 p.m. — Field — Men's Shot Put Finals — Computer (Maybe NBC)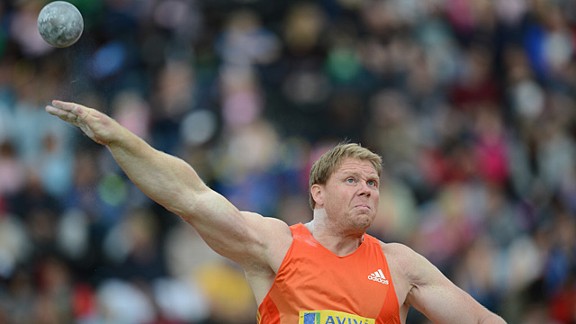 I don't know this for sure, but I bet most great shot put coaches encourage their athletes to sleep with shots by their sides to encourage intimacy. The minute you start to see it as just another metal ball, you've already lost.
5:15 p.m. — Women's Basketball — U.S. vs. Czech Republic — NBC Sports Network
A good chance to wind down after a packed day, and remember that no matter what else happened during the day, Americans are winners.
7 p.m. — Sleep. The weekend is coming, and by going to bed early you'll have a huge Olympic advantage on everyone who goes out on Friday night. Patriots rise early!
Filed Under: Olympic Games, Olympics, Shane Ryan, Soccer