Who Has the Best Goalie Mask in Hockey This Season?
Dave Reginek/NHLI via Getty Images
There's nothing else in sports quite like the goalie mask, a literal blank slate upon which a goalie — often regarded as the quirkiest guy on his team — gets to broadcast his id to the world. The result, over the years, has been a crazy and compelling collection of cryptic symbols, animal imagery, shout-outs to grandmas and/or sports heroes, terrifying cartoons, and lots and lots of airbrushing. This year, of course, is no exception. Here, we take a look at some of this season's best goalie helmets. (As always, feel free to render your own judgments in the comments!)
Best Literary Reference
"This may be one of the most scary mask[s] I've ever created," uber-popular mask designer David Gunnarsson wrote on his website, describing Dallas goalie Richard Bachman's new look. "We wanted the mask to have the same uncomfortable feeling you have when you just wake up after a nightmare." The helmet features images from The Shining — the famous twins, Jack Nicholson's terrifying eyes — in honor of Stephen King, who once used the nom de plume "Richard Bachman." ("There was a novel by Richard Stark on my desk so I used the name Richard and that's kind of funny because Richard Stark is in itself a pen name for Donald Westlake," King explains on his website, "and what was playing on the record player was "You Ain't Seen Nothin' Yet" by Bachman Turner Overdrive, so I put the two of them together.") It's really too bad we don't have a helmet depicting scenes from King/Bachman's best work, The Long Walk, but I suppose psychological terror is kinda tricky to airbrush.

Best License to Chill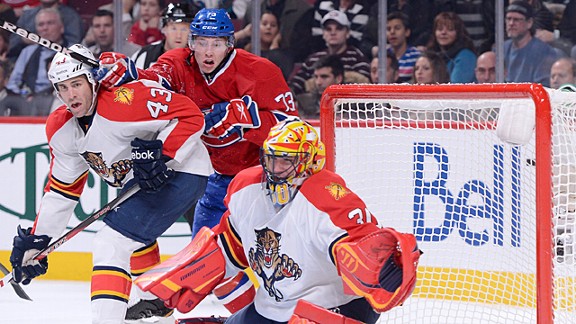 Jimmy Buffett? More like Clemmy's Bucket! You might think Panthers goalie Scott Clemmensen is just trying to pander to his South Florida audience with a blindingly bright mask inspired by the cover art for Changes in Latitudes, Changes in Attitudes. But Clemmensen's got some serious bona fides: He's been a self-described Parrothead since before he migrated down south from New Jersey. In 2009, upon signing with the Panthers after playing for the Devils (for whom he wore a mask with a lil' parrot on the back), he revealed that he'd been to 10 Buffett concerts but "wish[ed] that number was a lot higher." After three-plus seasons in Florida, it's safe to assume it's gone up quite a bit. You better lava this helmet now — or lava it not.
Best Creation of a Beautiful Revisionist History in Which Chris Farley Has Red Hair
Holy schnikes! Red Wings beat writer Bill Roose tweeted a picture earlier this month of the rear of backup goalie Tom McCollum's goalie mask — featuring a double-peace-sign-flashing rendering of Chris Farley as Tommy Boy (complete with Wings jersey). The only problem, Roose pointed out: The picture looks a whole lot more like Meatloaf. Given that hair color, I think it also bears some resemblance to Shaun White in about 25 years.
Best Strange Display of Patriotism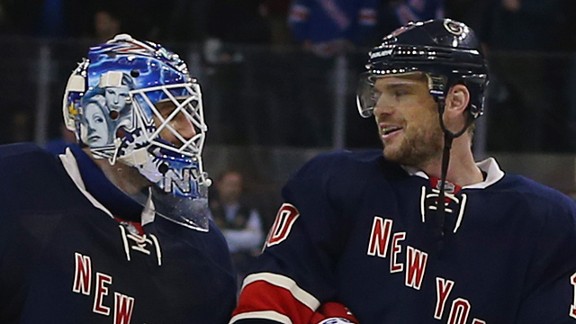 Henrik Lundqvist has movie-star looks, which might explain why he decided to honor his native Sweden by … decorating his mask with images of famous Swedish actors and directors. Greta Garbo and Ingrid Bergman festoon one side, while the other features Ingmar Bergman. The helmet is the first in a series that will be "tributes to legends from his home country of Sweden," Gunnarsson said, leading InGoal Magazine's Kevin Woodley to muse, "We can only imagine what awaits in the future renditions … ABBA and IKEA tributes top the stereotypes lists and Gunnarsson himself must be nearing icon status in his home country." Yes! May the next mask be just a huge photo of Gunnarsson's face! That would be only slightly more meta than …
Best Brownnosing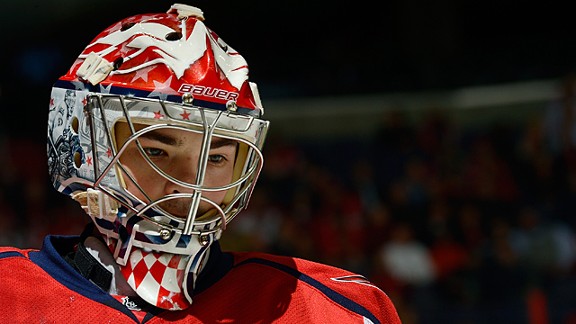 It really wouldn't be at all weird that Washington goalie Michal Neuvirth had a picture of former Capitals All-Star goaltender Olaf Kolzig on his mask — that is, if Kolzig didn't also happen to be one of Neuvirth's coaches. Awkward! I feel like it's some sort of cousin of wearing the band's T-shirt to the concert, you know? But upon learning of Neuvirth's new design, Kolzig was mostly unfazed. "When I first saw the mask I thought it was pretty cool," he told Ian Oland of Russian Machine Never Breaks. "But then I realized, 'Wow, I'm getting old!' You've got younger players putting former players on their masks. It's a sign you're really getting up there in age." Asked if this might boost Neuvirth's playing time, Kolzig joked: "I hope that's not why he did it. If that's the case, he should have put [head goalie coach] Dave Prior on there."
Best Character That I'd Want to Have a Beer With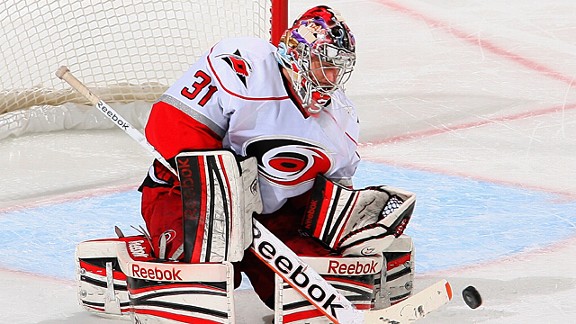 Doesn't the pipe-smokin' fisherman on Dan Ellis's mask look like he'd have some pretty crazy stories to tell over a beverage or five?
Best Reminder That the L.A. Kings Should Really Go Back to the Purple and Gold
I mean, how cool does the version of Jonathan Quick's mask on the left look?! It's like when the Wizard of Oz turns from black-and-white into beautiful Technicolor.
Best Use of The Secret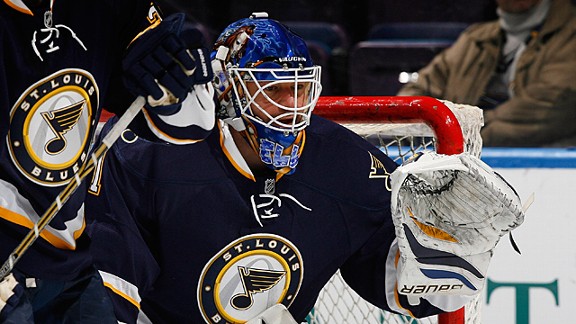 If you want it to happen, you must first believe that it already has, according to the best-selling book The Secret. That's what the St. Louis Blues' Brian Elliott did with his new mask, which features Teenage Mutant Ninja Turtles character Casey Jones "breaking free of chains … a nod to the lockout," which was still going on when he had the helmet designed. Thanks for ending the lockout with the power of positive thinking, buddy! Elliott's helmet features two elements he has used on previous masks: the depiction of the character Jones — a former hockey player whose weapons included hockey sticks and other sports paraphernalia — and a "Mr. Moose" image that's in reference to an obscure talent of Elliott's: He was "taught the art of moose calling by the late Owen Scott, a champion moose caller."
"He had a depiction of rapper Lil Jon, who is an avid Thrashers fan, on his skullcap."
(Runner-up: "His second mask for the Dallas Stars features Chuck Norris.")
Bes– Wait a Minute … Is That … CM PUNK'S MUSIC??!!?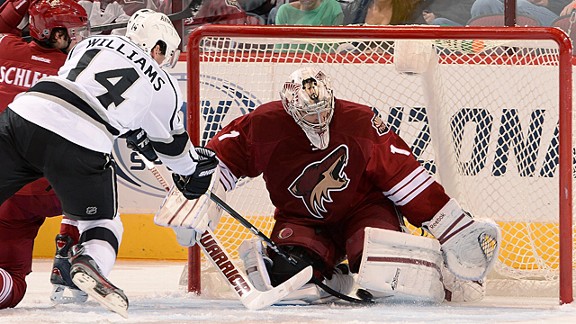 Phoenix Coyotes backup Jason LaBarbera has seen increased time in net recently as Mike Smith (he of the Wile E. Coyotes mask) has been out with an injury. That means that hockey fans have been treated to extra footage of LaBarbera's mask, which features the scowling visage of noted wrestler CM Punk. (Smack dab in the middle of his forehead, it kind of reminds me of that Cars.com commercial.) It turns out that LaBarbera is the biggest wrestling fan in the hockey world since one Greg Wyshynski. He grew up watching WCW and, these days, says "I haven't missed a Raw and haven't missed a pay-per-view," thanks in large part to the heelish antics of CM Punk. This fall, he even got to meet one of his boyhood heroes: Hulk Hogan. "I was like a little kid, almost speechless," he told SLAM! Wrestling's Greg Oliver.
Best Mask That Will Haunt Your Dreams
Another Gunnarsson-made mask, this one for Nashville's Pekka Rinne, who, according to the designer, "is transformed into a Voodoo doll with this mask on, or maybe more precise a Voodoo Predator doll." I … I don't know what that is, exactly (it sounds like a tiki bar drink), but I do know that from now on, I'm going to be seeing it in the shadows wherever I go.
Best Dedication to Minnesota's Roadways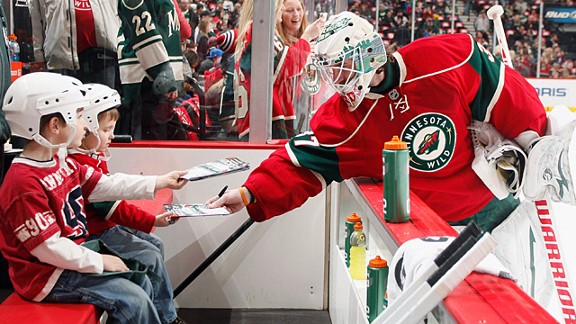 In 2007, Josh Harding wore a mask that featured a tribute to Minneapolis's I-35W bridge following its collapse that August. Now, his new helmet — which also depicts the St. Paul and Minneapolis skylines, as well as the Xcel Energy Center and Target Field — features a rendering of the Ford Parkway bridge. (Harding was wearing the sweet new bucket when he recorded an inspiring shutout in his first game since announcing his multiple sclerosis diagnosis.)
Best Attempt to Avoid the Death Penalty in China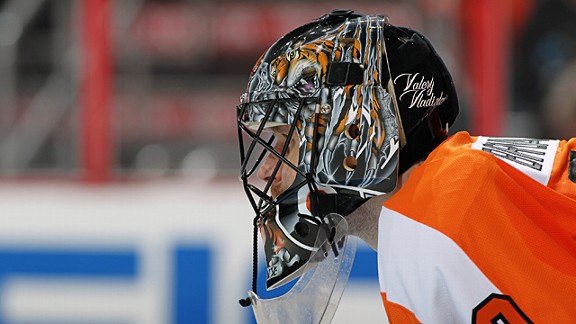 Philadelphia's Ilya Bryzgalov loves him some tigers, man. Last season, the Broad Street Hockey blog was befuddled by his mask — "I mean … that's awesome and everything. But, like, why a tiger? Is it because they're orange and black? Is it because he likes tigers a lot?" — and while some commenters advanced the intriguing theory that it was a reference to the theme song from Rocky, it turned out to be less clever than that. "The tiger is the emblem of Russia, called the 'Amur,'" explained mask designer Stephane Bergeron to InGoal Magazine. This year, Bryzgalov's mask features more homages to the motherland, including a big image of Saint Basil's Cathedral — but the tiger is once again the main focus. This year, though, we have even more context: During 24/7 last season, Breezy explained to a trainer: "China law? If you kill tiger like this? Death penalty. If you kill a tiger and they find you? You're dead, that's it." The man's just being a good diplomat.
Best Use of Negative Space
I just really like Ben Scrivens's Toronto Maple Leafs mask. That is all.
Best Mockup of an Ed Hardy T-shirt
Congratulations, Cam Ward.
Filed Under: Henrik Lundqvist, Katie Baker, NHL