We Went There: Tony Kanaan (Finally!) Wins the Indy 500
Chris Graythen/Getty Images)
I admit it. The Indianapolis 500 got me.
I am not a person easily charmed by sporting events anymore. T-shirt cannons, and "game presentations," and dance teams, and the endless insistence that the Greatest Hip-Hop Hits of the 1990s That Contain No F-Bombs have something to do with anything athletic have left me as jaded as Charles Barkley at a gentleman's club. If it's not the very strange idea that corporate interests have in what will interest The Kids, then it's the insistence that, before every game, we have to put on some sort of militarized patriotic pageant that would have had John Wayne breaking into a chorus of "The Internationale." (I'm serious. Go to the Super Bowl sometime if you want to learn where the North Koreans got most of their ideas concerning public spectacle.) Not long ago, I went to a very ordinary early-season baseball game at Turner Field in Atlanta. The scoreboard looked like the big wall at the Caesars Palace sportsbook in Vegas. There was so much flash and dash going on in all corners of my peripheral field of vision that, by the third inning, I thought I was having a stroke. I am not yet grumpster enough to claim that all this electronic digital filigree has ruined the games, per se. LeBron James, after all, would still be the wonder that is LeBron James if he played basketball onstage with Cirque du Soleil. But so much energy is being thrown into otherwise entertaining me that I wind up walking out of most games exhausted with the effort it takes to pretend that I am being entertained. I believe in being polite that way.

So, you can imagine how surprised I was at about 10:30 on Sunday morning when I found myself … charmed. I was standing on the track at the Indianapolis Motor Speedway. OK, let's just stop right there and ponder that. An hour and a half before the start of the 97th running of the Indianapolis 500, inarguably the most famous automobile race in the world — and that sound you just heard was the sound of 3,000 Lynyrd Skynyrd 8-tracks being thrown against the walls of 3,000 motor homes in and around Talladega, Alabama — and I am standing on the track. This is remarkable. You don't get to wander around the field of the Superdome 90 minutes before the Super Bowl, even if you're dressed as a giant carrot, which I have seen at a Super Bowl, by the way. You don't get to chill in the dugout before Game 7, chatting up Miguel Cabrera around the batting cage. But here I was, on the field of play, with thousands of other people who were also wandering around the field of play, and a clutch of us were standing around cheering a pit crew as they practiced putting tires on a racing car, and I am not kidding about this, either. One guy in a fire suit would yell, "Go," and the other guys in fire suits would slap on the tires, and the air guns would sound like a 747 taking off and, when they were done, all of us standing around on the track would cheer. And not one of us felt in the least bit out of place, not even the two fans with the stopwatches who actually were clocking the pit crew and comparing the times.
This was my first Indianapolis 500. The informality of the event was something altogether startling. It is, in fact, what they say it is, which is the Greatest Spectacle in Racing. (There goes another Skynyrd tape.) There were the flyovers, and the now-customary patriotic musicale, but there is still a great deal about it that's half county fair and half dirt track outside New Richmond. There are the luxury suites, such as they are, but they are cheek-by-jowl — and I do mean cheek and I do mean jowl — with rib trucks and folks selling fried turkey legs to visiting journalists who should know better, but don't. There is Jim Nabors singing "(Back Home Again in) Indiana," which is a pretty lame song, all things considered, but works fairly well in context. And there is also, "Ladies and gentlemen, start your engines." And that is a Moment, let me tell you. Then comes the vast undifferentiated roar, the crowd first and then the engines, as though the very air around you has become suffused with an unfamiliar power. And that is a Moment, too, and we have far too few of those anymore.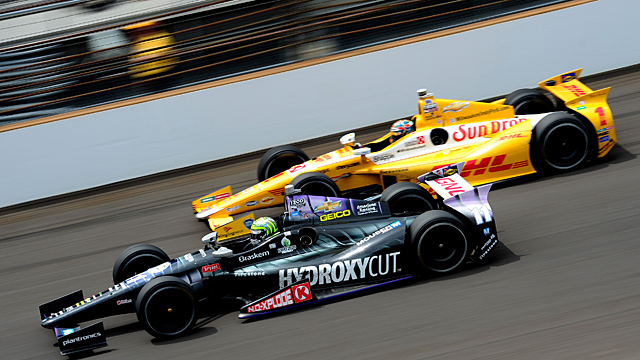 And then, it turned into a terrific race, albeit one that ended in a weird and muted fashion, and at the end of it, a Brazilian gentleman named Tony Kanaan got his bottle of milk, and one of the longest, most heartfelt victory laps in the history of the track, and he delivered one of the strangest post-race quotes you will ever hear. God knoweth why, but someone asked Kanaan if he was "making love" to the bricks after his win. (Indy winners traditionally kiss the track. Kanaan seemed to be auditioning for a Swedish art-house film from the 1960s.) "My wife," Kanaan burbled, "was kissing the yard more than she was kissing me the entire freaking weekend." And Sunday night in the Kanaan household must have been an interesting one.
It was the fastest 500 ever run, and one of the most competitive; the lead changed 68 times, twice the previous record. Kanaan had been in and around the lead pack all day. He dueled early on with Marco Andretti and Ed Carpenter. But Kanaan had been there before. At one point or another, Kanaan has led in nine of the past 11 Indy 500s in which he has participated, only to be the victim of one of the most utterly banjaxed careers it is possible to have. In 2010, he charged from 33rd place to second, only to have to come in for fuel four laps before the end of the race. In 2009, he crashed after his rear suspension collapsed. This year, he was driving with torn ligaments in his right hand. His equanimity in the face of all of this is what got him the loudest and longest ovation when they introduced the drivers before the race.
He was running second on the 194th lap, when Graham Rahal spun out of Turn 2 and brought out the yellow flag. He was behind Ryan Hunter-Reay, who wanted to be anywhere except the lead. Hunter-Reay knew Kanaan could draft him and then sling past him when racing began again. "When you're up front leading, especially on a restart," Hunter-Reay said, "you might as well be driving a bulldozer." Sure enough, when the green flag dropped, Kanaan blew right by him. "I knew I had to get the lead on the restart," Kanaan said, "because it could be a yellow, which happened to me plenty of times here, and it did. How life is funny. The yellow was my best friend." When you've had the kind of racing luck Kanaan's had, you develop an acute sensitivity to impending disaster. Sure enough, one lap later, Dario Franchitti crashed not far from where Rahal had spun out, and Kanaan won the race under a caution, which is not going to matter a damn 50 years from now. But he got to take a virtual victory lap in his own car before the more formal one, later.
"I was looking at the stands, and it was unbelievable," Kanaan said. "This is it, man. I made it. Finally they're going to put my ugly face on this trophy."
I forgot that part. If you win the Stanley Cup, they carve your name into the trophy, which is cool enough, I suppose. But if you win Indy, they put a bas-relief of your head on the Borg-Warner Trophy, which now looks like one of those Incan ruins that so exercise the guy who hosts the Ancient Aliens show on TV. We need more moments these days, and more trophies with heads on them. In a country drunk silly on hype, there's something very innovative about atavism.
Filed Under: We Went there