NBA Playoffs Shootaround: Right Where They Want Them
Ron Hoskins/NBAE via Getty Images
So much amazing is happening, and the Shootaround crew is here to help you keep track of it all. You'll find takes on moments you might've missed from the previous night, along with ones you will remember forever.
The Decision
Robert Mays: He didn't have to change. The LeBron James from Miami's Game 1 squeaker and its Game 2 loss was not the Heat's problem. Aside from his two late turnovers, James had turned in another borderline perfect performance in Miami's loss, and the consensus afterward was that the onus to improve was on the other two-thirds of the Big Three. LeBron James was doing all he could.
Still, in yesterday's first half, the shift in James's approach was clear. He pounded Paul George on the block, scoring whenever he went to his left, and showing that even when he doesn't have to adjust, he can. Let's forget for a second that 15 months ago, that choice, to dominate from the block, would've set the Internet on fire. James's post game is just something that exists at this point, another piece of his essentially complete arsenal. I don't want to laud LeBron James for adding those elements to his game — I want to know how he chooses among them.
James's combination of skills has always been apparent. On any given possession, there probably isn't a conscious thought about whether to pass or whether to score. The defense dictates that as much as he does, and the decision is likely instantaneous and based on a combination of preternatural feel and collective unconscious.
It's the approaches, though, that do seem to require a choice. At some point yesterday, or the day before, or in the locker room after Game 2, he decided that in Game 3, he'd try his hand on the block. James's desire to diversify his game is unquestionably a good thing, but now that the collection of options exists, it has to be navigated. Most players in the NBA have carved out a niche that's required years and countless hours to shape. They're unique pieces that fit on any given team because all the others do. But what if you could be whichever piece you wanted? What if you could do everything? James has gotten to the point where he has to choose which player he wants to be at any given moment, and his mastery of that is just as baffling as the choice existing at all.

Silence of the Lambs
(All GIFs by @HeyBelinda)
Chris Ryan: The above image is the moment Mays is talking about when he suggests there was "some point" when LeBron James decided he was going to take Paul George down on the block, tell him a bedtime story, and insert him headfirst into a wood chipper, all while affectionately calling him "young fella" and giving him dap. By far, the most amusing story line to come out of Miami's dominating Game 3 win was the suggestion that LeBron was some kind of basketball Hannibal Lecter, who had convinced Paul "A Star Is Born" George into swallowing his tongue. James had buttered George up after his Birdman-busting dunk in Game 2 …
… and then he spent all of Game 3 torturing George on both ends of the court.
According to Yahoo's Adrian Wojnarowski: "LeBron James had the power to manufacture a living lore surrounding Paul George, a rising young talent who had been downright gleeful, insisting the blessing bestowed upon him had been a moment he'd never, ever forget." And then? "He set aside all the cuteness, all the creative genius, backed George down into the post and obliterated him." Very cool.
Look, I know we all dream of being a fly on the wall (or Charles Oakley) during the moments when Michael Jordan would whisper sweet, knife-twisting nothings to his opponents before dropping 50 on them. I would love to know the leaps in logic he made to convince himself that some rotation guy had disrespected him and needed to be put in his place (like the CBA or the Italian league). But here's the thing: I don't know if LeBron James needs mind games. He might just be that good.
Graduation Day
Ryan: Great dunk, though.
Efficiency Expert
netw3rk: Chris Claus "Birdman" Andersen, he of the mandrill-genital-vibrant body ink and razor-sharp Mohawk, has tested positive for heat check. Birdman has hit his last 13 shots in this series, is shooting 85.4 percent from the field for the playoffs, and is rocking a Hollinger-moaning-in-his-sleep playoff PER of 32. He's doing all this off a series of lusty basket cuts, usually down the baseline, made possible because the defense tends to be concerned about the dangers posed by Heat players whose signings were announced with fireworks and lasers. The last thing from Miami that cut as hard as Chris Andersen involved baby formula.
Birdman didn't sign until January, when he flopped a pair of 10-day contracts from Miami after getting tagged with Denver's amnesty get-out-of-jail-free card in July. One of the things that tends to happen when a 6-foot-10 coiled spring shoots 100 percent from the floor in the conference finals is pundits find themselves saying shit like "Gee, how did this guy not get signed until January?" That's until you recall that Birdie has a past as colorful as his neck flesh and recently beat an ugly frame-up attempt that reads like it came straight out of a really bad Michael Crichton novel. Or any Michael Crichton novel. Ka-kawww.
But the Birdman is nothing if not resilient. Undrafted, he got his start playing pro basketball in China, which is due south of the non-metaphorical Siberia. Catching on with Denver, Birdman then entered our collective consciousness by flaming out on roughly 80 consecutive dunk attempts in a slam dunk contest to the ghostly rustle of an arena's worth of people shifting in their chairs from vicarious embarrassment while Kenny Smith's desperate attempts at sounding excited echoed off the walls like a Kevin Hart sound check. Then in 2006 came his two-year ban for violating the league's drug policy, the one with all the scary powders and acronyms. Birdman got his insides cleaned up and his outsides inked up; he estimates 80 percent of his tattoos are from the ban years.
Well, now the Birdman is back on the court and he's making up for lost time, to the detriment of Roy Hibbert and the gang. Next up: continuing to model his inked-out frame for glossy PETA anti-fur adverts and focusing his infinite hustle on getting a bow-and-arrow hog hunting reality show green-lit, because those two things totally make sense together. Pick up the phone, truTV, and fly with Birdman into the future. 
There's No Place Like Home (and Not in a Good Way)
Brett Koremenos: With the exception of their series against the Bucks (which doesn't count because Milwaukee wasn't a real playoff team), the Heat's five home games against Chicago in Round 2 and the Pacers in the conference finals have been where the team has looked the most vulnerable. It's obviously a pretty small sample size from which to judge, but consider that in those five games Miami has already lost twice at home, exactly half the number of times the team lost at AmericanAirlines Arena during the regular season. These postseason contests in Miami have just had a strange feel.
The road matchups have been a different story. A depleted Bulls team that nearly won twice in Miami got beat soundly when the teams locked horns in the United Center, including an embarrassing Game 4 loss in which Chicago could only muster a paltry 65 points. Last night, the Heat smacked the Pacers around on their home court despite almost dropping the first two games.
It's almost as if this Heat team, and perhaps more specifically their leader, James, needs to sense danger before going full bore. A similar thing happened somewhat routinely in the latter stages of their incredible winning streak in the regular season. Miami would get down early to whatever run-of-the-mill team they played, then storm back in the second half or fourth quarter to extend the run.
It's almost as if the team's mentality is, "We're good. We're at home. This is too fucking easy, so let's go through the motions until it gets tough." It's not so much that Miami has been coasting, but more that they are intentionally handicapping themselves to increase the degree of difficulty, like an alpinist trying to summit one of the world's highest peaks without oxygen. I'd say it's a habit that could come back to bite the Heat, but does anyone really doubt that they're still going to get to the top of the mountain?
Flop Down Seven, Stand Up Eight …
Andrew Sharp: Why does YouTube even exist if nobody's going to remix this commercial with Wade's best flops from the past few years?
The People's Elbow
Amos Barshad: When Dwyane Wade took flight Friday evening, effectively People's Elbowing poor Lance Stephenson, I thought of 2011. It was Game 3 of the Boston-Miami series, and Wade had found himself all tangled up in Rondo. Instead of, oh, I don't know, falling down like a regular person, our villain pulled out some black-belt tae kwon do dastardliness he probably learned at the feet of original dirty choirboy Johnny Stockton the Master. And Rondo's elbow went the wrong way.
Rondo would come back and play the rest of the game, his left arm dangling uselessly at his side, and the Celts got their only win of the series. And I never forgot Wade's sneaky brilliant ability — truly a talent — to injure his fellow man without looking like the bad guy. Look, I watched the Stephenson elbow 10,000 times. Don't talk to me about the heat of the moment. Why was Wade leaping in the air? That shit. Was. On purpose. See, fellow elbow-tosser J.R. Smith is the kind of guy who'll punch you in the gut, then buy you a club sandwich to apologize. Dwyane Wade will wait for you in the shadows of the alley outside the bar with five goons, knock you down, then steal your nearly completed Auntie Anne's free-pretzel punch card.
Afterward, Frank Vogel, being all classy about the situation, said: "I don't think anybody, myself included, wants anybody on either team suspended from this series. Everybody wants to see both teams — full strength — slug it out." When pressed for further comment, later at home, alone, while poking through the fridge in a robe at three in the morning, Vogel muttered to himself, "Expect maybe LeBron. Just for, like, a game. Ooh, and Rashard Lewis. See if anyone notices. That'd just be funny to me."
Now What?
Koremenos: Before establishing himself on the block yesterday, LeBron James was involved in actions — like pick-and-rolls and pin downs — that allowed Indiana to avoid having to fully commit all its resources to stopping him. Between that and Udonis Haslem reaching Frank Ricard levels of unconscious performance excellence, the Pacers are scrambling to find some solutions to stay competitive in Game 4.
A defense's best chance of guarding James in the post is to employ a wing defender able to match his power and quickness. For Indiana, David West can match the former and Paul George the latter, but both are severely lacking the other necessary quality. If neither player can find a way to keep James from getting to the basket in post-up situations or mid-post isolations, Frank Vogel will either have to die a slow death of close-range attempts at the rim or risk bringing a double-team against one of the best and most unselfish passers in the game, allowing open shots on the perimeter, like the ones Haslem and company made all night.
Despite the James post-up predicament, Vogel's biggest problem is actually Halem's hot shooting. After the game, the Pacers coach asked, "Is he going to shoot 8-for-9 every night? If he does, it will probably be a long series for us." All series, the Pacers head coach has ordered his charges to essentially ignore Haslem and Shane Battier, who is shooting in the mid-20s from 3-point territory during these playoffs, in an attempt to make life more difficult for the rest of the Miami players on the floor. Because neither Haslem nor Battier could throw the ball in the ocean all postseason up to last night (and Battier still can't), it created a nice dead spot in the Heat lineup that the Pacers took advantage of. Vogel won't change anything to combat Haslem's recent hot streak (and he shouldn't), but if the veteran forward keeps making at a high rate, the Pacers' slim chance of winning this series drops to zero, regardless of how clever a plan they devise to deal with post-ups by James.
Marc Gasol's Solo Album
Great D or Bad Z-Bo?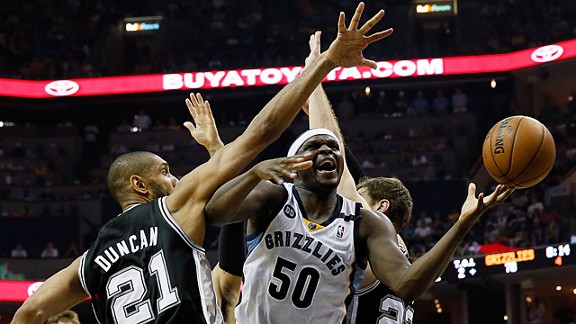 Sharp: It's hard to say what's happening to the Grizzlies. Maybe the Spurs are happening, and San Antonio's defense is killing Memphis exactly like it killed Golden State in Round 2. Only instead of the perimeter, now it's happening on the inside. Tim Duncan, Tiago Splitter, and Boris Diaw have made life twice as difficult for Z-Bo and Gasol, and a Grizzlies offense that was hitting on all cylinders 10 days ago is now out of gas.
For this series, Z-Bo's averaging 10 points per game on 30 percent shooting, Marc Gasol's shooting 39 percent with 14 points total, and Mike Conley's shooting 40 percent. The Grizzlies have played exactly two good offensive quarters out of 12 — the fourth in Game 2, the first in Game 3 — and their three best players have been swallowed up for pretty much the entire series. Memphis scored 64 points over the final three quarters and overtime in Game 3, and even that doesn't totally do justice to how desperate they looked down the stretch.
So: Do we credit the Spurs, or were we giving the Grizzlies too much credit a week ago?
Charles Barkley made a great point Sunday night when he said Splitter and Diaw are constantly forcing Z-Bo right, and it's another example of the Spurs looking like the smartest, most disciplined team in the league. On the other hand … Z-Bo's better than this. Better than the player who gets pushed around by Boris Diaw and Tiago Splitter. And it goes back to what Zach Lowe wrote two months ago: Z-Bo is the Grizzlies' linchpin. When he plays well, this team looks unstoppable.
So if he becomes 2011 Z-Bo, like he was for most of the L.A. and OKC series, there's no limit to what happens here. Memphis could win the next four games and challenge Miami. But the Z-Bo we've gotten for the past week is not that guy. And whether you credit the Spurs defense or say that Z-Bo has taken a sudden offensive nosedive, that's the biggest reason this series has been such a tragic dud so far.
Why "tragic"?
Because we just spent four paragraphs talking with a straight face about a chubby NBA superstar named "Z-Bo" who had owned the NBA playoffs for the past three weeks. And dammit, America needs Z-Bo in the NBA Finals! This is awful.
Believing in Clutch Tim Duncan, Even When You Shouldn't
Patricia Lee: There are exactly two players still in the playoffs whom I would completely expect to make a last-minute play or last-minute shot. I don't mean hope here, as in "Mike Conley has the ball with 30 seconds remaining. I reaaaaaaaally want him to make this shot to tie the game." I mean expect, as in "LeBron has the ball in his hands, and even with only two seconds left, he will make this layup, and he will make it look like a cakewalk." So obviously LeBron is one of those people. The other? Tim Duncan.
For some reason (probably a very justified reason), every time I see these guys with the ball, no matter if there are 20 minutes left in the game or 0.4 seconds left in the game, I expect them to create shots, make shots, or just generally wreak havoc. They seem to always "turn it up" in the fourth quarter, especially in these playoffs.
Hoping to make sense of my observations, I turned to trusty old advanced statistics, which actually flew against everything I had seen in the eye test — at least for Duncan. In the fourth quarter of playoff games this year, the 37-year-old (yes, 37. 37!!!) has made only 12 of 33 shots (granted, those include last-second, hopeless heaves), and his "clutch" stats from the last five minutes of games are even worse: He went 1-for-4 across four games in which his team was behind by three points, and 0-for-1 with one minute to go. His block, rebound, and assist numbers are practically nonexistent, but I would've sworn that his plus-minus would be higher than five for the under-three-minute mark and four for the under-one-minute mark. But then again, when Duncan is on the bench for the end of these close games, or when there aren't this many close games in general, the sample size is extremely limited. As in he's recorded only 12 minutes' worth of stats for five games that were within three in the last five minutes.
LeBron's stats are much more in line with what I've come to expect from his late-game heroics, even with a similarly small sample size (three games as well). He's made 23-of-49 fourth-quarter shots across 11 games, and he's made 37.5 percent of the shots he's taken in the last three minutes of close games. (He's also missed 100 percent of the shots he didn't take.) His plus-minus for the fourth quarter is a respectable plus-40, and his stats sort of back up the notion that he'll come through in the clutch (a huge paradigm shift from last year, that's for sure).
So while the two players' stats basically show that I should not expect them to make every shot — or even half of their shots — I like to think that there are some things advanced stats fail to show, like how the player's presence affects his team or the opponents and other difficult-to-quantify factors. Heck, even those with good stats can see their impact not coming through entirely; just look at Roy Hibbert.
Filed Under: Andrew Sharp, Brett Koremenos, Chris Ryan, Indiana Pacers, LeBron James, Marc Gasol, Memphis Grizzlies, Miami Heat, NBA, NBA Playoffs, Patricia Lee, Paul George, Robert Mays, Tim Duncan, Zach Randolph