We Went There: The Spurs Grind Out a Sweep at the Grindhouse
Jesse D. Garrabrant/NBAE/Getty Images
This is normally a place for serious basketball analysis — mulling X's and O's, rotation choices, and Lionel Hollins's fantastic wardrobe. But let me step back for a second and say how cool it was watching San Antonio walk off the court, having clinched a return to the Finals after six years away. Tim Duncan shared a long embrace at midcourt with Manu Ginobili, who did so many crazy, brilliant, and disastrous Manu Ginobili things in this game that I lost count. Ginobili bounced off of Duncan and hugged another Spurs staffer almost as aggressively — with a hard chest-bump, a fist to the back, and a stern growl. It was a hug that said, "Fuck yeah, we did that!"

And as Tony Parker, so crazily great in this closeout, did his mandatory TV interview on the floor, Ginobili and Duncan strode in single file right below press row and into the tunnel, stopping to high-five a few fans. I got chills — literally, chills — watching those two walk off the floor, satisfied with a great accomplishment, hungry for one more, a lifetime of basketball already behind them.
Ginobili was earnest afterward in his remarks to the press. He spoke of how the Spurs won the title his rookie year, in 2002-03, and how young Ginobili, filled with confidence and hair on his head, just assumed it would always be like that. He learned over the last half-decade how truly tough it was just to get this far, and he was deeply appreciative of this next chance.
Ginobili demanded photographs of the Western Conference champions' trophy, but he did not seem to have a camera available, or the time, amid all the media obligations, to snap the shot. And so when Patty Mills, the Spurs' affable benchwarmer, saw a staffer carrying the trophy near the locker room door, he asked the staffer to stop. "Hold on," he said. "Manu wants a photo of that." Aron Baynes, the Spurs' rookie Aussie big man, chuckled at Mills's request, walked outside the locker room, and bumped into Ginobili. Baynes quickly informed Ginobili that the trophy was right there, just around the corner, and that Mills was taking care of the photograph just in case someone had already whisked the thing away.
• What a ride for Danny Green, who was perhaps the happiest of all Spurs last night. He and Matt Bonner went back out on the court to celebrate with about two dozen San Antonio fans who were still hanging around about an hour after the game: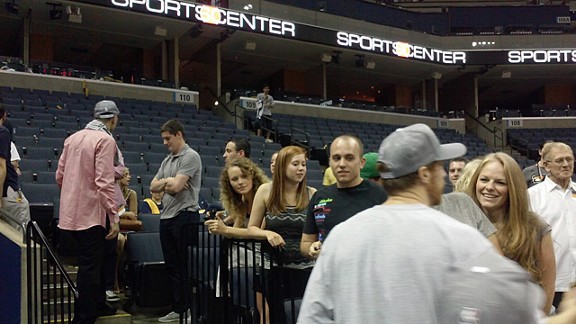 I left that happy scene and stepped back onto the floor 15 minutes later to see if anyone else was milling about, and, holy cow, Green was still out there taking photos and signing autographs. Tom James, the Spurs' PR chief, finally shouted: "It's time to go, Danny Green!" But Green pleaded with him, explaining that so-and-so fan needed just such-and-such photo, if the team could wait just a second.
Green, of course, has reason to soak it all in. The Cavs waived him in October 2010, and it took two tryouts with the Spurs before they finally signed him to a 10-day contract a month later. He still remembers the player the Spurs signed over him after his first workout: Chris Quinn. But the Spurs waived him again right way and didn't bring him back until March 2011, when they signed him for the rest of the season.
And now here he is, starting on a Finals team, in the first year of a three-year, $11.3 million contract. "It's just so hard to believe," Green says. "Every day is Christmas for me, or whatever you think is the best holiday of the year."
Green, by the way, sets nasty, nasty screens. The Spurs hurt Memphis as the series wore on by running all sorts of variations on screen-the-screener sets — plays in which a big man (i.e., Tim Duncan) runs up to set a standard high screen for Parker, only Duncan will get a pick from another guard below the foul line on his way up. The goal is to knock Duncan's man off-balance, making it more difficult for that opposing big man to contain Parker off the bounce.
That job fell to Green several times in Game 4, and it involved crashing head-on into Marc Gasol. And Green was up for it. "He's a big guy," Green said after the game, laughing. "I took some pain on those. But that's what gets a shooter open. That's my mind-set."
• The Spurs just swept a very, very good team, and they did so with very strong play on both sides of the ball. For large portions of this series, including the second half of Game 4, the Spurs just cut and screened and dribbled and passed this Memphis defense to death. Parker rained open midrange jumpers on the pick-and-roll. Duncan, Tiago Splitter, and Boris Diaw all found easy baskets at the rim, often the result of tic-tac-toe passing sequences in which the Spurs moved the ball through open spaces before the Grizzlies even realized the spaces were there. They attacked Zach Randolph relentlessly, with multiple pick-and-rolls on some possessions, moving him around until he was too tired to execute correctly. They did not fear Gasol, the Defensive Player of the Year, putting him in the pick-and-roll and confusing him just a bit on the back line. It was masterful, and Parker in Game 4 was on another planet.
The Spurs piled up 105.3 points per 100 possessions this series, more than they averaged in the second round against the Warriors, and a mark that would have ranked ninth overall in the regular season. That is heady stuff against the stingy Grizz. The Spurs were tremendous.
But Memphis was perhaps the league's best defensive team, with ace defenders everywhere, and not even San Antonio was going to blitz a defense like that for 48 minutes. The Grizzlies clamped down for long stretches — the first quarter of Game 3, the stretch run of Game 2, portions of the second half in Game 4. And in most of those moments, the Spurs were able to lean on a defense that rediscovered its classic Spurs roots this season after finishing as merely "good" in the prior two seasons — campaigns in which "good" was not good enough.
And it was in that defense where you could spot the difference between this season's Spurs, last season's, and the 2011 version the Grizzlies decimated in the first round. Kawhi Leonard was a giant problem everywhere — enveloping Mike Conley at the point of attack, deflecting passes (including a key steal and fast-break layup early in the fourth quarter), clogging the paint on poor Randolph, and recovering to shooters with some of the league's best closeouts. He was a menace, and his ability to check the rising Conley allowed Parker some crucial on-court rest guarding Quincy Pondexter or Tony Allen.
But the most telling play of all might have been Splitter's rejection of Jerryd Bayless's curling layup with 25 seconds left and the Spurs holding a five-point lead. Splitter had gained enough of Gregg Popovich's trust to be the only big man on the floor for that crucial possession; Duncan was on the bench, as Memphis had gone small.
This was the vision when R.C. Buford, the Spurs' GM, drafted Splitter in 2007 and coyly signed him three years later, when the rookie scale was no longer a factor. Splitter, then the most polished big man in Europe, was supposed to ease the burden on Duncan and (hopefully) work in tandem with the Spurs' franchise player to form a long-armed, rim-protecting duo.
It took three years, but it has finally worked. The two played just 30 minutes together in 2010-11 and 129 last season, mostly because the Spurs couldn't score enough with the two on the floor together; both were most comfortable near the rim, they were still learning each other's tendencies, and having them both out there killed San Antonio's spacing.
But with Splitter mostly healthy, this was the season in which the Spurs finally went for it. They played 819 minutes together, and the Spurs' offense thrived during those minutes, per NBA.com. Duncan shot more long jumpers than ever before in order to clear the basket area for Splitter, and the two learned to move almost on opposite paths, so that when one cut to the rim, the other would pop out toward the foul line. It was hard work, especially given Splitter's array of nagging injuries, and a smiling Splitter reflected on it all afterward during a chat with Grantland.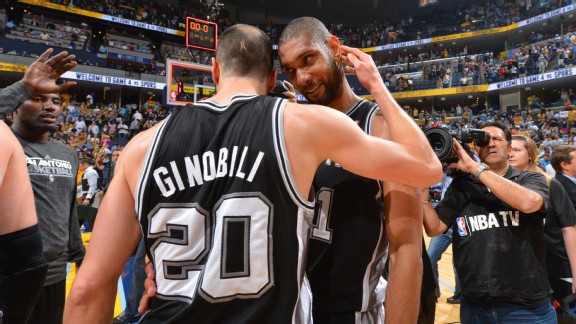 "It was such a long way for us," Splitter said of the pairing with Duncan. "At the start, when we first started to play together, it was difficult for us to find the spacing. But Tim is a great player, and I learned the spaces from him. We would always talk about it, and we figured it out. It's working."
• Parker and Duncan have been very good midrange shooters for a while now, but they've become very good high-volume midrange shooters in their old NBA age. There's nothing behind that other than hard work and lots of practice. But that transformation has allowed San Antonio to squeeze out points even when smart defenses limit the Spurs to midrange jumpers out of the Parker/Duncan pick-and-roll. That's an increasingly necessary fail-safe in which smart defenses seek to hold opposing teams to just such shots.
The Spurs in all these ways are a tribute to the importance of the slog — of practice time, chemistry, and the endless 82-game regular season. Eighty-two games is still too many, but these Spurs have needed a lot of time for all of these elements to come together now — the midrange shooting, the Splitter-Duncan combination, Leonard and Green on the wings, etc.
• Splitter is also a great screener, adept at disguising the direction of his pick until the last second, or even flipping the direction in an instant — a must-have skill for San Antonio big men. But he said he had already honed that skill screening for Jose Calderon and then Pablo Prigioni on European teams.
• Pondexter cemented his membership in the New Age Shane Battier club in this series. He scored 15 or more points in three of the four games in this series after hitting that number three times combined the entire rest of the season. The Grizzlies were running honest-to-god plays for him in the fourth quarter, mostly via screening action out of the "horns" set in order to leverage Pondexter's size advantage over Parker. Pondexter told me before Game 3 that he hadn't read any of the positive press about him during the playoffs, but that he would do so after the season. He has a lot of reading to do.
• There will be other days for the postmortem of the grit-and-grind Grizzlies. They obviously need more shooting, but they have about $60 million in salary on the books already for next season, assuming Bayless exercises his $3.135 million player option. (Note: That's not a given.) The team is very interested in bringing back Allen, and once you factor in a new deal for Allen, adding the full midlevel exception could take Memphis dangerously close to the tax line. In other words: Expect the Grizz to explore a cost-cutting move, including a desperate search for a team interested in Tayshaun Prince's giant arms. (Note: The release on Prince's jumper makes it look as if he had thought, upon leaping, that his arms were long enough to simply place the ball in the basket, only to realize in midair that he would have to throw the ball toward the hoop.) The game-changer is obviously a Randolph trade, and that would be tough, for lots of reasons. Randolph is almost 32, due more than $34 million over the next two seasons, and he's a very peculiar player — someone whose presence requires a significant reworking of a team's offensive system.
He's also massively popular in Memphis. The new front office surely understands the fallout from any Randolph deal would be exponentially louder and more shrill than the Rudy Gay noise.
• Allen, for his part, told me in a quiet moment after the game that he wants to stay in Memphis. "We showed we're a force to be reckoned with," Allen said. "We just gotta get a few more pieces, or maybe even just keep it the same." And on whether he wants to come back: "Most definitely, most definitely. I can't even think past the Grindhouse, and the grit-and-grind mentality. Everything is bleeding Grizzly blue."
Allen badly wanted to guard Parker more than he had in the first three games of the series, and he got his wish in Game 4. He spent much of the pregame period watching film of Parker on his iPad while listening to music and shouting rap lyrics to nobody at all. Allen did a nice job hounding Parker around screens, both on and off the ball, but Parker made some very tough shots against him and took advantage of Allen's aggressive play in the passing lanes by fooling him on one brutal second-half back cut. That kind of cut is likely why Hollins was cautious in deploying Allen as a full-time Parker defender.
• Bonner had a long pregame conversation about gypsy moths, which apparently breed once every decade or so in and around Bonner's native New Hampshire and cause all kinds of problems. This is what Matt Bonner talks about pregame. His wife also supplied him with a sandwich right after the game. Matt Bonner loves sandwiches.
• Exciting news for NBA nerds who enjoy Bonner's deadpan "Coach B" YouTube series of instructional videos: Bonner informs Grantland that "Coach B" is set to return, with a special guest appearance from Brian Scalabrine. You read that right: Matt Bonner and Brian Scalabrine have apparently filmed a comedy video together. Prepare accordingly.
Bonner, by the way, worked his tail off against Randolph in the post, and though he struggled some on the glass, his fronting defense made it tough at times for the Grizz to enter the ball to Z-Bo. All the Spurs' big-man defenders, including Bonner and Diaw, did great work sliding from behind Randolph and around to the high side exactly when the Grizzlies were prepared to throw an entry pass. Folks assume Bonner is a poor defender, and while he has his limitations, he works hard, and he's very proud of his growth on that end of the floor.
• I don't have space to get into it, but, damn, the Grizzlies do a very nice job with in-arena entertainment. I've already praised their public address announcer, Rick Trotter, but the whole show is tremendous. Grizz, the team's pumped-up grizzly bear mascot, is putting himself in the argument for a spot in my informal top-five mascot rankings, and Jason Potter, the team employee who directs all of this stuff, has a fun sense of entertainment. The music is much better than typical arena dreck. Special points to Grizz for a routine that involves him sprinting out to center court with the Ultimate Warrior's old WWF entrance music blasting in the background. Grizz even attaches streamers to his arms to complete the Warrior effect.
• Another good one: Grizz has a little game in which he fires the T-shirt cannon at large circular targets that fans hold up in the second deck. If he hits all three targets, a random fan wins a cash prize. That's a creative use of the T-shirt cannon.
• I swear, Popovich transformed into some kind of flailing orangutan while signaling for a timeout during a fourth-quarter Memphis run. I hope the TV cameras caught it.
• The NBA is random sometimes: This series could have been much different had Memphis hit more free throws or (contested) layups at the rim that always seemed to bounce out.
• The five-man group of Bayless, Conley, Pondexter, Darrell Arthur, and Gasol was very effective offensively throughout the series, including in tonight's clincher. It saw only 11 minutes of playing time in four games, per NBA.com.
• Memphis was plus-20 in the 67 minutes that Conley, Pondexter, and Gasol were all on the floor, per NBA.com. (Hat tip: Chris Herrington of the Memphis Flyer). The Grizzlies were minus-64 in the other 135 minutes that comprised this series. Pondexter probably should have been starting for Prince by Game 3, though coaches are typically cautious about making such lineup changes at this stage of the game.
• Another lineup I liked — Bayless, Conley, Pondexter, Randolph, and Gasol — was plus-11 in just 27 minutes for the series, mostly because Memphis held San Antonio to a very low scoring output during those minutes. I'd have liked to seen a bit more of those five, and of the Allen-Bayless-Conley three-guard group, which logged just eight minutes the entire series. But this is just nit-picking. The Grizzlies' roster, bereft of shooting, offers Hollins only a series of bad and less bad choices. Memphis lost to a better team, a more complete team, and the old dogs of San Antonio now have nine days off to rest before chasing one more title.
Filed Under: Manu Ginobili, NBA, San Antonio Spurs, Tony Parker, We Went there, Zach Lowe, Zach Randolph