NBA Playoffs Shootaround: Men in Black
Kevin C. Cox/Getty Images
So much amazing is happening, and the Shootaround crew is here to help you keep track of it all. You'll find takes on moments you might've missed from the previous night, along with ones you will remember forever.
Be Afraid
(All GIFs by @HeyBelinda)
Chris Ryan: With about six minutes left in Game 4, Tony Parker caught a Marc Gasol bear paw in the eye. It happened when the Grizzlies center tried to block the Spurs point guard's 17-foot jumper. Gasol is not an opthamologist, but he did stay in a Holiday Inn Express once, so the big man opted to let his teammates run the break while he tended to Parker. Mike Breen treated Gasol's sportsmanship like he just saw an angel lighting the Olympic torch while singing "Danny Boy." One-eyed Tony, on the other hand, was not having it; he was pissed.
Parker's reaction wasn't too surprising when you recall that a little more than a year ago, he was caught in some Veuve Clicquot cross fire, during a nightclub brawl between the entourages of Drake and Chris Brown. He's a little sensitive when it comes to his peepers.
Parker left the game for two minutes, checked back in with about 4:45 left, and promptly buried an 18-footer to put the Spurs up eight. And then he said "FUCK" on television.
It was the delivery that got me. I knew Parker was one of the best players in the NBA; I didn't need 37 points (25 of which came in the second half) to tell me that. What I didn't know is he was the type of dude to go up the river and kill Colonel Kurtz. This was not the affable French guy telling funny stories about the time "Pop" made him run suicides for missing the third read on a delayed elevator pick-and-roll or whatever. This was a very pissed-off, very dialed-in, very turnt-up, dagger-throwing closer. And he did not want to give the Grizzlies, the city of Memphis, or any member of Three 6 Mafia one little bit of hope. I've always thought Tony Parker was a beautiful basketball player …
Last night, he was a terrifying one.
Tony Parker Highlights Are NSFW
Andrew Sharp: Murderball, the sequel.
The Spurs Are Your Dad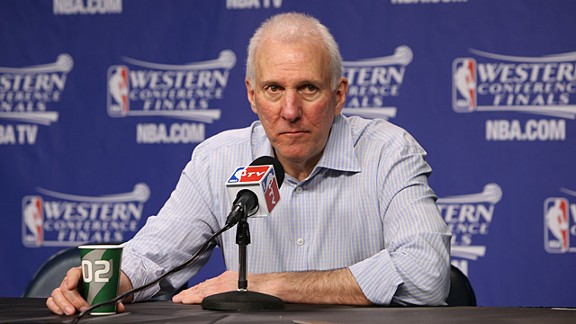 netw3rk: The dream was twofold: stave off that broom and become the first team to come crawl out of an 0-3 grave. And why not dream? This has been the best season in Memphis Grizzlies history: 56 wins in a loaded Western Conference; one of the best defensive teams in the league; and with two overtime losses in the first three games of the series, Memphis could be forgiven for thinking they could plausibly be up 2-1, had a few balls bounced kindly. It also would have helped if Lionel Hollins hadn't chosen his lineups by reading animal entrails; Jon Leuer straight-up had to pause Angry Birds when Hollins called the dude's number in Game 3. The Grizzlies had the buzz, the catchphrase, the Defensive Player of the Year, and one of the great NBA characters in Z-Bo. But the Spurs — those efficient, boring, well-oiled, fatherly Spurs — don't care about your dreams, Grindhouse. Now button your damn shirt.
Spurs Dad reacted to Memphis's Game 4 hopes and dreams like your dad did when you told him you wanted to quit school and start a blog. Every Memphis run was met with a long sigh, and a ponderous, "when are you going to grow up?" shake of the head. Spurs Dad ain't about fads and thinks Hustle & Flow is a vacuum cleaner. Spurs dad is about bodying Ws, managing his 401(k), and warm milk before bed. Now turn off that rap noise, we're going to the Finals.
The Spurs are your dad telling you to go into accounting.

— netw3rk (@netw3rk) May 28, 2013
The Spurs are your dad saying "The hell you will" after you tell him you want to take a year off school to travel Europe.

— netw3rk (@netw3rk) May 28, 2013
The Spurs are your dad saying "And you expect to make a living doing this?" the first time he sees your band play a gig.

— netw3rk (@netw3rk) May 28, 2013
Spurs dad has three CDs: Wings Greatest Hits, Born in the USA, and Garth Brooks's No Fences.

— netw3rk (@netw3rk) May 28, 2013
Spurs dad likes to constantly remind his wife about how her first boyfriend's art supply store went under.

— netw3rk (@netw3rk) May 28, 2013
Years later, you discover Spurs dad recreated the entire family using the Sims on his PC and made you a successful doctor.

— netw3rk (@netw3rk) May 28, 2013
Who Says the Spurs Are Boring?
Sharp: Look at that smirk! Tim Duncan hasn't been this happy since he convinced his teammates to replace the bourrée with Magic: The Gathering.
Good for him.
Good for the Spurs.
The Manu Ginobili Experience
Danny Chau: The Manu Ginobili experience is all about not knowing what is going to happen next. Last night, and for chunks of this season's playoffs, he was something like a Nestle Wonder Ball filled with razor blade–shaped candy and actual razor blades. The brilliance and folly of his actions are often indistinguishable, and the result is often just as confounding as the process. Even at 35, Ginobili is still pulling off the spectacular, evidenced by his pass between Tayshaun Prince's legs for an open Cory Joseph layup.
But plays like those come with the understanding that he can at any moment throw a pass intended for Tiago Splitter that sails out of bounds without anyone in the vicinity, or make an unnecessary lead pass to Tony Parker in the waning moments of the game that could've (maybe, probably not) led to a game-changing turnover. Gregg Popovich grants him clemency, and so do fans. Ginobili injects a welcome dose of random into the offense, even when the results are unsavory, and his imperfections (almost) instill in the Spurs machine some semblance of humanity.
(Related: Manu scored six points on six shots last night, and he has taken exactly six shots in four of the last five games. He also had six rebounds, six assists, and six turnovers. The fear of the number 666 is called hexakosioihexekontahexaphobia.)
Buddy Movie
Ryan: In a world where nothing is what it seems, two cops take it to the limit. Peter Holt and R.C. Buford present a film by Gregg Popovich: Boris and Splitter.
Times Change, Spurs Don't
Robert Mays: When the Spurs won their first championship, I was 11 years old. I frame it that way — and not as 14 years ago — because to me, the most incredible part of Tim Duncan being back in the Finals isn't the sheer amount of time that's passed since he first went. It's how much has happened in that span.
Duncan's first title was wedged between Jordan's last and Shaq and Kobe's first. The MVP that season was Karl Malone. Duncan's time in San Antonio has spanned two different repeat Lakers champions. Eleven players have won the MVP since he came into the league, and it seems like the title of the NBA's best player has changed at least half that many times (though you could make an argument that Duncan is the best player across that same span). In that stretch, the Bulls, the league's marquee franchise for the entire previous decade, have had five non-interim head coaches.
Even in the time between his most recent trip to the Finals and this one, it feels like the NBA's landscape has been completely redone. When the Spurs beat Cleveland in 2007, it was on the heels of LeBron James's 48-point-including-the-final-25-yes-I'm-here-to-take-over-the-world Game 5 win against Detroit in the Eastern Conference finals. James wouldn't fully reach that point for another five years, and before he did, the NBA's stable of superstars was filled with mostly new faces.
Duncan and Popovich's time in San Antonio has spanned the league's cratering and its resurgence, the wake of one sport-changing superstar and the emergence of another. It would be enough if the two (and Tony Parker and Manu Ginobili) were still together after all that. They've done us one better. The Spurs are back in the Finals, and they're here because Duncan and Parker and Popovich brought them here.
If it does turn out to be Miami, I'm not sure how much of a chance San Antonio has. But at this point, I don't really care. Everything about the NBA has changed over the last 15 years, everything except the team coming out of the Western Conference.
@ Me or Dap Me
Thank God That's Over
Sharp: I don't know whether it was during the fourth quarter Saturday night or maybe in Game 3's overtime, but somewhere along the way, this series stopped being fun. The Spurs were too good, and while I enjoyed the Tony Parker Show, it was just too painful to watch the Grizzlies' dying offense get suffocated on every other possession. Quincy Pondexter somehow became their Kobe Bryant through all this, while Z-Bo, Marc Gasol, and Mike Conley were reduced to a fumbling mess for most of the past week. So it was nice of San Antonio to end things last night and put everyone out of their misery. Thank god. The Grizzlies were too much fun to suffer like that for long. The Spurs' defense did to Memphis what Memphis did to Oklahoma City, and while impressive, it was also cruel and unusual and hard to watch. I will miss watching this Grizzlies team, but I will not miss watching this Grizzlies team against the Spurs.
The End of Grit-N-Grind?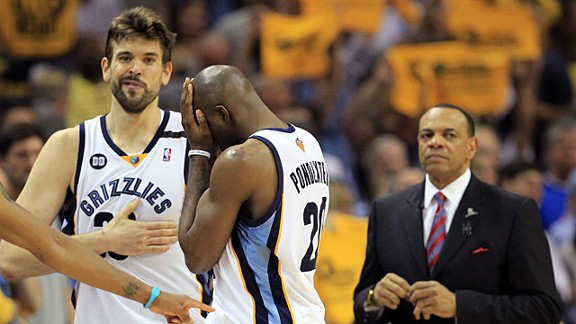 Brett Koremenos: What comes next for Memphis? Led by old-school head coach Lionel Hollins and powered by the brute strength of Zach Randolph and raw energy of Tony Allen, this rugged Grizzlies team has developed a cult following over the past few seasons. In a game that can often be made to look easy by graceful, superstar-led teams, the Grit-N-Grind Grizzlies were about as blue-collar as an NBA team gets.
But things could be drastically different for Memphis in the near future. Allen and Hollins are set to explore free agency while Randolph, who has already seen his production tail off, will turn 32 over the summer and could possibly be considered a candidate for trade or amnesty as the team's new management group continues to put their stamp on the franchise. As the trio that gave the Grizzlies their current rough-and-tumble style exit and fade into the background, a more refined, cerebral group, led by Mike Conley and Marc Gasol, are ready to take their place. With the right additions, Memphis could easily be a better team next season, but it's hard to imagine they'll be a more popular one.
Filed Under: Andrew Sharp, Brett Koremenos, Chris Ryan, Danny Chau, Gregg Popovich, Manu Ginobili, Marc Gasol, Memphis Grizzlies, NBA, NBA Playoffs, Robert Mays, San Antonio Spurs, Tim Duncan, Tony Parker