We Went There: 20 Observations From the Heat's 22nd Consecutive Win
Ron Turenne/Getty Images
After a brief flicker of competitiveness, the Heat buried the Raptors in Toronto yesterday under a pile of smartly created open 3s — mostly by Ray Allen, who hit four in a span of about 4:30 in the fourth quarter as Miami pulled away. Here are some observations from a game that was the polar opposite, in just about every way, from the Raptors' listless Friday win over Charlotte.
• It's hard to believe this game was tied at 77-77 at some point. There was almost no juice in the building for the first two and a half quarters, aside from one guy very loudly taunting Chris Bosh with chants of "RU-PAUL!" and (I'm not kidding) "You're skinny, Bosh!" That last one might be the least creative taunt in modern league history.
The Heat are just a better team than the Raptors, with better players, and they should win the average game against Toronto with relative comfort. That was the first two and a half quarters, basically — a great team holding a steady 10- or 12-point lead against a so-so team. You knew the Raptors would make a run, but it was certain to be one of those runs that cut the lead to four, but no further.

But the Raptors tied it, and they earned that tie, even as it felt a bit like fool's gold. Rudy Gay, in the middle of his second straight efficient performance, swiped a free-throw rebound from LeBron and dunked. DeMar DeRozan, invisible for the first half, converted a nifty and-one off a pick-and-roll, Jonas Valanciunas finished a couple of nice interior hoops, and the Raptors generated a series of decent looks from a makable range. (They had also gotten a few easy buckets, and fouls, via leak-outs late in the second quarter, when Miami's transition defense got sloppy.)
But they couldn't really sustain the decent looks part. The other baskets that got them back in the game were a series of contested (and mostly unassisted) long jumpers from Gay and DeRozan, including two straight 20-footers from DeRozan, with a defender in his face and zero movement preceding them, to end the third quarter. It couldn't last, and it didn't.
• The Raptors aren't built to generate a lot of easy looks, especially against a defense designed to blitz opponents back onto their heels, force swing passes, and take away everything at the rim. Ball handlers, including the scoreless Kyle Lowry, have a lot of problems going north-south against Miami out of the pick-and-roll. The tool kit you need to score on Miami — the 2011 Mavericks tool kit — involves taking advantage of the Heat's aggressive style by spacing the floor, moving bodies around, and loading the court with very good long-range shooters. Teams can work their way to open 3s against Miami, but they have to shoot those 3s well, and shoot them immediately. DeRozan and Gay don't really shoot 3s well (at least the post-shoulder injury version of Gay), and so instead of shooting immediately on Sunday, they'd catch the ball, hesitate, and try to drive by the Heat defender closing out on them.
You can beat Miami this way, too, by keeping all the parts whirring around until something opens up, but it's very, very hard with a short shot clock — especially if you pause for a beat before driving. Dwane Casey said after the game that the Raptors weren't "attacking feet" well enough, by which he meant they weren't aggressive enough in driving past defenders closing out on them.
• Toronto has some tasty-looking action in its offense, but much of it leads to midrange jumpers. They repeatedly ran a nice play on which Amir Johnson would set a high screen for Lowry and roll right down toward DeRozan on the left wing, setting a pin-down screen to free DeRozan for a midrange shot at the left elbow. And as that was happening, Gay would simultaneously draw a bunch of attention on the other side of the floor by posting up for a potential entry pass from Lowry.
Lots of stuff, nicely timed. But it's mostly going to produce so-so looks worth only two points, and it's often going to produce very bad looks.
• The Heat have different players and a different system, and they are hyperaware of the location of their very best 3-point shooters at all times. A big Ray Allen 3 to make the score 84-77 early in the fourth started with Allen spotting up on the right side with Dwyane Wade handling in the middle of the floor, above the arc, against DeRozan: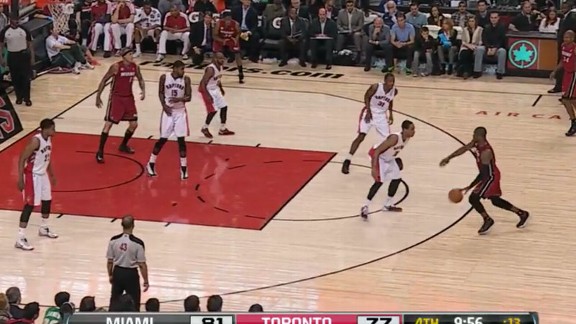 Wade is so threatening that Allen's defender, Terrence Ross, was already sinking in toward the foul line; Wade could have gotten Allen a decent look by throwing that short pass right to him. But Wade, and Miami, are always on the hunt for something better, and he knew he could suck Rudy Gay just a step or two away from Shane Battier in the left corner (and out of the above photo) if he could get some penetration out of a pick-and-roll. Wade made that precise play, but Battier passed up on the 3 in order to drive by Gay, who had trouble stopping his momentum from a strong closeout: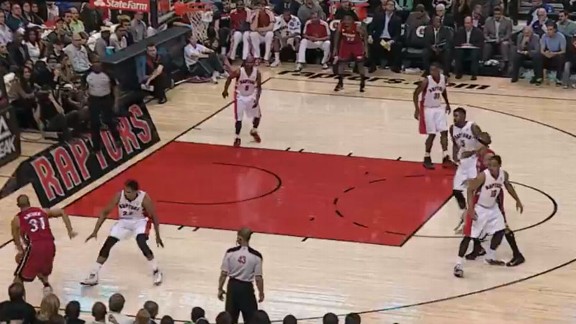 Battier knew his job from there: draw a help defender, and make a choice between Norris Cole in the corner and Allen above the 3-point arc. Duh. He chose Allen, who drained the shot.
I asked Battier about the play after the game: Had Wade planned all those steps in his head — had he set up Battier to make that exact play? "I think [Wade] thought I had the shot at first," Battier said. "But they closed out pretty hard on me. Usually when I'm in that situation, I know I'm supposed to shoot that ball. But I gave a shimmy, and went baseline, and we know where our shooters are, and where they are going to be if you go baseline, and you know where you are trying to go."
That was Allen, though Battier says he at least thought about the decision, since Cole could have had a look at a shorter corner 3. But Ross, left alone guarding two guys, ran toward Cole, effectively making Battier's decision for him — and freeing the guy Battier probably preferred to hit: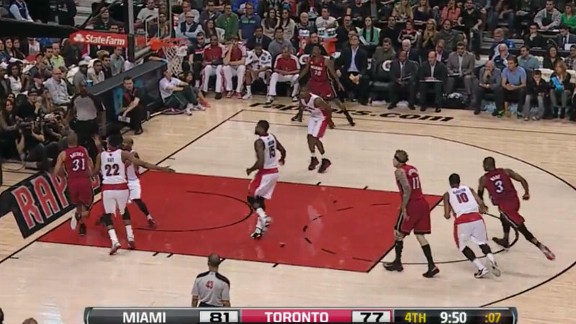 "The key is trying not to stare at [Allen] too much, honestly," Battier said. "I was staring at Norris in the corner, which is a tough decision to make — a corner 3 versus a wing 3. You almost have to hold the defender like a free safety."
Miami can generate the highest-value looks on a solid percentage of possessions, and it knows how to generate those looks. It has come close to solving NBA offense.
• I'm pleased to report that the Raptor mascot, a top-five overall mascot, had a special all-green costume for St. Patrick's Day and produced his usual home-run video skit. This one involved the Raptor encountering an annoying Heat "fan" in a couple of different situations and then committing some hilarious act of violence against that man. Scene one: Heat fan, wearing a Wade jersey, was holding a lit sparkler and blaring Queen's "We Are the Champions" from a boom box when the Raptor happened along with an aluminum baseball bat. The Raptor then smashed the boom box with the bat, Office Space–style.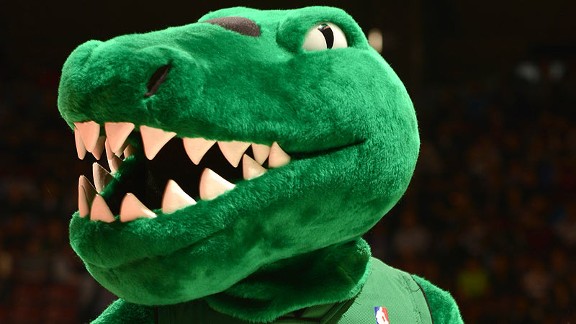 Scene two: The same Heat fan, wearing the same Wade jersey, happened to be in the Raptor's yoga class (the Raptor goes to yoga in costume, naturally), and the fan had an irritating habit of sighing out his exertion/pleasure really loudly as he hit every pose. The Raptor expressed his annoyance with some exaggerated gesturing, but the Heat fan would not quiet down. In the next shot, the Raptor's yoga mat was empty and a giant exercise ball suddenly flew from off camera and smacked the Heat fan in the face.
It can't be said enough: Mascots are delightful.
• I'm also happy to report that not one, but TWO, inflatable versions of the Raptor mascot appeared and did a little dance to Salt-N-Pepa's "Push It."
• The Raptor's jersey normally reads "Raptor" on the back. On Sunday, it read "O'Raptor."
• The Heat's pregame locker-room scene is something that could only exist in the bizarro world of pro sports. The centerpiece is LeBron, laying on his back atop a towel as a Heat trainer contorts LeBron's body in several painful-looking stretches. LeBron had rap music playing in the background, and he'd randomly start shouting the lyrics at various times during the songs. At least 20 media people were just standing there, watching and filming, as LeBron did this for several minutes. The NBA is weird.
• One of the commercial breaks in the second quarter featured a long video tribute to Morris Peterson, who played seven seasons in Toronto. Peterson was sitting at center court, and he got a massive, prolonged standing ovation after the tribute. One of the cool things about sports is when a non-star player somehow becomes beloved in a particular city for idiosyncratic reasons. Mo Pete is one such player.
• Ray Allen crossed up Ross and drove for a layup on the kind of play that really shouldn't be possible in 2013.
• LeBron wasn't exactly passive today, since he bullied and posted his way to 11 free throws, but only three of his 12 field-goal attempts game from within the restricted area, and six came from 3-point range — mostly off the dribble. You can tell the difference between 90 percent–engaged LeBron and Full-Throttle LeBron, and today mostly consisted of the former — a guy who is still the world's greatest player. He also committed only one foul, and though fans love to scream about LeBron's low foul count, if you actually watch him carefully, it's clearly pre-planned on his part. He doesn't like to foul, and sometimes very clearly goes out of his way to avoid fouling, even if risking a foul would allow him to contest a shot near the rim a bit better. It will be interesting to see how he strikes this risk/reward balance in the playoffs.
• Toronto fans are seriously committed to booing Chris Bosh, and Bosh is seriously committed to totally ignoring it. He didn't look at the crowd after big shots, or scream toward the fans, and he kept his head down as he left the court, staring at the floor ahead of him even as he gave out some high-fives to fans leaning across the railing.
• Alan Anderson has so many pregame and in-game dance routines and signature celebration moves that I stopped trying to track them by the end of the first quarter. He performs a special dance with Landry Fields and Mickael Pietrus along the bench as the starters are taking the floor, and he mimics cocking a rifle — the celebration he uses for his own made 3s — whenever a teammate knocks down a 3. He has put a lot of thought into this stuff.
• Pietrus never plays, but he remains an engaging personality, hamming it up for fans for much of the game.
• The Raptors' parent company held a silent auction in one lobby before the game, mostly featuring autographed basketball memorabilia. But the most expensive item was an autographed photo of the Hanson brothers from Slap Shot showing all three seated on the bench with blood coming from their noses and mouths. The minimum bid for this item was $300. The auction proprietor, a friendly guy named Maurice, informed me that the company has two photos of the Hanson brothers for auction — one in which the brothers are bleeding, and one in which they are not. The bloody one fetches a higher price, he says.
• Another scoreboard gem: A small, animated leprechaun doing an Irish jig with Jonas Valanciunas's head superimposed on the leprechaun's body. Valanciunas can get a little out of place defensively, but he showed some refined offensive moves today, and the Raptors are confident he's going to be a very good player.
• There were at least four turnovers in this game involving players catching the ball along the sidelines, as part of routine and unpressured actions, with one foot slightly out of bounds. One fan around me was shouting that the league needs to widen the court, a suggestion lots of folks have floated before. What's the downside, I wonder?
• With about six minutes left in regulation and the Heat having opened the lead to 12, LeBron started grabbing one-handed defensive rebounds and shifted over to guard Lowry. This is Miami's equivalent of a pro wrestler signaling to the crowd that he's about to execute his finishing move.
• That's 22 in a row for the Heat, tying the 2007-08 Rockets for the second-longest in league history. Battier was on that Houston team, and he told me that zero members of the team had called him to jokingly suggest he sabotage the Heat before they reached no. 22. I thought for sure Yao would have placed the call. Nope.
• The Heat travel to Boston tomorrow for what should be a tough, feisty game against the Celtics. After that, five of Miami's next six games are against lottery teams. The exception is a road game against the boom-or-bust (and very banged-up) Bulls. It's not unreasonable to suggest Miami could be going for its 30th straight win on the road against San Antonio on March 31. Regardless, they've clearly established themselves as the favorites to win the title.
Filed Under: We Went there