Under Pressure: Why Does the Premier League Play So Fast?
John Peters/Man Utd via Getty Images
Over the past five years or so, the Premier League has become almost uniformly focused on playing fast-paced soccer. It may be the legacy of Jose Mourinho's first Chelsea teams, which dominated through staunch defense, brute force, and physical transitions into attack, or it may be a reflection of the increasing fiscal dominance of the Premier League increasingly drawing in talent from around Europe. Maybe it's simply a part of the cyclical nature of sports. Whatever the reason, there were on average 27.8 shots per game last year in the Premier League, while the next fastest-paced league of Europe's big five was Italy with 26.4 (Spain averaged 26.2, Germany 25.5, and France 23.9), according to figures collected from StatsBomb and WhoScored.com. Speed is the controlling influence in the Premier League game, and it influences managers' tactical decisions on both sides of the ball.
The Defensive Press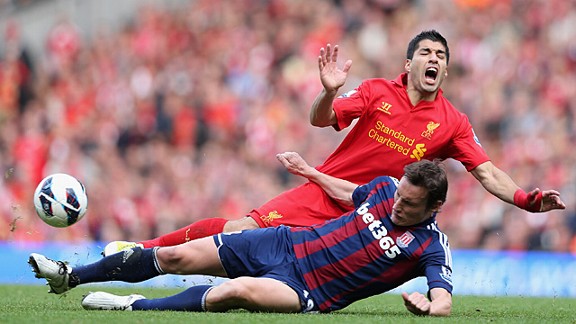 The traditional defensive approach of sitting deep in your own territory with two bands of four is quickly fading. More teams are opting to press higher up the field. And more pressing means a faster game as defenses either win the ball back in more dangerous territory or leave themselves vulnerable to quick strikes. No team represents the shift in mentality more than Southampton. When the newly promoted Saints fired manager Nigel Adkins in mid-January last season, they were in 15th place, having earned exactly one point per game over the first 22 games of the season, with a minus-10 goal differential. The decision to replace Adkins, viewed by many as a club savior who had led them to successive promotions, with Mauricio Pochettino fell somewhere between quite surprising and downright shocking. But Pochettino and the dramatic pressing system he instituted greatly improved the team. While the team's points per game over their last 16 matches improved to only 1.19, their goal differential improved to minus-1, a huge step forward in performance, even if it wasn't fully recognized in the results.
Southampton aren't the only team who switched tactical courses recently. Sunderland fired the traditional Martin O'Neill with seven games left, and brought in Paolo di Canio, who installed a more aggressive defensive mind-set to the Stadium of Light. Meanwhile, Tony Pulis, perhaps the strictest adherent to the sit-back-and-defend way of life, was fired from Stoke after a seven-year stint with the club.
Now, not all pressing is the same. Watching Luis Suarez risk life and limb diving into tackles to try to win the ball from defenders and create easy scoring chances isn't the same as watching Andre Villas-Boas's well-drilled Spurs midfield force the ball back to their opponent's keeper over and over and over again. And different still is Southampton's one-man dynamo, Morgan Schneiderlin. The Frenchman is an absolute superstar of a defensive pressing midfielder. He led all midfielders in tackles attempted, tackles won, and interceptions, with the fourth-highest percentage of tackles won of any midfielder who had attempted more than 125. He is a game-changing defensive force, and Pochettino setting him loose on the EPL was the single best decision the manager made.
Lack of Deep Lying Playmakers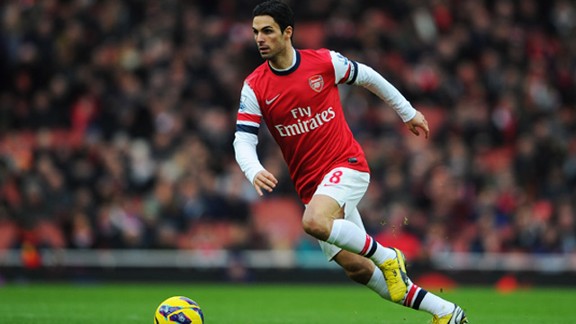 Most European soccer leagues are seeing a deep lying playmaker renaissance. Whether it's Bastian Schweinsteiger at Bayern Munich, Andrea Pirlo at Juventus, Xavi at Barcelona, Xabi Alonso or Luka Modric at Real Madrid, or even Marco Verratti at PSG, the elite teams of the world are littered with players who control the game by pinging passes from the middle third of the field. That trend is much less prominent in England. Whether it's because those roles are increasingly being occupied by athletic midfielders more adept at pressing than passing, or because managers are worried that pure passers with limited mobility won't see enough time on the ball, pure passers are becoming a rare breed in the Premier League.
The two notable exceptions to the trend are Manchester United with Michael Carrick (and the recently re-retired Paul Scholes) and Arsenal with Mikel Arteta. And it's no accident that those two teams are among the most comfortable in the league playing at a slower pace that relies on possession. Arteta's and Carrick's jobs are to make and receive shorter passes, helping to keep their offenses alive (similar to a large part of Xavi's responsibility at Barcelona), rather than act as springboards for transitional attacks.
Elsewhere, though, teams are declining to field traditional deep lying playmakers, and even Arteta at Arsenal isn't truly a replacement for Cesc Fabregas leaving. Manchester City never really considered playing the creative Samir Nasri in the role, despite the mediocre performance of Gareth Barry (and then brought in the physical Brazilian Fernandinho to fill the spot). Chelsea currently play Frank Lampard in a holding midfield role next to tireless runner Ramires, but even though Lampard is a good passer, his true strength lies in the scoring he brings to the role, not the distributing. Further down the table, Spurs replaced Modric with the very different Moussa Dembele (and then added another physical midfielder, Paulinho, this transfer window), while pure passer Tom Huddlestone seems to have been sold to Hull. At Everton, the role was occupied by two of the trio of Darron Gibson, Marouane Fellaini, and Leon Osman, while Liverpool sometimes played talisman Steven Gerrard in that role, but thrived when he was higher up the pitch, leaving deep lying defensive (but not particularly distributive) duties to Lucas Leiva.
Rather than use the long, pinpoint passing in transition, the preferred method for many teams in the Premier League is putting the ball at the feet of players who can shrug off a tackle. Yaya Touré at City, Dembele at Spurs, and Fellaini at Everton are all adept at absorbing pressure from a defense and breaking into space with the ball at their feet. They transition through their physicality rather than the precision of their passing. It's a method of attack that exploits spaces left by a pressing defense that wouldn't be there against a compact team playing two banks of four.
Have We Reached Peak Speed?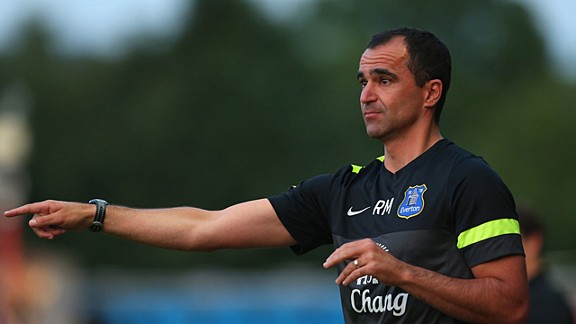 As both pressing tendencies, and specific tactical and personnel decisions designed to combat those tendencies, become more widespread across the league, there is also the possibility that smart teams and managers are already beginning to adjust. The cliché "When they zig, you zag" comes into play here.
Both cup winners last year, Wigan and Swansea, practiced a possession-based brand of soccer. These teams didn't attack pressing defenses by bypassing it, but rather by becoming comfortable keeping possession deep in their own territory while being hounded. It's like a short passing rope-a-dope designed to tire out the other team while moving them out of position. Now that Wigan manager Roberto Martinez is at Everton, he looks set to bring his tactical approach to the top six.
Additionally, Manchester United showed a lot of comfort allowing teams to have the ball last year, and were one of the best teams in the league at blocking shots, but none of their roster of central midfielders are particularly determined or efficient at applying active defensive pressure. At City it remains to be seen whether Manuel Pellegrini will implement the slower style of attacking buildup he used at Malaga, or the press/beat-the-press/high-volume-shot approach he used at Real Madrid. And if Liverpool were to lose Suarez, they too could dramatically slow down their attack. Rodgers's coaching roots are at Swansea, and his acquiescence to a fast pace has as much to do with catering to his stars' strengths as anything else.
All sports trends eventually come to an end, just as surely as success breeds imitations. Is this the year that, as teams further down the Premier League table increasingly implement the high-paced, high-powered approaches of some of the top clubs, we see the pendulum begin to swing in the other direction? It's possible, but only time will tell. Thankfully, that time starts on Saturday.
Mike L. Goodman (@TheM_L_G) is a freelance writer and soccer stathead based in Riga, Latvia.
Filed Under: Arsenal, English Premier League, Manchester City, Manchester United, Soccer