The Year in "Holy S—!!!"
Getty Images
It is the end of the year, which means it's time for everyone to look back at what just happened. Remember, reflect. Or, in today's case, rejoice at all the most surreal moments and humans we saw in sports in 2013. The sort of stuff for which the only appropriate reaction is to stand up and scream "Holy shit!" at your television. This is why we watch sports, because sports delivers more of those moments than anything else.
So, to celebrate the year that was, Andrew Sharp, Chris Ryan, and special hockey expert Sarah Larimer put together a collection of our favorite stories from the past 12 months or so. We begin at Golden State.
Steph Curry's 22-Point Third Quarter
Chris Ryan: "Those guys are just coming to the hospital … the baby has been born already." The baby, of course, was a bright-burning pulsar named Steph Curry. That quote is from his coach, Mark Jackson, following Curry's call-your-mom-and-tell-her-you-love-her-except-you-hate-her-because-she-is-not–Sonya Curry 31-point performance against Denver in Game 4 of the Dubs-Nuggets playoff series. Curry hit 3s from the corner, in front of the Denver bench; he hit 3s from the top of the key that seemed to be launched from a different zip code than the basket; he broke Professor Miller's ankles, went off on Wilson Chandler, and probably would have blown up Dennis Rodman if George Karl had run him out there to defend him. When he bounced a ball off JaVale McGee in the lane, grabbed the ricochet in midair, and made an acrobatic layup, most people in America found religion.
We had a new god now. Check out Curry's shot chart for the Nuggets series:
Curry's 54-point explosion against the Knicks during the regular season may have been more impressive from a numbers perspective, but this 12-minute burst, which included five 3s and saw Curry score 22 of his 31 points, on a national stage, against what many thought was one of the best teams in the NBA, was one of those moments where you turn to your friends or significant other or priest or therapist and say, "THIS IS WHY I WATCH BASKETBALL." In that sea of yellow shirts, with Draymond Green and Jarrett Jack freaking out, and Klay Thompson doing his totally dumbfounded smirk thing, this kid with bad ankles and X-ray vision made the Oracle Arena the center of the universe. Yeah, like Jackson said, something was born. It was a star.
The Yasiel Puig Explosion
Andrew Sharp: Puig's first year in baseball was one long succession of holy shit. On the one hand, he played out of his mind, and shortly after he entered the majors in June, the Dodgers became the best team in baseball. He batted .319 and hit 19 home runs, he came up huge in the clutch, and he also specialized in the kind of surreal pickoff throws that forced everyone to do a double take.
He wasn't perfect, but he was a force of nature that had baseball hypnotized pretty much all summer. It played out like Linsanity in Los Angeles, and the legend got a little crazier every week.
The best part? Nobody in sports is more stuck-up than stuck-up baseball writers. And by ignoring cutoff men, celebrating too much, and occasionally testing the patience of his teammates, Puig drove these gatekeepers of integrity INSANE. The takes were hotter than the center of the earth. "With each home run and highlight-reel moment, the monster grows … Can the Dodgers eke a Kirk Gibson moment out of Puig this October before they get a Frankenstein moment?"
Puig responded in kind:
Yasiel Puig was in the visitors clubhouse here at #Marlins Park & looked at us gathered there and yelled, "F**K the media" and left the room

— Josh Friedman (@Friedo790) August 19, 2013
Which isn't to say it was all controversy for Puig.
So, just witnessed this: Puig is asked by a sick young boy's mom to pose with her son for a pic. He does. They thank him and walk away (1)

— Tim Brown (@TBrownYahoo) August 24, 2013
A couple minutes later, Puig comes out of dugout with a game-used bat, scans foul ground, runs over and gives the little boy the bat. (2)

— Tim Brown (@TBrownYahoo) August 24, 2013
After Year 1 of Puig, the only thing we know for certain is that he's one of the most outrageous talents baseball has seen in a long time, he will drive baseball traditionalists crazy for the next 10 years, and we're really only scratching the surface of how much fun this will be. But you couldn't ask for a much better start than 2013.
Dinosaur Marching Band
Sharp: I didn't even see this until last week, but … HOLY SHIT!
Cristiano Ronaldo vs. Sweden
Ryan: I should probably be writing about some unbelievable moment from the year of soccer. Something like Borussia Dortmund's comeback against Malaga in the Champions League, or the USMNT's Hoth Game against Costa Rica …
But really, the biggest holy-shit moment from the world of soccer wasn't unbelievable at all. It was totally plausible. Cristiano Ronaldo is one of the best players in the world. And against Sweden, he played like it. Pretty simple! The holy-shit part had to do with how he did it. Cristiano Ronaldo scored a hat trick against Sweden in a winner-goes-to-Brazil playoff game. He did this in the most Cristiano Ronaldo way possible: Messi is the tiny dancer, Ronaldo is the bull. And he ran at Sweden's defense like a bull … with an F-16 engine strapped to its back. Portugal's attack basically amounted to "kick awesome through balls into the Sweden half and let Ronaldo cook." He would score shotgun-blast goals with his left or right foot, then look up at the Swedish crowd and say, "Nobody eats but me today." Perhaps the biggest holy-shit moment in this holy-shit match was when Zlatan Ibrahimovic, no stranger to holy-shit moments himself, did the only thing you could do for a performance like Ronaldo's …
He applauded.
Andre Drummond and the Summer of Love

Sharp: Meet Drummy, the teddy bear Andre Drummond gave Jennette McCurdy after a summer of social media stalking finally led to an introduction, and eventually a meeting between the 20-year-old NBA star and the 20-year-old Nickelodeon star. Some NBA blogs picked up on this, and we all thought it was the best random story of the summer. But then it got serious. They tweeted at each other. They went on dates. They held hands. They costarred in some of the most adorable Vines in human history. The cute random blog post blossomed into the greatest love story of our time.
Even if you know the story by now, and know they broke up a month or two later, it doesn't matter. THAT BEAR WAS REAL, DAMMIT.
So was the love.
We're including this story because in 10 years, someone is going to stumble on this post, see the Jennette McCurdy Wall Street Journal meditation on love in the digital age, and say, "Holy shit, remember THAT?"
Andre Drummond will be king of the NBA by then, and his two-month Instagram-spawned love affair with a Nickelodeon star will be 1,000 times crazier.
Go Pistons. Go America. Go love in the 21st century.
Andy Murray at Wimbledon
Sharp: He'd come close so many times before, only to lose in the most heartbreaking way possible. A year before, he'd been up a set on Roger Federer — word spread quickly that he might actually pull off the upset, and I remember turning it on right as Federer went into God mode and blew him off the court in three straight sets.
This was the story of Andy Murray's career.
But now, nothing else matters. It's over. Forget the ATP rankings or Novak's forehand or Nadal on clay or Federer's everything. Andy Murray is the first British man to win Wimbledon in 77 years, and that's the new story of Andy Murray's career. For that, he's got a lifetime of worship to look forward to. Everything else is just a bonus. It's hard to root against Novak Djokovic, but I think Murray had the entire world rooting for him to win that day at Wimbledon. And he did it.
More than anything else, I'll remember that match for the final set, when he kept winning, kept not choking, and all I could say was, "Holy shit, he's really gonna do this, isn't he?"
YUP.
This Dunking Otter
Ryan: Yo, this is a sea otter named Eddie, and HE CAN DUNK.
Chris Davis in the Iron Bowl
Sharp: It helped that there was a Goliath for Auburn to take down, because Alabama at no. 1 made everything that much more dramatic. It helped that Auburn runs an offense powered by the mind of a cracked-out genius (Gus Malzahn) and the legs of Nick Marshall and Tre Mason, two guys who are impossible to root against. This play was the culmination of a comeback that was unbelievable on its own. Auburn had no business being in this game. That was all part of it. Nick Saban, too. He is the Keyser Soze of college football, so watching him make mistakes and call for missed field goals and slowly keep Auburn in the game brought its own element of surrealism into everything.
But you didn't need to know any of this to have your brain melted by Chris Davis on that final play. It was impossible to watch that play and not stand up screaming at your television. The 100-yard field goal touchdown return with 0:00 on the clock to win the biggest college football game of the year, while the entire stadium vibrated around him, and cameras shook, and Nick Saban and the Alabama sideline looked on in horror, and … everything. Even typing that sentence blows my mind. Chris Davis in the Iron Bowl is the dictionary definition of "Holy shit!" in sports.
Blackhawks Score Twice in 17 Seconds to Win the Cup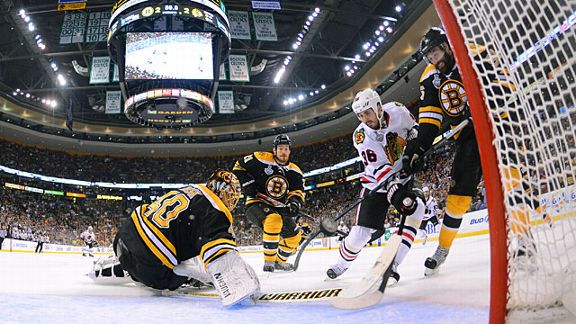 Sarah Larimer: Holy bleep. Are you still Kaner Shufflin' to "Chelsea Dagger"? Because I am! I mean, remember how totally wild this moment was? Here we are — six months after Chicago's game-tying and Cup-winning goals in the dying seconds of Game 6 of the final against Boston — and it still seems completely mad. And yet, 100 percent believable. But mostly mad. Two goals! Seventeen seconds! A brilliant, perfect, bonkers explosion of an ending to Chicago's dream season. Honestly, does it get any better than this?
Sorry, all other sports, because no, it does not. Hugs for everyone! ( Unicorn heads, too!) Besides, even if you're a Bruins fan, or you're really just not down with winter sports or whatever, I think we can all agree that the greatest moment in the NHL last year definitely also gave us the greatest moment in dance:
I know. So, thanks, 2012-13 Chicago Blackhawks, you crazy-talented bunch of goofballs. Those 17 seconds, which secured your second Cup in four years, were such a gift. On so many levels.
The Summer of Johnny
Sharp: 2013 and Johnny Manziel combined for an NCAA nightmare. A Heisman winner with money of his own who could afford to fly around the country and party with rappers, sit courtside at NBA games, and nobody could ever tell what was legal and what wasn't. He partied in Mexico for his spring break. He was allegedly asked to leave the Manning Passing Academy after staying out all night partying. He showed up to frat parties at his school's biggest rival. In a Tim Tebow jersey. He got kicked out of other frat parties. He was investigated by the NCAA for signing thousands of autographs and (maybe) getting paid. He answered questions about this investigation at SEC media day, and then flew to the ESPYS that night. We found out he had a personal assistant named Uncle Nate. He became best friends with Drake, and then got an OVO tattoo on his wrist to make it official. It was all amazing. He inspired ledes like this for five straight months:
This weekend, Heisman Trophy winner Johnny Manziel posted an Instagram photo of himself holding a fanned handful of cash, tagged with the caption "casino ballin."
And responded like so:
Nothing illegal about being 18+ in a casino and winning money…KEEP HATING!

— Johnny Manziel (@JManziel2) January 6, 2013
Did he seem like a douche bag during all this? Probably. But you had to respect his undying commitment to never tone it down or apologize for any of it. In the first game of his season, he mocked everything: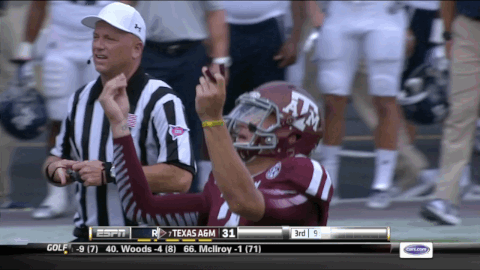 And then the Texas A&M president joined him.
It was one hell of a year.
Johnny Football forever.
Big Papi's Grand Slam
Sharp: The Red Sox are already down a game in the ALCS.
They're down 5-1 in Game 2.
Their offense has been dead for 17 innings.
David Ortiz comes to bat in the bottom of the eighth with the bases loaded.
Launches one deep to right.
Torri Hunter flips over the wall, cop throws his hand in the air.
Grand slam.
Sports are the greatest.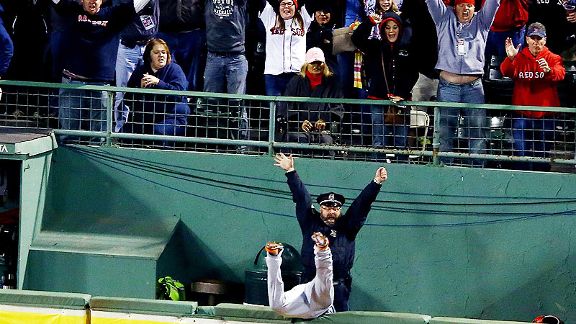 The Red Sox went on to win that game, because of course they did. They had to after that Papi home run. And that's how their entire playoffs played out. It was all too good to be true, they just kept delivering, and nobody personified this better than David Ortiz.
At one point during the World Series, Papi was hitting 11-for-15 with two home runs, two doubles, and six RBIs. It was ridiculous, made twice as awesome because of everything Papi's meant to Boston over the past 10 years, and especially in the wake of the Boston Marathon bombings, when he reminded everyone whose city Boston was.
Obviously there were people who screamed PEDs while all this happened, but whatever. We watch sports in an era when there are endless reasons to be suspicious and cynical about what we see every week. In any sport, but especially baseball. As far as I'm concerned, if everyone's under suspicion and we'll never really know, then we might as well enjoy the guys who blow our minds in the meantime. The definition of what's natural and "real" is blurrier than ever in sports, and that's a separate conversation. But for about three weeks this fall, Papi was more unreal than anyone. It will always be awesome.
Calvin Johnson vs. Dallas
Ryan: What do you compare this to? 2008 Larry Fitzgerald? 2003 Randy Moss? 2009 Randy Moss? 1999 Neo? I usually think athlete nicknames are pretty stupid, but on October 27, calling Calvin Johnson "Megatron" seemed like it was too complimentary … to the actual Megatron. I've seen three Transformers movies. I've never seen any robot do what Calvin did.
Johnson had 329 yards and a touchdown against Dallas that day. We would come to find out that the Cowboys may not have the tightest of defensive backfields and their D-coordinator is definitely Hume Cronyn from Cocoon and that this is what you get when you turn your back on Rob Ryan.
But none of that should take away from Johnson. If I were Matt Stafford, I would just throw the ball up to him every time, turn my back on the play, and just shout, "THAT'S MEGATRON AND THAT'S SIX." That's the kind of cosmic certainty we're dealing with here.
Dream Teams
Sharp: Last year we had Dwight and the Lakers.
This year we have Kidd and the Nets. Who's the coach of this motherf—ing team?
We are so blessed.
The Super Bowl Blackout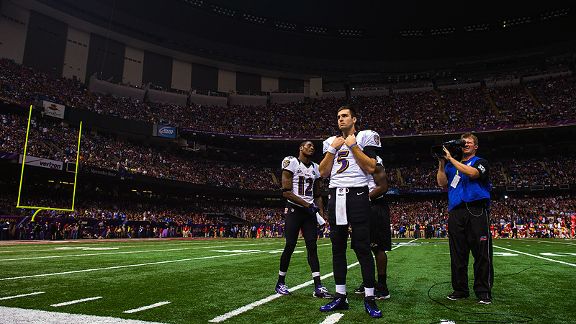 Sharp: I was at a bar in Baltimore when this happened, and after the Ravens dominated the first half and everyone got progressively drunker, the blackout led to a nice second half of terror for Ravens fans. The longer the blackout went, the more the adrenaline from the first half disappeared, and everyone just sort of glazed over. Somewhere in the middle of this, 10 hours of drinking caught up with everyone, so that by the time play started again, 500 Ravens fans were mostly just sober and confused and hoping Baltimore didn't blow it somehow.
And they almost did! The Ravens came back flat, and the Niners came back and went on a 23-3 run to come within two points of tying the game. The blackout was just one piece of a Super Bowl that was full of holy shit moments:
• Two brothers making improbable runs to the Super Bowl to coach against each other
• The most famous player in the game, retiring after the year, accused of taking PEDs five days before the Super Bowl
• Beyoncé's answer to lip-synching allegations by singing the national anthem at her press conference and then putting on a halftime show that scorched the earth
• Everything Jacoby Jones did
• The blackout
• The 49ers comeback
• The final 49ers drive to win it that ended inside the 10-yard line, with Ed Reed and Ray Lewis and the Ravens' defense making one last stand (with a possible uncalled holding penalty) to seal the Ravens' win
It was all so incredible that by the end you had to wonder whether Roger Goodell and the Illuminati rigged all of this for our enjoyment. I still sorta think he did. He must've, right? There's no way the most powerful league in the world could allow that huge a screwup at the biggest televised event in American life. RIGHT?
(Really. Put nothing past Roger Goodell and the Illuminati.)
(Truth's hiding in plain sight.)
Game 6
Ryan: Sharp, do you remember when Pop screamed, "It's supposed to be hard! It's the Finals!" Do you remember when Kawhi Leonard creamed Mike Miller? Remember when Tim Duncan wrote a textbook on how to play power forward? Remember sitting there, thinking the Spurs were actually going to pull this off, and wondering about all the awful articles you were going to have to read about whether LeBron was actually as good as people said he was? Then he turned into the Greek god of war in the fourth quarter? Remember the headband? Remember when he stuffed Duncan and it felt like a calendar page flipped over and we were fully and totally into a new era? Remember when it all went wrong? Then it all went right? Remember Tony Parker? Remember San Antonio being up 10 going into the fourth and thinking, You know what? They deserve this? And then you remember Ray Allen? HOLY. SHIT.
Sharp: I remember LeBron going Greek god, I remember the Spurs having it locked up, the Miami fans heading for the exits, the arena staff bringing out the yellow ropes for the trophy presentation, and Ray Allen yelling "Get those motherf—ing ropes out of here!" I don't even know if that's what he actually said, but that's how I'll remember it. And then a few seconds later, Bosh got his rebound and Ray banished the ropes for good.
I remember watching this game standing alone in my living room screaming, then afterward going out for a long drive to make sure it all really happened. It gets no better. In 2013, or ever, really. Get those motherf—ing ropes out of here.
Filed Under: Alabama, Andrew Sharp, Auburn, Boston Red Sox, Chris Ryan, Cristiano Ronaldo, Detroit Lions, Golden State Warriors, Los Angeles Dodgers, Miami Heat, San Antonio Spurs, Sarah Larimer