The Trenchie Awards: Some Vintage John Abraham and the Play of the Year From J.J. Watt
In celebration of the NFL's release of the all-22 and end zone film for the 2012 season, each week we'll be bringing you the best in offensive- and defensive-line play. For the winners of last week's Trenchies, click here.
The Bob Lilly Award for Run Stuffing
J.J. Watt, Houston Texans
Before last week's games began, both J.J. Watt and Von Miller ranked among the top three in the entire league in two telling statistical categories. The first has been one of the more talked-about stats races of this near-finished season. Along with fellow 2011 first-round pick Aldon Smith, Watt and Miller stand as the three men vying for this year's sack title. The other stat, conversely, hasn't been talked about at all, and it probably won't be found on any website, either. But as much as or more than the sacks, it's the telling figure about just how dominant both Watt and Miller have been. Coming into Week 13, among eligible players (at least 20 tackles), both ranked in the top three in yards allowed per tackle on a rushing play. Ranked first was Miller, who on his 27 tackles in the run game allowed an average of -.3 yards per play. In other words, Miller was averaging a tackle for loss. Third, at .3 yards per rush, was Watt, whose 38 tackles were three more than Brian Urlacher's total in the same category. Brian Urlacher is a middle linebacker.

Miller's performance in the run game has been his biggest area of improvement and the main reason he's elevated from elite pass-rusher to top-five defensive player, but the star in this area — in both volume and efficiency — is Watt, and that trend continued this week.
Along with another sack, Watt added three more tackles for loss against the Titans on Sunday. Two of them came in the way we've come to typically understand Watt's unparalleled production — with Watt lined up head-up over the offensive tackle, playing the gap to each side simultaneously before shedding the blocker and pulling down the runner in the backfield.
The third came out of a different, more traditional alignment, but one that makes Watt's responsibilities no simpler. It was the type of play seen probably a dozen times every game, but from Watt, in this instance, it's the best play I've seen a defensive player make all season.
(GIF by HeyBelinda)
On the play, Houston is lined up in a 4-3 defense — rather than its base 3-4 — with Watt as the left defensive end. At the snap, the run action comes in Watt's direction, and his job, as right tackle Mike Otto (no. 66) attempts to reach him, is to maintain outside leverage and push the play back inside. Because he's J.J. Watt, he gets his hands on Otto quickly and does this with relative ease.
After it's clear that Watt has beaten Otto to the outside, tight end Craig Stevens (no. 88), who lined up at fullback on the play, sprints toward the sideline in an effort to get to Watt's outside shoulder. Initially, Stevens beats Watt to the spot, but his advantage doesn't last very long. Watt disengages from Otto, extends his hands onto Stevens, and, using a subtle swim over the top with his right hand, regains position to the outside.
All of this is enough to make for an incredible play. Watt's avoided being reached by two separate defenders (including one not assigned to block him; Stevens's job here is actually to take now-unblocked outside linebacker Connor Barwin), and the expectations for him on such a play should be over. With the play forced back inside, pursuing teammates should be able to make the play for little or no gain. That doesn't happen.
Instead, just as Chris Johnson slows to cut back, Watt stops, sheds Stevens, spills back to the inside, makes a tackle four yards deep in the backfield, and forces a fumble. The play is a collection of what makes Watt the best run-defending defensive lineman in football, but nothing here is more impressive that the use of his hands. While never stopping his movement to the outside, the ability to shift his hands from Otto to Stevens and then shed the second blocker is something that few, if any, other defensive linemen in the league are capable of. The first 12 games of this season have seemingly been a collection of J.J. Watt highlights, but they aren't going to get any better than this.
The Deacon Jones Award for Excellence in Pass Rushing
John Abraham, Atlanta Falcons
Rounding out the top five of that sack list are Cameron Wake (who may be the best pure pass rusher of the bunch) and ageless wonder John Abraham, who's been a notable pass-rushing force for about as long as I've watched football. Abraham's 10 sacks this year mark his seventh season finishing in double digits, and with them, his career total now stands at 122, good for 13th since they started keeping the stat. In his 13 seasons, Abraham has been an All-Pro only twice, but in looking at his career totals, his company is nothing but elite. Of the 12 players ahead of him on the all-time sack list, only Kevin Greene, Michael Strahan, Jason Taylor, and Leslie O'Neal are not in the Hall of Fame. Two of them — Strahan and Taylor — almost certainly will be, and Greene likely deserves the honor as well. Abraham has never been among the two or three most dominant pass rushers in the league, but his production has been consistently at a high level, and the 34-year-old had yet another big night last Thursday against New Orleans.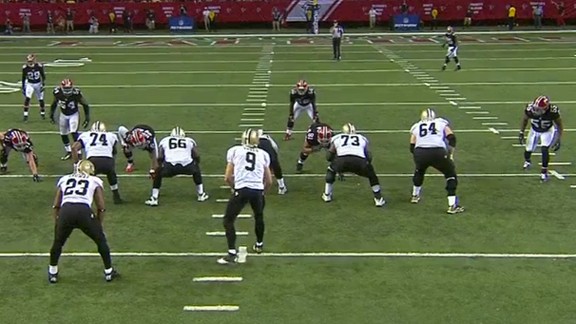 With Atlanta holding on to a touchdown lead in the fourth quarter, the Saints lined up on third-and-5 from the Falcons' 36-yard line. Earlier in the night, Abraham, lined up on the left side like he is here, beat right tackle Zach Strief on a speed rush to the outside, only for Drew Brees to get rid of the ball just as Abraham made contact. Here, neither Strief nor Brees gets so lucky.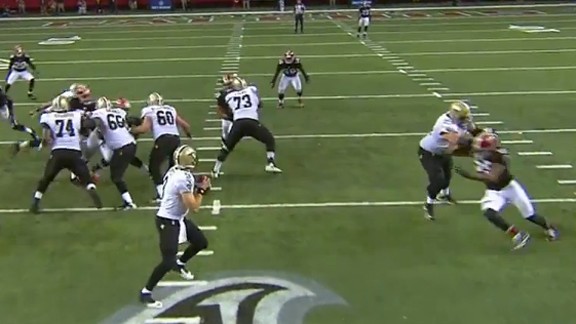 There's nothing complex about Abraham's efforts on this one. His get-off at the snap is simply amazing, and before he even makes contact Strief is already beaten. With a simple dip of his right shoulder, Abraham is past the right tackle and on his way for Brees.
What stands out is how natural it looks for him. There are certain players — Abraham, Robert Quinn, Cameron Wake — for whom the inside rip move seems instinctual, and this play is just another example. Everything about this sack is about muscle memory and fluidity, and the moment he feels he's beaten Strief to the outside, Abraham puts his left foot in the ground and begins bending back toward the quarterback.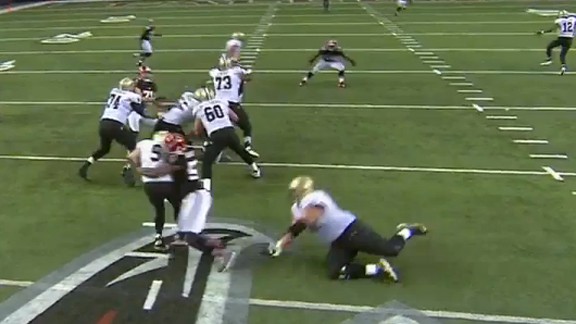 The whole thing takes a little more than two seconds, and when it's over, a player who's still one of the more important pieces of Atlanta's championship hopes has made a play that has essentially sealed the division title. Thirteen years later, John Abraham can still make it look pretty easy.
Filed Under: Drew Brees, Houston Texans, J.J. Watt, NFL, Robert Mays