The Pain and the Joy of Sloane Stephens and Serena Williams
Ryan Pierse/Getty Images
It can hurt to see someone in pain. It's real, not metaphorical, and it's strange. The flash of pain across a face can signal across the space between bodies and the other mind will flash like lightning in response. A faint rumble of pain follows like thunder. I can't explain the mechanics. It has to do with mirror neurons or the somatosensory cortex or something. Your brain is fooled. Your heart tightens and your stomach jumps. If you're like me, you might feel tears threaten your eyes. There is something ridiculous and egomaniacal about this. I was not injured watching Serena Williams play last night. But it hurt all the same.

Sometimes when a body crumbles — RG3's body shutting down, his knee finally buckling — I cover my eyes, or want to cry, or want to vomit. Sometimes it's an empty gasping mouth, a writhing face or a howl I can't hear, that makes my heart clutch. Other times it's something much smaller and more simply sad. As hard as it was to watch Serena clutch at her back or wince as she twisted her torso to hit a backhand, it was harder to watch her stand at the baseline preparing to serve. She could not place her toss. She hit it without power. Serena Williams, without her serve! She struggled with herself. There are different kinds of pain, tangled types of pain.
Serena, like all great athletes, asks more from her body than a body can comfortably handle. Let alone what she demands from her competitor's body. Her injuries and health problems are extraordinary and well-known. But for any top athlete, pain is a daily reality. She can expect to hurt. Sports on some level are always about pain — pain inflicted, pain received. Pain becomes toughness. It is turned into strength, into dominance and will. It is glorified — something to be mastered or conquered. But pain cannot be completely overcome. At the last moment, there is the anguish of losing. Someone is always in pain.
Isn't this one reason why athletes are dehumanized or turned superhuman? They're called names and talked about like animals. So Serena has been turned into a beast — by those who admire her and those who don't. Athletes are put in uniforms and assigned numbers. It would have been easier if Serena were in pads and a helmet with a mask. The problem, though, was that you can see her face. She has an extraordinarily beautiful face. Sometimes I almost forget that, until one of those slow-motion tight shots reminds me that I could watch her face as she hits a ball and watch nothing else. Despite her famous competitiveness and infamous shows of anger, when she hits a ball her face is actually serene. So when pain clouded it, and the shock of frustration made it wild, I could hardly watch.
Of course Serena is different. A great athlete deals with pain and keeps playing. She thought about stopping "for a nanosecond," she said afterward. For her to quit, she said, she would have to be "taken off in a wheeler." So she fought. She reached up for overheads and stepped up to cut off the angles. She kept twisting for that backhand. She very nearly won. And when her body would not cooperate, she slammed her racket against the ground and slammed it again, like she would have liked to slam a serve. She flung the wreckage against her bench. "It made me happy, unfortunately," she said, and she smiled.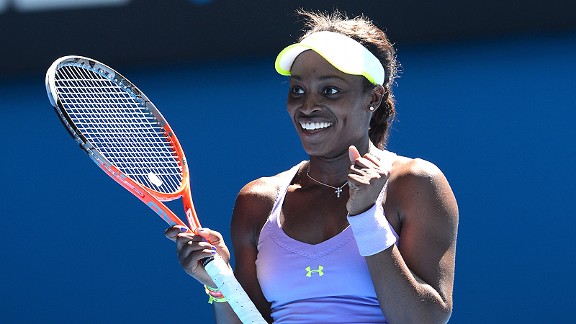 Sloane Stephens had started the match confidently and competently. She had been calm — at times a little too calm, as she can be, but still aggressive. For a set and a half, she had been a worthy competitor. She had been better than expected, as good as anyone had been against Serena for a long time. Serena had not lost a set in 20 matches. She had not lost a match since August — and only one since last May. Williams had never been beaten by a younger American, and Stephens had never beaten a top-10 player. Her talent was apparent, and her ability to handle Serena's extraordinary pace and precision and play offense at the same time suggested big things. She is 19 years old, and she had been picked as a future star, perhaps the future star. And with good reasons — but her moment was not meant to be now.
Then she was given a gift: Her opponent was in pain. Suddenly there was pressure: She could win. She should win. She shanked the ball. She double-faulted. She tightened up. Also, she had to watch Serena suffer and then make her suffer more. Stephens had to watch her opponent wince as she hit a backhand, and then Stephens had to keep hitting her backhands. She did her job. She did it cheerfully and well. She let loose with her forehand. She attacked the net. She hit feathery volleys. She has extraordinary hands.
A match like last night's is like alchemy. It turns pain into pleasure. As difficult as it was to watch hurt and disappointment pass across Serena's face, it was wonderful to see Sloane's luminescent smile. As hard as it was to watch Serena serve so softly, it was a delight to watch Sloane adjust to the change, step into the court and rip her return.
People on Twitter and in newspapers and blogs are now talking about the changing guard, about Sloane's arrival. During Roger Federer's match a few hours later, ESPN was showing clips of a ponytailed Federer beating Pete Sampras at Wimbledon. This seemed to me to be a little precipitous. Serena Williams is still the best player in the women's game today, tomorrow, and maybe for some time.
But she is neither a hero nor a beast. She's human. The stunning fact of that can coexist with another: that the human mind and heart, even in pain, will respond with awe and delight to supple strokes, delicate half-volleys, and a cool determination that knows its way. Sloane Stephens beat Serena Williams last night, 3-6, 7-5, 6-4. It made me happy.
Filed Under: Serena Williams, Tennis