The Minnesota Timberwolves Fan's Guide to the Five Stages of Post-Lottery Grief
David Sherman/NBAE via Getty Images
If you truly want to know what it feels like to root for the Minnesota Timberwolves, all you have to do is watch the NBA draft lottery. The lottery plays out the exact same way every year. The night starts off with a feeling of dread, as you recall the disappointing season that's led to this moment: all the errant passes, the fluke injuries, the missed dunks. Then the ceremony begins — those stupid ping-pong balls start bouncing around in that dumb plastic bin — and no matter how hard you try to fight it, you can't help but fantasize a little bit. You start to think maybe this is the year the Timberwolves' luck changes. Maybe this is the year they jump up in the draft and get that missing piece they need. Maybe this is the year they reach their true potential. Then suddenly all those stupid ping-pong balls are taken out of that dumb bin, Cleveland is handed the no. 1 pick, Minnesota hasn't moved up in the draft at all, and we're back to feeling that familiar sense of dread.
It's the five stages of lottery-related grief. Welcome to Minnesota.

Stage 1: Denial
I was just in Minneapolis a couple weeks ago to do stand-up, and I spent an afternoon reliving my childhood by walking aimlessly around the Mall of America. I noticed that almost every other store in the mall sold Twins hats, Adrian Peterson jerseys, or Minnesota Wild sweatshirts. Yet I couldn't find a single store displaying any T-Wolves paraphernalia. One store had a mannequin proudly wearing a "Minnesota Lynx: WNBA Champions" T-shirt. Is this the only city in America where they pump up the WNBA and suppress the NBA team? None of the bars downtown have any visible Wolves decorations. Even the Target Center, the home of the Minnesota Timberwolves, has no signage indicating to anyone that it's the home of the Minnesota Timberwolves. Once the season ends, Minnesotans do a good job of pretending there never was a season.
Stage 2: Anger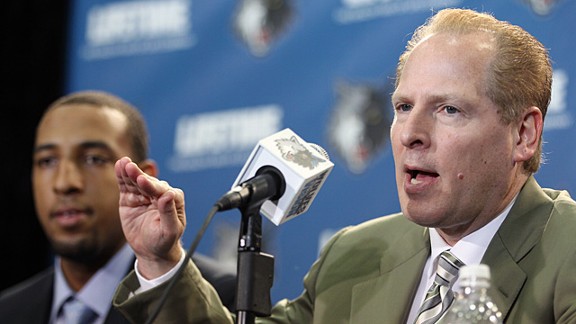 Rooting for the Timberwolves feels like you're stuck in a prison, only the prison has no guards because nobody's forcing you to stay in prison. I just realized that's a terrible analogy because if there's one thing the Timberwolves do have in abundance, it's guards. Holy shit, why do we have so many guards? And why are they all white? How the fuck do you expect to win in the NBA in the 21st century when your entire starting five consists of white dudes? Thank god they fired David Kahn. Ndudi Ebi. Jesus Christ, what a train wreck. [Editor's note: Due to certain decency standards here at Grantland, I was forced to remove a large portion of this paragraph that described David Kahn performing lewd acts. Needless to say, it was very graphic and very angry.]
Stage 3: Bargaining
The Wolves really aren't that bad. They have a solid core. When Kevin Love is healthy, he's one of the most dominant players in the league. When Ricky Rubio is healthy, he's one of the most exciting players in the league. When Nikola Pekovic is healthy, he's a totally decent NBA center. We just need to keep those three guys healthy and happy, and sign a slasher and a 3-point shooter.
I think maybe it's time to lose the name "Minnesota Timberwolves." It's just too many syllables. It should just be the "Wolves." Or maybe we lose the wolf concept altogether and give the team an all-new name; something that will excite the fan base in Minnesota and get them back in the seats at Target Center. We'll call the new team the Minnesota State Fair, or the Minnesota Public Radio or maybe the Minnesota Hockey Rules.
No, that's stupid. There's been too much change over the years. Management is always tinkering with things. What we need to do is make everything exactly how it was in 2003-04. Back when things were good; when KG was MVP and Latrell Sprewell was running around with plastic rims spinning in his shoes. We'll reintroduce those terrible graffiti-style jerseys and put the parquet floor back in the Target Center. Yeah, that would be cool. Maybe we can get Prince to start showing up to games, give him the Minneapolis version of Spike Lee seats. And if Prince won't do it, we can get Fancy Ray.
Or what if we sign Garnett again? Let him retire as a Timberwolves player. He might show Pek and Love a thing or two. That might turn around our karma.
Stage 4: Depression
Ugh, who am I kidding? Like I said before, the Timberwolves are not bad. They're so much worse than bad. If the Wolves were simply "bad," that would imply that they could possibly get better, that the basketball gods hadn't cursed them, that there was hope. Being a Minnesota Timberwolves fan is an affliction. It's a deep, personal shame that eats away at your soul like a cancer. That might seem hyperbolic, but it's true. When people find out you are a Timberwolves fan, they treat you like a cancer patient. Every time I meet someone who's into basketball, we'll start talking hoops, and eventually they ask, "Who's your team?"
"The Wolves."
"The Wolves?"
"Yeah. The Timberwolves."
"Oh, right … sorry."
"No, it's OK. You didn't know."
It's pointless. The Wolves are doomed. Just in the last four years, they've decided to take Jonny Flynn, Lazar Hayward, and Wayne Ellington over the likes of Stephen Curry, Paul George, Kenneth Faried, DeMarcus Cousins, Ty Lawson, Jrue Holiday, Brandon Jennings, Klay Thompson, Iman Shumpert, and Larry Sanders. It's almost too much to bear.
Stage 5: Acceptance
Whatever. Small-market teams will always be at a disadvantage in the NBA. I accept that. I know big-time free agents don't want to live in Minnesota in the winter. That's perfectly understandable. I mean, I left Minnesota as soon as I could.
I accept that Flip Saunders is the new GM. He spoke at my junior high once, so he's chill.
I accept that Kevin Love will probably be playing for the Lakers in two years. His uncle is a Beach Boy. It's only right.
I accept that the Timberwolves logo looks like it belongs in the XFL.
I accept that I will never find a Malik Sealy jersey in my size on eBay.
I accept that I will forever know how to spell Szczerbiak and Tskitishvili.
I accept Andrei Kirilenko's dragon back tattoo.
I accept that Rick Adelman might not come back. But I hope he will.
I accept that my favorite player in the NBA is Ricky Rubio.
I accept that the only player in the NBA I'm confident I could beat in a fight is Ricky Rubio.
I accept that I am a Timberwolves fan. I just hope that this year the ninth pick in the draft will be someone who can hit an open fucking jump shot.
Now if you'll excuse me, I have to go back to Stage 1 for a while and pretend the Timberwolves don't exist.
Joe Mande (@joemande) is a stand-up comedian and a writer for Parks and Recreation.
Filed Under: A Fan's Notes, Minnesota Timberwolves, NBA