The Hardcourt Shuffle: A White Raven Leads Duke Over Miami
AP Photo/Gerry Broome
Nobody knew for sure whether Ryan Kelly would play against no. 5 Miami on Saturday. After Duke's loss to Virginia in Charlottesville, the incentive was certainly there. The Blue Devils were reeling; the team's perimeter defense was almost nonexistent, and Mason Plumlee had almost fully devolved into a state of Plumbledum after masquerading as a Player of the Year candidate in December. If there was any way Kelly's right foot had recovered, maybe it would mean a return to the success of the early part of the season, when Duke went 15-0 and reigned as the no. 1 team in the country. Without him, their record was 9-4, including an embarrassing 27-point loss to Miami.
When Kelly came on the court as part of Duke's starting five, there was a sense of relief and hope among Duke fans. Still, they had no idea this would happen:
There have been two really great moments for Duke since winning the title in 2010. The first was Austin Rivers's shot to beat North Carolina in Chapel Hill last season, and this was the second. The fact that Kelly put the team on his shoulders, scored a career-high 36 points on 10-14 shooting (7-9 from 3), and led Duke to a revenge win over Miami is almost too hard to believe. I watched the game in a state of anxious ecstasy, thrilled and worried at the same time. But mostly thrilled, because watching the Crazies flap their arms as the White Raven hit shot after shot, I knew that this was turning into a special moment. Kelly was so good that a loss felt impossible.

After Butler's game-winning shot over Gonzaga, Brad Stevens referred to "that Hinkle magic" to explain the win. Saturday, the world got to see a bit of Cameron magic, and Duke needed every ounce to finally prevail, 79-76.
When the dust had settled Saturday and I'd come down from my high, I felt a lot like I did last season, when Rivers led Duke over UNC; like this could be the high-water mark of the Blue Devils' year. There was a huge and immediate overreaction to this game in the media, and one of my favorite writers — CBS's Jeff Goodman — took a lot of flack from Duke haters for leading the charge when he called the Blue Devils "the no. 1 team in America" and the favorites to win the title. It'd be great if the praise were deserved, but there are several reasons why it's not:
1. Mason Plumlee still stinks. At this point, he might be one of the worst interior defenders in Duke history. Over and over on Saturday, he tried to take awkward charges when defending the lane, or failed to provide adequate help when the guards got beat. There's nobody in America with worse instincts.
2. The perimeter defense still stinks. Shane Larkin is one of the quickest guards in the country, but Joe Harris is not, and the way both of them carved Duke's perimeter to pieces does not bode well for March.
3. A good — OK, really good — defender can shut Seth Curry down. In both Miami games, the Canes' Trey McKinney Jones blanketed Curry (0-10 in Game 1; 2-8 in Game 2). Carolina's Dexter Strickland and Reggie Bullock did the same thing to him in Duke's narrow win a couple of weeks ago. It's not easy, but it can be done if you've got the right guy. In late March, most teams will have the right guy.
4. Remember that the Miami game was supposed to be about "revenge." After the Canes demolished Duke in Coral Gables, they notoriously slapped the floor in unison, at the behest of Warren Sapp, to mock Duke.
The Blue Devils were supposed to come out incensed and blow Miami off the floor. Instead, they needed a miracle game from Kelly to win by three. Despite the loss, I was impressed with the Hurricanes. They came into a hornet's nest, withstood a series of body blows from Kelly, got eggs from Durand Scott and Reggie Johnson, and still almost won. On a neutral floor, they would have won. This team is the real deal. Duke, on the other hand, will not get the same performance every game from Kelly. They will not have the Cameron magic on their side in the tournament. The flaws will emerge again.
This was one of the great Duke moments I can remember. But instead of trying to use it as evidence for an imminent national title victory, fans should just enjoy it. This might be as good as it gets.
Michigan Survives the Spartans
On Friday, I mentioned Tom Izzo's quote in the aftermath of Michigan State's blowout win against Michigan ("It should make for a fun game up at their place"). As usual, he was right; Trey Burke put the Wolverines on his back, scoring 21 points as his team eked out a 58-57 win. It was an ugly game — Michigan was 0-12 from 3; Michigan State was 6-22 — but in the end, I reached a conclusion similar to Duke-Miami: Michigan State is clearly a better team, despite the loss. For the second straight time, they shut down Michigan's perimeter and scored from the inside. The difference this time is that they missed too many shots and were playing on the road, and got a lot of nothing from Derrick Nix. But as good as the win must have felt for Michigan, the margin of victory tells the story: On a neutral floor, Michigan State will win.
It's time now to update the Big 6 of the Big 10 chart. Check it out: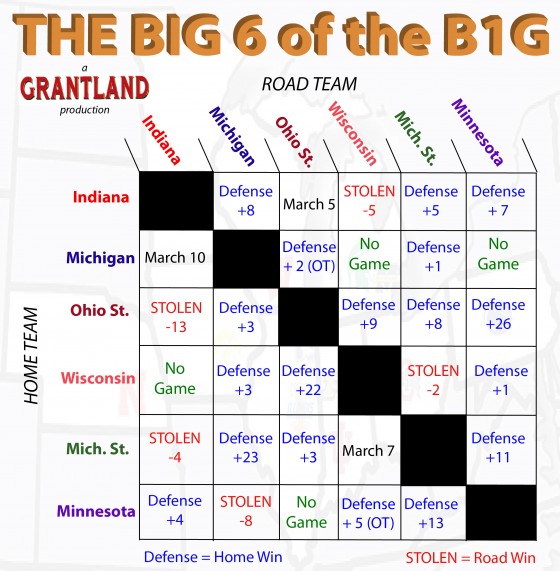 Minnesota finished its road schedule without a win, and Ohio State will do the same if they can't beat Indiana in Bloomington on Tuesday. Meanwhile, Indiana is the only team with two road wins, although they couldn't make it three at Minnesota last week. That was huge for the Gophers in terms of tournament selection, and, despite a lot of disappointment, justified their place among the Big 6. We can see other patterns, too, such as the fact that Michigan is barely scraping by at home, with narrow wins over OSU and MSU. At the same time, they have no home losses, which is more than any other team can say; each of the others has exactly one setback. With Michigan State's loss, though, Indiana now has a two-game lead in the conference with two games remaining. Both are hard — home vs. Ohio State, on the road at Michigan — but one more win will give them a regular-season championship in the country's best conference.
Final Thoughts
1. It's time to start thinking of Louisville as a national title contender again. Saturday's 58-53 win at Syracuse was the statement they needed to cap off a run of eight wins and one fluky quintuple-overtime loss at Notre Dame. The Cardinals' defense is very, very good, and that kind of thing plays well in the pressure of the tournament.
2. Speaking of playing well in the tournament, 1- and 2-seeds across the country should start getting terrified of VCU right now. I was at the Butler massacre in Richmond this weekend, and I can tell you I've never seen pressure defense like this.
3. Wisconsin losing to Purdue and Virginia losing to Boston College were the most predictable slow-team losses ever. Here's hoping they both lose in the round of 64.
4. UCLA beating Arizona and moving into a tie for the Pac-12 lead means two things: UCLA is a scary March opponent, and Arizona is no longer anything close to "elite." Shabazz Muhammad is going pro, but I have a feeling he might make his tournament impact before he leaves. And it all reminds me of how we made fun of UCLA and Miami when they had some bad losses in November and December. We're not laughing now, are we?
5. Grambling finished the year 0-27, with the country's worst offensive and defensive efficiency. This means I can't complete my favorite annual tradition, which is to prove that the worst team in the country is actually the best. So I'll have to settle for the second-worst. Here we go:
• Maryland Eastern Shore has the second-worst record in Division 1 at 2-23.
• But on January 19, Maryland Eastern Shore beat Delaware State 58-53.
• And on December 8, Delaware State beat Delaware, 73-67.
• The same Delaware team that beat George Mason, 79-72, on February 9.
• Who beat Virginia, 63-59, on November 9.
• Who beat Duke, 73-68, just last week.
• Who beat VCU, 67-58, back in November.
• Who just beat Butler.
• Who beat Indiana, who beat Michigan, who beat Illinois, who beat Gonzaga.
Bottom line: Any way you look at it, Maryland Eastern Shore deserves a 1-seed.
Filed Under: College Basketball, Duke, Indiana, Michigan, Michigan State