The Big Ten Road Trip: Indiana Levels Ohio State
Jamie Sabau/Getty Images
If the e-mails I sent to my editors reached a level you might call "pleading" or even "begging," you can't blame me. The college basketball currents had been colliding for three months, creating the conditions for a freak wave that finally crested last week and may break at any moment. Against all odds, the bastion of stodgy basketball that is the Big Ten had become the biggest and best show around. I knew I had to get to the Midwest fast, while the magic was thick.
What Big Ten magic, you ask? Oh, the two epic Burke-Craft battles; Indiana's first-half blitzkriegs against Michigan and Minnesota, and the furious comebacks that followed; the Illinois Miracle Minute; Bo Ryan, great coach that he is, stealing game after game despite losing his best defender for the season. And then there's the talented group out in the Twin Cities, the underachievers who rebound like men possessed but keep just losing and now stand on the verge of total collapse … and it goes on and on. This is a constant, brutal war of attrition, and it's terrific theater.
THE PITCH: Watch the six best Big Ten teams face off in a span of five days. Indiana at Ohio State on Sunday, Michigan at Michigan State on Tuesday, Wisconsin at Minnesota on Thursday. Simple, profound, necessary. The editors sensed my desperation and agreed.

---
When I landed in Charlotte on Saturday for my layover between Raleigh and Columbus, I stumbled into the nearest bar — I think it had the word 'Dog' in the name, but I might be confusing it with every other airport bar — just in time to see this:
An omen. Poor Michigan had worked like hell for that elusive road win. Tim Hardaway Jr. nailed a 3 that would have torn his reputation as a choker into a thousand pieces. And then? Sorcery. Big Ten mojo; an overtime win for the unbreakable Badgers. My timing might be perfect, I thought. Shit is getting mystical. I'm flying straight into the wave.
---
I'd like to introduce you to the concept of a "Big Six."
The Big Six is an elite cadre of teams — Michigan, Indiana, Michigan State, Wisconsin, Ohio State, and Minnesota — who might be in the top 10 of the country if they played anywhere else. If the Final Four will ever consist entirely of teams from one conference, this will be the year, and the Four will come from the Six. I realize this is starting to sound like Da Vinci Code fan fiction, so let's focus in:
Ken Pomeroy has all six teams in the top 14 nationally in total efficiency. That many teams from a single conference haven't finished the season that high since 2003. Before Sunday, the Big Six played each other 14 times, and only two of those games — Minnesota at Michigan State, Michigan State at Minnesota — had been decided by double digits. Against the rest of the league, the Big Six are 30-5. Before conference play began, they went 67-10. We've seen enough to declare the separation complete.
Make no mistake; the conference championship will be won by the team that can defend its home court against the other five and steal a win or two on the road. With that in mind, a chart was needed to give a graphic sense of how it's played out and what lies ahead: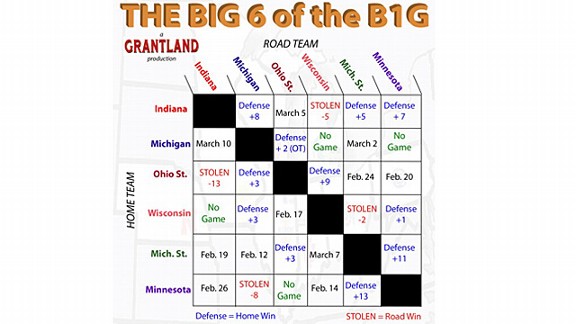 There are a few things you'll notice. First, road wins are hard to come by. The hosts in games between Big Six teams have won 73.3 percent of games, higher than the conference average of 60.9 percent. Second, life isn't fair. Michigan got a raw deal from the Schedule Gods by having to face all five teams on the road, but only three at home. Michigan State got a raw deal by having to face all five teams twice while seeing Penn State and Northwestern just once apiece. (This is the flaw of the super-conference — when you can't play every team home and away, the integrity of the regular-season championship is compromised.) Even the teams who got a break, like Indiana, have a brutal second half that includes four road games in the closing stretch. There are no free lunches, but some are pricier than others.
In this week's games, an all-important road steal would pave the way for the March endgame. When you win at home in the Big Six, you breathe a sigh of relief. When you win on the road, that's a notch in your belt.
---
You can divide college campuses into three categories: Stone, brick, concrete. Or: European, American, Soviet. Ohio State is American all the way, brick everywhere, including the Value City Arena, which is an excellent venue, but with a name that makes you think you'll find a mega-mall inside. Maybe a merry-go-round where you can catch an infection.
I took in the campus all morning, crossed the Olentangy River on the Woody Hayes Bridge at noon — the river is desperate for spring — and tried to poach a seat in the lower level of the VCA before tip-off. This was the only game for which we couldn't secure a media credential, but the Grantland family, by which I mean the Grantland mafia, procured a ticket in the upper bowl (in these situations, you don't ask how). I used every maneuver in the book to get closer, but the place was stuffed, and soon I felt ashamed by the kindness of the ushers and hurried away to my exile. But the view up top turned out to be pretty adequate, and I settled in for a classic.
---
Instead, I got an old-fashioned Bloomington Stomp. In what has to be the biggest win of their season, the Hoosiers showed that not only can they beat an elite team on the road, they can dominate. That was in doubt after the Illinois collapse, but the bounce-back was emphatic. Could they win when good teams slowed them down? Yes — with only 66 possessions, Indiana scored efficiently from the halfcourt set and even managed to get points in transition. Could they escape Aaron Craft's stifling perimeter defense? Yes — both Yogi Ferrell and Victor Oladipo seemed unfazed by Craft, who had less impact on this game than another I've seen all season. Could Cody Zeller, preternatural scorer, stand up to the bullying he'd take inside? Yes — the referees called a tight game, and Zeller sent Amir Williams to the bench early before dominating anyone else who tried to guard him on the way to scoring 24 points. Could Indiana win if the small guards weren't shooting well from deep? Yes — Jordan Hulls, Will Sheehey, and Ferrell combined to go 2-for-11 from 3-point range, scoring just 11 points combined, but Christian Watford was red-hot. And then there was Victor Oladipo …
Good god, was there ever Victor Oladipo. He's known as one of the country's best defenders, but it's almost a crime when the accolades stop there. Because yes, he's a defensive genius, so much so that he should win Big Ten defensive player of the year over Craft, who, let's face it, does get away with a lot of body contact because he's Aaron Craft. But defense alone doesn't begin to tell the Oladipo story. Did you know he has the 24th-highest offensive rating in the country? Or the sixth-highest effective field goal percentage? Or that he's an excellent offensive rebounder, can get to the line almost at will, and has turned his former weakness, 3-point shooting, into a 52.6 percent strength?
But even the stats don't go far enough. He's become so fluid, so skilled, so smooth, that in conjunction with his athleticism, it almost makes sense that Dick Vitale compared him to Michael Jordan. I know, I KNOW, but when he puts the juke on a defender, gets to the lane, and starts to rise for one of his soul-reviving jams, it really fucking looks like Michael Jordan. Maybe it's because he's so skinny, with the same long flailing limbs and the twitchy quickness. It gives you a reluctant déjà vu, and yes, you want to shy from the comparison because it feels inherently absurd. But it's there, man. It's there.
Ohio State had no answers for Oladipo, who finished with 26 points on 8-of-10 shooting, eight boards, three assists, and two steals. Indiana kept scoring, as Indiana is wont to do. But what really surprised me, and what should terrify the rest of the league, was the team defense. Over and over, Ohio State ran down the clock trying to find a soft place in the Hoosier D, and over and over it settled for an awkward runner in the lane by Deshaun Thomas or Lenzelle Smith. The old knock on the Buckeyes, that they don't have enough scorers, has come roaring back.
And the students, the poor students. They wore their gray "6th Man" T-shirts, and some of them had spent the night in a freezing tent (they do that in Durham, too, but that's a different can of cheese, climatically speaking), and others probably suffered from hangovers. But they were game. They tried to lift the club whenever they sensed an inkling of a comeback, but the club gave them nothing. By the TV timeout with 10:43 left, Indiana led by 13, and the Value City Arena started to go dead. The scoreboard showed students yawning, and the sleepy atmosphere wasn't even jolted when the band struck up "Hang on Sloopy."
---
Speaking of the scoreboard, the man behind the machine is one sick, subversive individual. It started innocently enough, when the camera focused on individual students and he (she?) would insert little arrows on the screen with text like "sings Justin Bieber songs in the shower." Then it got a little weirder, with messages like "Hanes shoulder pads are coming back in fashion" accompanying an innocent woman. He then accused an average-looking male student of wearing a speedo, and finally dove into absurdity by inserting a vertical, animated fish between two older gentlemen without comment. That was enough to offend those of us who thrive on reason and logic, but the final outrage was ahead.
It happened during a Wendy's promotion. His job was to find a freckled young lady and superimpose the famous red hair on top of her head. Instead, just as a winner was announced, he switched shots to a different camera, and the hair was framing a man's crotch.
The Buckeye faithful almost hurt themselves laughing at that one, but I was personally appalled. And I truly began to understand the depths of his depravity when he used reverse psychology to get all the fans to boo in unison during an Indiana foul shot by flashing the Michigan logo on the screen. I came to the Midwest to escape the burgeoning insanity in North Carolina, but it seems like I've leaped from frying pan to fire.
---
Crossing the Olentangy on the way back to my hotel, the hunger gnawed at me. I don't mean that metaphorically. I've been losing weight for about a month, and part of that process has been eating a lot less and living with the ache. You try to reverse certain brain chemicals, undo certain learned neurological reactions, and make an ally of the pain. Even so, when I saw a man selling cotton candy at a dollar a pop, I wanted to spear-tackle him into the sidewalk and stuff my face until the police attacked me with billy clubs. And I don't even like cotton candy.
So I distracted myself with thoughts of the game. I hadn't seen anything too dramatic, and I worried the magic vapor cloud had floated out of Big Ten country. But when a few cocky Indiana fans hoo-hoo-hoosiered their way through the exodus, taunting the losers, it occurred to me that maybe this was only a shift in the drama, rather than its end. There's a moment in every championship season when a change happens, something critical that loosens the impediments and paves the way for victory, but we never really know that moment until it's over. Maybe this was it; an embarrassing loss to Illinois forces a team to reckon its own constitution, to tunnel into the depths and see if there's any fortitude to be mined. And it responds with a road win, a Big Six steal of the kind we weren't convinced it could manage.
It makes sense, for now. If there was drama in Columbus, it wasn't immediate; it was the faraway sight of a very good team becoming great.
(Check back Wednesday and Friday for dispatches from East Lansing and Minneapolis.)
Filed Under: College Basketball, Indiana, Michigan, Michigan State, Ohio State, Shane Ryan, We Went there