The BestCoolest Players I've Ever Seen: Pitchers
Otto Greule Jr./Allsport
This week, Grantland profiled the best player in today's game and also lamented/scrutinized/mourned/HotTake'd one of the greatest players of all time.
Any time a discussion of best-sports-anything starts, it has a tendency to get heated. Float a couple of top-of-the-head tweets even hinting at ranking the best baseball players of this generation, and suddenly everyone wants to chime in. "This guy can't possibly be on the list." "How could you forget that guy?" Basically, the Internet was invented for three purposes: arguing about your favorite athletes, cat videos, and that other thing (Troy McClure movie poster Tumblrs).
With all that in mind, and in the grand how-could-you-be-so-wrong tradition of my own heavily biased ballpark rankings, it's time to unveil the BestCoolest Players I've Ever Seen power rankings. Why am I making up words? Doing a straight ranking of best players of the past three decades could be accomplished with one click on your website of choice, for your stat of choice. This is more of a hybrid approach, combining the best players of the past generation with the coolest ones, the ones that were the most fun to watch.
Here are the rules:
• "Best" remains the most important criterion here. We'll lean on objective metrics as we always do. But there'll be some subjectivity too. I'm not above giving bonus points for flair, or for a pitcher who, say, threw a no-hitter at a game I attended. Of course that means — you guessed it — Tommy Greene at no. 1. Roughly speaking, we're counting a player's accomplishments as 70 percent of the equation, cool factor as about 30 percent.
• To be eligible, players had to have played at a time when I was old enough to watch and appreciate baseball. I was born in 1974. Ed Delahanty just misses the cut.
• Players are ranked by both peak and career achievements. This is similar to the concept behind Jay Jaffe's excellent JAWS system of player evaluation, and the same way I'd vote for Hall of Famers, if I had a vote.
• All-time greats who did their best work before my time don't count. I only got to see players like Tom Seaver, Steve Carlton, and Pete Rose when they were near the end of their amazing careers, so they don't make the cut. My first vivid baseball memory is from 1981 (it was very painful, let us never speak of it again). So the players likely to get the most consideration either broke in around or after 1981 (or not much earlier), or were so great that even if a decent chunk of their career happened beforehand, they still warranted consideration.
Today, we cover the pitchers. Tomorrow, the hitters. Let's go.
10. Kevin Brown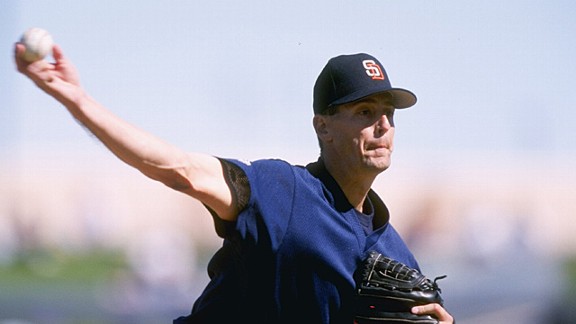 Forget win-loss record and evaluate Brown based on factors he's better able to control — strikeouts (top-10 strikeout rate five times; 2,397 overall ranks 39th all time), walks (top-seven walk rate five times), home runs (0.57 HR allowed per nine innings), innings pitched (3256⅓). Use ERA if you insist (3.28), but pair it with fielding-independent stats (3.33 FIP).
Now consider that Brown pitched at the height of one of the toughest eras for pitchers, when Barry Bonds, A-Rod, Ken Griffey Jr., Frank Thomas, and other all-world sluggers laid waste to the league. By those standards, Brown's Hall of Fame case tops that of 300-game winner and Cooperstown shoo-in Tom Glavine, matches up well with existing Hall of Famers like Juan Marichal and Bob Feller, and smashes lesser Hall of Famers like Don Drysdale and Early Wynn. You don't have to play the WAR card, but if you want to, Brown ranks 26th-best among all pitchers in baseball history for career value. We should deduct some points for only posting one season of better than 7 Wins Above Replacement (his 257-inning, 2.38 ERA, 2.22 FIP '98 season with the Padres, the same year Mark McGwire and Sammy Sosa demolished the single-season home run record). But we're still talking about someone who has a legitimate case for the Hall.
So why did Brown not only fail to earn induction, but also get knocked off the ballot after one year, thanks to a regrettable 2.1 percent vote total? Lots of reasons, really. Voters still pay attention to wins, disregarding not only how team- and context-dependent the stat is, but even more egregiously assuming that pitcher win total should be evaluated the exact same way during the era of five-man rotations as it was when four-man staffs were the norm. Brown never won a Cy Young award, even though he should have in '98. He signed a seven-year, $105 million contract immediately after his best season, setting him for certain disappointment in critics' eyes. Some voters evaluated Brown based on when the spotlight was brightest, as if weighing his merits as a 39- and 40-year-old Yankee at the end of the line is a fair assessment. He was named in the Mitchell Report (though plenty of others named never failed a test and were never found to have any tangible links to performance-enhancing drugs).
The nail in the coffin was that the media widely viewed him as a jerk … which only makes me like him more. Brown might've criticized Padres fans for cheering on McGwire and Sosa when San Diego was in a pennant race, injured himself punching a wall as a Yankee, and screwed with reporters. But none of that should make a lick of difference when it comes to evaluating a player's merits — especially when others who've done far more egregious things are admired and revered. Brown was a great pitcher with a huge chip on his shoulder, and it was awesome.
9. Nolan Ryan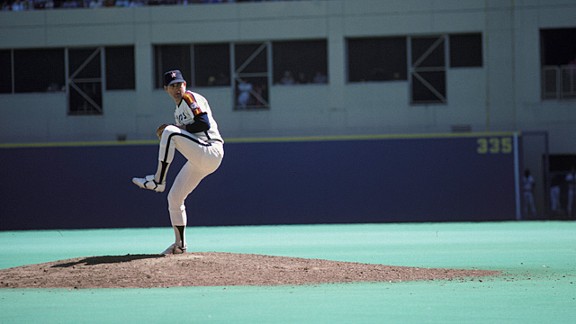 His best days were behind him by the time I got my first glimpse of Ryan. The pitcher who struck out an impossible 383 batters in 1973 was gone, and he wasn't coming back. But he would still show flashes of dominance. Three of his no-hitters came in 1981 or later. In September '81 he tossed 14 strikeouts in a no-hitter for the Astros. In June '90, he again waved 14 in a no-no for the Rangers. And in a May '91 start for Texas, at age 44, Ryan struck out 16. It was one of four times in his career when he achieved a feat rarer than a no-no: a Game Score of 100 or better. He remained a bad-ass to the end, plunking Robin Ventura, wrapping him in a headlock, and beating the crap out of him at an age when switching up your Dockers from tan to taupe is considered a bold and exciting move.
Here's the other thing: By advanced metrics, you could argue that a past-prime version of Ryan was still the best pitcher of the '80s. He led the league in strikeouts four years in a row, at age 40, 41, 42, and 43. Ryan's 1987 season remains one of the best examples of the folly of win-loss record, given he led the league in strikeouts and ERA but still went 8-16, because he had some bad luck and because his Astros stunk that year. Some of this was simply because the '80s were one of the worst decades ever for starting pitcher talent, maybe the very worst. It was something of a statistical and demographic fluke that a pitcher spending a good chunk of the decade in his 40s would prove more valuable than any of his peers. That 1980s talent void (along with Game 7 of the 1991 World Series, lest anyone ever forget) drives much of Jack Morris's undeserved Hall of Fame case, too, for that matter.
8. Mike Mussina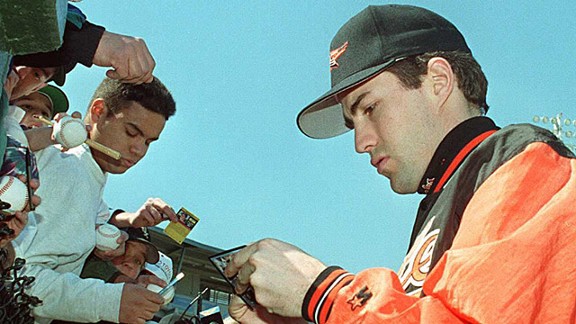 Being steady as hell can be cool, too, in its own way. I made my case for Mussina's Hall of Fame candidacy five years ago: He never won a Cy Young award, made a relatively modest five All-Star teams, and won 20 games just once, in his final season … and none of that should make a difference. During Mussina's prime, 1995 to 2003, there was no steadier pitcher in all of baseball. And only five pitchers — all of them Hall of Fame–worthy and three of them ranking among the 10 best pitchers of all time — were better. As with Brown, you can dock Mussina a bit for never having that one off-the-charts season that people will remember forever. But consistent excellence still counts for a lot. Or it should, anyway.
7. Dwight Gooden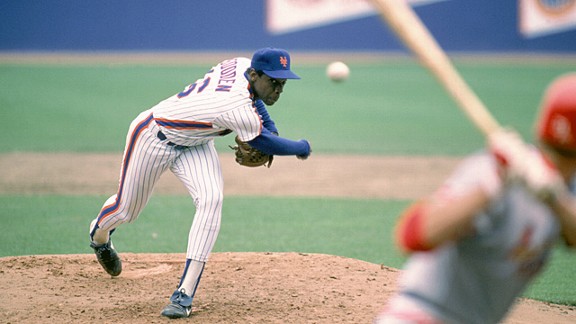 The good Doc isn't anywhere near the rest of these guys on career value; his is a case built entirely on a ludicrously great peak, and cool factor. Gooden launched his career with a spectacular rookie season at age 19, leading the league with 276 strikeouts, posting a 2.60 ERA, and doing more than virtually any other teenage player has done before or since. The next season was something else altogether. Per Baseball-Reference, Gooden's '85 campaign, in which he led the league in innings pitched (276⅔), strikeouts (268), complete games (16), and ERA (an unbelievable 1.53) ranks as the best season by any pitcher in the past 99 years.
If it's possible for a pitcher to be more transcendent than numbers that suggest he was better than anyone in a century, Gooden was it. His fastball was terrifying and on many nights unhittable. It was a high-90s ball of flame that echoed through the park when it smashed into Gary Carter's mitt. His curveball was a nightmare, a 12-to-6 home-wrecker that offered only one possible solace: the slim possibility it might not break for a strike. So many tributes have been written about those early, precocious years of Gooden's short-lived prime, that it might be hard for younger fans to believe he earned all that hype. But Gooden did. He was better than everybody else and cooler than everybody else, forming a 1-2 punch of young talent that for a time made the Mets into the celebrity team, demoting the Yankees to second-class citizens, if you can imagine that. Doc Gooden was a comet sent from some faraway galaxy to destroy hitters, and to burn so bright that he self-combusted.
6. Curt Schilling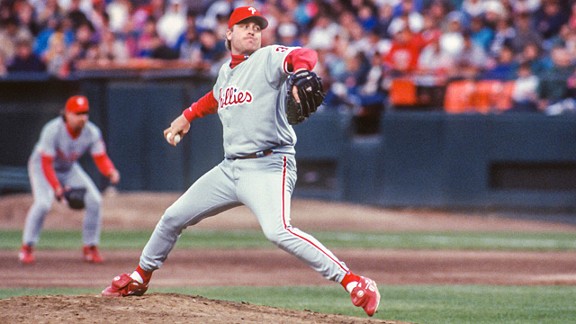 His on-field legacy, for casual fans, boils down to playing for three different teams in the World Series, winning with two of them, and wearing a bloody sock for one infamous game. That for 133⅓ career postseason innings, Schilling struck out 120 batters, walked just 25, fired four complete games and two shutouts, and posted a 2.23 ERA.
But Schilling's more than just (arguably) the best postseason pitcher of all time. He was also a master of command, flashing the second-best strikeout-to-walk ratio in baseball history. In 3,261 career innings pitched, Schilling produced a park-adjusted ERA that was 27 percent better than league average — better than Ryan, Glavine, and Warren Spahn, and matching Seaver. Once you look past the relatively small total of 216 wins, you have one of the best pitchers ever, and another deserving Hall of Famer.
5. Roy Halladay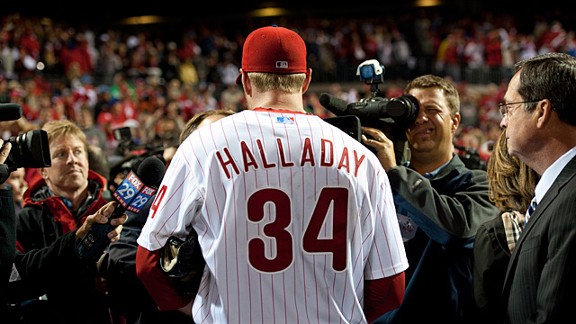 He's Greg Maddux 2.0. It just took a while to get there.
Halladay, like Schilling, was injury-prone early in his career, tossing just 173 combined innings in what would've been his second and third full big league seasons. In 2000 he wasn't just injured … he was historically bad, posting a 10.64 ERA in 67⅔ innings pitched that stood as the record for highest ERA from any pitcher with at least 10 starts in a season until Brian Matusz was somehow worse 11 years later. Finally healthy in his age-25 season of 2002, Halladay made his first All-Star team. The following season, he led the league in wins, starts, complete games, shutouts, innings pitched, and strikeout-to-walk rate, winning his first Cy Young. More than just the awards and big numbers that would follow, watching Halladay was like watching a surgeon at work. Unlike some of the biggest fire-breathers of all time, a Halladay start was seven, eight, and often nine innings of frustration for hitters, a cavalcade of weak grounders to second and feeble popouts to third. The one thing that eluded Halladay for most of his career was a trip to the playoffs. He finally got that chance in 2010, facing the Reds in the League Division Series. So in the first playoff start of his career, Halladay of course … he threw a damn no-hitter.
We don't know when his career will be back or how it will end. But for a four-year stretch, Halladay was the best pitcher on the planet. That's the memory that will endure.
4. Roger Clemens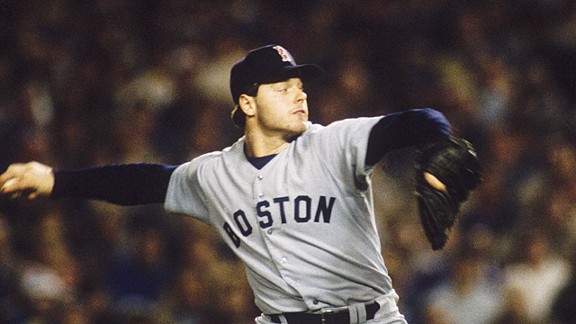 Try whatever twisted logic you like, but everything that's happened on a baseball field isn't going away and isn't getting erased. Bonds, McGwire, & Co. really did hit those home runs. And yes, Clemens did keep plowing over hitters well into his 40s, even though he seemed to show signs of fading more than a decade earlier. Slap an asterisk next to the word "best" if it makes you feel better. Just know that the definition of best is pretty irrefutable. And if you know whose career performance trumps all other pitchers in the history of the game, the answer's simple: It's Clemens.
He's still not no. 1 on this list, though. The old expression was that rooting for the Yankees was like rooting for U.S. Steel. In retrospect, rooting for Clemens felt kind of like rooting for Bane. He was bigger and stronger and better than everyone else; no one seemed to have any shot at knocking him off, but you hoped they would anyway.
3. Randy Johnson
The five best things about Randy Johnson's career:
5. The bird.
4. The meeting. Like Ryan, Johnson started his career as the hardest thrower in the game, but also with little idea where it was going. After breaking in with Montreal, then getting dealt to Seattle, he still couldn't find the plate as he hit his 29th birthday, posting a sky-high 17.1 percent walk rate in 1991, and a 15.6 percent walk rate in '92. Johnson finally went to meet with Ryan, the best example baseball had seen over the previous 30 years of a thrower who'd made adjustments and become a Hall of Fame–level pitcher. Ryan and famed pitching coach Tom House stressed the importance of repeatable mechanics over simply rearing back and firing. The biggest tweak Johnson made after that adjustment was to land on the ball of his foot instead of the heel. Presto, Johnson became a superduperstar in his 30s and into his 40s, putting up numbers that when adjusting for the brutal era in which he played made him the best left-handed pitcher ever.
3. He was a two-pitch pitcher until the very end of his career. Fastball, slider, that was it. No one could touch him.
2. He sailed a fastball over Larry Walker's head in the 1997 All-Star Game. The pitch so terrified Walker that Johnson's former Expos teammate turned his helmet around and got in the right-handed batter's box, where he figured it might be slightly safer.
1. His cameo in Little Big League remains the greatest movie performance by anyone, ever.
2. Greg Maddux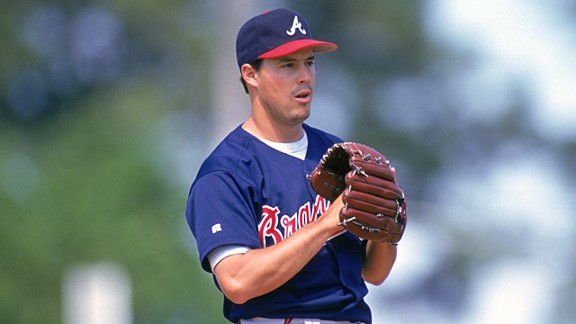 You know you've left a lasting impression on the game when, a half-decade after you've retired, a baseball blogger names a new stat after you. The premise of a "Maddux" is simple: Throw a complete-game shutout in fewer than 100 pitches. The execution is extremely difficult, since it takes a combination of dominance and efficiency to make it happen.
No stat could fit a player better. Maddux was the paragon of efficiency, throwing 13 of those sub-100-pitch shutouts, nearby double his next-closest competitor. He also threw a signature pitch that was essentially unhittable: a fastball that started just off the plate and broke toward the inside corner, clipping it for strike three. That pitch, too, should have had a clever name to describe it. Mostly, batters just knew it as the pitch that was all but guaranteed to make them go sit down.
Maddux didn't throw with anywhere near the same velocity as Clemens. In terms of raw stuff, he didn't offer anything nearly as nasty as the Big Unit's slider or our next pitcher's changeup. Instead, Maddux just carved up opposing hitters, wielding a fastball that couldn't sniff 90 mph for much of his career, plus better command than maybe any other pitcher who ever lived. He was the pitcher who kept bringing rocks to gun fights … and kept winning.
1. Pedro Martinez
Sandy Koufax, with a sheriff's badge and a clown nose.
Martinez was Koufax because of how he pitched in his prime. His 1999 (2.07 ERA, 313 strikeouts, 37 walks) and 2000 seasons (1.74 ERA, 284 strikeouts, 32 walks) are both in the running for the greatest performance by any pitcher in baseball's modern era. He had killer stuff like Koufax, a riding, mid-90s fastball, a nasty curve, and the best changeup … maybe ever. He had incredible command like Koufax, painting the corners when he wanted, making hitters chase when he wanted. And he was brilliant like Koufax, scaling down his offerings when one of them wasn't working, knowing exactly which pitches and locations would work in given situations, and getting the most out of his otherworldly ability.
Martinez dispensed justice. With the steroids era starting to bloom, he fought back, claiming the inside of the plate for himself as a way to own the outside corner, but also as a way to intimidate and frustrate hitters. He fought Don Zimmer and wished that he could face Babe Ruth so he "could drill him in his big, fat ass." He was a buck-sixty soaking wet for the first few years of his career, and he didn't give a damn, stirring up trouble, then backing it all up tenfold with his pitching.
Martinez was funny as hell. He needled opponents, pranked teammates, and carried around a very small friend for good luck. There may not have been a bigger goofball superstar in baseball's 150 years of existence. You could argue that no sport takes itself more seriously, or has thinner-skinned players (if you've noticed the instant retaliation from pitchers whenever a player celebrates even a little) than baseball. Martinez was the perfect tonic for that stuffy reputation, a serious student of baseball, but also someone who had fun and showed it.
Clemens, Maddux, Johnson … all of them had better careers, if you combine both peak and career value. But Martinez was still the best pitcher in the world when he was at the top of his game, and he was unquestionably the coolest.
Filed Under: Jonah Keri, MLB, Roy Halladay